She has been spending a lot of time visiting her flagship shoe stores in New York City and providing hands-on customer service amid pandemic.
On Thursday, Sarah Jessica Parker visited her South Street Seaport shoe store to personally help some clients.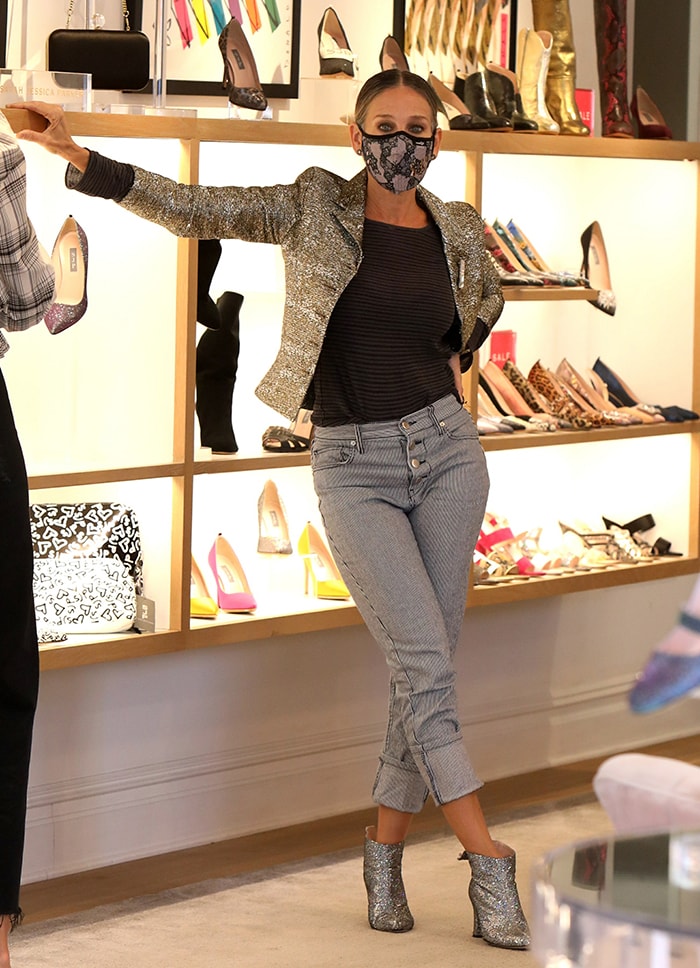 Sarah Jessica Parker visits her South Street Seaport store in New York City on September 23, 2020
A style icon in her own right, SJP wore a black, long-sleeved striped blouse underneath a glittered cropped blazer. She teamed the look with a pair of cuffed seersucker pants, which highlighted her figure.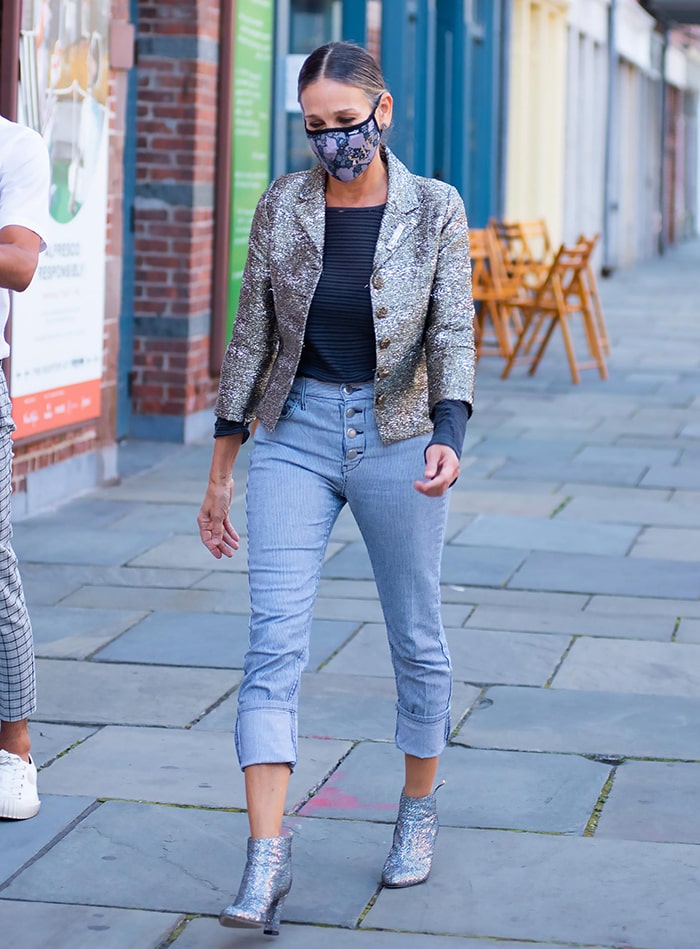 Sarah Jessica Parker shimmers in a glittery blazer with seersucker pants
The Footloose actress pulled her tresses back into a neat ponytail and wore her signature smokey eye makeup.
To prevent the spread of coronavirus, SJP wore a pink-and-black laced monogrammed face mask by Masqd, featuring her initials in gold lettering.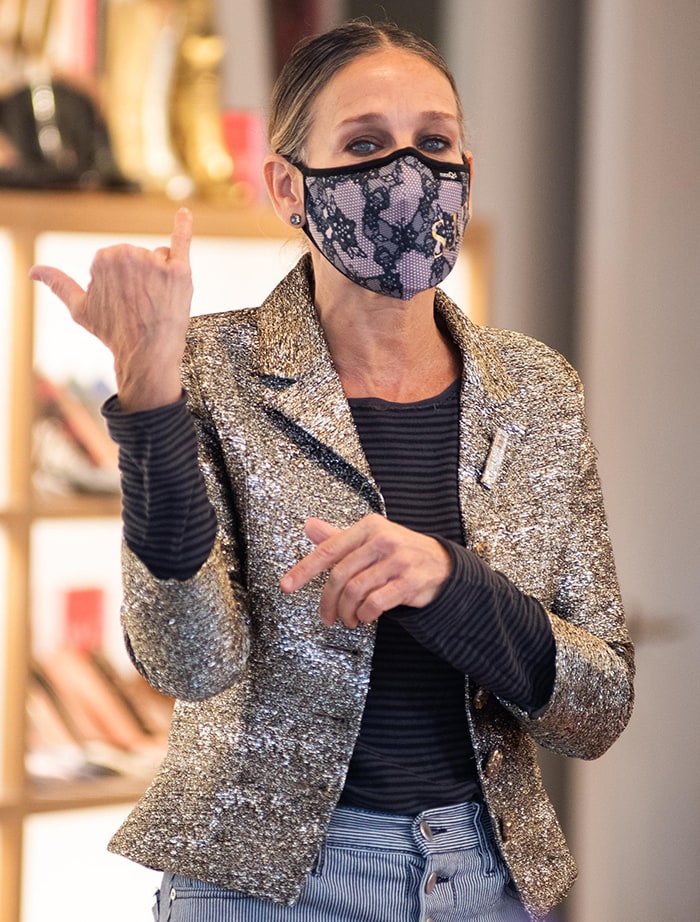 Sarah Jessica Parker wears a custom Masqd lace face mask
Repping her label, the mom-of-three rounded out her look with a pair of "Minnie" boots from her footwear collection.
Featuring a scintillate upper, these ankle boots perfectly matched SJP's sparkly blazer. Aside from the glittery design, they also have almond toes, back zips, and about 3-inch covered heels.
Sarah Jessica Parker reps her label in Minnie boots
SJP by Sarah Jessica Parker 'Minnie' Boots, $485 at Amazon and Zappos
These boots are like disco balls on your feet
While she has been busy manning her stores, Sarah Jessica Parker's name has recently been linked to her former Sex and the City co-star, Kim Cattrall, once again.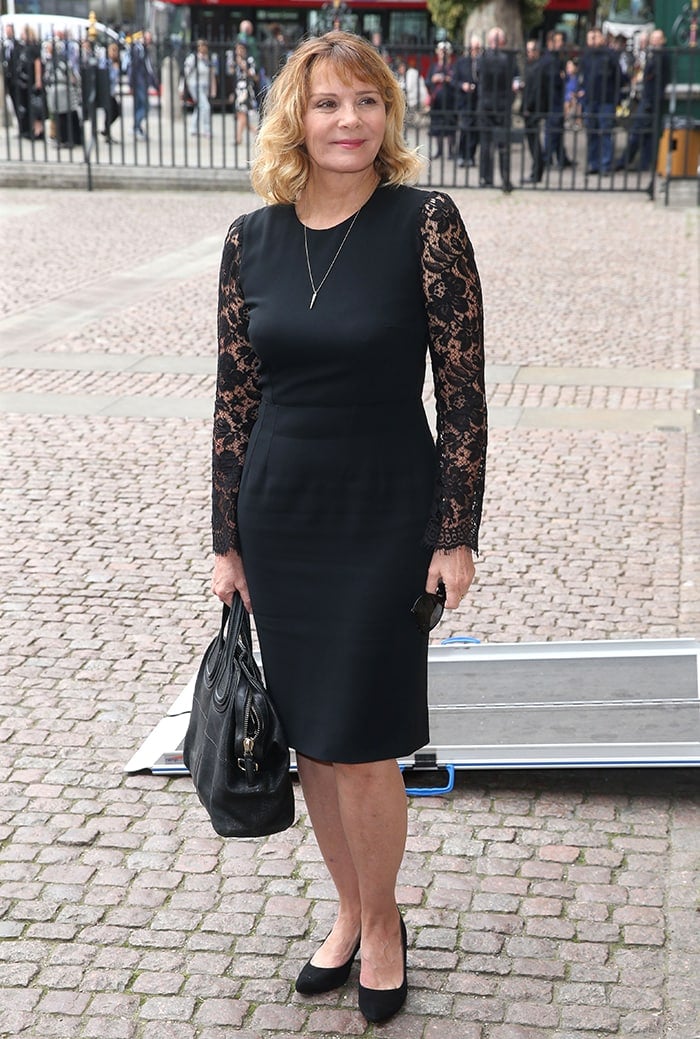 Kim Cattrall, pictured in 2018, does not regret slamming Sarah Jessica Parker online
In a recent interview with The Los Angeles Times, Kim said she doesn't have any regrets about publicly slamming Sarah Jessica in her social media in 2018.
While promoting her new series, Filthy Rich, Cattrall declined to comment on the issue between her and Sarah Jessica and advised the reporter to just look for it online.
She said: "Everything is on Google, so, I encourage you to Google it, about anything that I've said. I feel that that was then, and when I look at what's going on around me, I just don't have any regrets."
What sparked Sarah Jessica Parker and Kim Cattrall's feud?
The two have been in a decade-long feud, which apparently started in 2004 right after Sex and the City season six wrapped.
Reports say that the movie adaptation of the series was supposed to begin production as soon as the show ended, but was delayed due to some fall-outs and issues that include salary disputes.
SJP was reportedly promoted to the show's executive producer during the second season of the series, which raised her salary to $300,000. Kim then negotiated for an increase in pay, which caused a rift between her and SJP, Kristin and Cynthia.
Cynthia Nixon, Sarah Jessica Parker, Kristin Davis, and Kim Cattrall on the set of Sex and the City in 2003
A few months later at the 2004 Emmy Awards, Sarah Jessica Parker, Kristin Davis, and Cynthia Nixon were seated at one table, while Kim Cattrall kept her distance from her co-stars.
In an interview Friday Night with Jonathan Ross in December 2004, Kim opened up about the said salary issue among the cast.
"I felt after six years it was time for all of us to participate in the financial windfall of Sex and the City. When they didn't seem keen on that, I thought it was time to move on."
Regarding the SATC movie, Kim reportedly "openly refused to participate unless she was paid more."
Sex and the City: The Movie
Four years later, in 2008, Sex and the City finally made it to the big screen.
Speaking to The Telegraph on the set of the movie, Kim Cattrall responded to the 2004 Emmy Awards issue. "Are we best of friends? No. We're professional actresses. We have our own separate lives."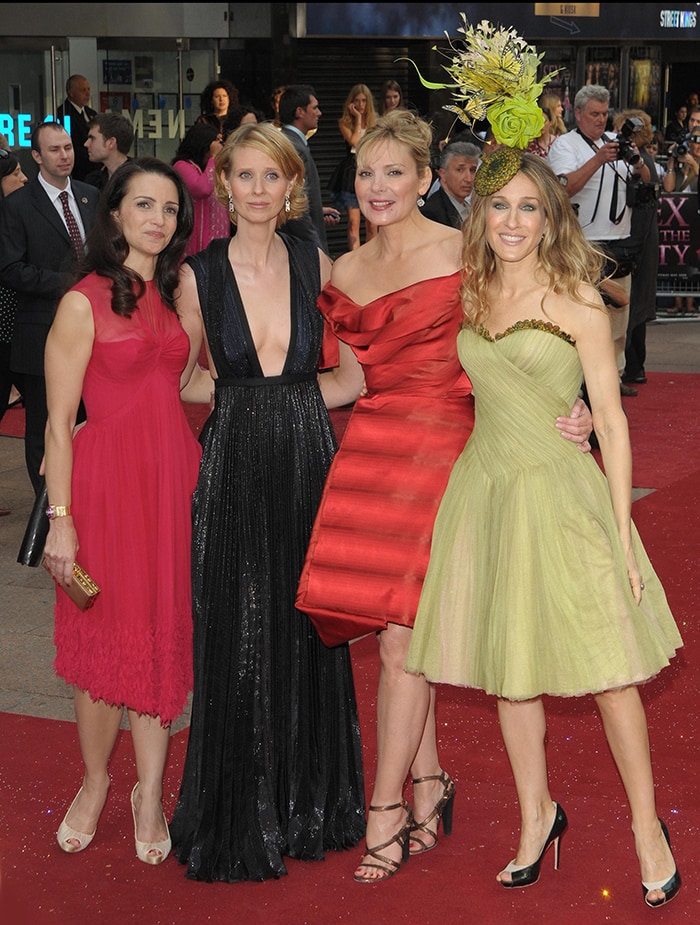 Kristin Davis, Cynthia Nixon, Kim Cattrall, and Sarah Jessica Parker at the Sex And The City movie UK film premiere in May 2008
In the same report, however, Sarah Jessica Parker defended the cast's friendship. She said: "Honestly, we are all friends and I wish I saw more of Kim. She mentioned money and no one should vilify her for it. People made a decision that we had vilified her."
Regarding her initial decision of not partaking in the movie, Kim said: "I was going through a divorce and my job of seven years was coming to an end. Then my dad was diagnosed with dementia. So I took a step back and returned to Canada, where my family is—that's the reason behind it. It wasn't all about the money."
Sarah Jessica Parker and Kim Cattrall deny feud rumors
A sequel to the 2008 Sex and the City movie began filming in 2009.
In an interview with Elle in November 2009, SJP denied the rumors surrounding the cast's friendship. "I don't think anybody wants to believe that I love Kim. I adore her, I wouldn't have done the movie without her. Didn't and wouldn't."
Kim Cattrall, Sarah Jessica Parker, Kristin Davis, and Cynthia Nixon reunite on the set of Sex and the City 2 on September 8, 2009
Kim later told Daily Mail in January 2010: "I think Sarah was right: people don't want to believe that we get on. They have too much invested in the idea of two strong, successful women fighting with each other. It makes juicy gossip and copy."
"The truth of us being friends and getting along happily doing our jobs together is where near as newsworthy. I think Sarah is fantastic… She and I are sick of this. It's exhausting talking about it, and a real bore. Next?"
On Sex and the City 3 Movie Cancellation
In 2016, Kim Cattrall reportedly refused to return as Samantha Jones for the third installment of the Sex and the City movie.
She told The Daily Record in June 2016: "Everyone is doing their own thing and if it was going to happen, it would have happened by now. It would be a challenge to do a third installment. It could be fun though. To say goodbye completely to Samantha would be pretty hard."
However, Daily Mail reported that the movie didn't push through after Kim demanded Warner Bros. to produce other movies that she was working on.
At the New York City Ballet Gala in September 2017, SJP confirmed to Extra that SATC 3 isn't happening. "It's over… we're not doing it." She explained: "I'm disappointed. We had this beautiful, funny, heartbreaking, joyful, very relatable script and story. It's not just disappointing that we don't get to tell the story and have that experience, but more so for that audience that has been so vocal in wanting another movie."
Kim Cattrall denies demand rumors
In her October 2017 appearance on Pierre Morgan's Life Stories, Kim Cattrall explained her stance on the third SATC movie. "This isn't about more money, this is not about more scenes, it's not about any of those things. This is about a clear decision, an empowered decision in my life to end one chapter and start another. I'm 61. It's now."
She added: "It's quite extraordinary to get any kind of negative press about something that I've been saying for almost a year of 'no' that I'm demanding or a diva… I never asked for any money, I never asked for any projects, to be thought of as some kind of diva is absolutely ridiculous."
"This is really where I take to task the people from Sex and the City and specifically Sarah Jessica Parker in that I think she could have been nicer. I don't know what her issue is," and added that she has "never been friends" with her co-stars.
In her appearance on Watch What Happens Live in January 2018, SJP commented on Kim's statement that they were never friends. She said: "The whole week… I was really, I found it very upsetting because that's not the way I recall our experience."
Kim Cattrall shames Sarah Jessica Parker on Instagram
The tension between Kim Cattrall and Sarah Jessica Parker further intensified when Kim publicly slammed SJP after she offered condolences following the death of her brother in February 2018.
"Dearest Kim, my love and condolences to you and yours and Godspeed to your beloved brother. Xx," SJP commented on Kim's Instagram post.
A few days later, on February 8, 2018, SJP was asked on Entertainment Tonight about her decision to comment on Kim's post amid their feud.
SJP said: "If somebody in your life, whether you're in touch with them or not, [is] suffering for any reason, it's involuntary that you want to convey condolences or sadness or just let someone know you're thinking about them."
Kim responded via Instagram and asked "cruel" SJP to stop reaching out to her.
Sarah Jessica Park has high regard for Kim Cattrall's work
On April 23, 2018, Sarah Jessica told Vulture: "I'd just like to remind "I'd just like to remind everybody that there is no catfight. I have never uttered an unkind, unsupportive, unfriendly word, so I would love to redefine it. I also want to remind everybody that there were four women on the set and I spent equal time with all of them, so this was not a set with two women who didn't get along."
She added: "I've always held Kim's work in high regard and always appreciative of her contributions. If she chooses not to do the third movie, there's not a lot I can do to change her mind and we must respect it. That's the only thing I've ever said about it, you know?"
Credit: Zibi / Valinella / Instar / WENN