In March 2023, Selena Gomez shared her experience with lupus and the challenges of dealing with online body-shaming on the Apple TV+ series "Dear…" Her medical condition and changing appearance have generated a lively online discussion regarding the size of her breasts.
The Wizards of Waverly Place actress revealed her initial lack of understanding of lupus and the shock of learning its seriousness. Despite feeling fine and being young, she was told she could have had a stroke or even died due to the condition.
Her medication for the disease caused her weight to vary, leading to online trolling about her appearance. While she outwardly dismissed these comments online, she admitted to feeling deeply hurt by them in private.
Speculations suggest that Selena Gomez may have deleted her highly-liked Instagram post due to plastic surgery rumors, as commenters noticed changes in her body and speculated about possible breast augmentation (Credit: Kathy Hutchins / Shutterstock)
"It was like they couldn't wait to find a thing to bring me down," she said about her fluctuating weight. "I lied. I would go online and post a picture of myself and I would say, 'It doesn't matter. I'm not accepting what you're saying,' all the while being in the room posting that crying my eyes out, 'cause nobody deserves to hear those things."
After fans said her famous boobs looked fake, in September 2018, Selena Gomez quickly deleted Instagram photos showing her sitting with a cocktail in a sexy off-the-shoulder dress.
She wore her hair in a high ponytail to keep the focus on her breasts. "So that's where she's been. Recovering from a boob job," a fan commented.
Another of her followers commented, "Is she pregnant??? Or did she made a boob job? I mean no one's push-up bra make this!"
There have been rumors that Selena Gomez had breast augmentation surgery in 2013, but there is no concrete evidence to support these claims (Credit: Tinseltown / Shutterstock / DFree)
"As far as her face is concerned, I don't really think she's had any surgery. I think it is primarily due to makeup and weight changes," Dr. Shah told Life & Style about Selena Gomez's changing figure in April 2019.
"She's just growing into her face. Her breasts, however, look larger without any evidence that she's gained weight," the plastic surgeon added about a possible breast augmentation.
Selena Gomez checks out her boobs in a red Prada dress at the 2016 American Music Awards held at Microsoft Theater on November 20, 2016, in Los Angeles, California (Credit: Kathy Hutchins / Shutterstock)
"This could be due to implants. It could also be due to the type of bra or tapes she wears," Dr. Shah argued and pointed to the frequent use of breast tape in Hollywood. "Other photos I've seen show a clearer picture of possible implants, though."
Norman Rowe, MD, a board-certified plastic surgeon by the American Board of Plastic Surgery, shared his professional opinion, suggesting that Selena Gomez may have undergone a breast augmentation due to her increased cleavage in recent photos and received lip fillers as her lips appear fuller.
He explained that these procedures are popular among individuals in their 20s, with many seeking breast augmentations and injectables for lip enhancement.
Selena Gomez's Lupus Journey: Body Changes and More
Selena Gomez has been open about her struggles with lupus, an autoimmune disease that can cause a variety of body changes.
"I don't know where I adopted the attitude, but it's helped me feel better in life. And the following is not a pity party. It's just how I think," Gomez said in an interview for the Twilio SIGNAL 2023 conference.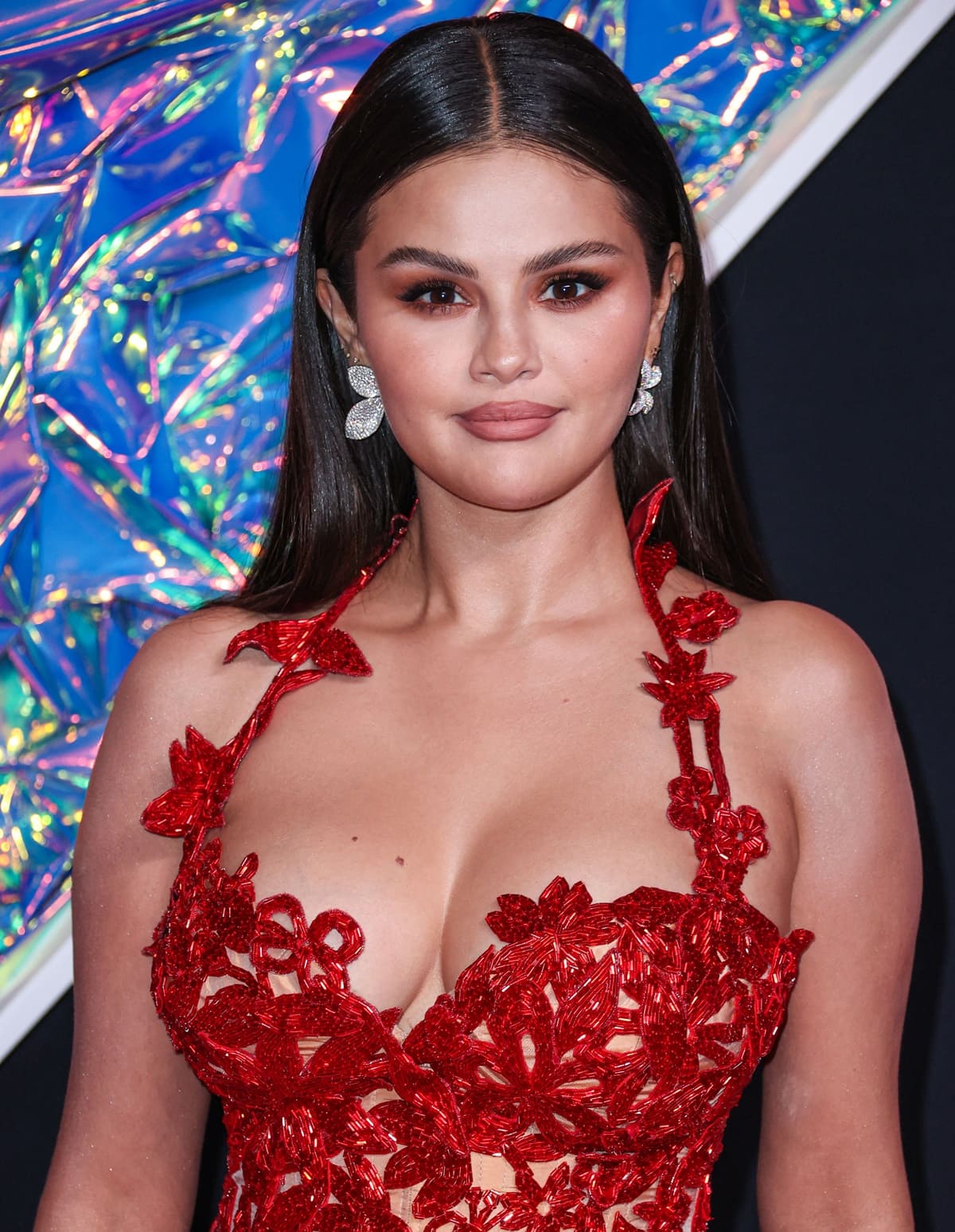 Selena Gomez, who has spoken openly about how her lupus medication causes her weight to fluctuate, flaunted her boobs at the 2023 Video Music Awards on September 12, 2023 (Credit: Abaca Press / INSTARimages)
"So when I got diagnosed with lupus, I was around 16 or 17. It was a very brutal process, and I didn't enjoy it at all. But cut to a few years later, I was able to visit a child in the hospital, and they would not look at me until I said I had lupus too. And that's when I knew that that happened to me because I could do that moment," Gomez finished, getting emotional.
Some of the body changes that Gomez has experienced as a result of lupus include:
Weight gain: Lupus medications can cause weight gain, and Gomez has spoken openly about how this has affected her body image.
Swelling: Lupus can cause inflammation throughout the body, leading to swelling in the face, hands, and feet.
Hair loss: Lupus can also cause hair loss, which can be physically and emotionally distressing.
Skin changes: Lupus can cause various skin changes, such as rashes, discoloration, and sensitivity to the sun.
Fatigue: Lupus can also cause fatigue, making it difficult to perform everyday activities.
In addition to these body changes, Gomez has also experienced some other symptoms related to lupus, such as joint pain, fever, and headaches.
There is no evidence that lupus medication directly affects breast size. However, some people with lupus may experience breast changes due to other factors, such as weight gain or loss, hormonal changes, or side effects from other medications.
"My lupus, my kidney transplant, chemotherapy, having a mental illness, going through very public heartbreaks—these were all things that honestly should have taken me down," Gomez told Elle in 2021. But she would think to herself: "'You're going to help people,'" she recalled. "That's really what kept me going.
Selena Gomez Stuns in Gucci at LACMA Art + Film Gala
Taylor Swift's best friend joined Kate Beckinsale, Jennifer Lopez, Amy Adams, and Kim Kardashian on the black carpet at the 2014 LACMA Art + Film Gala honoring Barbara Kruger and Quentin Tarantino, presented by Gucci at LACMA in Los Angeles.
Selena Gomez on the black carpet at the 2014 LACMA Art + Film Gala honoring Barbara Kruger and Quentin Tarantino presented by Gucci at LACMA in Los Angeles on November 1, 2014 (Credit: Adriana M. Barraza / WENN / Apega / FayesVision / Brian To)
The then-22-year-old actress and singer flashed her cleavage in Gucci's glamorous one-of-a-kind floor-length dress featuring small gray crystal chains and twisted shoulder straps supported by a black-diamond crystal brooch.
Selena Gomez's dress features small gray crystal chains and twisted shoulder straps (Credit: Adriana M. Barraza / WENN / Apega / FayesVision / Brian To)
She styled the pale gray silk gown with strappy peep-toe sandals.
Selena Gomez flashed her cleavage in a glamorous one-of-a-kind floor-length dress by Gucci (Credit: Adriana M. Barraza / WENN / Apega / FayesVision / Brian To)
How do you like Selena's sparkling gown? We've unfortunately not been able to identify her sandals.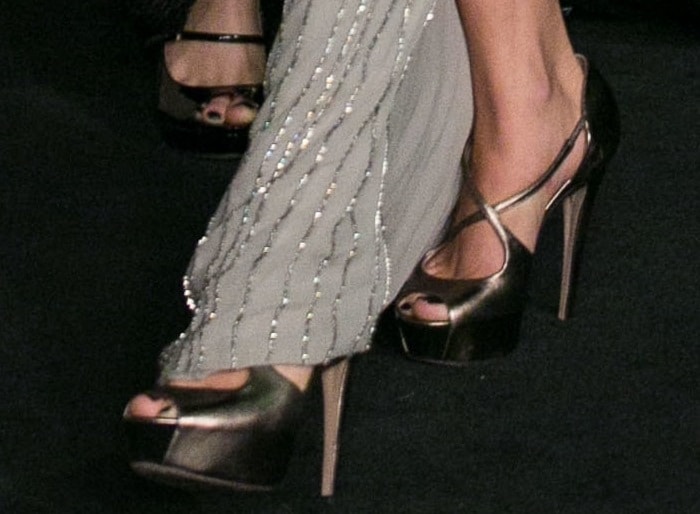 Selena Gomez shows off her feet in peep-toe pumps (Credit: Adriana M. Barraza / WENN / Apega / FayesVision / Brian To)