Selena Gomez had quite a busy week. She was among the star-studded guest list for Britney Spears' wedding on Thursday and a few days later, the multihyphenate attended an Emmy 'For Your Consideration' event promoting her Hulu series Only Murders in the Building.
More recently, the Another Cinderella Story star sat down with The Hollywood Reporter's Awards Chatter podcast for a wide-range interview.
She talked about her experience with childhood stardom, rebranding herself as a grown-up actress, her first Grammy nomination for Revelacion, and more.
Selena Gomez shares how her tough break-up with Justin Bieber shaped her (Credit: DFree / Shutterstock)
The Christian actress also opened up about how her health struggles and "tough breakup" with Justin Bieber helped her "develop a character where I don't tolerate any sort of nonsense or disrespect in any way."
"It was necessary for me to walk through those things. I had a lot of soul-searching to do. By all means, I don't have life figured out, but I do know that during that time I was learning so much about myself."
"I was, you know, obviously going through a really tough break-up, and then I was left with the question of my career and where am I gonna go and what's gonna happen? It just was all of these different things I was feeling. And then my medical stuff kind of kicked in—I was dealing with my lupus and I was dealing with some kidney problems. It was actually really hard. But, being on the other side of it, I have to be honest, it's actually been really good for me."
"I'm really proud of how I came out of it," she added.
Selena Gomez promoting Only Murders in the Building at Emmy's For Your Consideration event on June 11, 2022 (Credit: Axelle Woussen / BauerGriffin / INSTARimages)
Selena has been generating an Emmy Buzz for her performance in the mystery-comedy Only Murders in the Building.
The streaming TV series set a record for the most-watched comedy premiere in the history of Hulu. It's been renewed for a second season, which is scheduled to premiere on June 28, with Cara Delevingne, Amy Schumer, and Shirley MacLaine joining the cast.
Selena Gomez showcases her legs in a white Prada shirt dress (Credit: Axelle Woussen / BauerGriffin / INSTARimages)
For the FYC event held at the El Capitan Theatre on Saturday, Selena arrived in a pristine white Prada shirt dress, available to buy for $3,250 at Farfetch.
The Who Says singer looked radiant in the semi-sheer white cotton number that features a cinched corset-style lace-up waist, a classic collar, drop shoulders with long sleeves, front button fastening, and a thigh-skimming curved hem.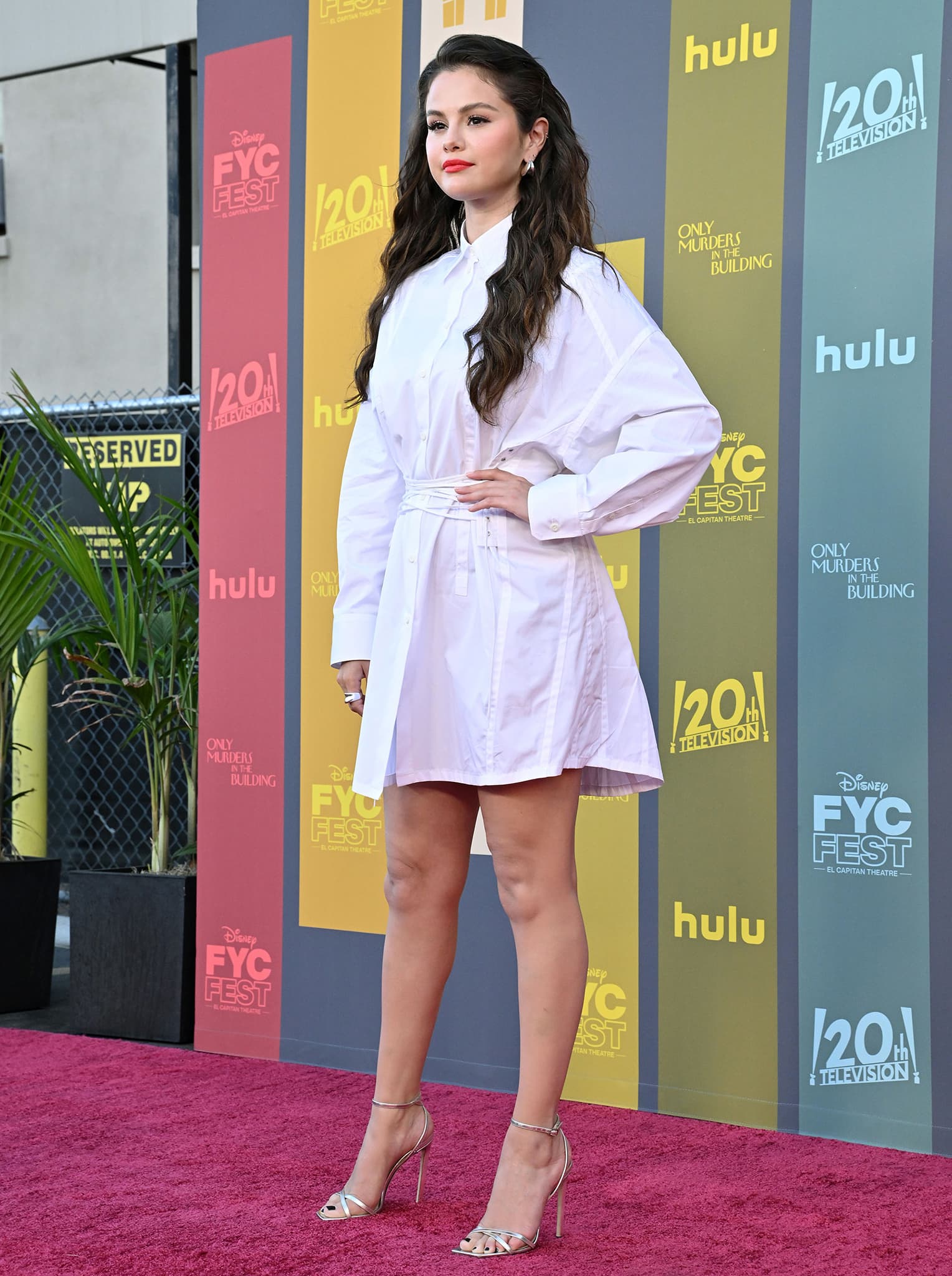 Selena Gomez's Prada shirt dress features a corset-style lace-up waist and a thigh-skimming hem (Credit: Axelle Woussen / BauerGriffin / INSTARimages)
Elevating her rather casual-looking outfit, Selena accessorized with a $98 Jenny Bird "Viviana" silver ring and a pair of "Nouveaux" sculptural puff earrings, which you can get for $108 at Nordstrom.
She wore her dark tresses in luscious curls cascading over her shoulders and accentuated her features with false eyelashes and red lipstick, which gave her white ensemble a pop of color.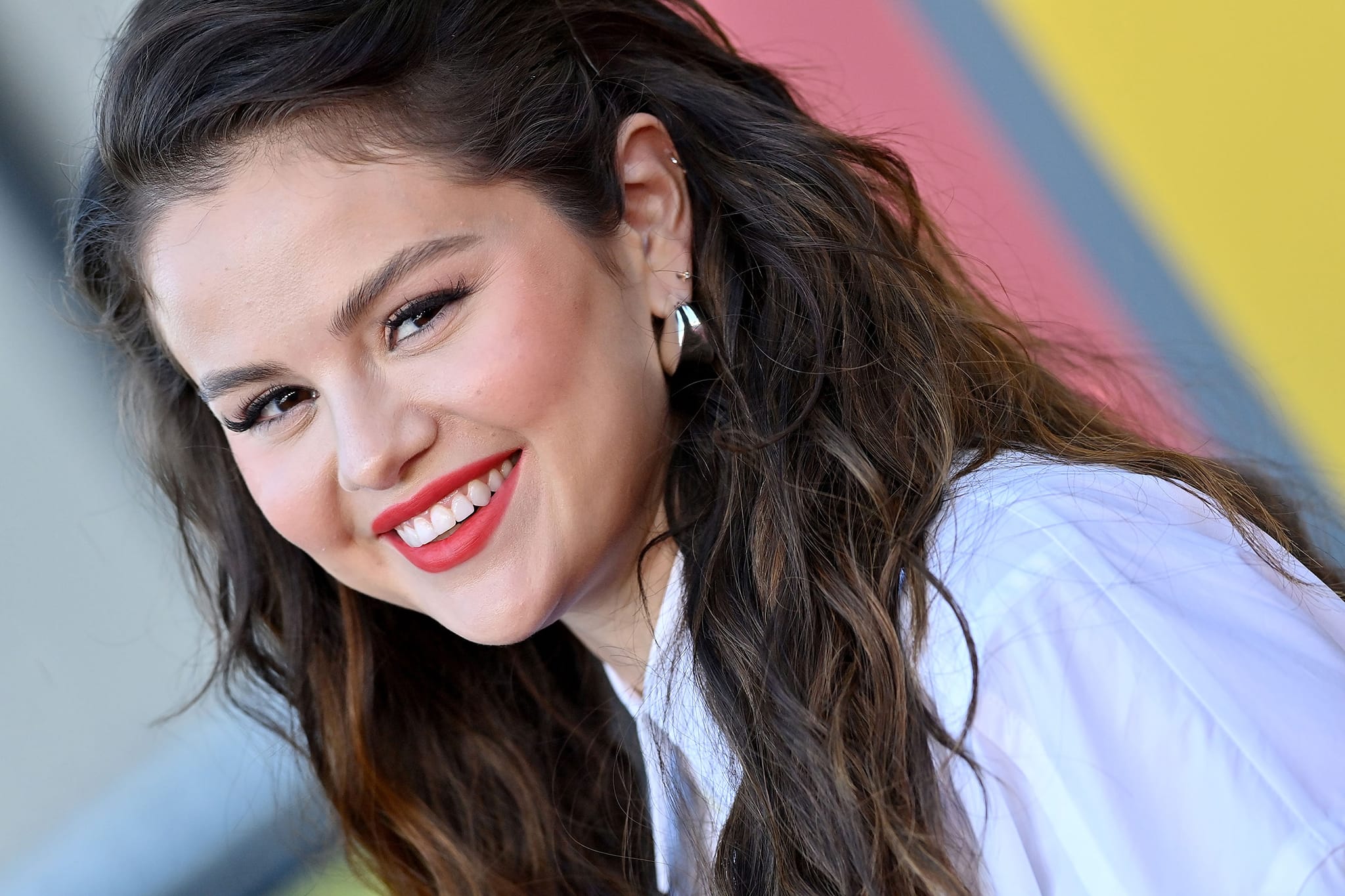 Selena Gomez adds a pop of color to her look with red lipstick and wears her tresses in luscious curls (Credit: Axelle Woussen / BauerGriffin / INSTARimages)
As for her footwear, the 5'5" star slipped her pedicured feet into the now sold-out Jimmy Choo "Metz" sandals in metallic silver leather.
These slick sandals feature square open toes, crossover front straps, ankle straps, and high stiletto heels.
Selena Gomez slips her pedicured feet into Jimmy Choo's Metz sandals (Credit: Axelle Woussen / BauerGriffin / INSTARimages)