We already know that Selena Gomez has a huge heart but we can't help but coo over her anyway. Sel was spotted in her usual rush to depart from the Los Angeles Airport (LAX) but didn't hesitate to stop and talk to two young fans. Aww.
The 23-year-old American singer and actress was photographed stopping to sign autographs as well as she arrived at the airport.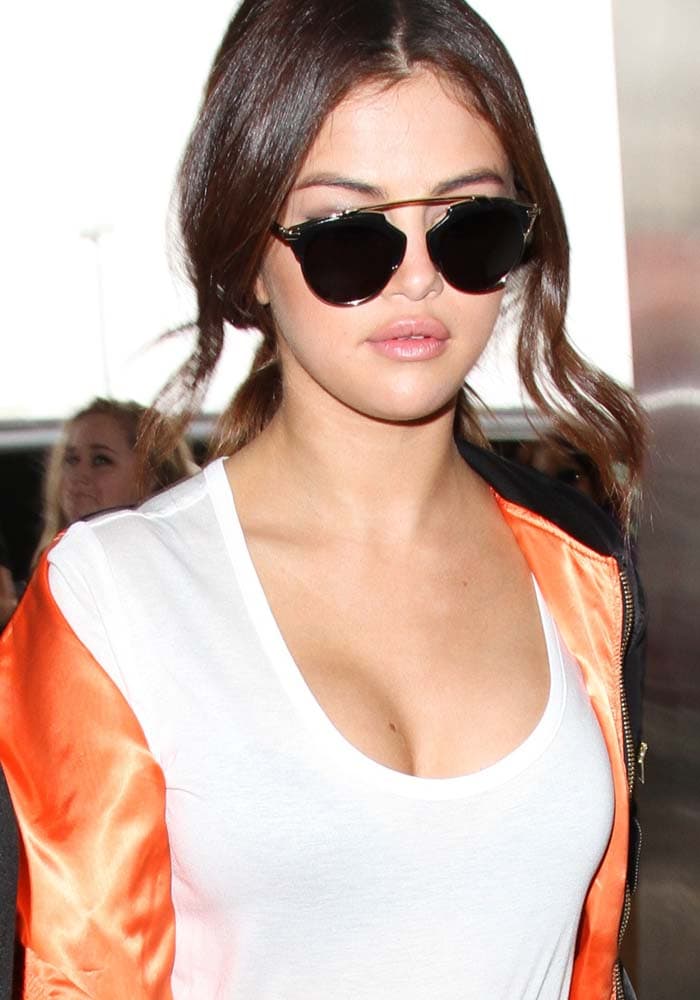 Selena Gomez at at Los Angeles International Airport (LAX) on April 7, 2016
Selena wore a cleavage-baring white tee with a printed jacket and sweatpants from Vetements (available at Forward). The singer styled her casual look with an unstable-looking pair of slanted-heel boots, also by Vetements, and a pair of the it-sunglasses from Christian Dior.
Can you even walk in those? Selena Gomez puts on unstable-looking boots from Vetements
Selena Gomez stops to sign autographs upon arriving at the Los Angeles Airport (LAX)
Selena stopped and bent over to talk to two young fans who were standing behind her in line, even though she needed to get a move on to the check-in counter. Selena showed her "kill them with kindness" motto, even thanking one paparazzo who told her she looked beautiful.
These boots look like they'll have us rocking back and forth, but Selena looks pretty comfortable in them. Grab these Vetements pair at Ssense, My Theresa and Selfridges & Co.
Vetements Black Leather Chunky Cowboy Boots, $1,070 – $1,495 at Ssense, My Theresa and Selfridges & Co.
Credit: WENN