The year started fine for Selena Gomez's love life, but it didn't last long. Early this month, she was spotted riding Segways with Justin Bieber in Calabasas. But just after a few weeks, their relationship was shattered (again) when Biebs was arrested for DUI and drag racing with his rumored new girlfriend, Chantel Jeffries. Although Bieber is claiming that the new girl is just a friend, Selena's not buying it.
Justin Bieber and Selena Gomez riding Segways together in Calabasas, Los Angeles, on January 2, 2014
A source told Hollywood Life that Selena was seen "crying over Justin and him being with Chantel." Not to add fuel to the fire, Chantel and Bieber were also spotted on a vacation in Panama just after his DUI arrest.
There's probably a lot going on in Selena's mind lately; undoubtedly, it has been a very difficult week for her. Aside from her issue with Bieber, a stalker was also seen creeping outside her house just last Saturday. Police arrived at the area and found a 19-year-old man, who allegedly admitted he wanted to see Selena in person. He was then arrested and booked for trespassing.
Despite all the troubles, Selena still managed to pick herself up. In fact, she was seen at the Beats music official launch party in Los Angeles on January 27! At least, somehow, she was able to forget her problems even for just a while.
Ashley Benson and Selena Gomez at the Beats music official launch party in Los Angeles on January 27, 2014
Selena was also spotted leaving a tanning salon in Encino on January 28. Who doesn't want to look a lot better after a heartbreak, right?
Selena was just casual, but she was very chic in her Forever 21 "Rawr" tee paired with American Apparel jeans. Adding some luxe to her relaxed getup were her Versace bag and Chanel loafers.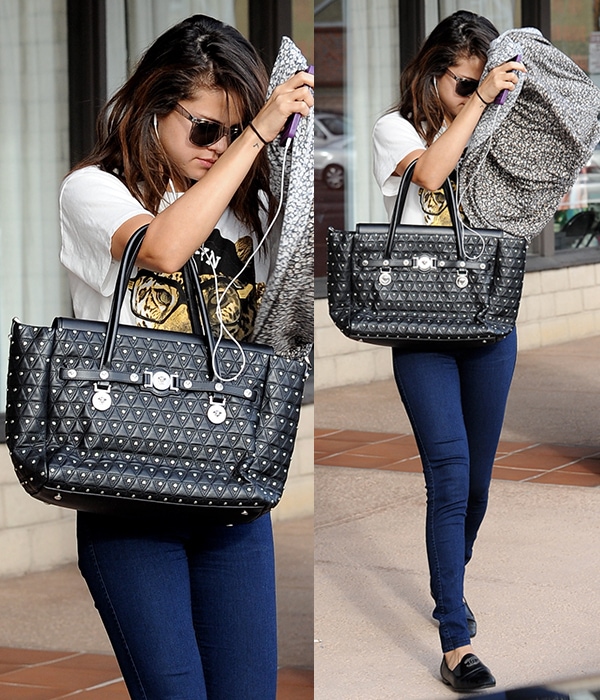 Selena Gomez leaving a tanning salon in Encino, Los Angeles, on January 28, 2014
Selena Gomez wearing Chanel flats
Check out some designer loafers that might be of interest to you:
Saint Laurent Silky Leather Smoking Slippers, $695 at Neiman Marcus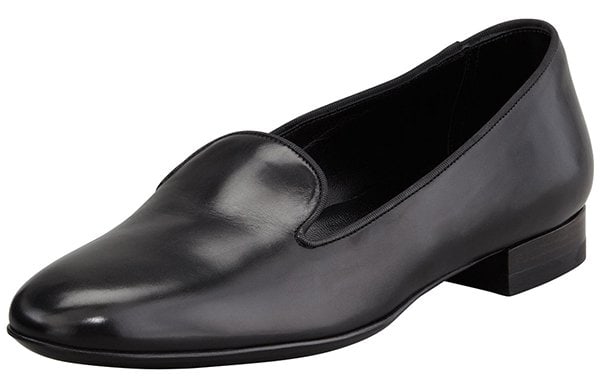 Cole Haan 'Sabrina' Slippers, $198 at Neiman Marcus
Alexander McQueen Embroidered Skull Smoking Slippers, $580 at Neiman Marcus
Stuart Weitzman "Lys" Crystal-Rocks Smoking Slippers, 390 at Neiman Marcus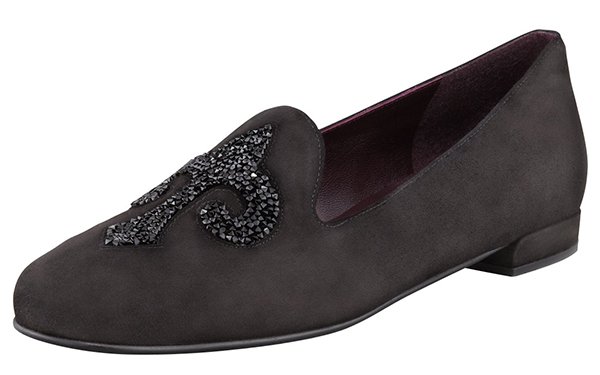 Credit: SIPA / Cousart / JFXimages / WENN