Charlize Theron has been vocal about her own experiences with sexual harassment in the midst of promoting her film, Bombshell.
Her new drama tells the sexual harassment scandal involving several women at Fox News and the late CEO of the news channel, Roger Ailes.
On Tuesday, the 44-year-old actress looked sleek as she headed to The Late Show with Stephen Colbert in gorgeous Cinderella shoes that you can buy at Farfetch.
Charlize Theron heading to The Late Show with Stephen Colbert on December 17, 2019
Styled by Leslie Fremar, Charlize donned a minimalist Riccardo Tisci's Burberry Resort 2020 ensemble. It included a white slip dress with laced hem and décolletage worn underneath a black blazer and vest combo.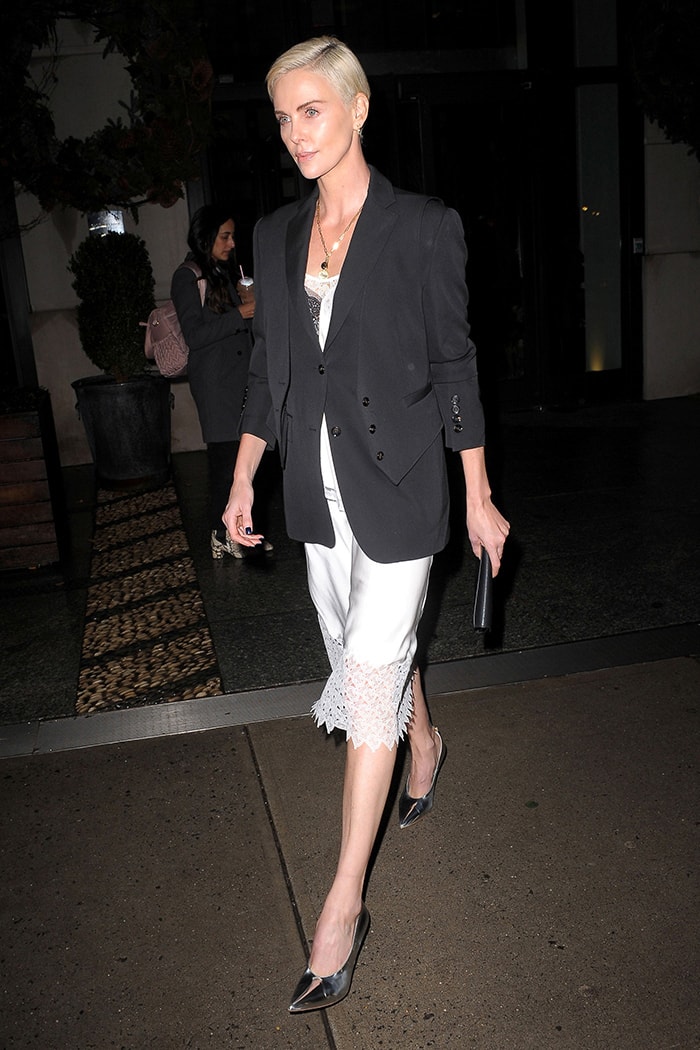 Charlize Theron in a Riccardo Tisci Burberry white slip dress and black blazer
Hairstylist Jenny Cho and makeup artist Sabrina Bedrani beautified the actress. She wore her pixie blonde hair with a deep side parting and allowed her natural beauty to shine with minimal makeup.
Charlize Theron wears a side-parted blonde pixie with nude lip gloss
She then accessorized with a gold chain pendant necklace, hoop earrings, and a pair of Burberry two-tone metallic pumps.
Showing her fish ankle tattoo, Charlize slipped into the mirror silver pumps with pointed toes, gold pull tabs, and gold stiletto heels.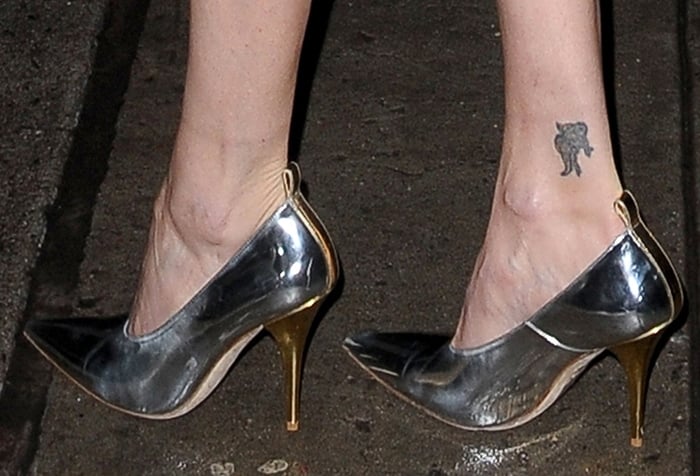 Charlize Theron shows off her ankle tattoo in Burberry pumps
Burberry Two-Tone Metallic Pumps, $790 at Farfetch
Earlier on the same day, Charlize was spotted heading to The View, wearing a totally different outfit.
For her appearance on the daytime talk show, Charlize decided on a holiday look from Dior. She wore a festive pair of red and green plaid cropped trousers and a black sweater with ruffled shoulders.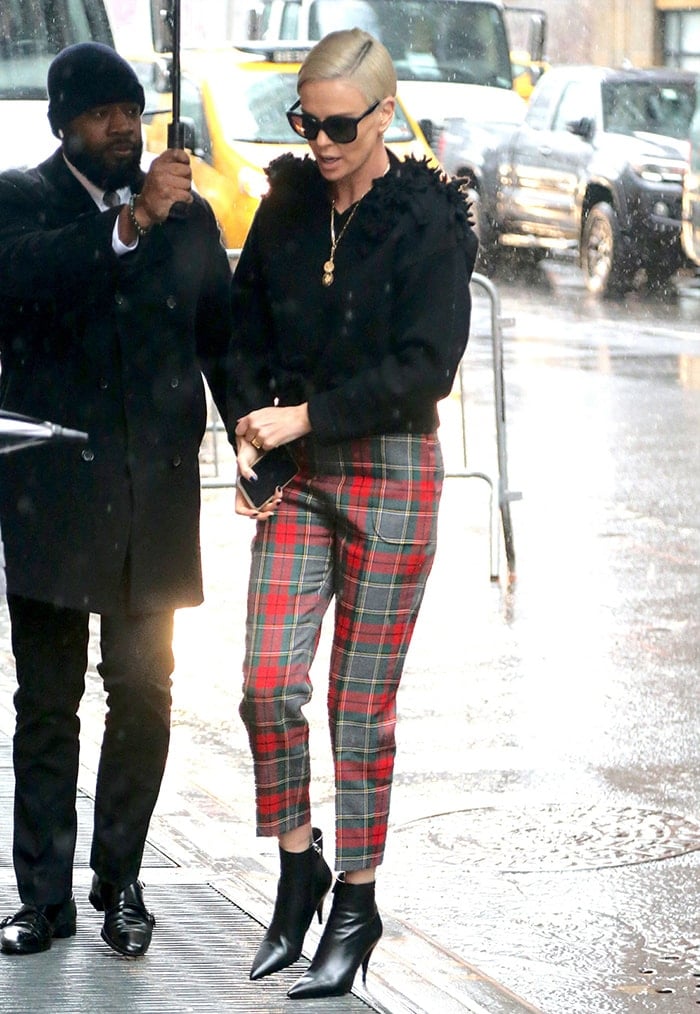 Charlize Theron in festive plaid trousers on her way to The View on December 17, 2019
She also wore the same pendant necklace but completed her outfit with a pair of sleek pointed toe leather boots.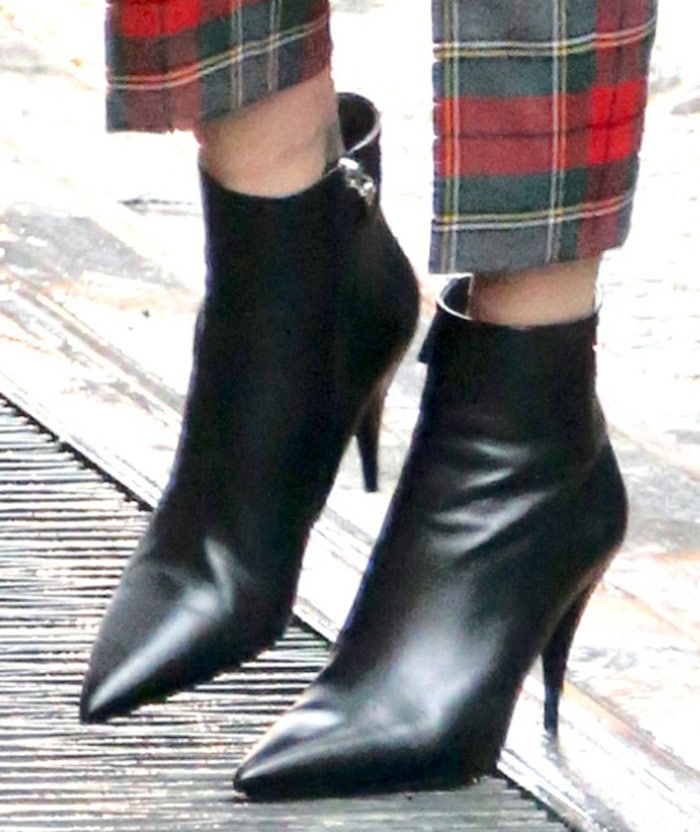 Charlize Theron teams her cropped tartan pants with black pointed-toe boots
A day before hitting the promo trail, Charlize attended the New York screening of Bombshell held at Lincoln Center.
The face of Dior J'adore naturally wore a look from the fashion house. She showed off her décolletage in a sleeveless white suit, which she teamed with a black cape.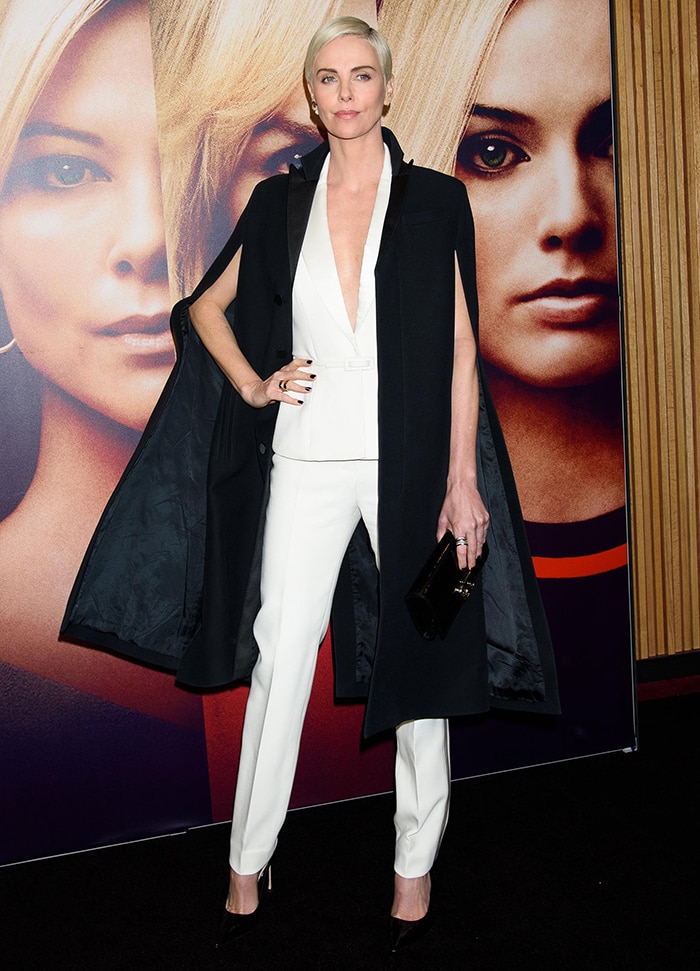 Charlize Theron in Dior suit and cape at the New York screening of Bombshell held at Lincoln Center on December 16, 2019
She kept her accessories to a minimum, with a black Dior 30 Montaigne clutch, a pair of Dior earrings, and Alexis Bittar rings. To complete the look, she balanced on a pair of classic black pumps.
Charlize Theron completes her Dior look with black pumps
Charlize details sexual harassment incident
In an interview with NPR on Tuesday, Charlize shared details about a sexual harassment incident that she suffered at the hands of a "famous director" in 1994 when she was just starting out her career.
Charlize Theron at the premiere of her new film Sweet November held at Mann Bruin Theatre Westwood, California on February 12, 2001
The said director invited Charlize to audition at his home on a Saturday night. Once inside, Charlize said that the director "wore silk pajamas and offered me a drink and rubbed my knee."
"I remember saying, "I'm sorry that I have to leave," because I was trying to remove myself from the room," she recalled.
She added: "I put a lot of blame on myself in the sense that I was angry with myself that I didn't say all the right things and that I didn't tell him to, you know, take a hike, and that I didn't do all of those things that we so want to believe we'll do in those situations. Instead, I very politely apologized. And then I was in my car driving away. And I just kept hitting the steering wheel."
"I was just starting out in the industry. I didn't really know the ins and outs," Charlize continued.
The South African actress added "I literally was telling myself as I was driving there on a Saturday night at 9 o'clock, well, maybe that's how they do it in the movie industry. I don't know. I've never done this."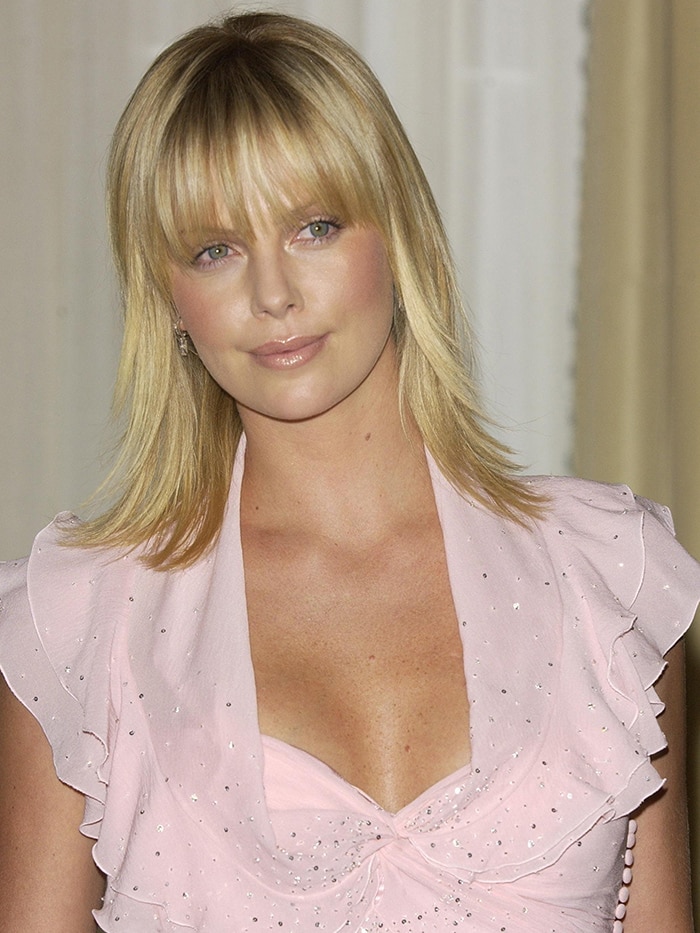 Charlize Theron at a photocall for The Italian Job at Claridge's in London on September 15, 2003
Eight years later, Charlize found a chance to finally confront the "very well-known director" after he offered her another role. During the meeting, she said she brought up their first encounter, but the director just "moved on from the conversation like he just didn't want to address it."
She also mentioned that she divulged the director's name more than once in the past, but "every time I disclosed his name, the journalist made the decision not to write his name."
Charlize denies sleeping with Harvey Weinstein
In an interview with the New York Times a few weeks ago, Charlize called out Harvey Weinstein for spreading a rumor about her.
The actress said that the former film producer told people that she slept with him to get into movie roles. She also said that Harvey "did that to everybody."
"One of his lines was that Renée [Zellweger] and I slept with him to get jobs… There was no limit to him."
"Pitting women against each other? He was really, really good at that," she added. "There was a lot of, like, 'Well, I'm talking to Gwyneth [Paltrow] for this movie…' Even in the sexual favors, he would still pit us against each other."
Credit: Instar / WENN