After selling over 35 million albums and becoming a household name, Snoop Dogg is a well-loved music mogul and has his own variety show with Martha Stewart. His relaxed, hilarious, and cannabis-influenced persona has connected him with fans around the world.
Although he is primarily known for success in his professional life, Snoop has also had many accomplishments in his personal life; one of them being his marriage.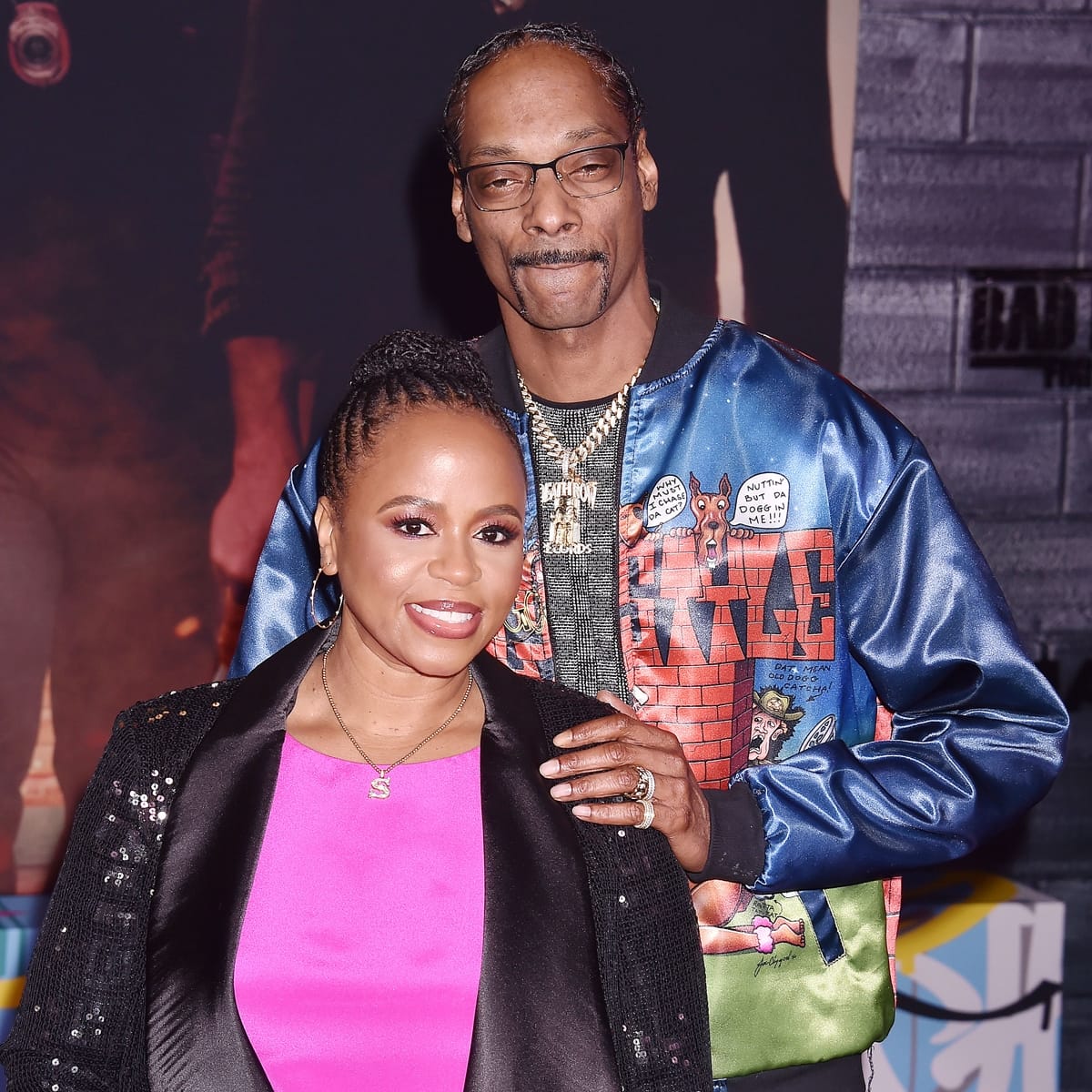 Snoop Dogg appointed his wife, Shante Broadus, to his executive team as his manager in June 2021 (Credit: Avalon / WENN)
In a Hollywood world where whirlwind marriages and divorces are normalized, Snoop and his wife Shante Broadus have defied the celebrity odds with a marriage that has lasted 24 years. Let's dive into their relationship to learn more!
What does Shante Broadus do?
Shante Broadus (formerly known as Shante Taylor) was born in California in 1971. She attended Polytechnic High School in Long Beach. It just so happened that Calvin Cordozar Broadus Jr, who would eventually become Snoop Dogg, also attended the same high school.
Shante and Snoop met there and began their relationship as high school sweethearts before Snoop Dogg was ever in the spotlight. The couple got married on June 14th, 1997.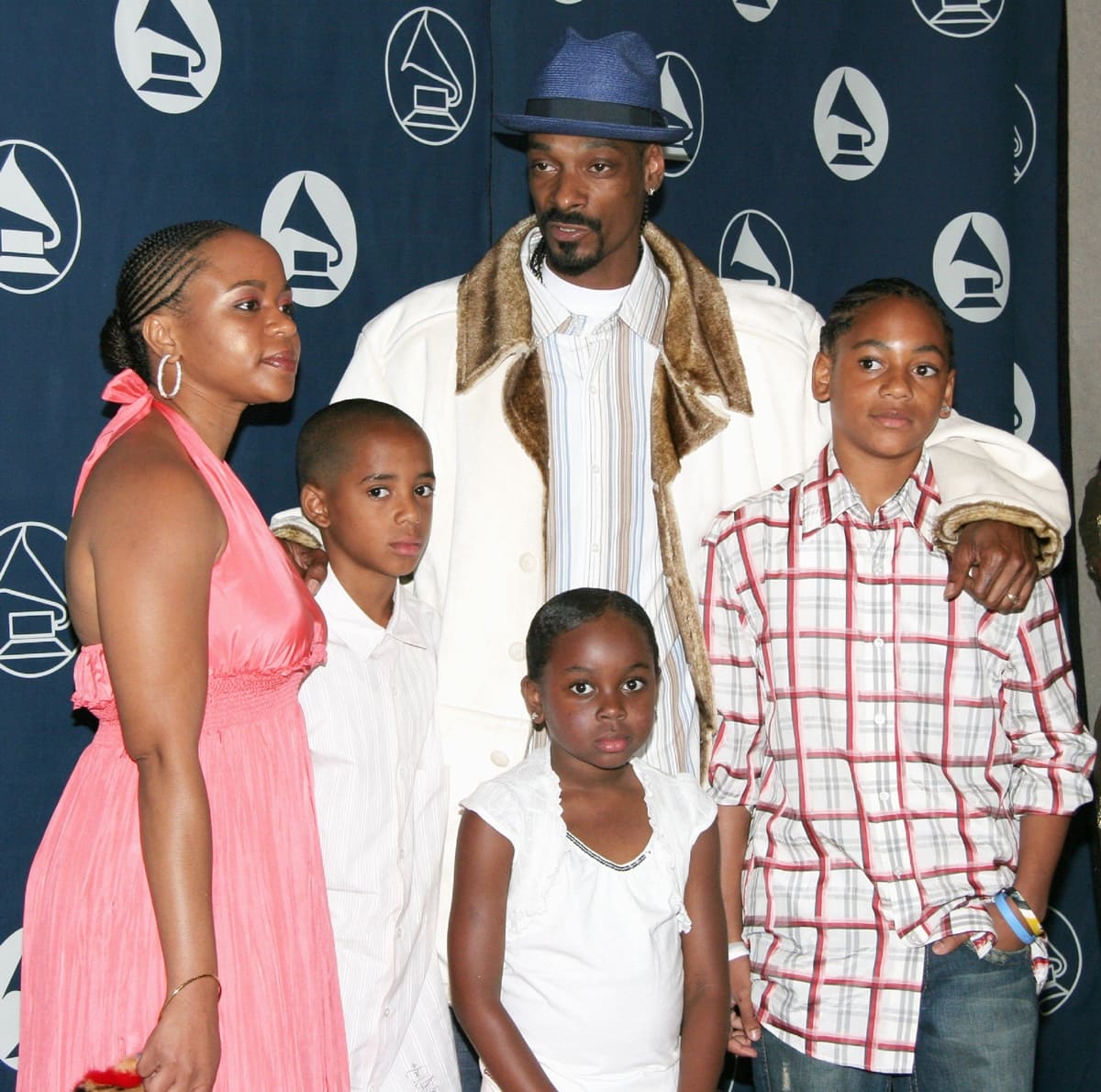 Shante Broadus and Snoop Dog with their three children Corde Broadus, Cordell Broadus, and Cori Broadus in 2006 (Credit: Rachel Worth / WENN)
As Snoop's rapping career took off, Shante worked behind the scenes as his manager. A woman with a boss mindset, Shante founded BLE, Boss Lady Entertainment. Shante also launched The Broadus Collection, a trendy candle and headscarf line.
In 2021, the duo announced that Shante would become Snoop's official manager. Of this decision, Snoop said, "Shante has been guiding my career behind the scenes from day one. She has always been my final gut check with all my decisions, and I wouldn't be where I am today without her. I am grateful to have her as my official manager, helping to build the Snoop Dogg empire together."
Shante and Snoop have three children together. Snoop also has a fourth child, Julian Corrie Broadus, whom he had with his previous high school girlfriend, Laurie Holmond.
Recently, the couple's daughter Cori has made headlines for getting candid about her mental health.
Shante Broadus's daughter Cori Broadus has been open about her mental health struggles (Credit: Nikki Nelson / WENN)
Cori posted on her social media,​​"The last few weeks, my mental has not been so great. At one point I tried to end my life, but you & my family really give me a purpose to live & helped me realize life is much more than materialistic things & you gotta just keep pushing through the bulls–t. THANK YOU… #mentalhealthawareness."
Although Snoop and Shante's marriage has lasted long, they have had their ups and downs like many marriages. Unfortunately, Cori struggled with lupus as a child, which took a toll on Snoop and Shante's marriage.
However, the couple noted that their daughter Cori helped save their marriage. Shante said, "Without [Snoop], I don't know what I'd have done. It's amazing how this all turned out. We were gonna get a divorce. But we wouldn't have gotten through it [the lupus diagnosis] that way." Alongside her parents' marriage, Cori's condition also improved.
Their daughter's lupus diagnosis was not the only thing that put a strain on the couple's marriage. On May 21, 2004, Snoop Dogg filed for divorce from his wife, citing irreconcilable differences.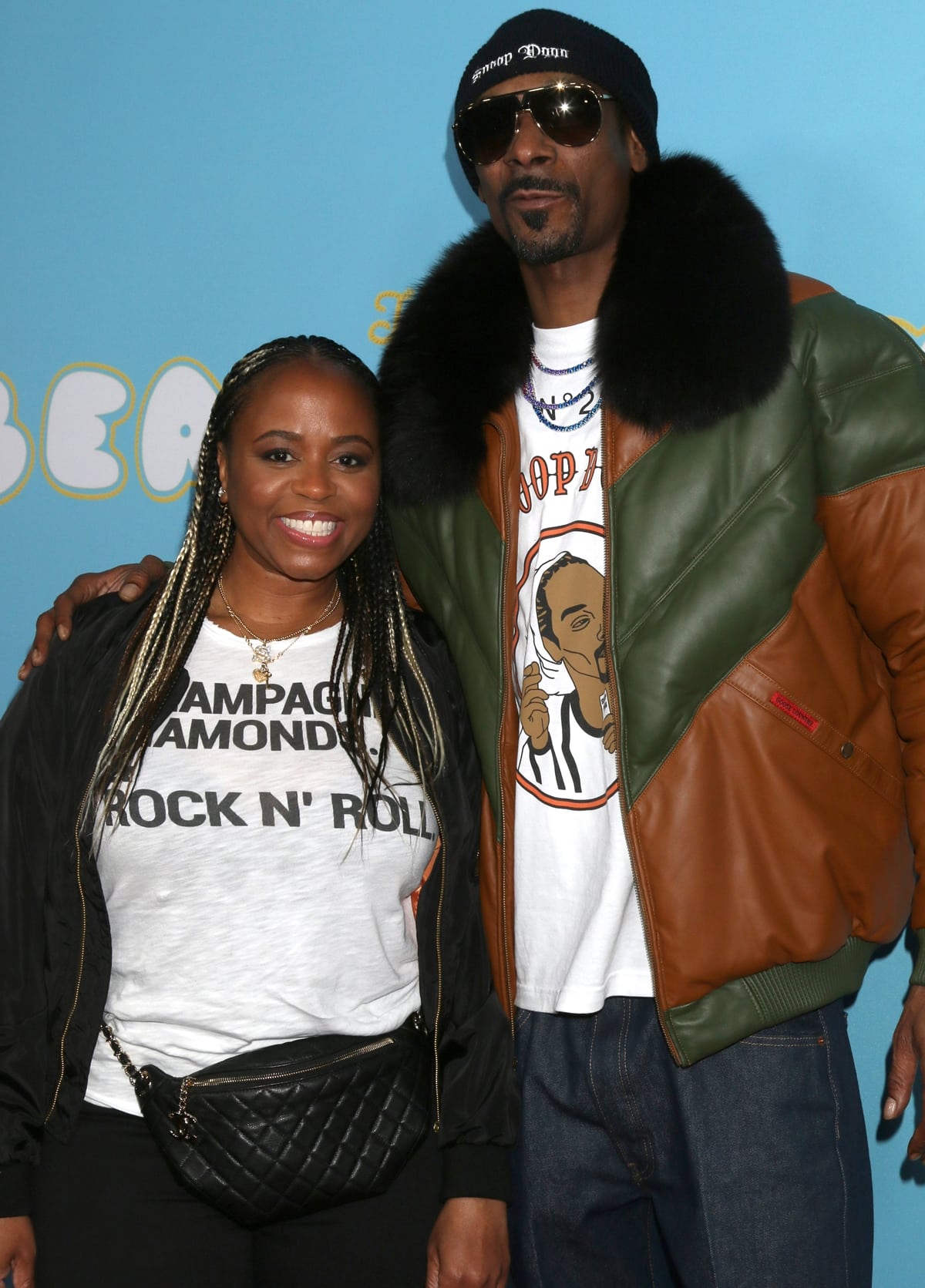 Shante Broadus and her husband Snoop Dogg attends the Los Angeles premiere of Neon and Vice Studio's "The Beach Bum" at ArcLight Hollywood on March 28, 2019, in Hollywood, California (Credit: Nicky Nelson / WENN)
There were allegations of infidelity, and Snoop even admitted that he cheated. However, Snoop Dogg eventually realized he had made a big mistake, and worked hard to win his wife back. On January 12, 2008, the pair renewed their vows.
Although the couple has had their ups and downs, Snoop and Shante have stuck by each other's side and exemplified what it means to make a marriage work against all odds. The future looks bright for Mr. and Mrs. Broadus!
In October 2019, Chloë Grace Moretz, who voices Gomez and Morticia's daughter Wednesday Addams, hit the carpet in a fugly Louis Vuitton dress at the premiere of The Addams Family in Los Angeles.
Finn Wolfhard, Nick Kroll, Charlize Theron, Chloe Grace Moretz, and Snoop Dogg (Credit: Avalon / WENN)
The 3D computer-animated comedy horror film, which is based on the comics of the same name by Charles Addams, was released in the United States by Metro-Goldwyn-Mayer through United Artists Releasing and by Universal Pictures internationally on October 11, 2019.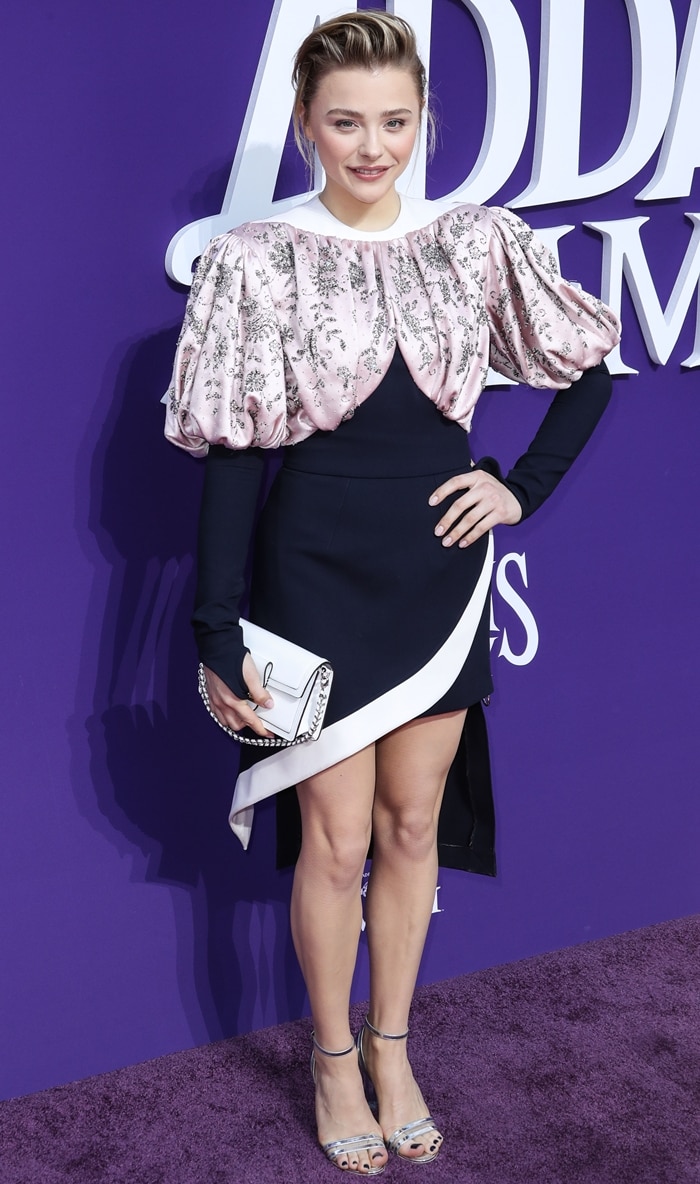 Chloe Grace Moretz wears a fugly Louis Vuitton dress at the premiere of The Addams Family in Los Angeles on October 6, 2019 (Credit: Avalon / WENN)
The Carrie actress was joined by her co-stars Charlize Theron, Nick Kroll, Elsie Fisher, Snoop Dogg, Finn Wolfhard, and Aimee Garcia, as well as Keith L Williams, Ruby Jay, Ruby Rose Turner, Jake T Austin, Christina Aguilera's fiancé Matthew Rutler and her children Max and Summer Rain.
The Louis Vuitton ambassador flaunted her legs in an asymmetrical dress from the Resort 2020 Collection featuring billowy blush pink satin shoulders embroidered with a silver beaded design.
Chloe Grace Moretz displayed her toes in metallic calf leather and PVC Silhouette ankle-strap sandals (Credit: Avalon / WENN)
Toting a chain-embellished white leather handbag, she completed her look with metallic calf leather and PVC Silhouette ankle-strap sandals featuring Louis Vuitton's Monogram flower-shaped heel.
Chloe Grace Moretz showed off her sexy feet in Louis Vuitton shoes with slender silver-tone straps (Credit: Avalon / WENN)
Indya Moore wore these sandals in black to the 2019 Critics' Choice Awards.
Louis Vuitton Silhouette Sandals, $1,130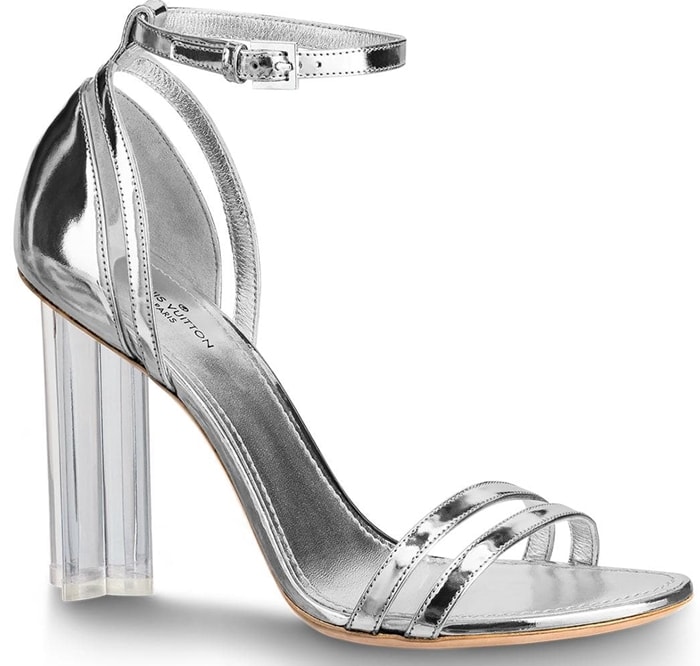 Her co-star Charlize Theron donned an unflattering tie-dye Christian Dior Spring 2020 look with distracting black shoes and a leather mesh thumb glove on her left hand.
Charlize Theron's bowl haircut by celebrity hairstylist Adir Abergel (Credit: Avalon / WENN)
She was styled by Leslie Fremar and her bowl haircut was by Adir Abergel. How do you like her pointy-toe shoes?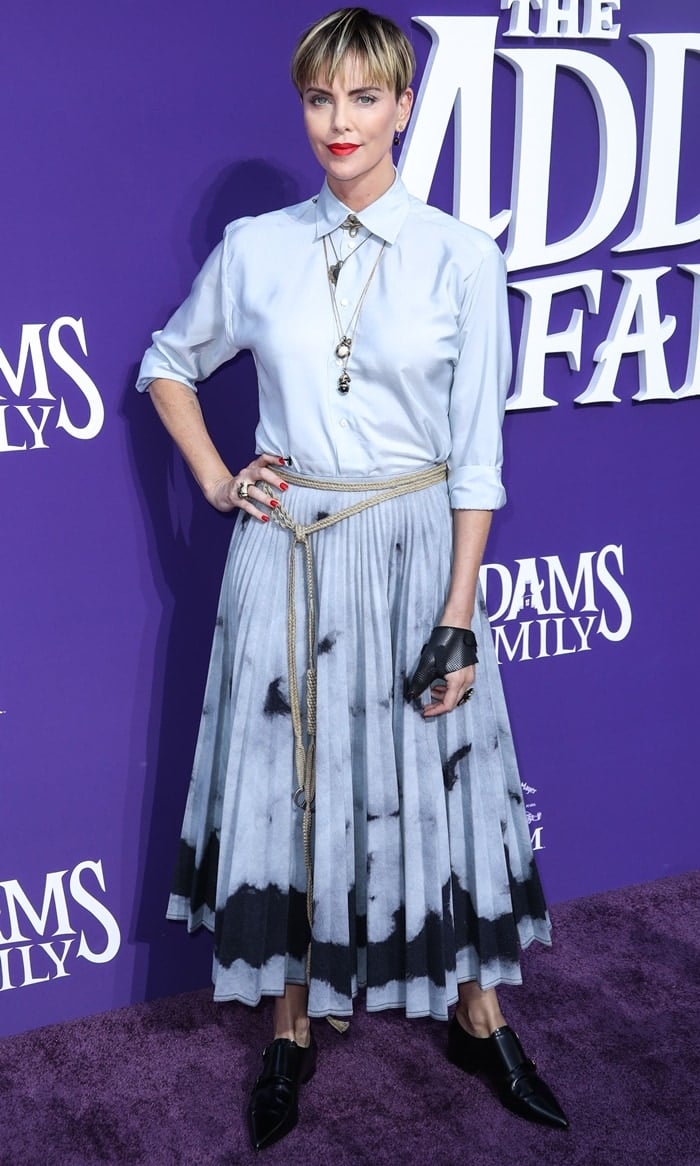 Charlize Theron styled a pleated tie-dye skirt with black pointy shoes (Credit: Avalon / WENN)