Who is the richest shark on Shark Tank? If you've been watching this hit show, you might be curious to know which of the panel's investors has accumulated the most wealth.
Shark Tank is an American business reality TV series that has captivated audiences since 2009. Its unique format shows aspiring entrepreneurs pitch their ideas to a panel of five venture capitalists known as "sharks."
The show is an American adaptation of the international format Dragons' Den, which debuted in Japan in 2001 under the title Money Tigers.
Its drama unfolds as the sharks listen to business presentations and decide whether to invest their funds. Sharks frequently uncover flaws and vulnerabilities in an entrepreneur's product, business strategy, or company value.
Daymond John, Barbara Corcoran, Mark Cuban, Lori Greiner, and Kevin O'Leary attend the Tribeca Talks Panel: 10 Years Of "Shark Tank" during the 2018 Tribeca TV Festival at Spring Studios on September 23, 2018, in New York City (Credit: John Nacion / Startraksphoto)
The entrepreneur can agree to a deal on a handshake on the show if a panelist is interested. However, if all panelists decline, the entrepreneur leaves empty-handed.
The show depicts the drama of pitch sessions and exchanges between tycoons and entrepreneurs. With the high stakes and fierce competition, it's no wonder the show has become a fan favorite.
Let's uncover the net worth of the six most prominent sharks on the show, so read on to find out who is the wealthiest investor on Shark Tank.
6. Barbara Corcoran – $100 Million Net Worth
Barbara Corcoran has a net worth of $100 million. Despite having the lowest net worth of the Shark Tank investors, Corcoran's wealth is nothing to sneeze at.
Forbes recognizes her for growing a $1000 real estate investment into a $6 billion company, making her a true business powerhouse.
One of the original "Shark" investors on ABC's Shark Tank, Barbara Corcoran is an American businesswoman, investor, consultant, author, and television personality who has a net worth of $100 million (Credit: Sara De Boer / Startraksphoto)
The 74-year-old American businesswoman's impressive career started at a young age, having worked for 20 different companies by the time she was just 23 years old. But her decision to start her business with her then-boyfriend put her on the map.
Although they broke up roughly seven years later, Corcoran was determined to succeed, and everything turned out well for her. She is the creator of the enormously successful New York City real estate company, the Corcoran Group, now worth billions of dollars.
As a Shark, Corcoran has closed 130 agreements on the show, with the biggest being a $350,000 investment for 40% of Coverplay. But her giving nature goes beyond just investing in businesses.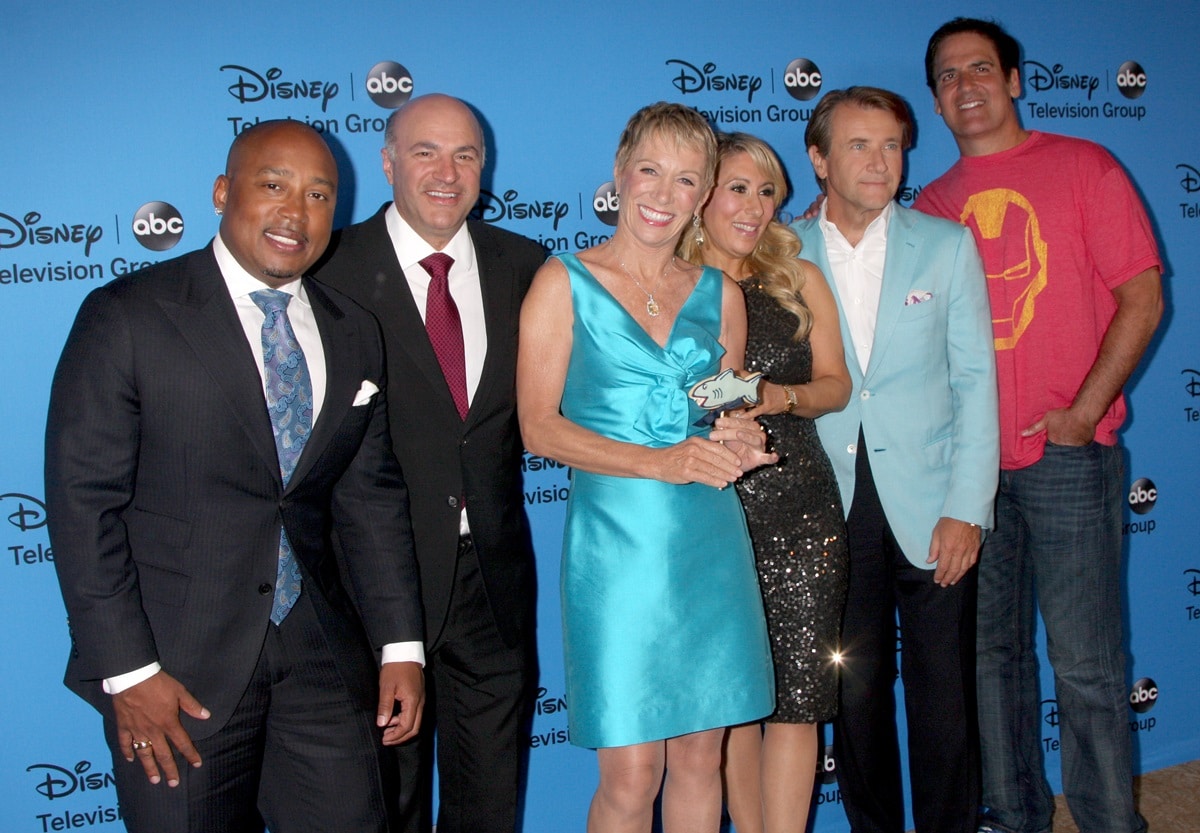 Kevin O'Leary, Barbara Corcoran, Daymond John, Lori Greiner, Robert Herjavec, and Mark Cuban attend the Disney & ABC Television Group's "2013 Summer TCA Tour" at The Beverly Hilton Hotel on August 4, 2013, in Beverly Hills, California (Credit: Kathy Hutchins / Shutterstock)
Outside of the show, Corcoran shares her business knowledge and counsel through two podcasts and a book on her successful career as an entrepreneur.
And with over 80 business investments under her belt, she may be the most giving Shark, where Entrepreneur reported that she recently took her staff on a shopping spree in New York City's iconic stores.
5. Lori Greiner – $150 Million Net Worth
Lori Greiner is undoubtedly one of the most innovative minds on Shark Tank. With a net worth of $150 million, she has invested over $9.5 million in companies featured on the show, including the popular products Squatty Potty and Scrub Daddy.
With hundreds of inventions and 120 patents to her name and known for her role as an investor on ABC's Shark Tank, Lori Greiner is an American jewelry designer, reality TV judge, and entrepreneur with a net worth of $150 million (Credit: Kathy Hutchins / Shutterstock)
However, her clever invention of the earring organizer started it all for her. In 1996, the 54-year-old TV personality realized a gap in the market and designed a practical and stylish earring organizer. Her product was so successful that it was picked up by J.C Penney, paving the way for her future success.
Over the years, Greiner has continued to create new inventions, such as a crossbody phone bag, and holds over 100 patents. She gained notoriety as a jewelry designer, launching her show Clever & Unique Creations on QVC in 2000, earning her the title "Queen of QVC."
She founded her own company, For Your Ease Only, Inc., where she serves as the president, continuing to develop innovative consumer products.
Lori Greiner gained the nickname "Queen of QVC" through her show Clever & Unique Creations, which premiered on the network in 2000 (Credit: Kathy Hutchins / Shutterstock)
Beyond her business ventures, Greiner is also a sought-after motivational speaker, sharing her inspiring story with audiences worldwide. Her infectious energy and passion for entrepreneurship inspire others to pursue their dreams and take risks.
4. Robert Herjavec – $200 Million Net Worth
Robert Herjavec's journey to a whopping $200 million net worth is a true rags-to-riches story. Starting as a waiter and newspaper salesman, he had a passion for technology and entrepreneurship.
The 60-year-old Croatian-Canadian businessman founded his first IT company, BRAK Systems, in 1990, focusing on internet security, a growing concern. This venture was a resounding success and motivated him to start a second IT company, the Herjavec Group, in 2003.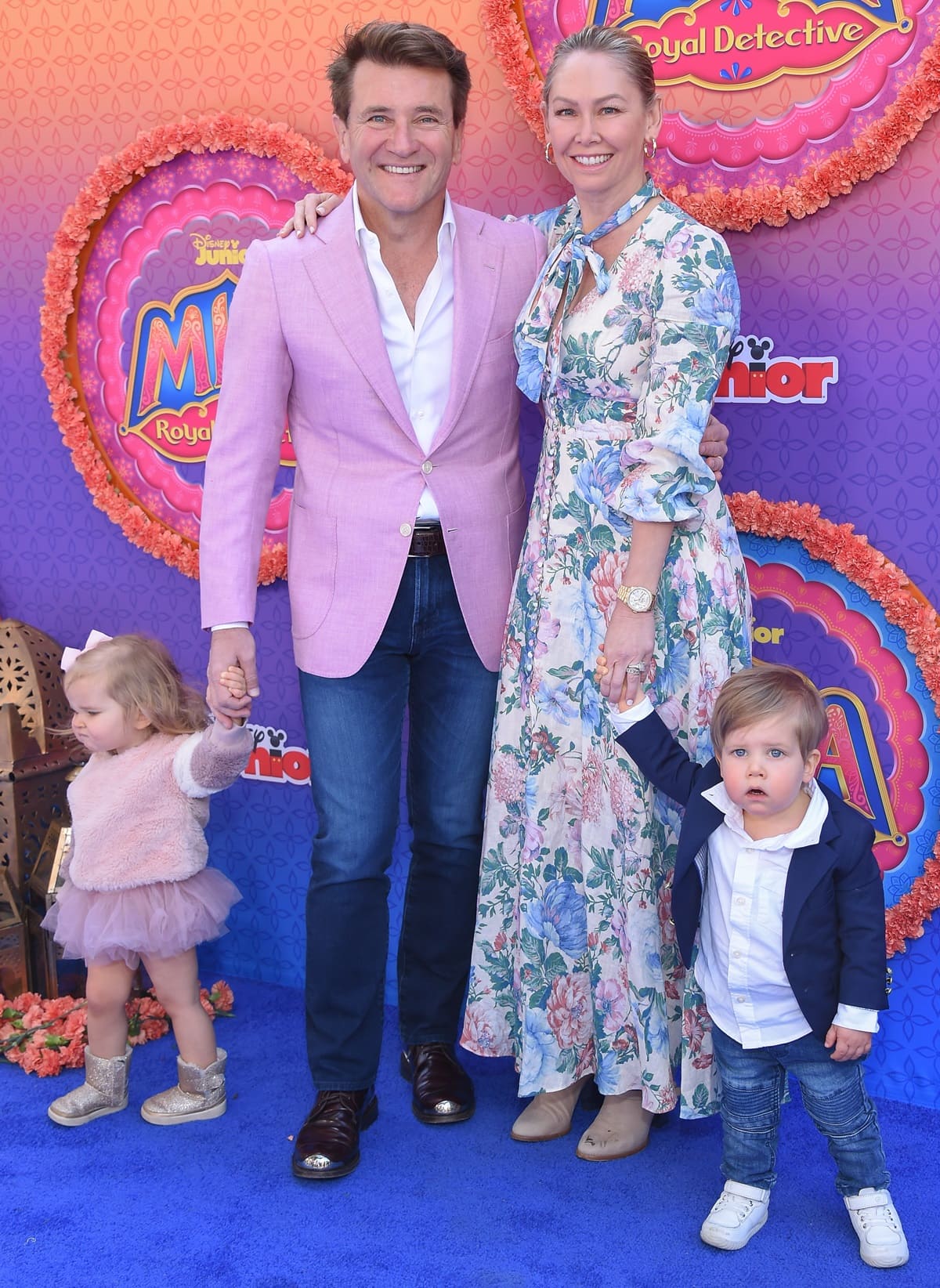 Robert Herjavec with his third wife, Kym Johnson, and their children Haven Mae Herjavec and Hudson Robert Herjavec at the premiere of Disney Junior's "Mira, Royal Detective" at Walt Disney Studios Main Theater on March 7, 2020, in Burbank, California (Credit: DFree / Shutterstock)
As a Shark on Shark Tank, Herjavec has invested around $16 million in businesses that can benefit from his technology and cyber security expertise. His keen eye for innovation and potential has made him make many lucrative deals on the show.
Herjavec has also appeared in Dragons' Den and has been recognized by the Governor-General of Canada with the 2012 Queen Elizabeth II Diamond Jubilee Medal for his outstanding service to the country.
Robert Herjavec is a Croatian-Canadian businessman, investor, and television personality with a net worth estimated to be $300 million (Credit: Sara De Boer / Startraksphoto)
Besides his business ventures, Herjavec is a world authority on information security and a member of the US Chamber of Commerce Task Force for Cybersecurity.
He has received many accolades for his contributions to the technology industry, including the 2012 Ernst & Young Ontario Entrepreneur of the Year Award for Technology.
3. Daymond John – $350 Million Net Worth
Daymond John's journey from a struggling entrepreneur to a Shark Tank investor with a net worth of $350 million is genuinely remarkable.
He founded FUBU (For Us By Us), a sportswear company known for its high-quality sportswear, in 1982 and made it a household name.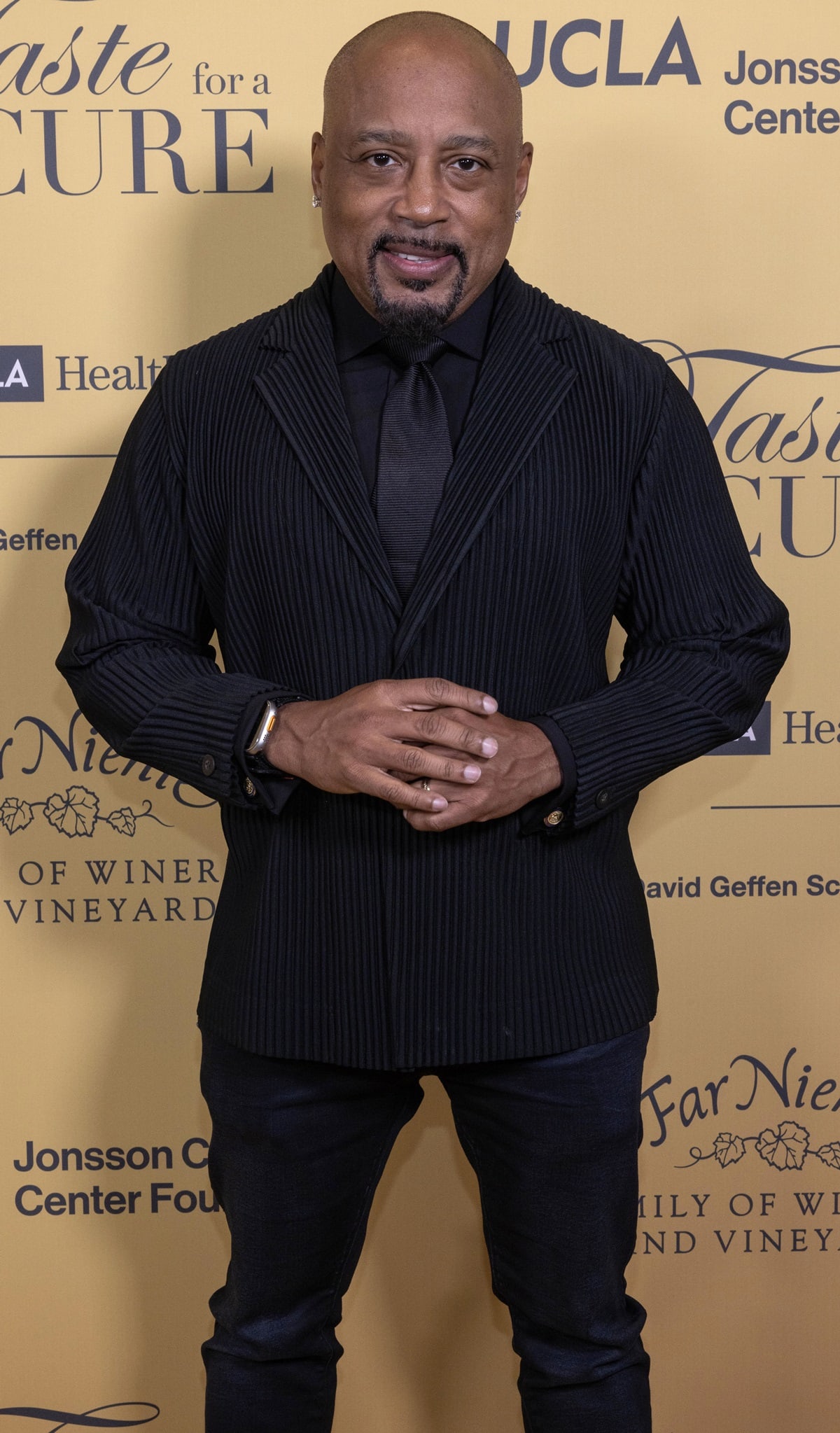 The founder of The Shark Group, Daymond John is an American businessman, fashion designer, author, and television personality with a net worth of $350 million (Credit: Ryan Hartford / Startraksphoto)
John initially had difficulty getting his business off the ground but persevered and eventually found success. His mother took out a $100,000 mortgage on their house to help fund FUBU, showing her unwavering faith in her son's ability to succeed.
The 54-year-old investor worked full-time at Red Lobster while dedicating time to his business. His hard work paid off, and FUBU became a significant success. Today, John is an accomplished businessman, motivational speaker, and bestselling author with four books.
Mark Cuban, Alyssa Cuban, and Daymond John attend the 2017 American Music Awards at Microsoft Theater on November 19, 2017, in Los Angeles, California (Credit: Kathy Hutchins / Shutterstock)
In addition to his other ventures, John has invested over $8.5 million in businesses featured on Shark Tank. He is committed to helping black-owned businesses thrive and is passionate about supporting entrepreneurship.
2. Kevin O'Leary – $400 Million Net Worth
Kevin O'Leary, or Mr. Wonderful, is a renowned businessman and investor who has built an empire of successful companies. His net worth of $400 million speaks for itself, with his numerous business ventures and strategic investments contributing to his enormous success.
In 1986, the 68-year-old Canadian businessman founded SoftKey Software Products, an entertainment software provider, which Mattel acquired for $4.2 billion in 1999, marking a significant milestone in his career.
Kevin O'Leary is a Canadian businessman, author, politician, and television personality with a net worth of $400 million (Credit: Kathy Hutchins / Shutterstock)
O'Leary's involvement in Shark Tank has also helped boost his reputation and wealth. He is known for his straightforward and no-nonsense approach to business, which has earned him praise and criticism. But his sharp business acumen has been the driving force behind his success, as he has started, invested in, and sold countless enterprises throughout his career.
One of his smart business moves was investing in Storage Now Holdings, a company that offered temperature-controlled storage to businesses, with Pfizer as one of its principal clients. He made $4.5 million from selling his shares in 2007, highlighting his ability to make wise investment decisions.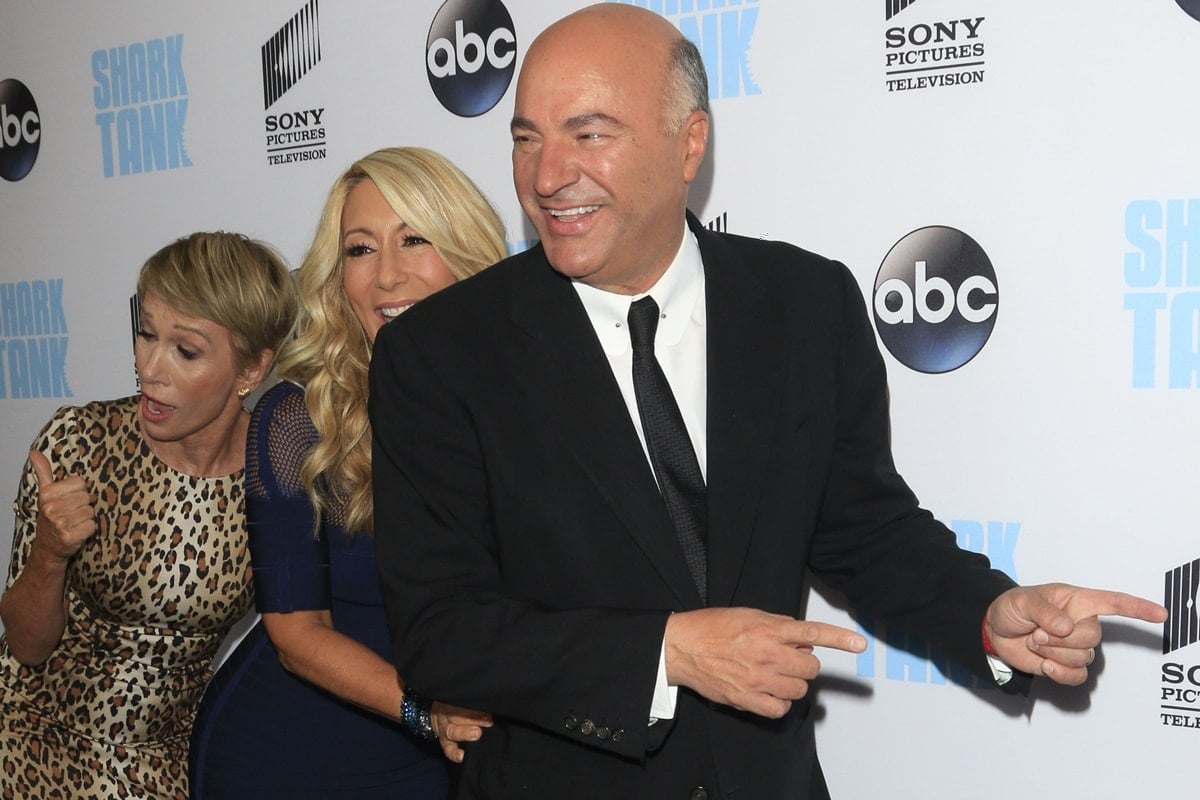 Barbara Corcoran, Lori Greiner, and Kevin O'Leary are all investors, or "Sharks," on the American television show Shark Tank (Credit: Kathy Hutchins / Shutterstock)
O'Leary's businesses include O'Leary Fine Wines, O'Leary Books, O'Leary Ventures, O'Leary Mortgages, and O'Leary Funds. He also had a brief stint in politics, leading the Conservative Party of Canada polls in 2017 before withdrawing from the race in 2019.
1. Mark Cuban – $5.1 Billion Net Worth
Mark Cuban is one of the wealthiest people in the United States and the richest shark on Shark Tank. With a net worth of $5.1 billion as of 2023 and ranked #177 on the Forbes 400 list in 2020, Cuban vastly outweighs everyone else on the show in terms of wealth.
The 64-year-old American billionaire started his journey as an entrepreneur at a young age, hawking newspapers and garbage bags. As he grew older, he realized his passion for making money.
Mark Cuban is a successful American entrepreneur, businessman, film producer, investor, philanthropist, television personality, and writer with an estimated net worth of $5.1 billion (Credit: Roger Wong / INSTARimages)
He built a successful software business, selling it for millions before investing $10,000 in Audio Net, which later sold to Yahoo for $5.7 billion, making him a billionaire.
Since joining Shark Tank as a guest in season two, the Dallas Mavericks NBA team owner has continued to increase his wealth through funding various initiatives.
His most recent venture, Cost Plus Pharmacy, aims to lower the cost of prescription medication for Americans, further adding to his fortune.
Cuban is also known for his involvement in the NFT and cryptocurrency industries, making him an influential figure in the business world.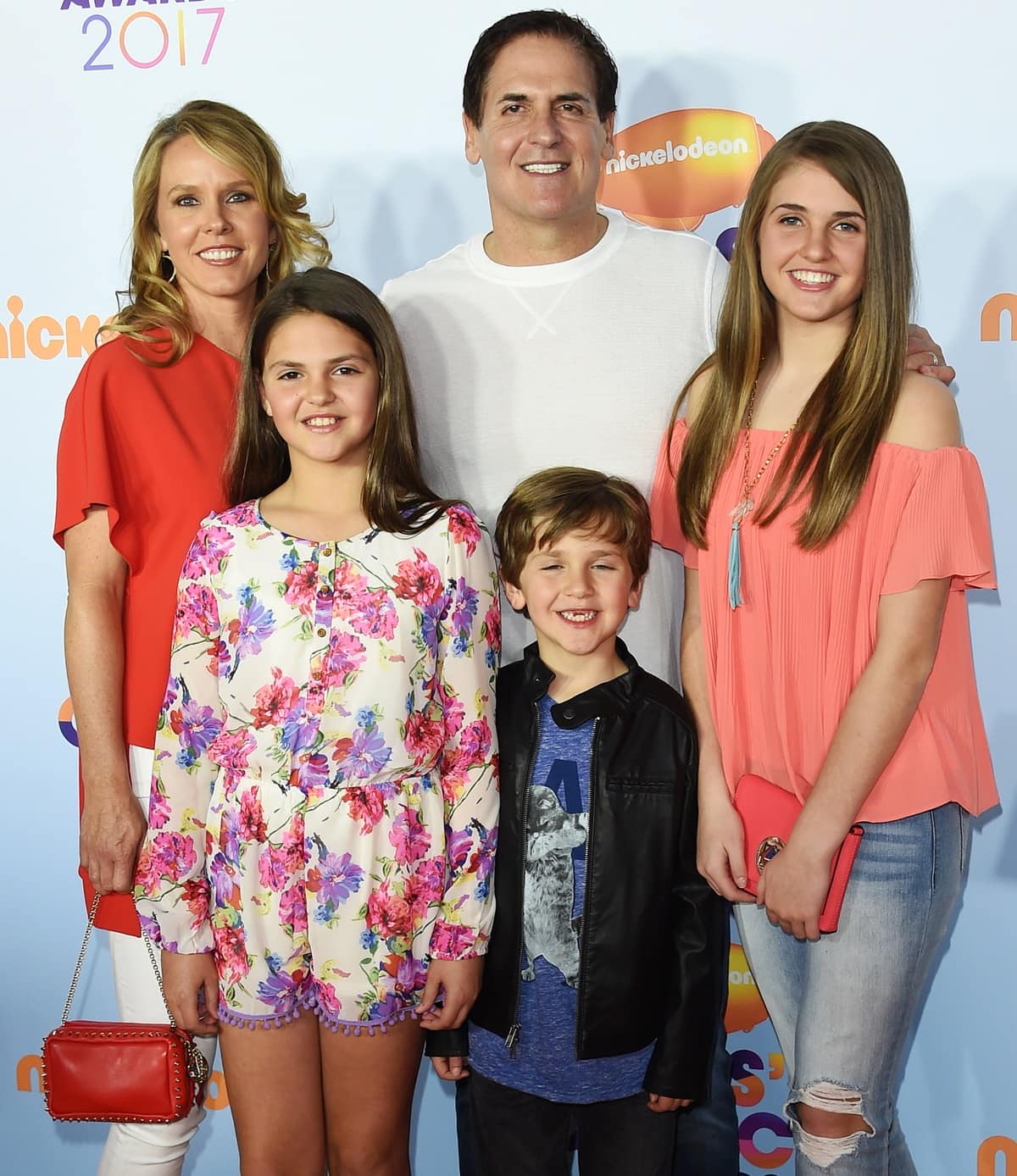 Businessman Mark Cuban, wife Tiffany Stewart, daughters Alyssa Cuban, and Alexis Sofia Cuban, and son Jake Cuban arrive at Nickelodeon's 2017 Kids' Choice Awards at USC Galen Center on March 11, 2017, in Los Angeles, California (Credit: Vince Flores / Startraksphoto)
However, he is equally renowned for his generosity through the Mark Cuban Foundation, which aids disaster victims, young people from poor communities, and veterans' families.