The paparazzi caught Rosie Huntington-Whiteley arriving in LA on a flight from New York on her birthday on April 18. The now 27-year-old model just came from celebrating an early birthday party the night before. It was the kind of party where Victoria's Secret Angels wore party hats as cone bras and posed seductively in them on top of tables.
Rosie Huntington-Whiteley's Instagram snap of her, Candice Swanepoel, and a friend making cone bras out of party hats at a party on the eve of her 27th birthday in New York City – posted on April 18, 2014
Yet this is how Rosie Huntington-Whiteley looked arriving from her cross-country flight the next day. No signs at all of her previous night of revelry — just fresh-facedness and head-to-toe chicness. It's kind of unfair, don't you think?
Rosie Huntington-Whiteley arriving at Los Angeles International Airport in Los Angeles, California, on April 18, 2014
If Rosie did have a hangover or a headache, she hid it well underneath her travel-perfect ensemble. She stayed comfortable in an Annie Bing gray sweater and Frame dark wash skinny jeans. A purple Eugenia Kim fedora and square Balmain sunglasses kept her eyes from revealing any signs of partying the night before. What betrayed her celebrity status were her expensive-looking Givenchy medium "Antigona" duffel bag and Saint Laurent studded leather jacket. Also, few ordinary folks would think of wearing these Brian Atwood "Cosmic" booties with nearly 5 inch heels to the airport: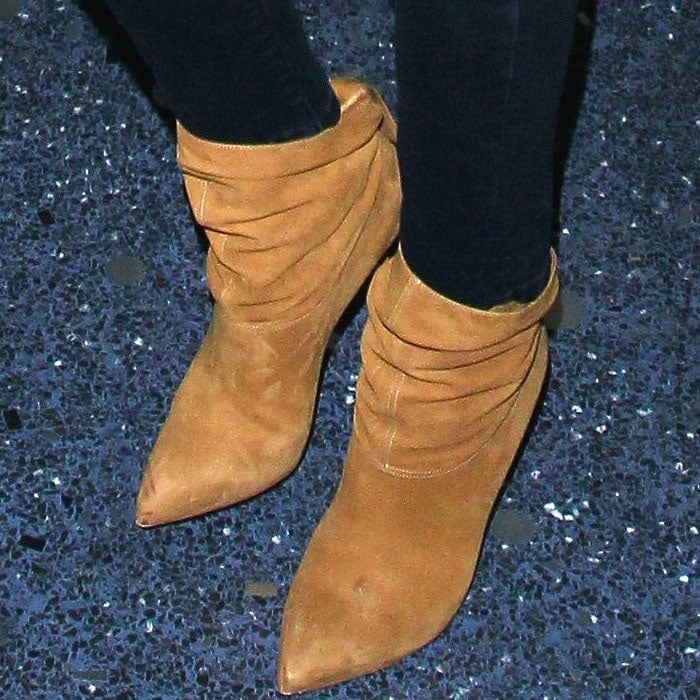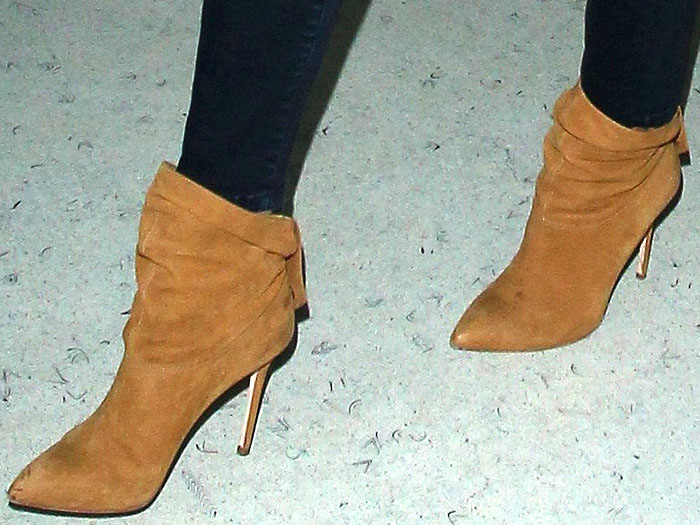 Rosie Huntington-Whiteley wearing dark denim skinny jeans with tan slouchy boots
If skinny jeans are the only type of jeans you wear, then slouchy boots like Rosie Huntington-Whiteley's should be a part of your shoe closet. Rosie's own Brian Atwoods are from a past season and are all sold out, but check out these Calvin Klein "Bethany" booties that are not only a close lookalike but also on sale:
Calvin Klein "Bethany" Suede Booties, $42.99 – $129.00 (more sizes available at 6pm)
Complete Rosie's entire slouchy boots look for less with these pieces all $60 and under: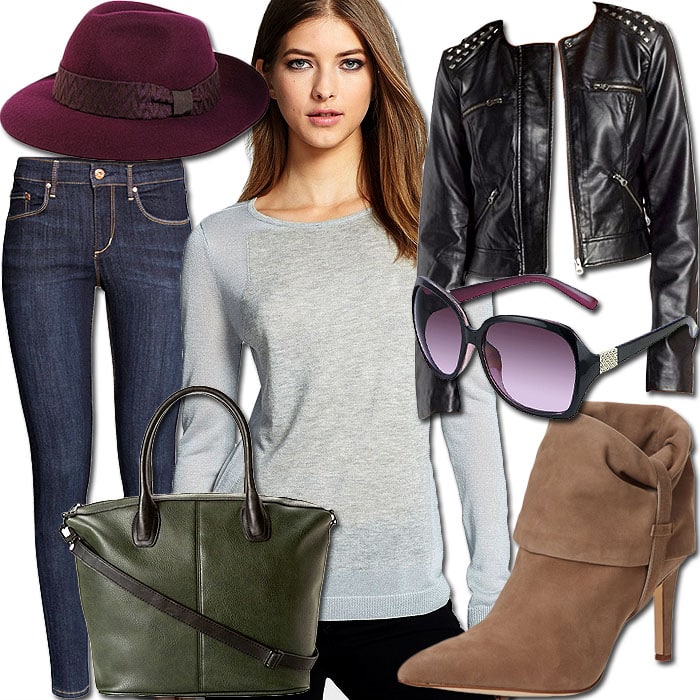 Master & Muse x Pachacuti Hat, $59 (before: $149) / Trouvé Mixed Knit Sweater, $40.80 (before: $68) / BB Dakota "Adela" Jacket, $36 (before: $120) / Target Square Sunglasses, $16.99 / Steve Madden "BKarlee" Shopper, $39.99 (before: $88) / H&M Skinny Regular Jeans, $39.95
Credit: WENN/Rosie Huntington-Whiteley's Instagram