Brogues and Brogue Inspired Shoes for Women
Please subscribe to
our newsletter
to receive updates from Your Next Shoes. This post may contain affiliate links. Please see our
disclosure
for more details.
After captivating at Kate Winslet's Hollywood Walk of Fame ceremony and making a fabulous entrance at the Los Angeles premiere…
You know a trend is serious when the haute couture world picks up on it. The usual picture of models…
There must've been some kind of date night memo passed around in Hollywood this week because look who else were…
Evan Rachel Wood made a dramatic entrance at Art of Elysium's 7th Annual Heaven Gala. The young star had undergone…
Cat-loving people have grown out of their usual image – kooky old women who love dingy carpets and adopt enough…
The holiday season is here! And while you're busy getting that shopping list of gifts ready, I bet you also…
Emmy Rossum was spotted stepping out of a dry bar in Los Angeles earlier this month. The 26-year-old actress and…
We hear the boy-meets-girl style is one of fall's top trends; are you ready to rock some borrowed-from-the-boys fashion for…
A hot new shoe label, Ask Alice, has lured us down into its rabbit hole, and we've fallen in deep….
The vintage-style shoes of ModCloth are getting a modern edit with transparent panels! Sure, it's kicking enough for our era,…
Monochrome is one of the leading trends of this season, and the easiest ways to wear it is through shoes….
As much as we love them, shoes can be scary too. Here are our top 10 scariest shoe posts of…
Putting teeth on shoes isn't an entirely new or even an entirely scary concept. We've shown you those Scott Hove…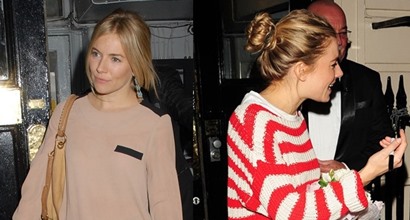 Style icon Sienna Miller surely loves fashion. She has an innate ability to set trends, mixing and matching separates with…