10 Best Places To Buy Popular Wedding Shoes Online
Your wedding shoes are one of the most important pairs of shoes that you'll ever buy. Wedding shoes are your Cinderella moment.
You might decide to buy a pair of shoes that you'll wear just for the big day before putting them away as a keepsake.
Some brides chose to buy a pair of shoes that they intend to wear for years to come, either for special occasions or for their anniversary.
Whether you want to wear them once or keep them in your closet, it's a purchase that you want to think through. We have rounded up our top ten best places to buy wedding shoes online to get you started on your search.
If you want somewhere online where you shop for a whole spectrum of wedding shoes, then Nordstrom is the perfect place to start.
The department store offers shoes from affordable brands like Steve Madden and Badgley Mischka, as well as luxury brands like Christian Louboutin and Manolo Blahnik.
Shop a great selection of bridal and wedding shoes at Nordstrom
Nordstrom offers a full selection of bridal shoes, with everything from sequin flats to block-heel sandals. They offer both traditional options and more unique choices if you want to use your shoes to make a statement.
As Nordstrom is a high-end department store, their website is a great source of inspiration, and you can browse around for matching accessories to incorporate into your wedding day look.
For brides who want to invest in a pair of luxury wedding shoes, you can take inspiration from Carrie Bradshaw's infamous blue satin Manolo Blahnik pumps.
You can also find discounted wedding and bridal shoes at Nordstrom Rack.
For the romantic bride with a bohemian aesthetic, Anthropologie should be top of your list.
This chic brand offers every style of shoe, from white satin sandal heels with a tulle bow by BHLDN to modern sling-back Cinderella shoes.
Anthropologie offers an extensive range of neutral and white-tone shoes, along with a sprinkling of pastels and glitter.
Their bridal collection brings together timeless silhouettes with the latest trends to create shoes that are both classic and fashion-forward.
Explore Anthropologie's unique collection of wedding dresses and shoes, from brides to bridesmaids featuring the season's newest arrivals
Along with the traditional heels, Anthropologie sells several pairs of flat bridal shoes to give you plenty of options that are both comfortable and stylish.
Within their formal shoe range, Anthropologie stocks brands that include Badgley Mischka, Bella Belle, BHLDN, Cecila NY, Charles David, Jeffrey Campbell, and Loeffler Randall.
Bella Belle offers Instagram's favorite wedding shoes that are both stunning and comfortable. Their handmade shoes have gained a cult following on social media.
Bella Belle specializes in luxury evening shoes with both bridal and non-bridal options.
Each pair of Bella Belle shoes have soft cushion padding to help you wear them all day long.
Their website is the perfect place to visit for bridal inspiration, with their editorial lookbooks and photos of real brides with their Bella Belle shoes.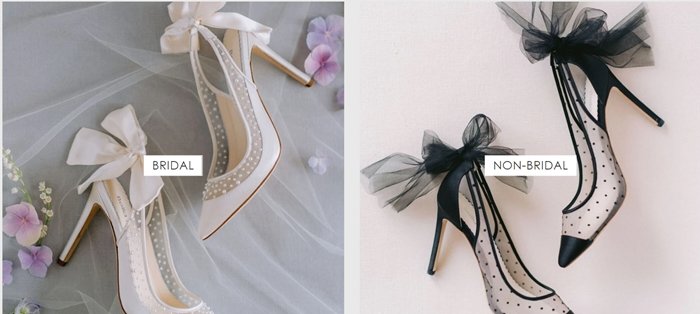 Bella Belle Shoes is an online luxury evening and wedding shoe store
These luxury shoes are ideal for the bride that wants to wear her shoes again after the big day. Bella Belle offers styles such as their pearls and red bow kitten heels through to minimalistic white satin options.
Their designs frequently feature pearls, lace, tulle, and bows to create feminine shoes that suit any romantic brand.
If you want a pair of unique shoes, you can check out the non-bridal section on the website, where there are evening shoes in every color of the rainbow.
Sophia Webster is a British shoe brand that is recognizable around the world for its use of butterfly motifs.
The brand's lead creative, Sophia Webster, was voted as the Conde Nast Footwear Emerging Designer of the Year in 2012 after launching her eponymous label.
The brand has a dedicated bridal range, with their signature 'Chiara' shoe taking center stage, along with a flat sandal option called 'Wifey for Lifey'.
Sophia Webster's timeless Lilico style is available in both a heeled slingback and a flat
Sophia Webster also offers matching clutch bags, including a 'Wifey for Lifey' clutch that would work with any choice of bridal shoes.
If you want a whimsical pair of bridal shoes, you can check out the 'wish upon a star' collection that features silver and pastel shoes with star-encrusted heels.
Sophia Webster shoes are typically on the higher end for heels, so they make an ideal choice for reception shoes to change into for the evening of your wedding.
5. Stuart Weitzman at Zappos
For the classic bride with a minimalistic style, Stuart Weitzman offers the most simplistic wedding shoes that are versatile and can be worn for years after your big day.
If you're planning an intimate wedding or are planning to elope, then these shoes would be the perfect companion for any style of wedding dress.
Stuart Weitzman's bridal range incorporates metallic leather, satin finishes, and glitter detailing.
Stuart Weitzman offers a variety of styles and colors for the perfect wedding day
The Stuart Weitzman heels have a well-sized pitch that makes them comfortable to wear all day long, with several of their most popular styles available with a 70mm heel.
If you want to think outside the box, Stuart Weitzman even includes several pairs of white booties in their wedding collection for the bride who wants to channel her inner rock chic on her big day.
Angela Nuran is an American shoe designer that focuses on designing functional off-white silk bridal shoes that focus on giving you a comfortable fit.
The inspiration for the brand came from Angela's days as a wedding dance instructor when she saw women suffer from uncomfortable shoes on their big day.
Her bridal shoes incorporate a dance sole with luxury quality, making the brand one of the best-kept secrets in the wedding industry.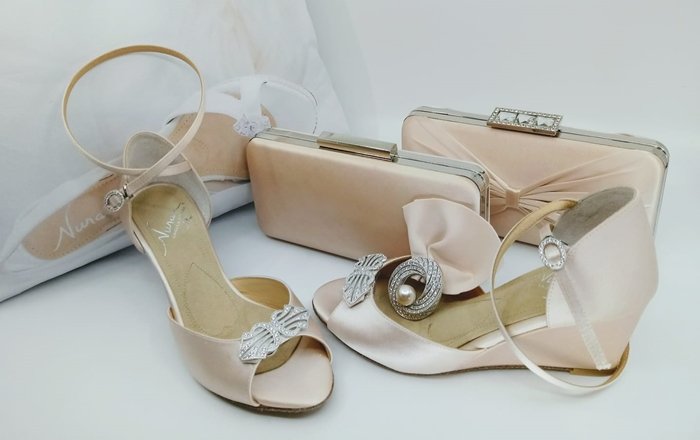 Angela Nuran had these wedges and clutches dyed to complement the bride's blush wedding gown
As each shoe is made by hand, you can easily have them customized with your choice of jewels, such as a brooch to accommodate wider feet.
You can also add straps, crystals, and appliques to make your shoes one of a kind.
If you want to add matching accessories, such as a clutch bag, you can also find them on the Angela Nuran website.
These luxury shoes are an investment, but the ability to customize your wedding shoes is an opportunity that most brides don't get to avail of.
As well as offering mid-height heels, Angela Nuran also offers flat bridal shoes for the woman who wants to be as comfortable as possible on her big day.
Weddings that have a vintage feel that is inspired by the Great Gatsby or the mid-20th century will be the perfect venue to debut a pair of classic Angela Nuran bridal shoes.
If you fall in love with a style by Angela Nuran, you can easily dye the shoe a different color if you want to make it something blue or to create a statement moment.
For the bride that likes a little glitz and glamour, Nina Shoes is the first store you should visit online while shopping for your bridal shoes.
Their collection is divided into four of the most popular trends for brides – blue shoes, metallics, rainbow hues, and blush tones.
The American footwear design house brings together sophistication and glamour with options for everyone in the bridal party, including the Mother of the Bride.
Founded in 1953, Nina Shoes is an American footwear design house known for evening handbags, bridal accessories, and jewelry
Nina Shoes are budget-friendly bridal shoes with a focus on all that glitters.
If you want a pair that you don't have to worry about messing up on the dance floor, then Nina Shoes are the perfect choice for the bride who wants to be as fuss-free as possible.
Most of the styles that you'll find on this website are modern takes on classic silhouettes that work for all styles of wedding dresses.
You can complete your wedding day look with matching jewelry and a clutch bag, which you can pick up from the Nina Shoes website.
8. Badgley Mischka at Amazon
When you open a bridal magazine, you will probably come across a Badgley Mischka bridal dress.
Although infamous for its gowns, the fashion house is expanding its accessories ranges to include bridal shoes.
For brides that want Hollywood glamour with ultimate comfort, the Badgley Mischka range features several pairs of flats that you can wear again after your wedding day.
Known for timeless modernity, Badgley Mischka has been an authority on bridal style since 1988
The collection is dominated by neutral-tone shoes, with plenty of options for everyone in your bridal party, including bridesmaids.
If you're a bride on a budget, the Badgley Mischka diffusion range – Jewel– offers bridal shoes for less than $100. The focus is once again on classic styles with as much glitter and glamour as possible.
For the bohemian bride who wants a sustainable pair of shoes that they can wear well beyond their wedding day, Forever Soles is the perfect website to visit.
Their shoes are made using eco-friendly materials, with small production orders placed to prevent waste.
The mission of Forever Soles is to provide brides with comfortable and versatile bridal shoes that they wear to dance the night away.
Forever Soles is a specialized bridal shoe company based in Byron Bay, a coastal town in the southeastern Australian state of New South Wales
Their bridal shoes are "made for dancing and romancing".
This independent shoe brand has been featured in several bridal magazines, including Martha Stewart Weddings, EcoBrides, and Modern Weddings.
If you want to channel your inner Princess at your wedding, then Emmy London is your perfect place to look for bridal shoes.
The brand has a royal seal of approval as it's a favorite of the Duchess of Cambridge, who owns several pairs of their court shoes.
These shoes will give you your own Cinderella moment and are designed with both comfort and beauty in mind.
For brides who want a pair of bespoke wedding shoes, Emmy London can help you create your dream pair of pumps.
Emmy London offers custom handmade women's shoes for weddings and other special events
When it comes to choosing your bridal shoes, you want to pick a pair that brings together your aesthetic with enough comfort that you can wear them all day.
You shouldn't remember your wedding day as a time when your feet were killing you.
Try and choose a heel height that you typically wear, and make sure to test-drive your shoes ahead of time.
We hope this list of top ten places to buy wedding shoes helps you find the perfect pair for your big day.