Popular American actress Kristen Bell is known for being a wholesome but very funny celebrity who often is found playing jokes and pranks by herself, with other celebrities, and probably most notably with her husband Dax Shepard. One of the pranks she pulled that has been getting attention eight years later is her "body of lies".
In 2012, Kristen Bell filmed a video with the very popular Youtube channel Funny or Die, revealing one of her biggest secrets: that her body is actually almost entirely covered in tattoos!
Kristen Bell's tattoos are from an old skit she did with Funny Or Die in 2012 (Credit: Funny Or Die)
The Funny or Die Youtube channel confirmed that her tattoos are in fact real with an interview to prove it. For those who have not seen the video on their Youtube channel or caught on yet, it was clearly a joke (spoiler)!
At the time, it seemed like most people knew it was a joke. Many of the Youtube comments on the video commend Bell for her humor and said that these types of jokes are all the more reason to love her.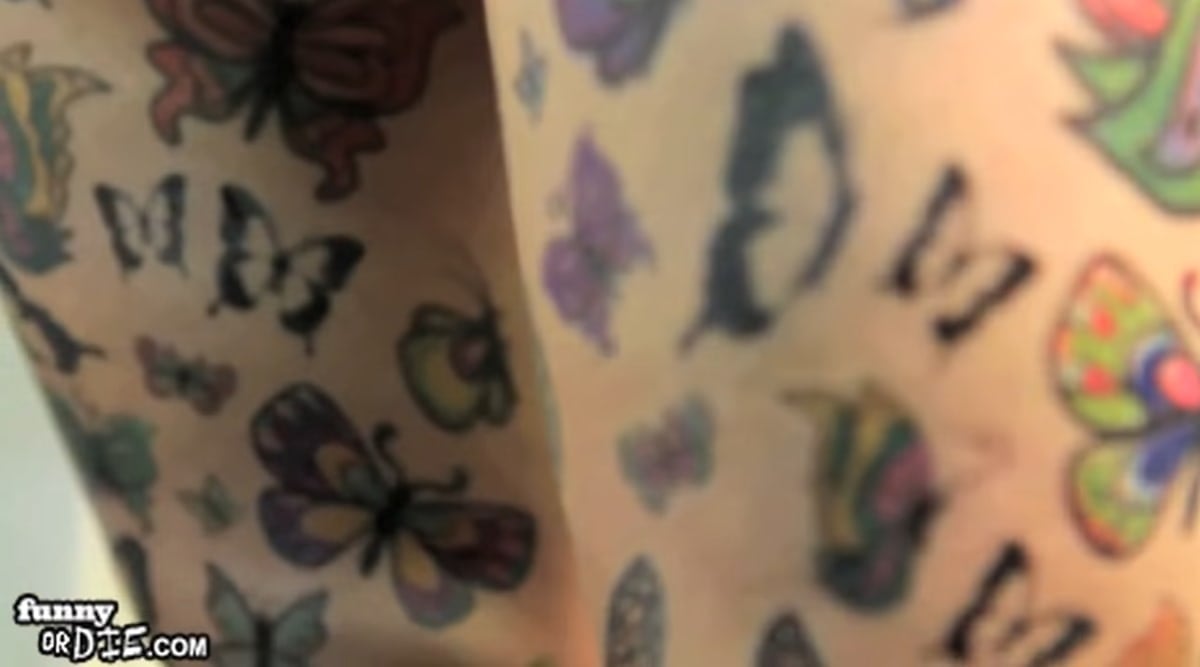 Kristen Bell has 72 butterfly tattoos for each year the South African apartheid was enacted (Credit: Funny Or Die)
However, pictures and clips from the video were pulled out of context and recirculated around the popular video app TikTok in 2020. This made Kristen Bell's "secret tattoos" viral on TikTok for viewers who had not seen the original video eight years prior.
In the Funny or Die video, Bell is seen with tons of tattoos from butterflies to stars to hearts and other symbols all over her entire body.
Even popular television show characters like Taz from the animated kids show Looney Tunes and the dual characters of Steve Urkel and his alter ego Stefan Urquelle from the hit 90's sitcom Family Matters. In the video, she states she has "214 professional tattoos and 9 I've done myself."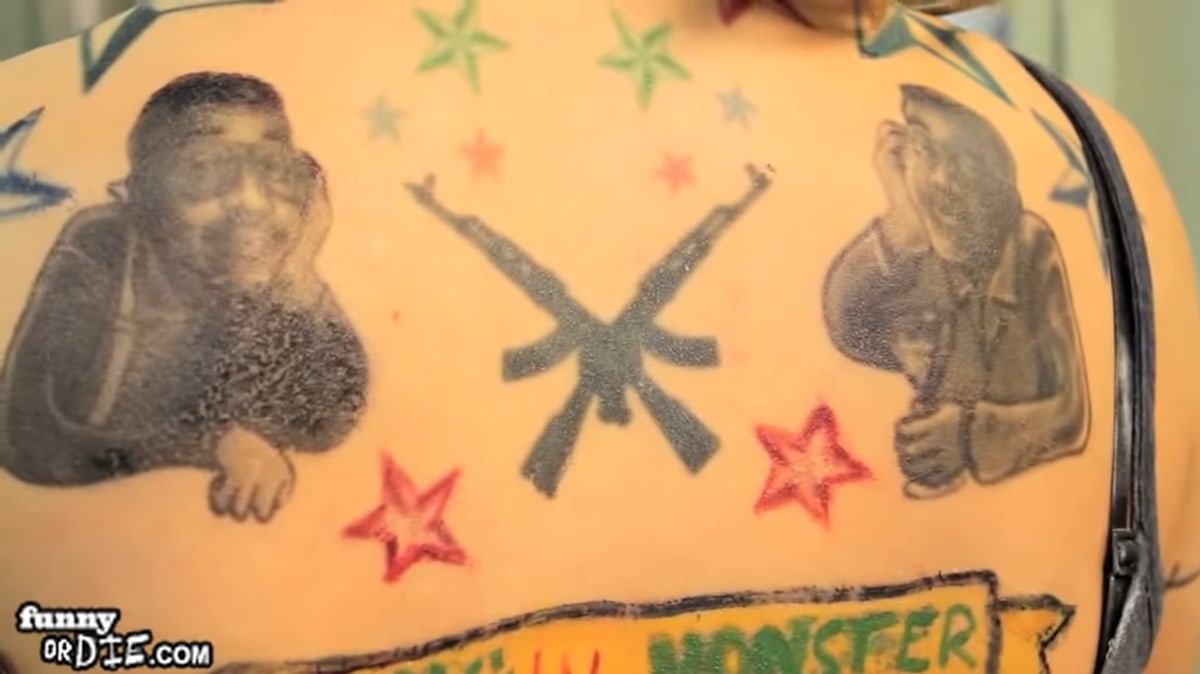 Pictures of Kristen Bell wearing tattoos on almost every area of her body went viral in 2021 (Credit: Funny Or Die)
The video is a behind-the-scenes-style video parody about what it's like for the star to have to cover her tattoos every day. Throughout the video, Bell explains the various meanings and symbolism of her tattoos with a completely serious face but totally outrageous and satirical answers.
The video also shows the alleged time and effort her makeup team takes to cover up all of her tattoos in order to maintain her clean and wholesome image. A few members of her team are also interviewed and hint at how difficult and exhausting it is to cover all of her tattoos daily.
"Kristen gets here at 3:30 am every morning. It takes about twelve to fourteen hours to cover up all of her tattoos," Bell's supposed makeup artist says.
The video claims she has 214 professional tattoos and nine she's done herself, but the true number is zero. However, wouldn't it be fun if some of her tattoos were real?
To give us some hope, Kristen Bell has openly stated that she is not against tattoos, nor is she against the idea of getting a real one for herself.
In her 2020 interview with the Mother.ly podcast, she stated, "Um, I realized I've had maternal instincts my entire life, and I never labeled them as that, but I will. I mean, at one point I'm going to get a little back tattoo that says there's no such thing as other people's children because there's just not, I mean, I believe it to my core because everyone you pass on the street was celebrated when they were born."
"I've always wanted a tattoo, but my husband does not like girls with tattoos," she jokingly added when appearing in a Wired video in reference to Dax Shepard.
Kristen Bell doesn't really have any tattoos at the moment (Credit: WENN / Charlie Steffens)
In April 2016, Kristen Bell joined Rashida Jones at the Refugee Exhibit Opening held at the Annenberg Space for Photography in Century City, California. They were also accompanied by Tracee Ellis Ross, Amy Adams, Kristin Davis, and Maria Shriver.
Kristen Bell doesn't rule out getting tattoos on her body in the future (Credit: WENN / FayesVision)
The then-35-year-old American Veronica Mars actress and singer sported a silver metallic midi dress from the Camilla and Marc Spring 2016 collection featuring a v-neckline and back split detail.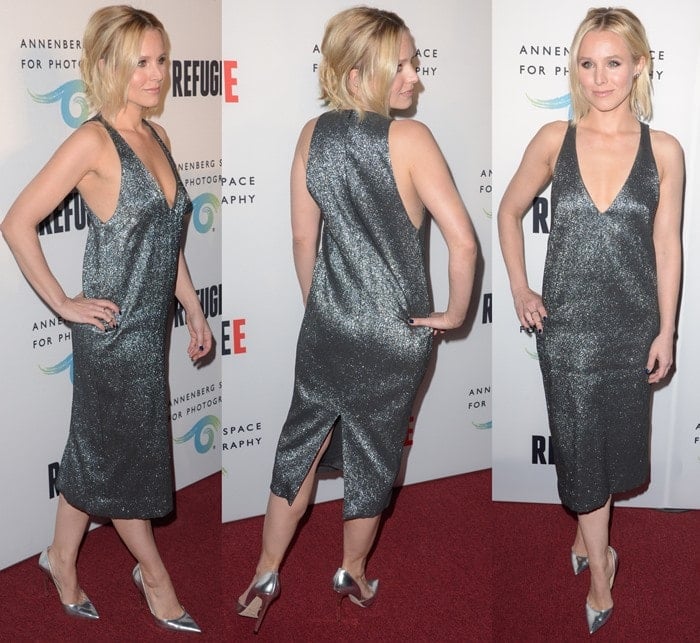 Kristen Bell rocks a silver metallic midi dress from Camilla and Marc (Credit: WENN / FayesVision / Charlie Steffens)
She accessorized with Jennifer Fisher jewelry and showed off her feet in "Darylin" pumps by Jimmy Choo.
Kristen Bell in a low-cut silver dress at the Refugee Exhibit Opening held at the Annenberg Space for Photography in Century City on April 21, 2016 (Credit: WENN / FayesVision / Charlie Steffens)
You may recall that Kristen wore the exact same pair to the world premiere of "The Boss" in Los Angeles.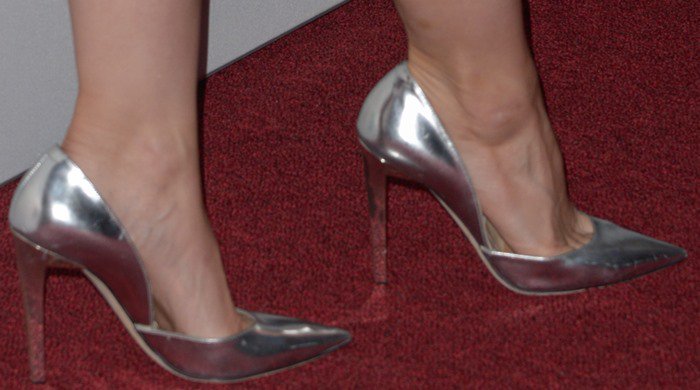 Kristen Bell shows off her feet in metallic pointy-toe Jimmy Choo pumps (Credit: WENN)
You can find a similar pair of statement-making mirrored leather Jimmy Choo pumps at Farfetch and Net-A-Porter.
Silver Jimmy Choo Abel Mirrored-Leather Pumps, $625