Happy New Year!
We're not officially done with 2013, though — not until you've met our top shoe bloggers of December. Some of them showcased their holiday outfits, while the others exhibited everyday-wear ensembles. Their shoes were, of course, fascinating. As we have shown you time and again, fashion bloggers from around the world have some really unique shoe collections!
1. Michelle Verpuggi from Netherlands
Michelle Verpuggi of Supongo Estilo sent her New Year greetings in a bold and playful ensemble. How do you like her golden boots? Not many women are able to rock an outfit like this one, but we think Michelle nailed it!
2. Styleboom B from Istanbul, Turkey
See Styleboom B of Styleboom in a splash of colors in this ensemble that included a white knit top and a pair of pistachio-colored pants. And, of course, how could we miss her striking pumps? They're like an abstract painting done in different vibrant hues. Although colorful, they remain very sophisticated.
3. Sarah Loss from Paris, France
Featuring a very daring and sexy look, Sarah Loss of La Mode est une Femme donned a see-through long-sleeved top, a very unique green skirt, and a pair of laced boots — the kind that can add instant drama to any ensemble. We love her style here, and we appreciate her boldness!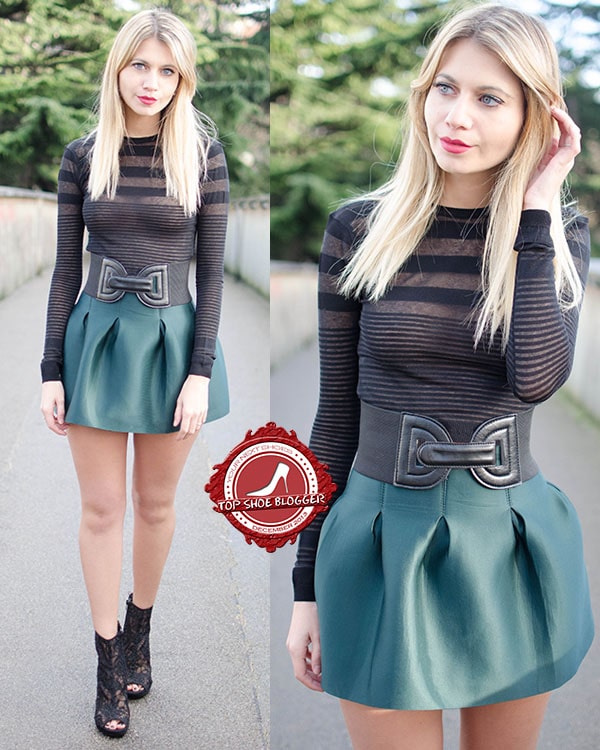 4. Ashley Dy from Japan
These black-and-white platform wedges are so hard to miss, hence Ashley Dy of Candy Kawaii Lover making it to our list. She definitely has one of the most unique shoe collections we've come across! Ashley's predominantly white shoes feature towering platforms and wedge heels. They also have wide black straps that provide a striking contrast.
5. Adriana Gastélum from Mexico
Adriana Gastélum of Fake-Leather was va-va-voom in a red number. Her dress was sexy and hard to ignore, and her heels are equally gorgeous. This blogger knows how to dress up well! Her strappy caged sandals feature studs that glisten, making them more captivating.
6. Daniela Gandra from Portugal
Daniela Gandra of Ballerina Bird was certainly feeling the holiday spirit. She put together a simple mix of a basic gray top, a pair of black tights, and a black jacket. Livening up these too basic colors were her snood, skorts, and pumps in a holiday blue shade. Her peep-toe platform pumps are classic at the front, but the back part suggests otherwise — the towering heels are gold-detailed after all.
7. Rina Ignacio from Manila, Philippines
Who doesn't love leopard print? It's so popular, and no one can deny that it makes a person look instantly fashionable. Rina Ignacio of Labels and Lattes showed off her chic style in a fierce animalistic outfit. One leopard print wasn't enough for her, though; she completed her ensemble with sandals that matched her top. With a sexy design and a fierce print, these heels are more than likely to become an instant hit.
8. Eugénie Grey from Los Angeles, United States
Eugénie Grey of Feral Creature is one of the most stylish bloggers we have featured here. She'd probably be in our top 5 if we were going to rank them.
For the month of December, this girl has shared several interesting shoes on her blog that we have to include three of them. First are these black-and-blue heels that perfectly matched her baroque sweater. The shoes have a unique design and a cool color combination.
Second are her ferociously beautiful boots that made her look bolder in a sexy and sparkling sequin dress in multiple vibrant hues. Her platform boots feature lace-up fastening and silver-tone spiked studs at the curved heels.
Last but definitely not the least are these white shoes that could take you from summer to winter. We so love the architectural style of these shoes, especially the squared platforms and the column heels. The touch of gold also adds a luxurious appeal to this pair!
9. Noor G. from Netherlands
Anything colorful is striking, and a pair of multicolored heels is a surefire way to catch attention. Noor's heels are a case in point. Her wedges featuring a floral print in lively colors are perfect for the summer. Visit Noor's blog called Queen of Jet Lags for more attention-grabbing looks.
10. Coco Bolinho from United States
Plexiglass heels are a chic and smart way to make shoes appear heel-less. Take, for example, the pair recently worn by Coco Bolinho of Style & Glaze. Her black booties are not only perfect with her red dress, furry coat, and black accessories; they are also very interesting on their own. They look ordinary from the front view. From the side, they look heel-less. Checking them out from the back, however, gives us an intriguing view. See for yourself: