How's your 2014 going so far? The first month of the year has brought us a lot of noteworthy heels. Fashion bloggers kicked off the year with a bang with their striking footwear choices.
Despite the freezing temperatures that many experienced in January, we still spotted a number of stylistas in eye-catching sandals. Of course, many were also seen in boots as well as in classic pumps. Get ready to meet the top 10 shoe bloggers of January:
1. Tala Delgado from Miami, Florida
Tala Delgado of Pineapple Me looked glowing in this ensemble, which she styled with hints of orange accessories, including her hard-to-miss sandals that feature multicolored beads, embroideries, and fringes.
2. Bernadette Czle from Jakarta, Indonesia
Bernadette of Rebel's Mint Closet looked fabulous in a black-and-white outfit that included a black turtleneck top, a skirt, and a cardigan. To complete her chic and sophisticated monochromatic ensemble, she decided on a pair of amazing booties! They're striking in black suede with clear PVC panels down the front, peep toes, gold-tone metal plates at the cuffs, and chunky Lucite ombre heels.
3. Zia Domic from United States
Anything goes for Zia Domic of The Hunter Collector. She isn't afraid of mixing colors and bold patterns together. She sported a black-and-white dress as a top, a vintage green midi skirt, and a jean jacket. Zia accessorized with purple earrings and carried a matching purse. To add a bolder look to her ensemble, she opted for strappy black sandals with fringe details.
4. "Slim" Shay D from United States
We can say that "Slim" Shay D of All Things Slim is a true-blue fashionista. In fact, she has worn so many interesting outfits this month that we couldn't help but feature three of them. She didn't let her growing baby bump stop her from wearing sexy outfits, not to mention stunning heels!
Below, you'll see her wearing a pair of sandals with PVC straps and clear cone-shaped heels, a pair of black caged sandals, and an eye-catching pair of metallic gold boots! Which look and heels do you like most?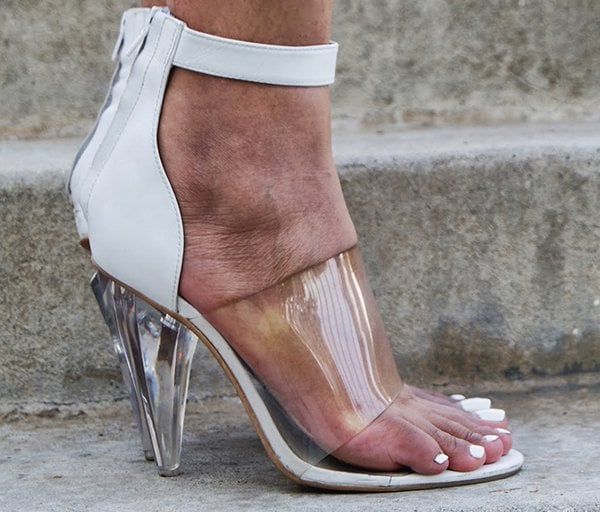 5. Priscila Rodrigues Araujo from Brazil
How about giving a monochrome ensemble a pop of red color? Interesting, yes? If you're thinking of wearing one, take inspiration from Priscila Rodrigues Araujo of Savoir Moda. The blog is unfortunately no longer available. Her white top and black-and-white shorts were styled with a Union Jack clutch, which complemented her striking red booties.
6. Amanda Shadforth from Australia
Amanda Shadforth of Oracle Fox combined toughness and sexiness in this all-black number. She wore a body-con dress with a leather jacket that beefed up her look. For a boost in height, she wore a pair of interesting sandals. They are hard to ignore as they feature a fluffy feather-like design in a black-and-blue combination and pin heels in gold!
7. Dorka Molnar from Hungary
How do you style a casual outfit? Dorka Molnar of The Sense Co styled her relaxed getup, composed of a pair of boyfriend jeans and a loose black top, with a pair of bold pumps in black and white stripes. Her heels did the talking here! Unfortunately, Dorka's blog is no longer available online.
8. Annabelle Fleur from Los Angeles, California
Like Priscila Rodrigues Araujo, Annabelle Fluer of Viva Luxury finished off her monochrome look with a red pair of heels. She wore a pretty black-and-white dress with a leather jacket and some very feminine red pumps that glammed her up. The shoes have sexy pointed toes and oversized bow details at the ankles that are sure to capture attention in an instant.
9. Charlotte Bridgeman from Melbourne, Australia
A monochrome number can either bring a classic or a modern appeal. In the case of Charlotte Bridgeman of Winston and Willow, it's a fabulous contemporary look.
We love her asymmetrical sweater in black and white stripes, which she paired with white shorts. Charlotte's accessories, which included a leather cap and spiked and chain bracelets, toughened up the ensemble. What made this ensemble all the more striking were the shoes. They feature shiny straps in dominant black with white down the center, buckled slingback straps, chunky platforms, and chunky low heels.
10. Paris Sue from Romania
It must have been very cold when Paris Sue of J'adore Fashion Love wore this layered ensemble consisting of a scarf, a coat, a pair of skorts and leggings, and a pair of boots. She braved the weather in style! Her boots are made of ponyskin and feature pointed toes and wedge heels that measure about 3.5 inches.