Tori Spelling and her husband, Dean McDermott, radiated joy as they graced the Stand for Kids Gala on Saturday evening, June 10.
The power couple brought a special entourage of several of their five beautiful children, creating a heartwarming family presence at the prestigious event.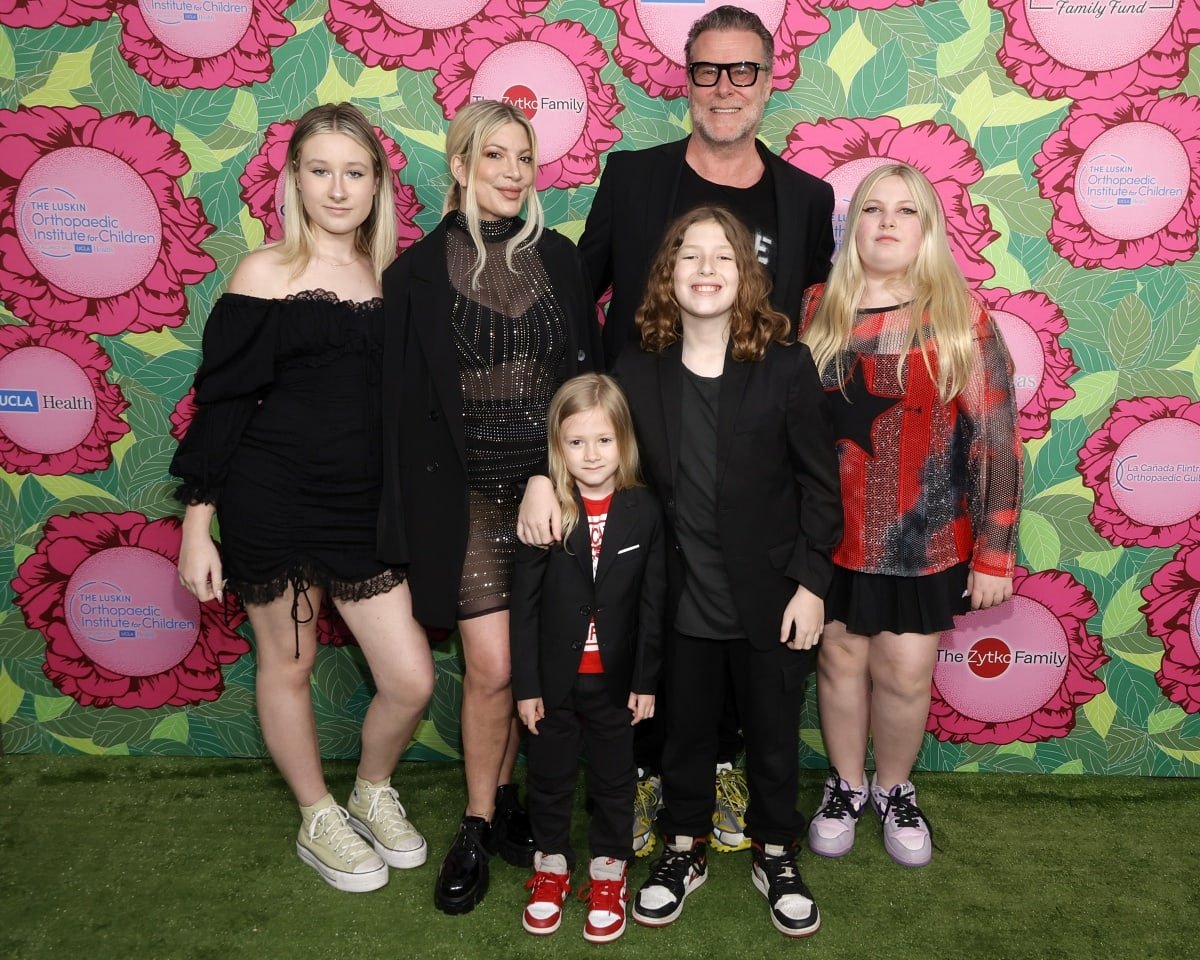 Stella McDermott, Tori Spelling, Dean McDermott, Hattie McDermott, Finn McDermott, and Beau McDermott attending the Stand for Kids Gala in support of The Luskin Orthopaedic Institute for Children in Los Angeles, California on June 10, 2023 (Credit: Faye's Vision / Cover Images)
Hosted at the Los Angeles' Universal Studios backlot, the annual benefit was dedicated to supporting the Luskin Orthopaedic Institute for Children.
Tori, who is 5 feet and 5 inches (165.1 cm) tall, and Dean, who towers over her at 6 feet and 3 inches (191 cm), showcased their impeccable style by donning elegant black ensembles, perfectly coordinated to complement each other's attire. However, their fashion sense was not the only thing that harmonized that evening.
Tori Spelling and Dean McDermott in coordinating black ensembles at the Stand for Kids Gala (Credit: Faye's Vision / Cover Images)
Four of their beloved children, including Stella, Hattie, Finn, and Beau, graced the gala with their youthful presence. Sadly, the couple's eldest son, Liam, aged 16, could not attend the carpet due to an unfortunate sickness.
Overflowing with joy and gratitude, Tori took to Instagram to share their fantastic night out with her adoring fans, writing, "What an incredible evening attending the #standupforkidsgala supporting @luskinoic and the amazing work they do! No kid and no family are ever turned away! No matter if uninsured. They are the best for pediatric orthopedic treatments! Such kind humans doing phenomenal work daily!"
View this post on Instagram
Reflecting on the profound experience, Tori expressed joy in showing their children the power of giving back. She had the opportunity to meet the founders, the surgeons, and the families and patients whose lives had been transformed by the institute's exceptional care.
Alongside the photos from the red carpet, Tori also shared a captivating video of a duet between Pia Toscano and Scarlett Kate Ferguson.
The gala reached its unforgettable conclusion at The Wizarding World of Harry Potter at Universal Studios in California, adding a touch of magic to an already enchanting evening.
How Tori Spelling and Dean McDermott's Relationship Started
In a twist of fate, amidst the filming of the TV movie Mind Over Murder back in 2005, Tori Spelling, born on May 16, 1973, and Dean McDermott, born on November 16, 1966, found themselves drawn together in Ottawa, Canada.
Despite Tori being entangled in the vows of her recent marriage to Charlie Shanian and Dean, bound by a decade-long commitment to Mary Jo Eustace, their souls collided, igniting an instant and irresistible connection that would forever alter the course of their lives.
Tori Spelling with then-fiancé Dean McDermott having lunch at Cipriani's in New York City on March 31, 2006 (Credit: Steve Connolly / Startraksphoto)
In her 2009 memoir "sTORI Telling," the 50-year-old American actress felt strongly attracted to the 56-year-old Canadian actor, but noticing his wedding ring made her hesitate.
She revealed, "It was love at first sight. I fell so hard … Then I noticed he had a wedding ring. When someone asked, he pulled out photos of his children. And — oh, yeah — I had a husband too. It was fun to flirt, but I knew nothing would happen … But: Dean and I went to a bar after dinner. And we spent the night at the Cartier Place."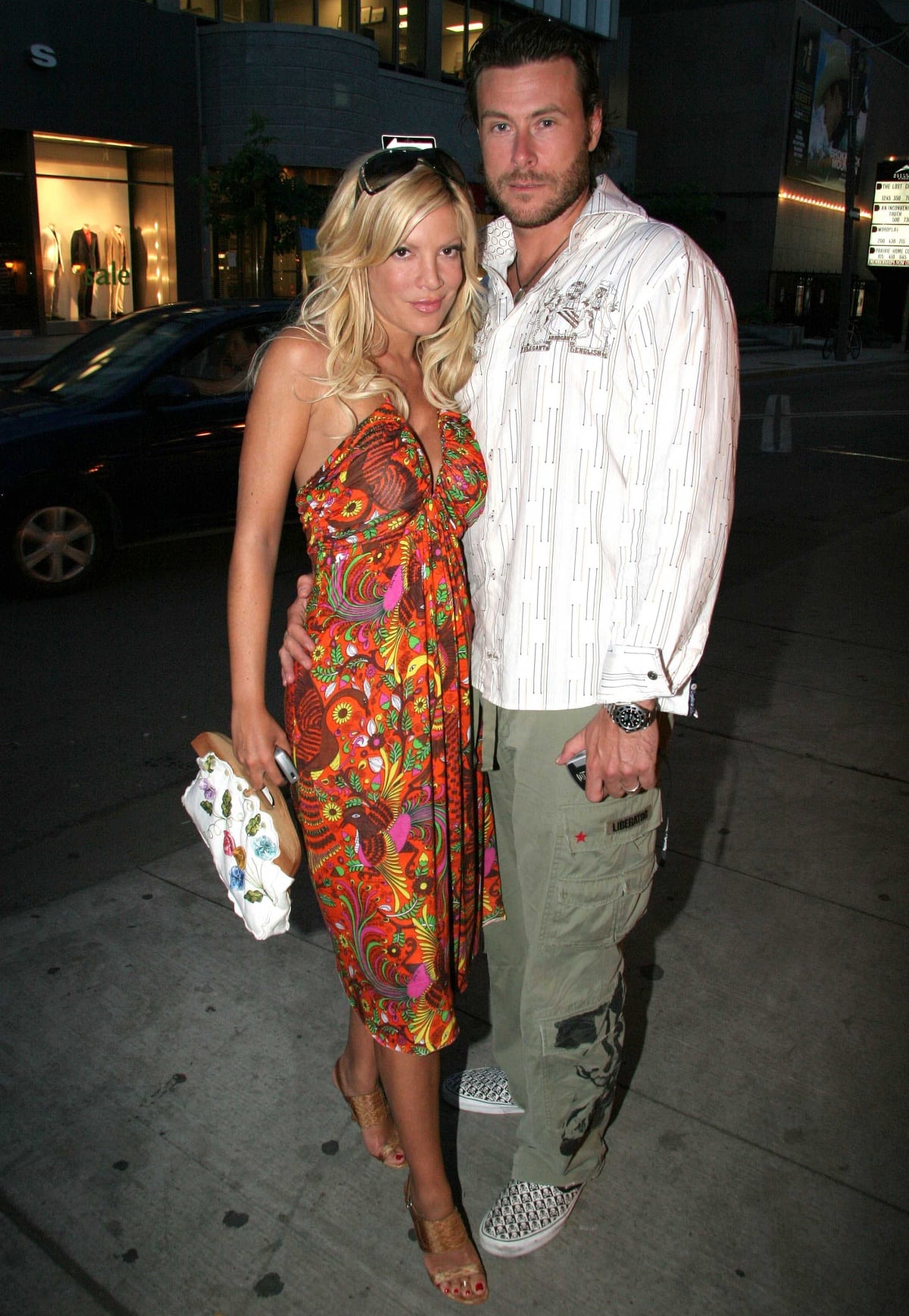 Tori Spelling and Dean McDermott crossed paths and first met each other during a filming of the TV movie "Mind Over Murder" in 2005 (Credit: Sean O'Neill / INFGoff)
Tori continued, "The following day when I woke up next to Dean, I had no regrets. Something was really wrong with my marriage. Not only because I slept with this guy — though that certainly wasn't a positive sign — but because I didn't regret it."
Less than a month after Tori's divorce from Charlie was finalized and Dean split from Mary Jo, the couple decided to tie the knot. They exchanged vows in a private ceremony in Fiji on May 7, 2006, sealing their love and embarking on a new chapter together.
Their journey as a couple continued with a beautiful vow renewal ceremony in their private home in Beverly Hills in May 2010. Dean gifted Tori a custom Darkened Diamond Eternity Band by Neil Lane, symbolizing their enduring love.
Tori and Dean's Extraordinary Journey as Parents to Five Children
Tori Spelling and Dean McDermott's path as parents began on March 13, 2007, when they welcomed their first child, Liam.
That same year, their reality television series, "Tori & Dean: Inn Love," debuted on Oxygen, showcasing their adventures running Chateau La Rue, a bed and breakfast in Fallbrook, California.
Tori Spelling, Dean McDermott, and Liam McDermott having a play date in Malibu, California on August 9, 2008 (Credit: Francois-Xavier Lamperti / INFphoto)
In the following year, their family expanded with the arrival of their second child and first daughter, Stella, born on June 9, 2008. The McDermott clan decided to move back to Los Angeles, and their reality show transformed into "Tori & Dean: Home Sweet Hollywood."
Adding to their growing family, Tori gave birth to their third child and second daughter, Hattie, in October 2011.
Shortly after, a spin-off of their reality show called "Tori & Dean: sTORIbook Weddings" premiered, chronicling their foray into the world of wedding planning. Tori also ventured into entrepreneurship by opening her boutique, InvenTORI, in Sherman Oaks, California.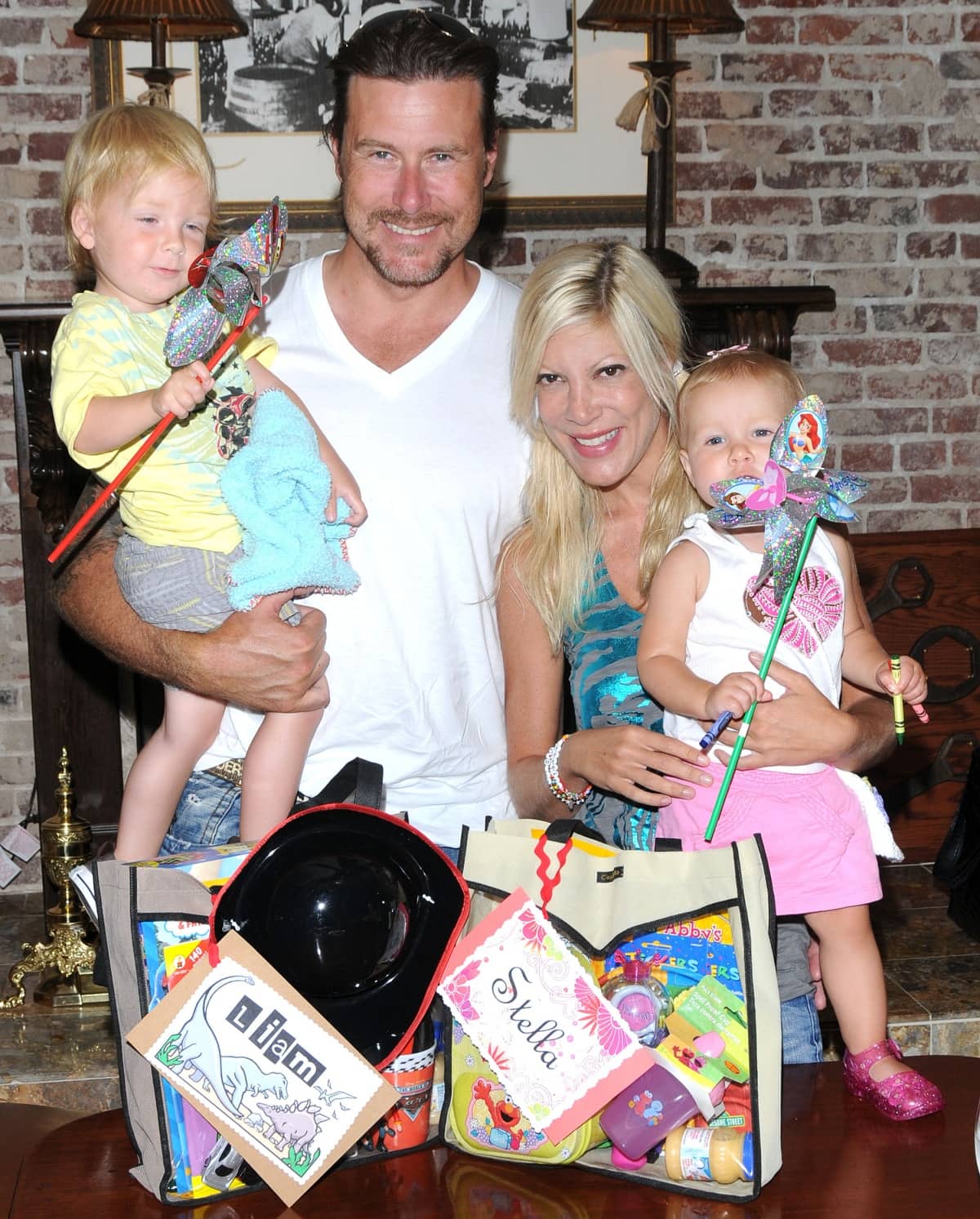 Tori Spelling with kids Liam McDermott and Stella McDermott joining Dean McDermott as he served as Grand Marshal of the Second Annual Ride for Autism in Baldwin Park, California on August 8, 2009 (Credit: Michael Williams / Startraksphoto)
In August 2012, Tori experienced a challenging pregnancy with their fourth child. Hospitalized for three months due to placenta previa and excessive bleeding, she faced a terrifying moment when she woke up at home surrounded by blood.
Luckily, she could call for help, with Tori telling PEOPLE, "I had to scream for Stella and I'll never forget the look on her face when she saw me surrounded by blood everywhere. I didn't want to panic her and I said, 'Baby, will you go get Daddy? Just tell him I'm bleeding.'"
Doctors managed to stabilize the situation, but Tori had to endure bedrest in the hospital until she gave birth to their son, Finn. Sadly, she had to undergo emergency surgery in the days following her C-section.
Despite Tori's fourth pregnancy complications, the couple's love and hope triumphed. In October 2016, they joyfully announced their expectation of a fifth child. Dean expressed gratitude, calling it a "miracle baby" considering the challenges they had faced before.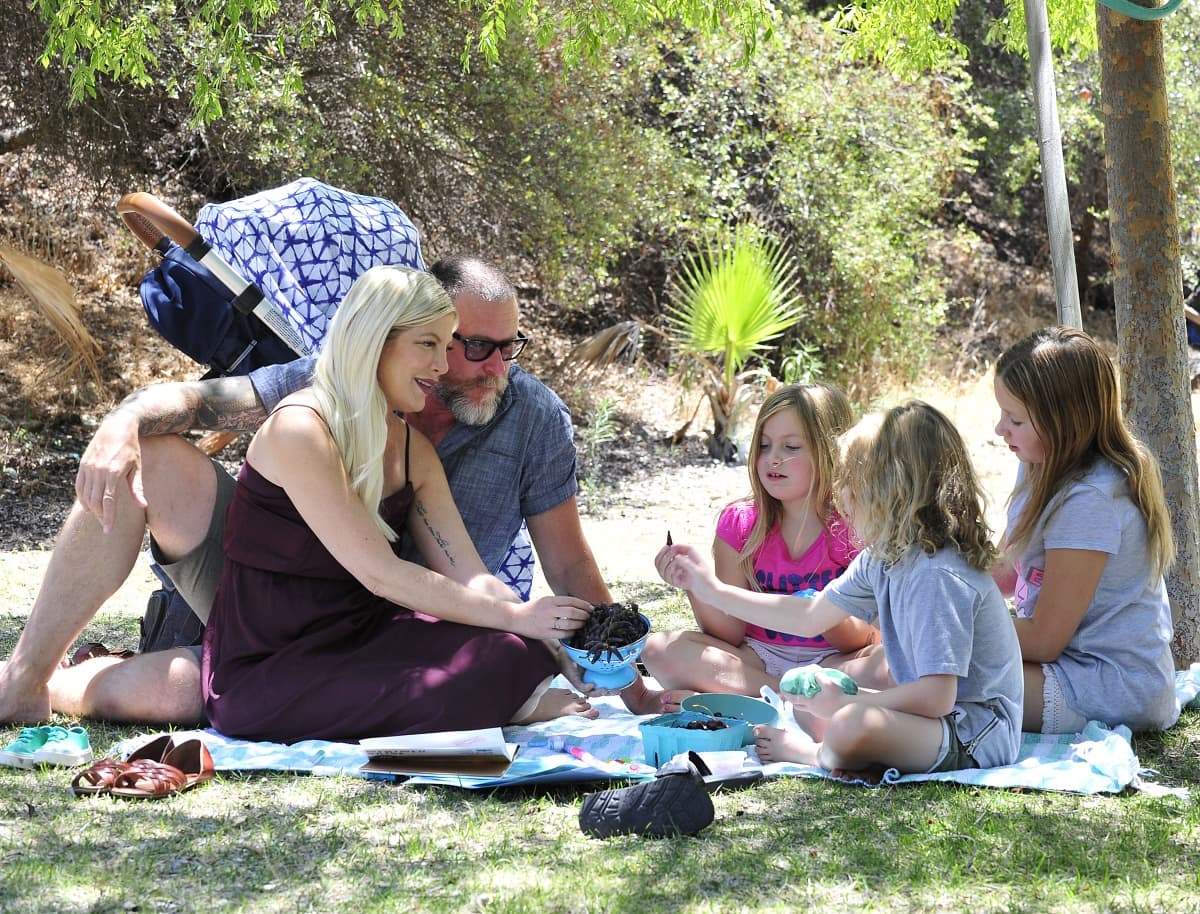 Tori Spelling and Dean McDermott have a picnic with their children in Los Angeles, California, on August 3, 2018 (Credit: Jesse Bauer / Startraksphoto)
On March 2, 2017, Tori gave birth to a son named Beau Dean. The family couldn't contain their joy, and Tori shared with PEOPLE, "We are over the moon in love with baby Beau. He is a true blessing and his brothers and sisters were overjoyed to meet him! We are all truly grateful for our big beautiful and healthy family."
The Storm in the Couple's Paradise: Dean's Cheating Issues
In March 2013, rumors of trouble began circulating surrounding the marriage of Tori Spelling and Dean McDermott. The storm in the couple's paradise unfolded when Dean cheated on Tori with Emily Goodhand, a 28-year-old woman he met while shooting Chopped Canada.
Emily revealed their two-day affair, claiming to Us Weekly, "He told me he and Tori had a sexless marriage. I believed him."
However, Tori vehemently refuted the claims, expressing her sadness that their genuine happiness might be perceived as dull.
She acknowledged her ability to withstand media scrutiny but implored them not to subject Dean, saying, "But don't do it to a man that has done nothing but loved me and our children. He has stood by me during the good times and held my hand through the darkest moments of my life."
Tori Spelling at the launch of husband Dean McDermott's TapOut class in Woodland Hills, California on February 6, 2019 (Credit: Michael Simon / Startraksphoto)
Nevertheless, trouble loomed on the horizon, as their show, "Tori & Dean: Home Sweet Hollywood," was canceled later that year, and Dean cheated on Tori again.
Dean publicly confessed to his infidelity the following year while Tori was home with their four children, celebrating the holidays. In January, he entered rehab to "address some health and personal issues."
Their struggles were further explored in their reality show, "True Tori," where Dean acknowledged his shame for his transgressions, saying, "I feel shame. I've never felt shame before. You were at a Christmas event, and I was f****** around. That's disgusting. That's disgusting."
Tori and Dean's Efforts to Rekindle Their Marriage
In 2015, Tori Spelling and Dean McDermott were determined to work on their marriage, and their efforts yielded positive results.
Dean reflected on their public struggles, acknowledging the lessons learned and expressing gratitude for their continued togetherness, revealing to PEOPLE, "What we went through publicly, I learned a lot, I wouldn't do it again, at the end of the day we're together, we're happy and we're working on our relationship and we have a beautiful family and a beautiful life. It all worked out in the end."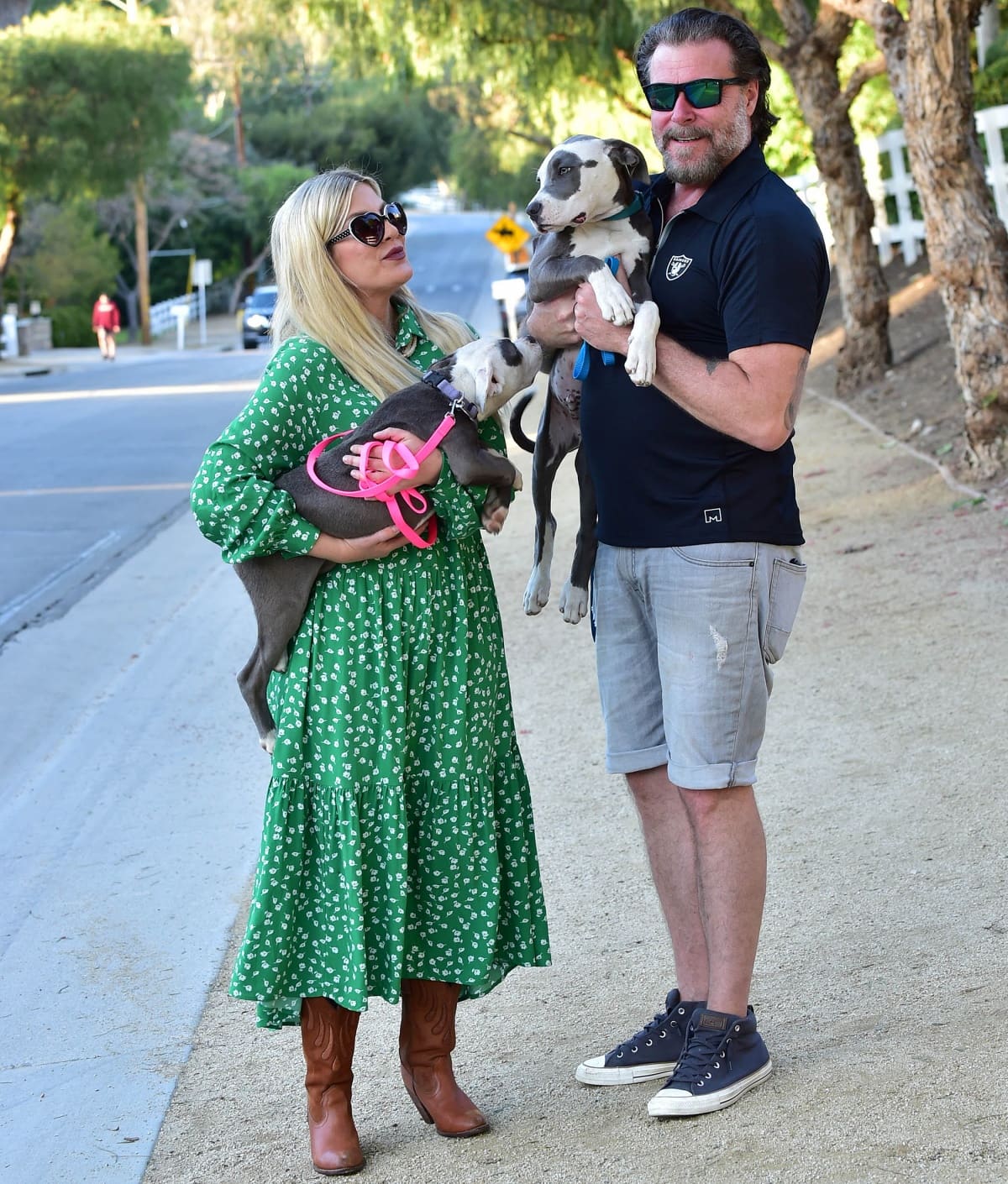 Tori Spelling and Dean McDermott taking a walk with their two dogs in Los Angeles, California, on January 4, 2021 (Credit: Sophie Fritz / Startraksphoto)
He also wanted to shift their relationship away from the public eye, seeking a more private and intimate connection.
The couple's journey continued in April 2016 when Dean proposed to Tori for the third time, the first during Christmas Eve in 2005 and the second after a year of marriage.
This heartfelt proposal occurred during a family trip to Europe, encompassing enchanting destinations such as Denmark and the French countryside.
In May 2020, Tori and Dean celebrated their 14th anniversary, taking to social media to express their love and gratitude for each other.
View this post on Instagram
Dean posted a clip from their 2008 "In Love" music video remix. Acknowledging their challenges, he wrote, "We've been through a lot in 14 years and we're still going strong. Like the song says 'look how far we've come after all'. Happy Anniversary Babe. 'I wouldn't wanna live without ya' #happyanniversary."
However, in August 2020, Tori Spelling revealed that issues had resurfaced due to her daughter stumbling upon online content related to Dean's past infidelity. This unforeseen consequence reminded them of the complexities they faced as a family.
Tori, meanwhile, expressed her pride in sharing their story online and provided insight into their decision to persevere. She emphasized her love for Dean, her autonomy as a financially independent woman, and her genuine desire to work on their relationship.
Despite health scares and financial challenges that periodically threatened their happiness, the couple demonstrated their resilience and commitment. By 2023, Tori and Dean strengthened their bond, as evidenced by their shared family outings and social media posts.
View this post on Instagram
Dean recently marked a significant milestone, Tori's 50th birthday, with a heartfelt tribute on Instagram, emphasizing her timeless beauty and their enduring love, writing, "Today you turned 50, and to this day, when I look at you, this is what I see. You're ageless and will always be my Donna Martin. You make 50 look fabulous!! Happy Birthday Babe. ❤️ #happybirthday."
Tori Spelling and Dean McDermott's marriage is going strong, and they are proud of the big and beautiful family that they made together (Credit: Michael Simon / Startraksphoto)