The competition in today's world of fashion is so intense that it's very possible for two well-known brands to come up with very similar styles and designs. Perfect examples of which are these undeniably similar metallic circular crossbody bags by Milly and Tory Burch.
Take a closer look at both these chic must-have bags, which also happen to have the same exact selling price of $225.00 on Shopbop, and let us know which of these two is the better choice for you!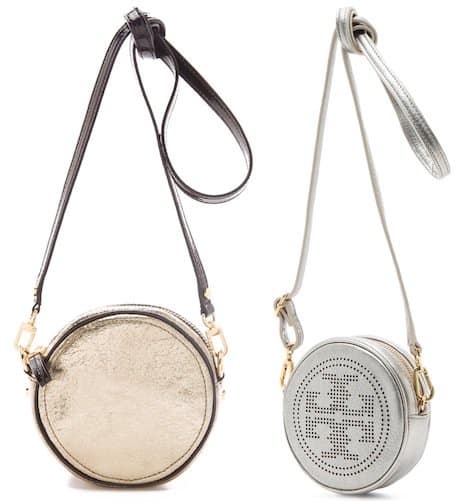 Metallic circular crossbody bags by Milly and Tory Burch
Our first stop is this silver metallic Tory Burch bag that features a perforated logo detail in front with an adjustable strap, so you can wear it as a crossbody or shoulder bag.
The frosted silver makes this piece very versatile and easy to mix and match with a variety of colors and textures this season!
Tory Burch Metallic Logo Cross Body Bag in Light Platinum, $225.00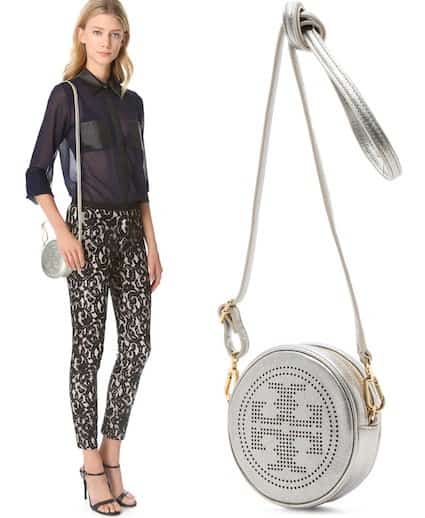 The next contender is this Milly 'Lola Small Canteen' bag, which features a plain crackled metallic gold leather with black lining and strap that gives off a certain edgy feel to this classy piece.
The small surprise in this bag comes in the form of a small cosmetic mirror, which is strategically placed inside it:
Milly Lola Small Canteen in Gold, $225.00
Another great thing about both these circular bags is that their straps are actually detachable, turning them into great clutch bags as well!
Personally speaking, I'm not really fond of designer pieces that scream out "I'm a designer piece!" thanks to their logo all front and center, so my clear choice in this battle is the edgier Milly 'Lola Small Canteen'! How about you?