Dr. Ken Jeong is best known for his comedic roles in titles such as Knocked Up, Community, and The Hangover. While you may be aware of his uncanny ability to make audiences laugh, you may not know that the actor was not always working on a movie set.
In fact, Dr. Ken Jeong — who is, indeed, worthy of that prefix — was a practicing doctor of internal medicine at Kaiser Permanente before he pursued an acting career. It was there that he met his beautiful wife and fellow doctor, Tran Ho.
Licensed physician Ken Jeong his wife-to-be Dr. Tran Ho while practicing at a health care facility in Los Angeles, California (Credit: Adriana M. Barraza / WENN)
The pair first met at a happy hour for doctors at a health care facility in Los Angeles. Ho, standing at 5'4" (162 cm), and Jeong at 5'5" (165 cm), were married just two years after meeting.
Tran Ho and Ken Jeong's relationship timeline
After their chance meeting in 2002 during happy hour, the couple became smitten with one another.
Both were physicians in the same hospital, where Jeong specialized in internal medicine and Ho was a family physician, so they were able to sneak off and have their breaks together.
Ken Jeong's wife Tran Ho is a family physician and a breast cancer survivor (Credit: FayesVision / WENN)
The couple that was once only dedicated to helping others get better now found themselves dedicated to one another, too.
Two short years after the pair met, they were married in September of 2004.
In 2007, Ho gave birth to twin girls, Alexa and Zooey. At the same time that their family was growing, so was Ken Jeong's career. Little did the couple know that danger was lurking around the corner.
Doctor? I hardly know 'er! Ken Jeong pursues an acting career
While Ken Jeong may seem like a household name today, this success was a long time coming. The comedian spent his youth living a double life: studying to become a doctor by day and honing his skills to be a comedian by night.
A tribute to his talents as both a comedian and doctor, Jeong would host comedy nights while still attending medical school.
Medical school is difficult enough, and Jeong's ability to ace his exams while preparing jokes to make crowds laugh is nothing short of superhero status.
Community stars Alison Brie, Ken Jeong, Gillian Jacobs, Danny Pudi, Yvette Nicole Brown, and Donald Glover promoting their show in 2009 (Credit: Nikki Nelson / WENN)
Ken Jeong was a regular at open mic nights in the Raleigh-Durham circuit. He also hosted The Comedy Spot series on Duke University campus, a program run by a friend from college, from 1992-1993.
While completing his residency in internal medicine at the Ochsner Medical Center in New Orleans, he also managed to find time to win the Big Easy Laff-Off in 1995.
His dedication to science and the arts was incredible — but it was a hard decision to choose between the two.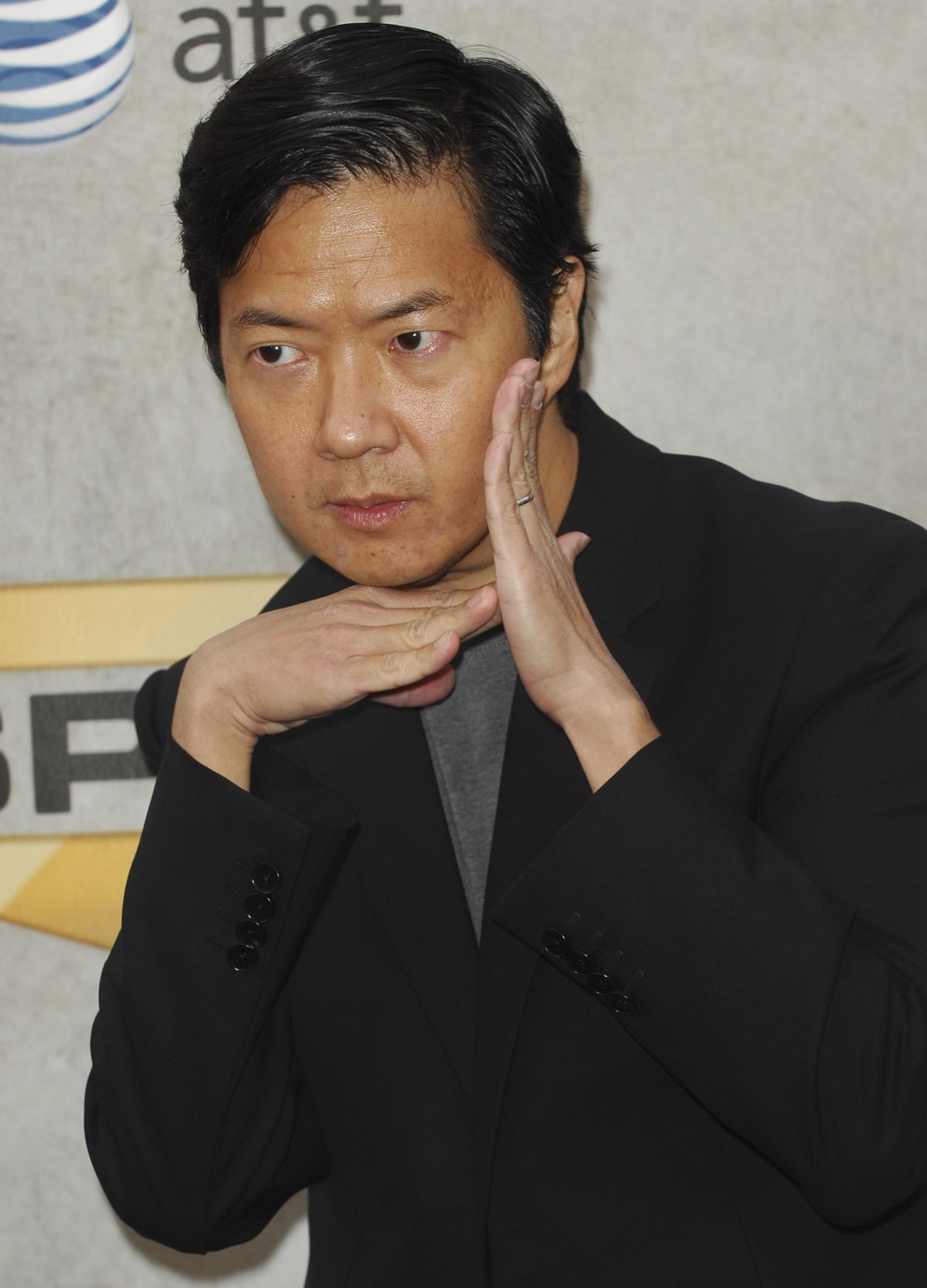 Ken Jeong began moonlighting as a comic while studying to become a doctor (Credit: Apega / WENN)
Jeong went on to audition for as many roles as possible in hopes that he could get his name out there and get his big break in Hollywood
During this time, Jeong landed minor roles in movies such as The Big Easy, Black Jaq, The Downer Channel, and Crossing Jordan.
"Tran stood strong for our family and encouraged me to pursue my dream of leaving behind my career as a doctor to become a comedian," he wrote about his wife's encouragement in a 2011 essay for HuffPost.
"I don't know how many wives would encourage that kind of insanity. But I was lucky mine did."
Finally, in 2005, this dedication paid off when the comedian was given the opportunity to audition for the role of a lifetime.
His agent at the time was impressed by Jeong's work ethic — working long shifts at the hospital just to arrive bright-eyed and bushy-tailed at an early-morning audition — and knew that he deserved a remarkable breakout role.
Who did Ken Jeong play in The Office?
The show that Jeong's agent got him an audition for was none other than NBC's hit sitcom, The Office.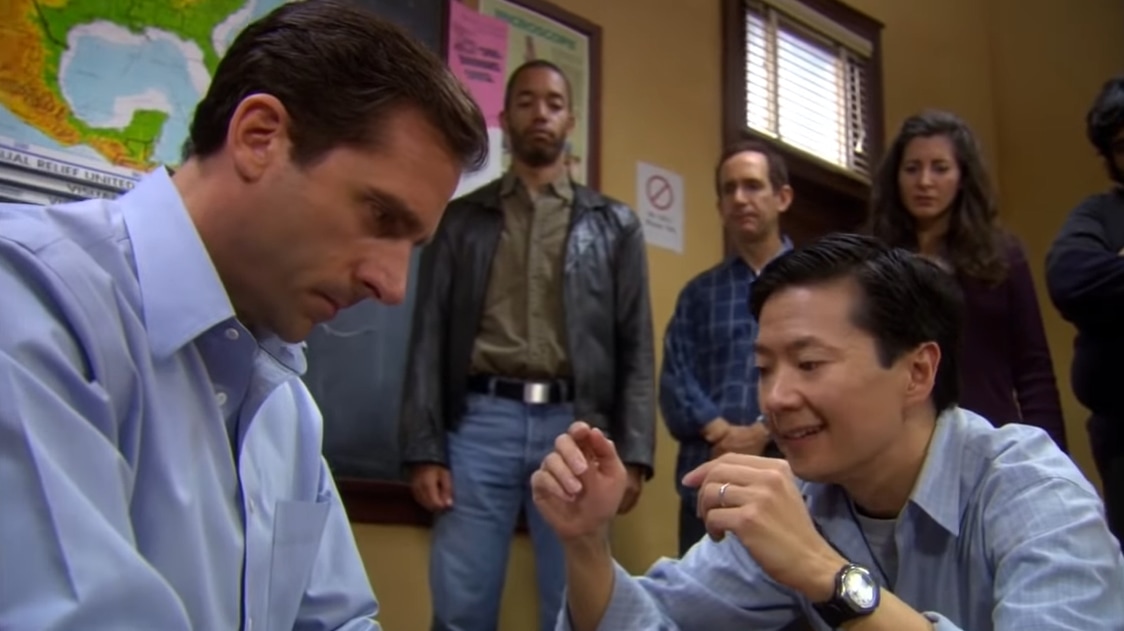 Ken Jeong had a cameo in "Email Surveillance," the ninth episode of the second season of the American comedy television series The Office (Credit: NBC)
After many hours of dedication and a bit of luck, Jeong landed the gig on The Office, playing an overzealous attendee of an improv class. He starred as Bill in E-Mail Surveillance, the ninth episode of the second season that aired on November 22, 2005.
Jeong recalls doing his best to emote and be over the top in hopes that this would be his breakout role. Spoiler alert: It was.
"I used to be a doctor — a physician, but I was auditioning like after work, during lunch, and Allison Jones just took a liking to me," Jeong said during an episode of the Office Ladies podcast.
"She got me an audition for The Office, and keep in mind I really had no screen credits, but she brought me straight into producers."
"A lot of people, rightfully so, attribute my acting to being over the top, like on Community," he added. "I think my breakthrough role [in The Office] was playing something very understated with maybe just two lines, and I would basically whisper every line."
Ken Jeong says working with Steve Carell is an experience he'll never forget (Credit: NBC)
"It's one of those things in an actor's life where like, I've forgotten years of working on Community — probably because of Joel — but I remember every single minute of my maybe three hours working on The Office," Jeong said.
"I'm sure you have that too in your careers, where you just remember your first time, and you just know if it's not a watershed event it's maybe your favorite event. And that's kind of what The Office means to me. I'm very grateful."
"He was just coming off The 40-Year-Old Virgin and I'd literally just watched him in the movie theater the previous month, so I'm sharing a scene with the biggest star in comedy," he said about Steve Carell.
"He really is a role model to me because he's just a professional, elegant, classy actor who has no weakness in his game, on or offscreen. He's just someone that I really look up to."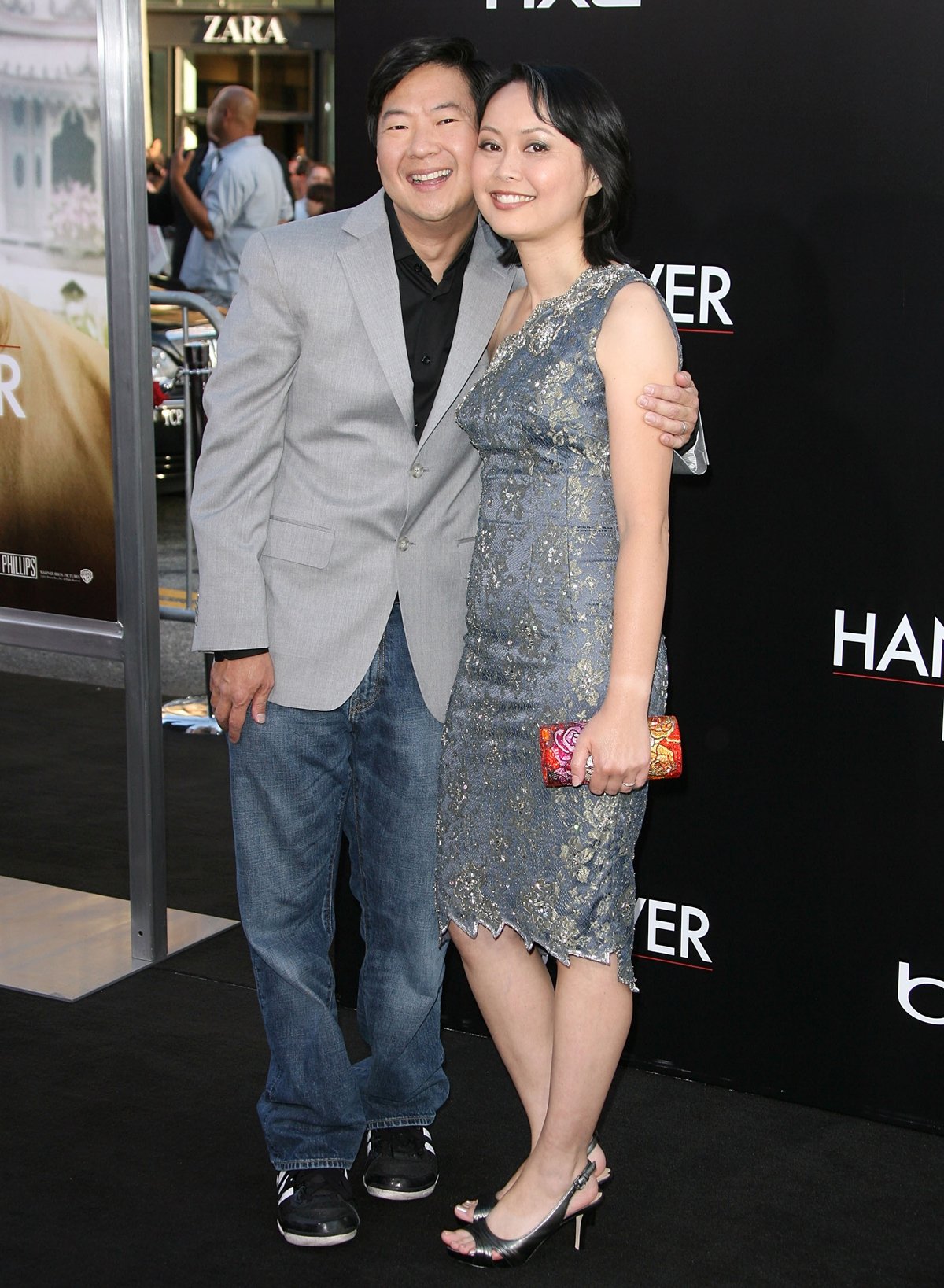 Actor Ken Jeong and his wife Tran Ho arrive at "The Hangover Part II" Los Angeles Premiere at Grauman's Chinese Theatre on May 19, 2011, in Hollywood, California (Credit: Adriana M. Barraza / WENN)
Ken Jeong's performance on The Office gained him industry-wide recognition, and it wasn't long before he received a small role in the box office hit, Knocked Up.
After the success of Knocked Up, with Jeong's performance being highly praised by critics, Jeong quit his job as a doctor to pursue acting full-time. At the time, his wife, Tran, was pregnant with twins, so there was no room for error in this career move.
Luckily, Ken Jeong's acting career took off. Since then, the actor has had roles in a plethora of titles, such as The Hangover, The Hangover Part II, American Dad, and The Avengers.
Ken Jeong with Pharoah attend The Masked Singer press launch at The Mayfair Hotel in London on December 12, 2019 (Credit: Avalon / WENN)
Currently, the actor can be seen as the host on the reality shows The Masked Singer and The Masked Dancer, where Jeong goofily goads the audience and judges into guessing what celebrity may be behind the mask.
How the Jeongs coped when Tran Jeong Ho was diagnosed with breast cancer
Ken Jeong's career was almost derailed the moment it began to take off. Just as he landed the role in The Hangover, the Jeong family received devastating news.
Tran Jeong Ho, Ken Jeong's wife and mother to their twin daughters, was diagnosed with terminal breast cancer and given only a 23% chance of survival.
"That was the last thing I thought [the doctor] was going to say to me," Tran told Coping about the diagnosis of triple-negative breast cancer. "I didn't know what to think at that point."
With brand new twins and a fledgling on-screen career, Tran Jeong Ho's diagnosis came as a horrifying shock. Ken Jeong considered turning down the role of Mr. Chow in The Hangover in order to spend more time with his family, but his wife insisted that he continued to follow his dream.
Ken Jeong and Tran Jeong attend the 71st Emmy Awards at Microsoft Theater on September 22, 2019, in Los Angeles, California (Credit: WENN / Avalon)
It was difficult for Ken Jeong to keep going — he recalls filming scenes for The Hangover and being immediately driven home by a producer so that he could care for his wife.
However, Ho's constant encouragement and optimism would turn out to be a saving grace for both of them.
Between his new ability to fund his wife's cancer treatment and finely-tuned comedy chops, Jeong was able to use humor to make audiences across the world and, more importantly, his wife, laugh.
In The Hangover, Jeong sprinkled in references to inside jokes that only his wife would understand.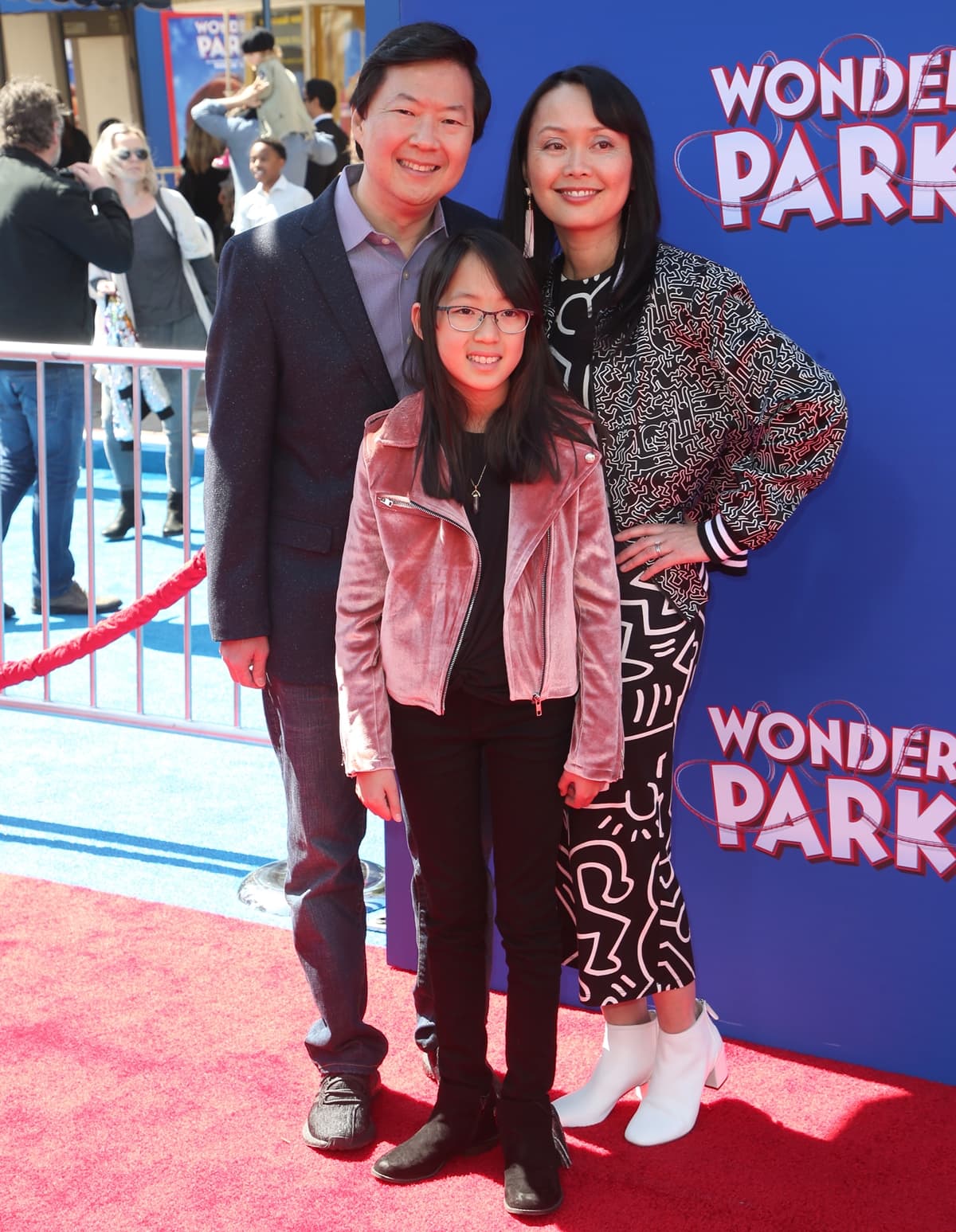 Ken Jeong with his wife Tran Jeong and his daughter Zooey at the premiere of Paramount Pictures' "Wonder Park" at Regency Bruin Theatre on March 10, 2019, in Los Angeles, California (Credit: FayesVision / WENN)
"There were these inside jokes between me and Tran," Jeong said in an interview. "I would sprinkle that all throughout the movie…it's like the weirdest love letter to your wife in a very filthy movie."
Tran Jeong Ho loved these little inside jokes and said that they gave her hope in what felt like a hopeless situation.
After the help of some very talented doctors, Ho's aggressive cancer treatment was a success — against all odds — and she was declared cancer-free in 2009.
While accepting an award for his role in The Hangover, Jeong mentions his wife's battle with cancer and the amazing support she gave him — even when he felt like he didn't deserve it.
Kendrick Kang-Joh Jeong and Tran Ho married in 2004 and have twin daughters named Zooey and Alexa (Credit: Adriana M. Barraza / WENN)
To this day, in addition to their demanding careers, the Jeong's work tirelessly to raise awareness and funds for cancer-related issues, recently participating in a Stand Up to Cancer event.
Though Ken Jeong has found great success over the years, he credits it all to the support of his loving wife, Tran Jeong Ho.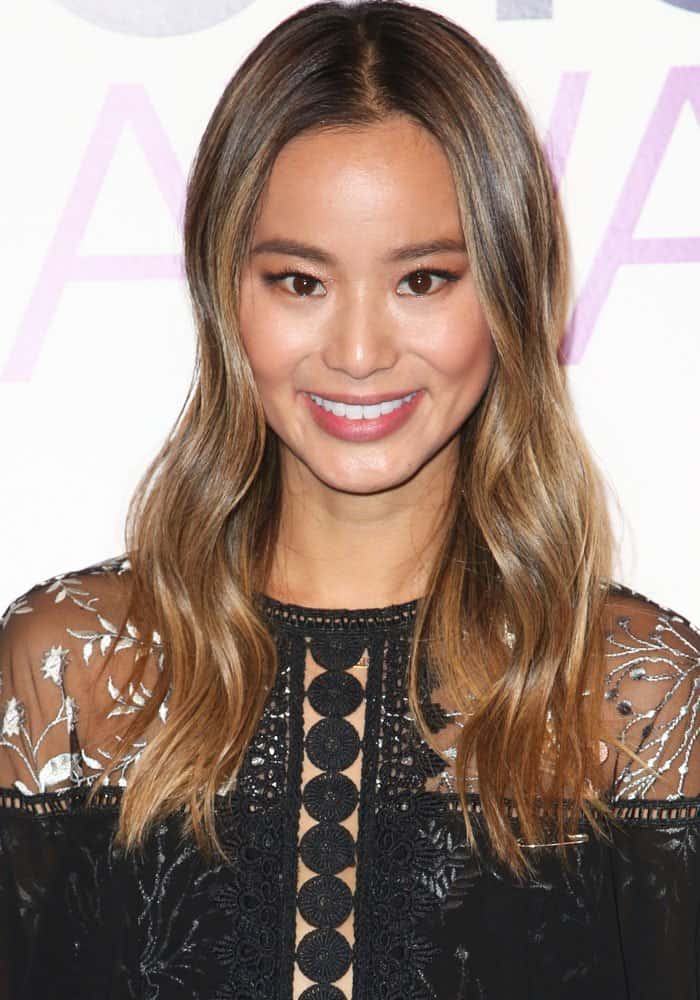 Jamie Chung attends the People's Choice Awards nominations press conference at the Paley Center for Media in Los Angeles on November 15, 2016 (Credit: Apega / WENN)
In November 2016, dabbing was already over. The "mannequin challenge" was the new viral video challenge in town, and even athletes and celebrities were jumping on the bandwagon. The announcers of the 2017 People's Choice Awards were the latest to get in on the trend.
Jamie Chung was just one of several celebrities to try the mannequin challenge as 2017's nominations for the People's Choice Awards were announced.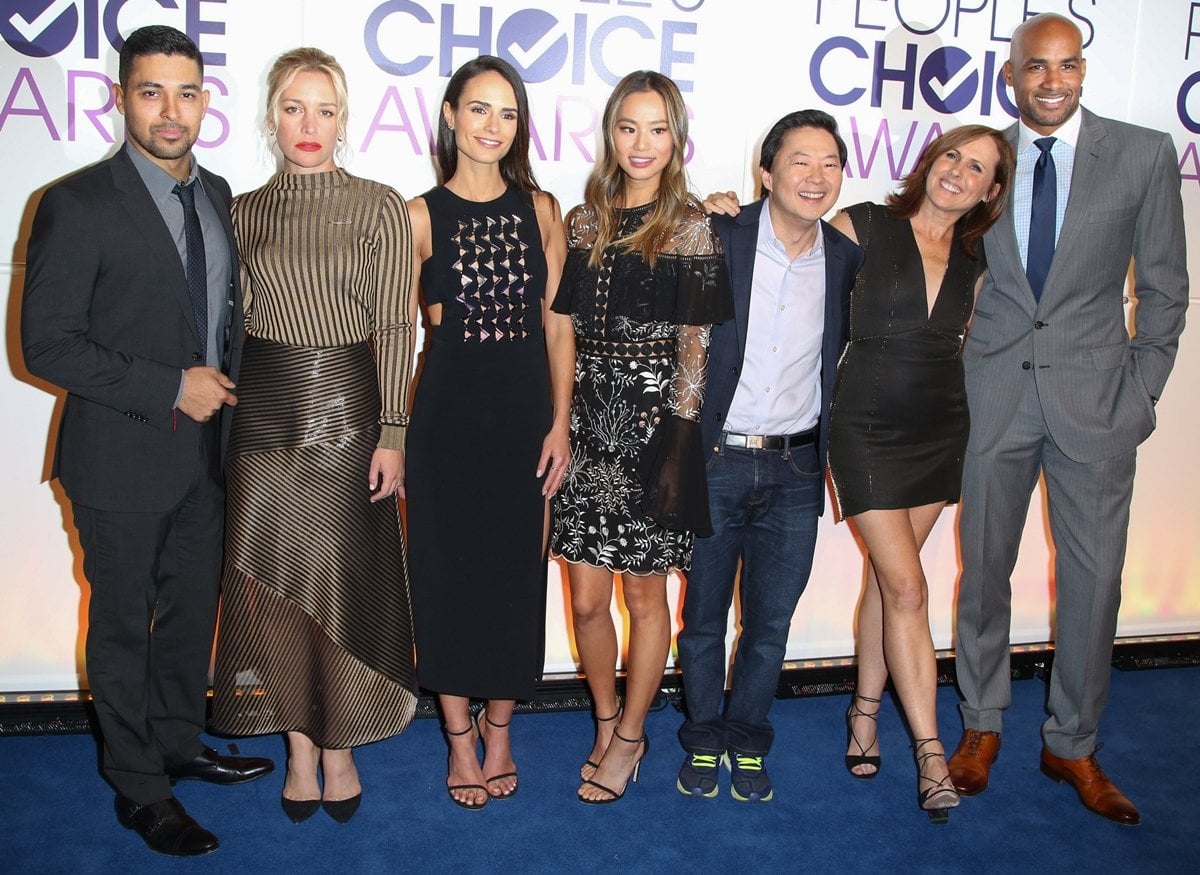 Wilmer Valderrama, Piper Perabo, Jordana Brewster, Jamie Chung, Ken Jeong, Molly Shannon, and Boris Kodjoe (Credit: Brian To / WENN)
The Once Upon a Time actress was joined by Wilmer Valderrama, Piper Perabo, Jordana Brewster, Ken Jeong, Molly Shannon, and Boris Kodjoe.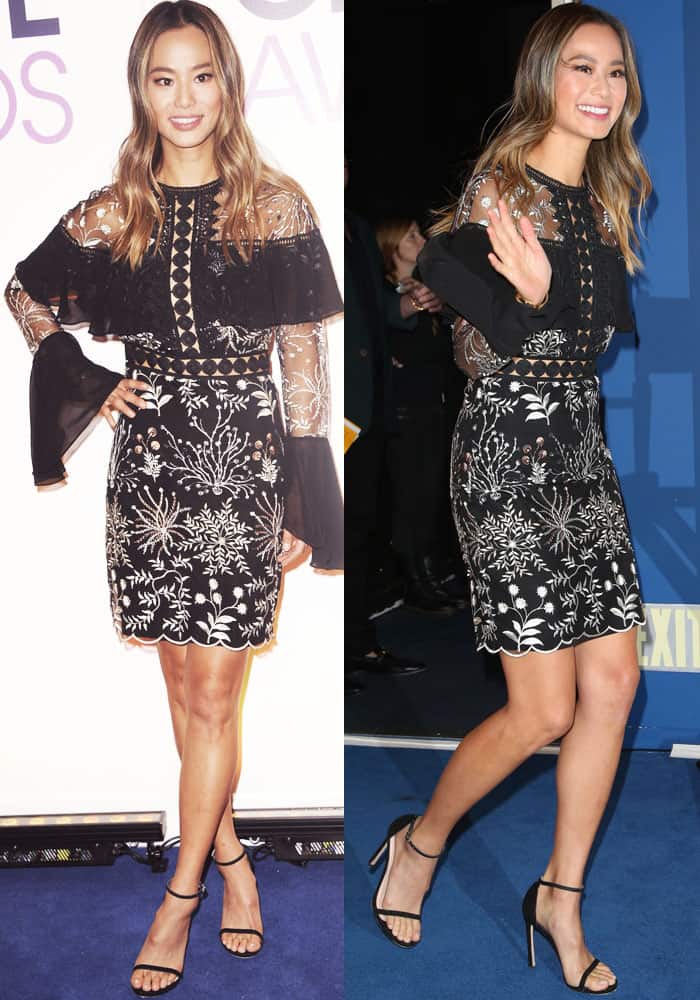 Jamie Chung flaunts her legs in a black ruffle and silver Iorane lace Joy dress (Credit: Brian To / WENN / Apega)
Jamie looked gorgeous in the "Joy" dress by Iorane. The black dress was adorned with white embroidery, and it alternated lace-trimmed sheer panels with ruffled ones.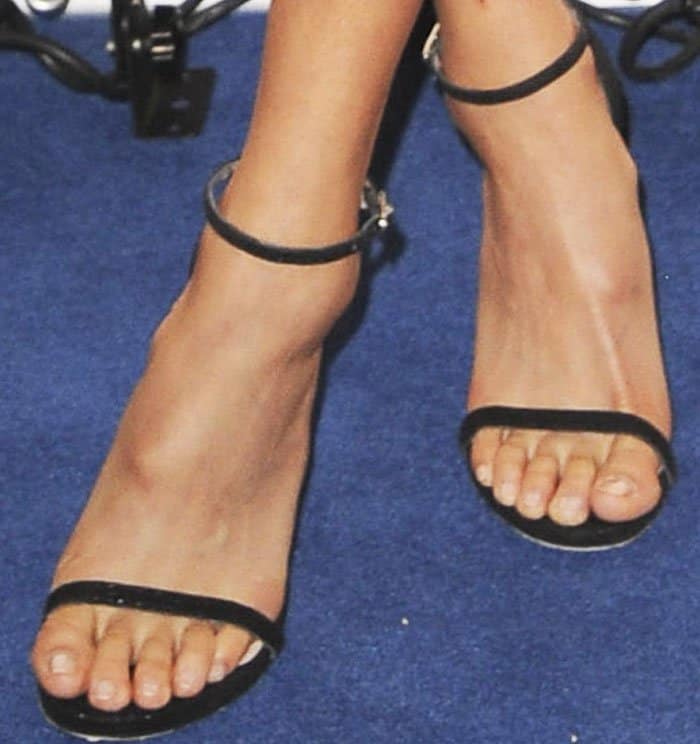 Jamie Chung shows off her feet in Stuart Weitzman "Nudist" sandals (Credit: WENN / Apega)
The actress let her dress take the spotlight by complementing it with a simple pair of Stuart Weitzman "Nudist" sandals.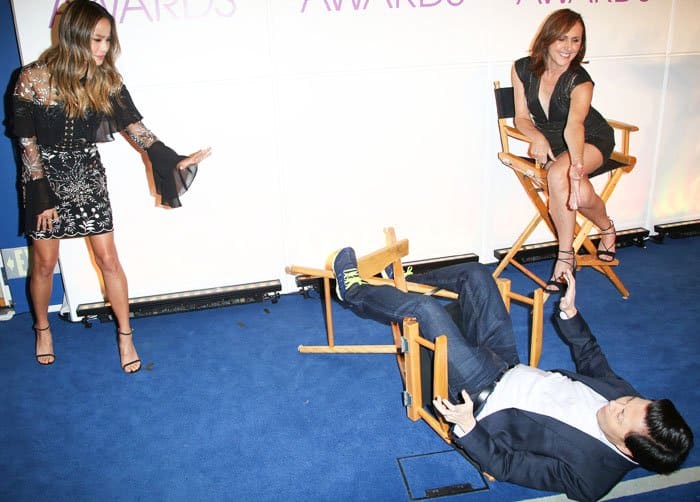 Jamie Chung does the mannequin challenge with Ken Jeong and Molly Shannon (Credit: WENN / Brian To)
The PCA announcers did a hilarious mannequin challenge that involved a falling chair, a selfie, and an award fight. Of course, the photographers were in on the fun as well.
You can shop the classic Stuart Weitzman "Nudist" sandals at Amazon, Nordstrom, and Zappos.