Rest assured, Vanessa Hudgens made a grand entrance at the 2023 Met Gala, showcasing her impeccable style. The former High School Musical star captivated onlookers in a captivating white and black gown embellished with two dazzling flowers designed by Michael Kors.
Notably, each flower appliqué required 24 hours of meticulous handwork, carefully fusing individual sequin petals to a silk base, resulting in a remarkable, lifelike volume.
As she gracefully ascended the steps of the Metropolitan Museum of Art in New York City on May 1, Vanessa truly owned the red carpet.
Vanessa Hudgens made a striking appearance at the 2023 Costume Institute Benefit celebrating "Karl Lagerfeld: A Line of Beauty" at the Metropolitan Museum of Art on May 1, 2023, in New York City, captivating everyone as she stepped onto the red carpet (Credit: Abaca Press / INSTARimages)
In a beautiful tribute to the late fashion icon, Vanessa opted for a sleeked-back hairstyle using SexyHair products and Great Lengths extensions, fashioned into a bun that mirrored the iconic Chanel camellia flower.
She elevated her ensemble further with exquisite diamond jewelry, including her engagement ring from her fiancé, Cole Tucker.
Vanessa Hudgens flaunted her massive engagement ring from her fiancé Cole Tucker (Credit: Jennifer Graylock / INSTARimages)
In February, Vanessa proudly unveiled the stunning ring, announcing her engagement to the baseball player after more than two years of dating.
Sharing a close-up of the dazzling bauble on her hand on February 9, she excitedly captioned the photo with a resounding "YES." The couple's joy was palpable, and Vanessa expressed her utmost happiness.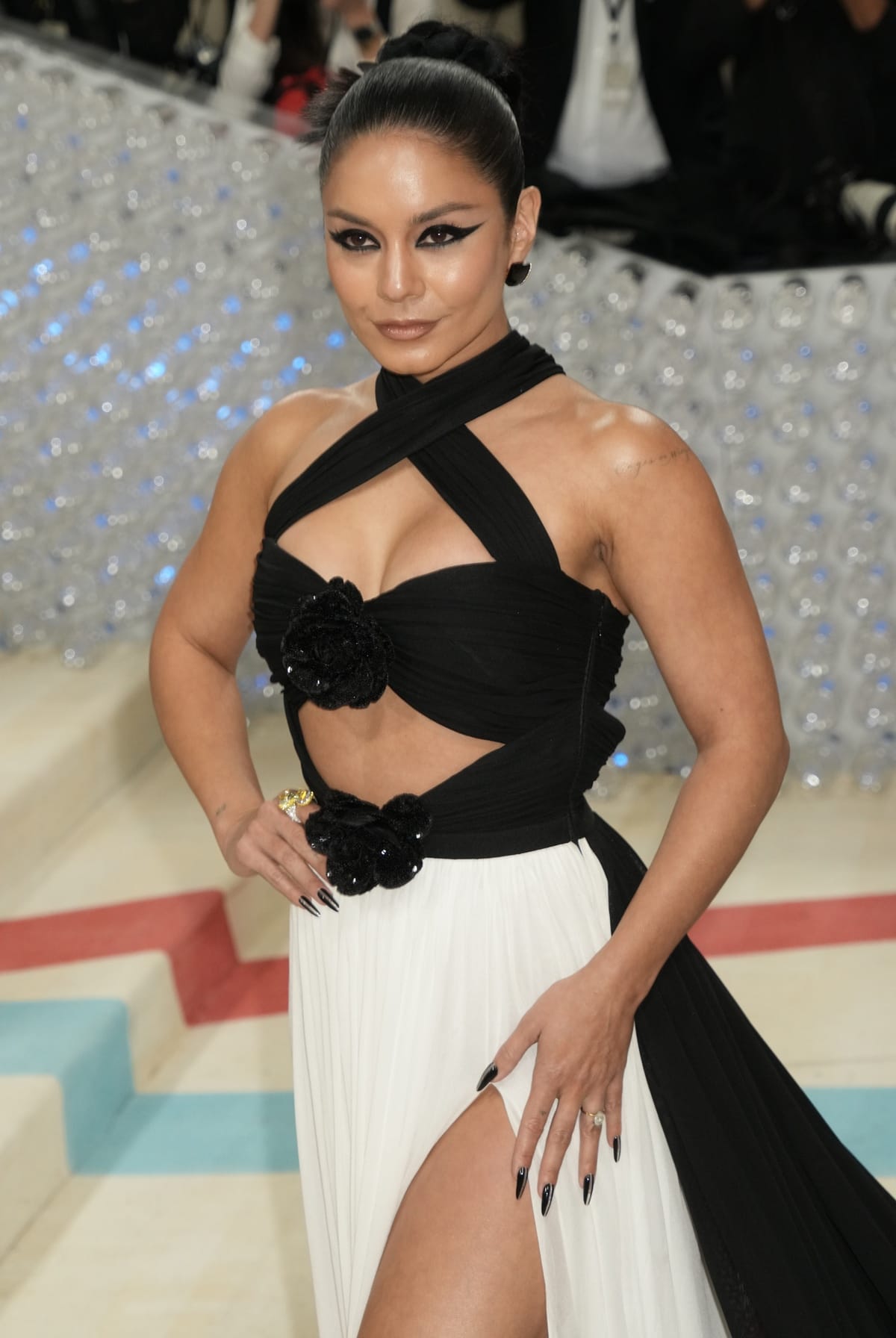 Vanessa Hudgens donned an elegant black and white dress featuring alluring cutouts and a daring thigh-high slit (Credit: Jennifer Graylock / INSTARimages)
Last year, she embraced the "In America: An Anthology of Fashion" theme, also known as "Guilded Glamor," wearing a mesmerizing see-through black gown by Moschino.
The ensemble featured intricate lace detailing and transparent fabric, while the grand puffy sleeves added a touch of drama. Completing her look with exquisite jewelry by Messika, Vanessa's appearance was truly remarkable.
On Valentine's Day, the 34-year-old gifted her fans another glimpse of the mesmerizing ring, posting a picture of herself and Cole cozily celebrating what appeared to be an engagement party.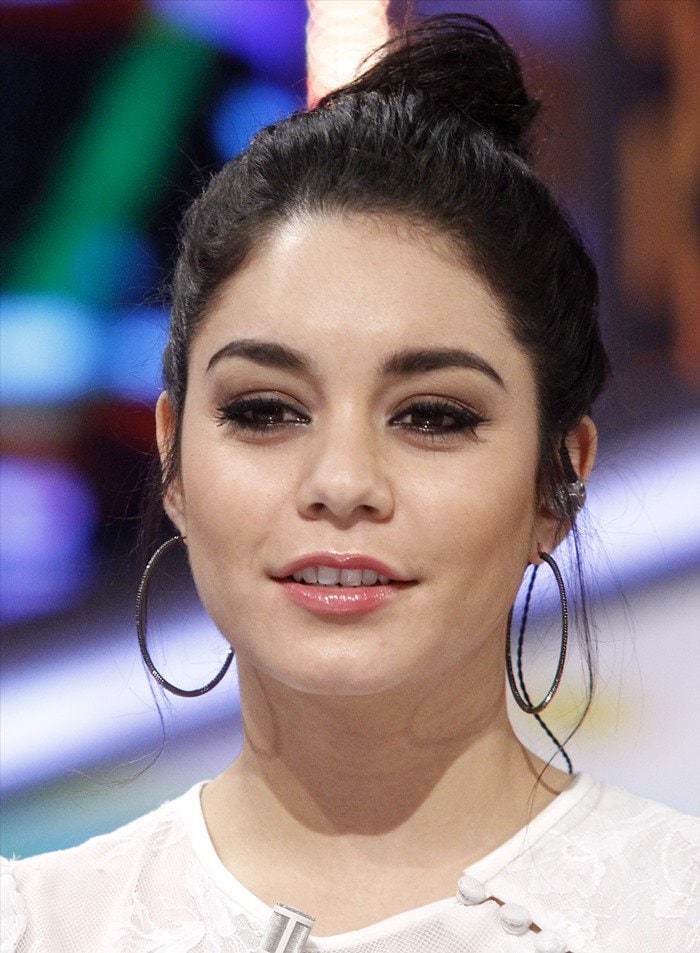 Vanessa Hudgens wears her hair up for an appearance on "El Hormiguero" on February 21, 2013, in Madrid, Spain (Credit: Sean Thorton / WENN)
In early 2013, Vanessa Hudgens devoted significant effort to promoting the American comedy crime film Spring Breakers.
During the promotional campaign, the talented actress, known for her roles in Disney productions, made a notable appearance on the popular Spanish TV show El Hormiguero. Joining her on the show was her co-star from the movie, Selena Gomez.
Vanessa Hudgens and Selena Gomez stay pretty in neutrals for the filming of a Spanish TV show (Credit: Sean Thorton / WENN)
Vanessa had spent the last portion of her day at a Madrid photo call, and she didn't change before heading to the set of "El Hormiguero."
The Bad Boys actress wore an all-white outfit that showed off her midriff.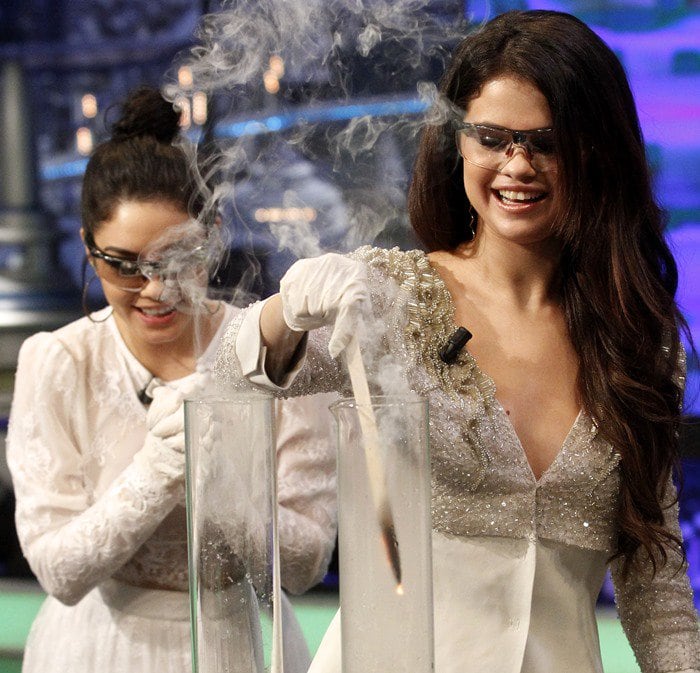 Vanessa Hudgens and Selena Gomez play with smoke and fire during an appearance on "El Hormiguero" (Credit: Sean Thorton / WENN)
The millionaire former child star wore a long-sleeved button-accented lace crop top with a matching high-waisted knee-length skirt.
Vanessa Hudgens wears a white lace set during a Madrid appearance (Credit: Sean Thorton / WENN)
She finished her ensemble off with a pair of strappy lilac sandals from Jerome C. Rousseau.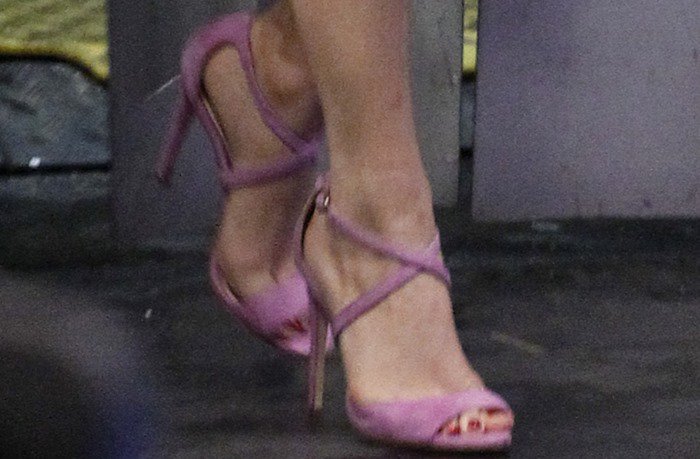 Vanessa Hudgens's feet in strappy lilac Jerome C. Rousseau sandals
The star's Jerome C. Rousseau heels are the designer's "Popp" sandals from the Spring 2013 collection.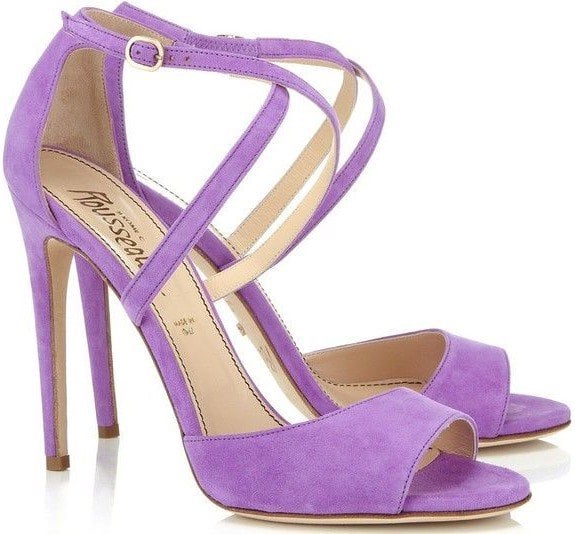 Jerome C. Rousseau 'Popp' Sandals in Lilac Suede