The Mercury retrograde has seemingly affected even the fashion world because it feels like everything's gone topsy-turvy.
First, it was Dita Von Teese sharing an Instagram picture of herself in sneakers. Then, it was Angelina Jolie showing up in shoes that weren't black. Yesterday, it was Victoria Beckham's turn to shock as she stepped out in Saint Laurent oxfords that were flatter than a fashion show runway.
You've got to see it to believe it — Victoria "I can't concentrate in flats" Beckham in flats:
The oxfords not only do not have heels, but they are also menswear-inspired, which takes them even further away from Victoria Beckham's usually fiercely feminine style.
What's even crazier is that Victoria herself shared the following Instagram snap of Manolo Blahnik oxfords, saying that she was "obsessed" with them!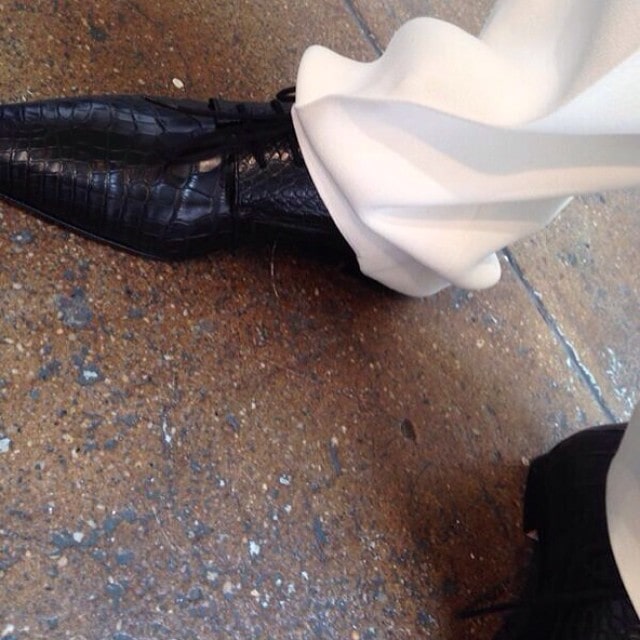 An Instagram picture shared by Victoria Beckham captioned, "Thank u @manoloblahnikhq , obsessed with this flat! X vb #NYFW #VBAW14"
We're blaming the Mercury retrograde for these bizarre happenings, but Victoria's change of heart could have been brought about by this incident where she had no choice but to navigate slippery, snow-covered New York pavements in stiletto heels:
We're imagining that perhaps a close call of falling flat on her bum made Victoria reconsider her choice of footwear for the next day. But if there's anyone who's an expert in walking in heels, it's Victoria Beckham, so maybe she's really just embracing the flats trend.
Victoria Beckham made her rare appearance in flats in these Saint Laurent oxfords:
Saint Laurent Perforated Bicolor Lace-Up Oxfords, $790
Her wine red pumps with extremely slip-resistant soles are these Manolo Blahnik "BB" pumps:
Manolo Blahnik "BB" Patent Pointy-Toe Pumps in Wine, $595
Credit: Victoria Beckham's Instagram