Long rumored to be feuding, Victoria Justice appeared on Barstool Sports' Chicks In The Office podcast in March 2021 and revealed what her relationship with Victorious co-star Ariana Grande is really like.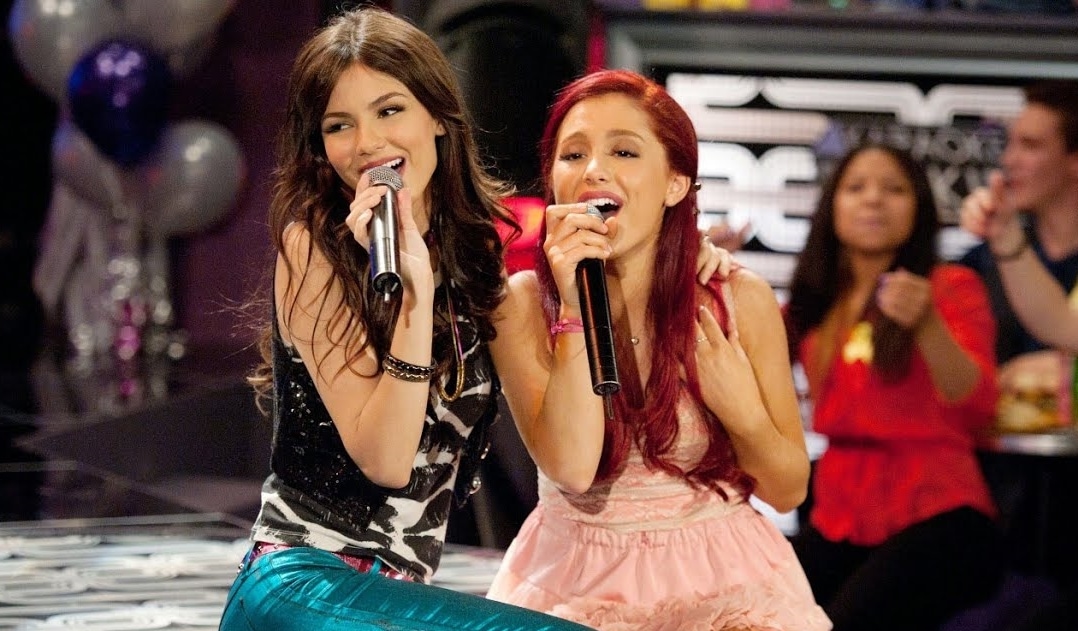 Ariana Grande and Victoria Justice starred on the Nickelodeon hit Victorious as Cat Valentine and Tori Vega (Credit: Nickelodeon)
"All of that drama, whatever, all of that stuff is, it's so silly," Victoria said about there not being any bad blood between her and any of her former castmates.
"A lot of it really came from, like, the media, like fanning those flames and then just people online, like, fanning those flames and making it this huge crazy thing."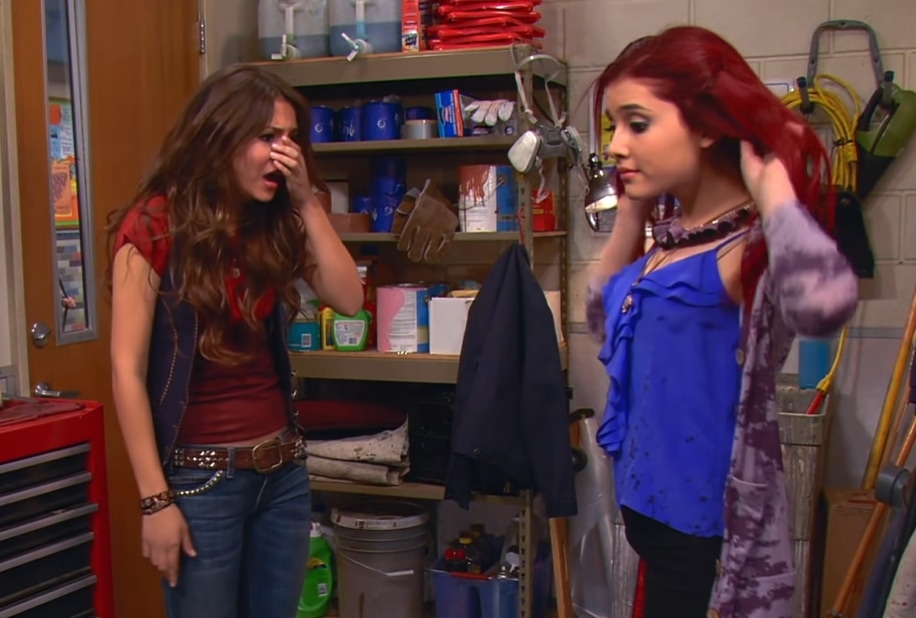 Ariana Grande's character punches Victoria Justice in Cat's New Boyfriend, the 12th episode of Season 1 of Victorious (Credit: Nickelodeon)
"It's amazing," Victoria said about her former co-star Ariana Grande who played the strange Catarina "Cat" Valentine.
"I love Ariana, and she's killing it right now. And she's been so supportive of me and my music. And you know, we text. It's really cool. So, everything's all good."
Victoria Justice is in good spirits after her morning workout in Los Angeles on April 21, 2021 (Credit: Avalon / WENN)
"It is a little frustrating to see how people do love to pit women against each other. But I think at the end of the day, it's all about us like supporting each other and building each other up."
"I feel like I also have a lot of people that support me. so, I'm thankful for that. But it's all good honestly. You know, there's always going to be haters, and that's OK. It just is what it is. It comes with the territory," Victoria added.
Victoria Dawn Justice turned 17 on February 19, 2010, just one month before the first episode aired on March 27, 2010. She was reportedly paid $12,000 per episode of Victorious.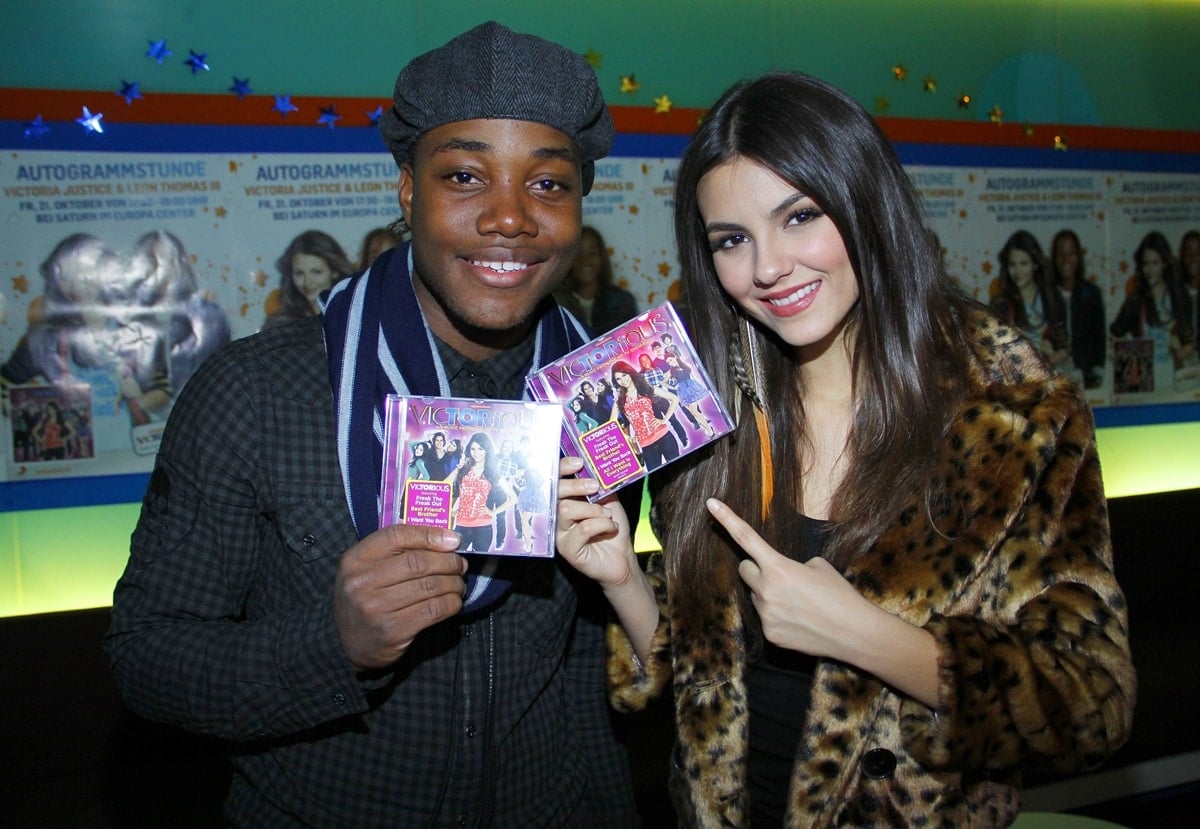 Leon G. Thomas III and his Victorious co-star Victoria Justice participate in a signing session at Lichthof of Europacenter in Berlin, Germany, on October 21, 2011 (Credit: Patrick Hoffmann / WENN)
"I loved the show," Victoria said about the show that aired from 2010 to 2013. "I had a great time making the show. That was one of the greatest times of my life."
"I don't know," she said about a possible reunion show. "I've gotten together with the cast and we've all hung out and I love them all dearly and so much. I mean, I would be down to do a little something. I don't know. To be honest, I really don't know what is going on with all of that. But I love that cast a lot and had so much fun working with them back in the day and, you know, would love to hang out with them again for sure."
Victoria Justice wearing a black dress with matching ankle-strap heels (Credit: Apega / WENN)
In April 2013, Swedish multinational clothing company H&M launched its Conscious Collection through a series of parties held in several cities, and two lovely young starlets — namely Victoria Justice and Jessica Lowndes — were spotted attending two of their events.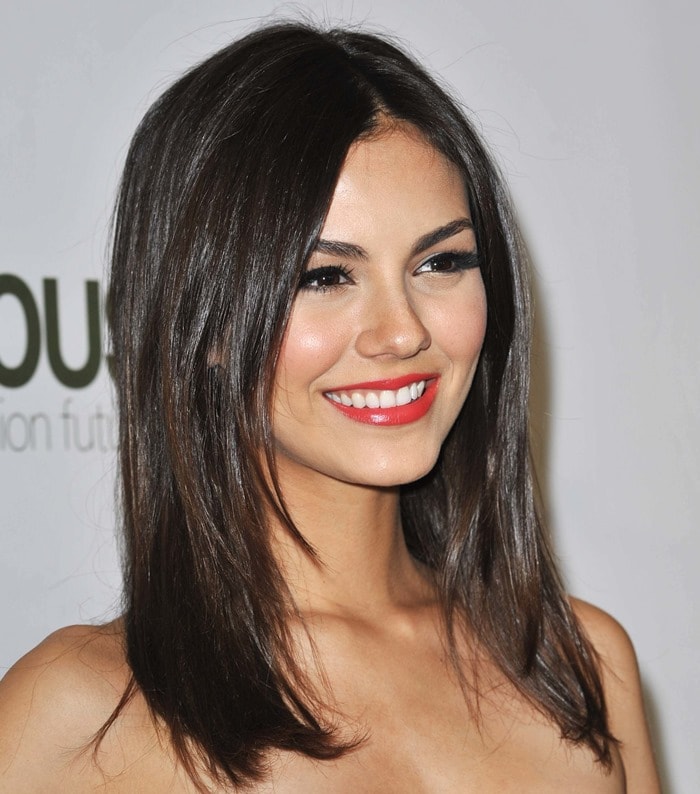 Victoria Justice hosting the H&M Conscious Collection launch party in Los Angeles on April 4, 2013 (Credit: Apega / WENN)
Victoria hosted the shindig in Los Angeles, while Jessica graced the red carpet in Miami.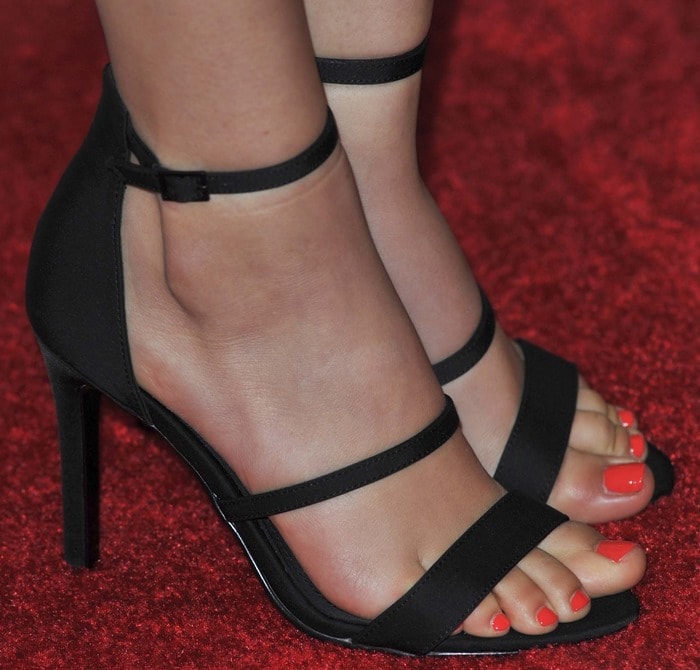 Victoria Justice painted her toenails in a bright orange-red color (Credit: Apega / WENN)
Coincidentally (or not), both girls wore black dresses, painted their toenails a bright orange-red color, and chose black ankle-strap heels to go with their outfits.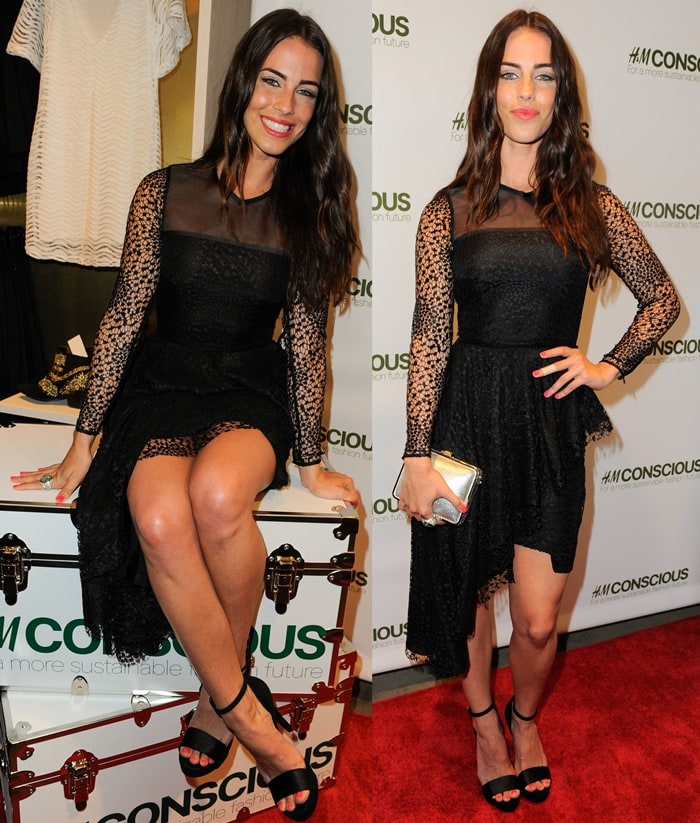 Jessica Lowndes wearing a black dress from the H&M Conscious line (Credit: Eyeworks Production / WENN)
Now, the obvious question is, whose outfit looked better? And whose heels were hotter?
Jessica Lowndes at the launch of H&M Conscious Collection in Miami, April 5, 2013 (Credit: Eyeworks Production / WENN)
Both ladies were dressed in pieces from the H&M Conscious line that you can shop at H&M.
Jessica Lowndes shows off her size 7 (US) feet in black ankle-strap sandals (Credit: Eyeworks Production / WENN)
In fact, even Victoria's sandals are from H&M. They're called the "Sandalettes" and retail for an affordable $49.95.
Jessica's strappy sandals, on the other hand, are still a bit of a mystery.
H&M Conscious Collection Sandalettes, $49.95