After a year focused on her fitness and losing weight, Rebel Wilson spent the holidays in her hometown of Sydney, Australia.
Safely back in California, the Australian actress was spotted having dinner with a friend at celebrity hotspot Craig's in West Hollywood last month.
Rebel Wilson wears black faux leather leggings for dinner at Craig's in West Hollywood on January 24, 2022 (Credit: BauerGriffin / INSTARimages)
Showing off her trimmed-down physique, the 41-year-old actress slipped into a pair of clinging black faux leather leggings. She teamed them with a sheer black top that gave a glimpse of her bra underneath.
The Pitch Perfect star added punk-rock edge to the look by layering her outfit with a $4,095 black-and-red plaid tweed bomber jacket from Balmain.
Rebel Wilson has been open about her fitness and weight loss journey (Credit: Kathy Hutchins / Shutterstock)
"I lost about 35 kilos (77 lbs)," she told the hosts of Australia's Sunrise about her weight loss in October 2021. She added that her life has "changed dramatically" in the past year and talked openly about struggling in the past with emotional eating.
"I went to the doctor's and got my yearly check-up last week, and he's like, 'Oh my God, all your labs and your blood work is the best it's ever been and you know, it's kind of remarkable,'" she said happily.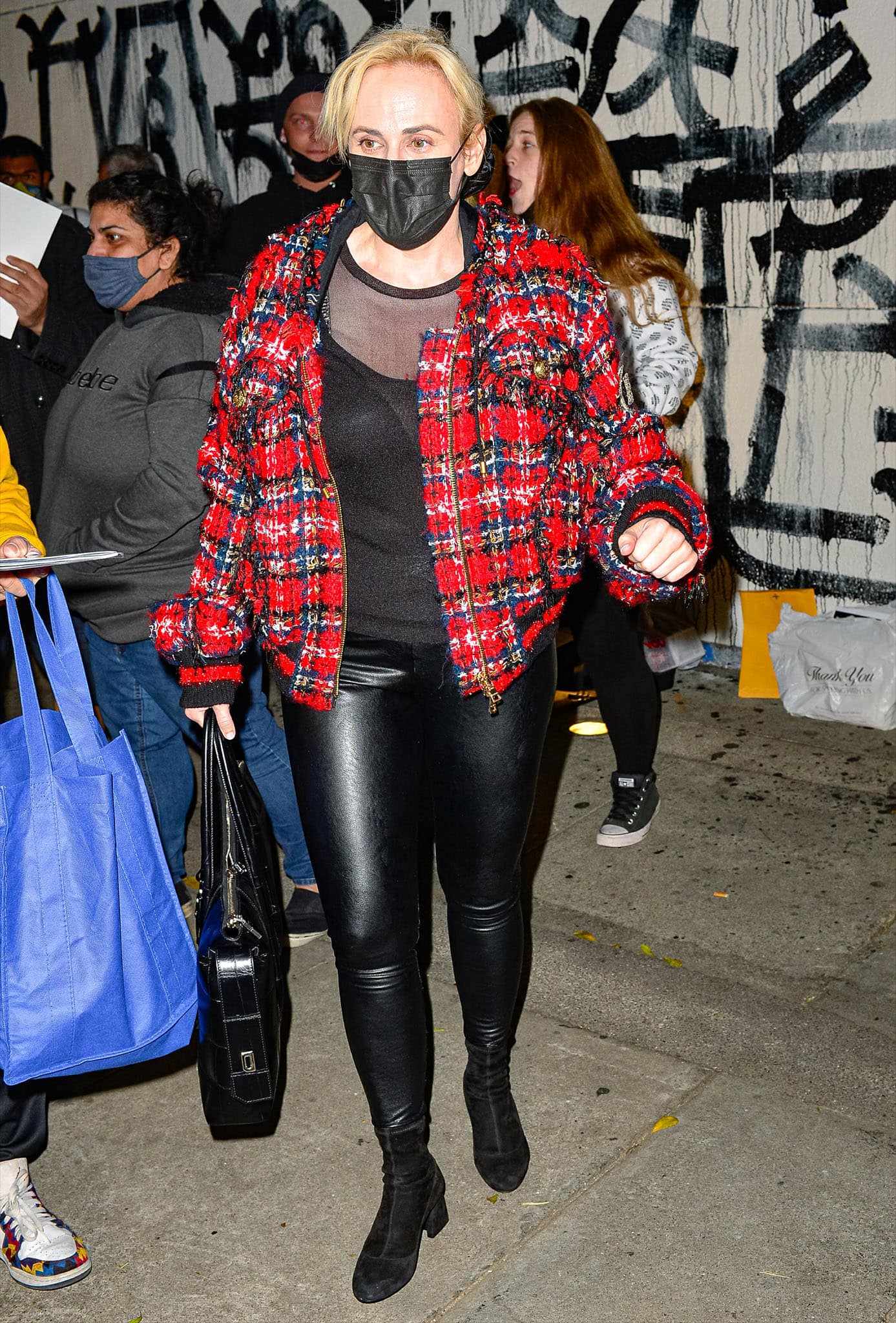 Rebel Wilson shows off her trimmed-down physique in leather leggings with a see-through black top and a Balmain plaid jacket (Credit: BauerGriffin / INSTARimages)
"I'm proud of myself for doing it and also maintaining it this year…I'm proud of myself for improving my life for the better."
"After a big, long day at work — we'd often shoot 16-hour days — my feet would get really sore and I'd have to kind of lie upside down and put my feet up on the couch at the end of a big day at work, and then now I don't have that kind of thing happening," she said about feeling better after her weight loss.
Rebel Wilson claims to have lost about 35 kilos (77 lbs) (Credit: Kathy Hutchins / Shutterstock)
"I got a lot of pushback from my own team actually, here in Hollywood, when I said 'Okay, I'm going to do this year of health, I feel like I'm really gonna physically transform and change my life,' " Rebel told the BBC about receiving a lot of pushback when she revealed her plans to "physically transform and change my life.".
"And they were like, 'Why? Why would you wanna do that?' Because I was earning millions of dollars being the funny fat girl and being that person."
"Like I did not need a tub of ice cream every night. That was me kind of numbing emotions using food, which wasn't the healthiest thing," she added. "I think it was dealing with not being a natural performer, and having to perform every day. And that pressure and internal stress to be able to perform like that."
"It's fascinating. Why are people so obsessed with women, in particular, about their looks?" Rebel said.
"I know what it's like to be a woman who is essentially invisible to most people because of not being seen as traditionally beautiful or whatever. It's crazy to try to fit that. It's just better to be the healthiest version."
Looking bare-faced for the evening, the Fat Pizza actress simply tied her blonde tresses back into a loose ponytail with a black scrunchie. She skipped the jewelry and stayed protected with a black face mask.
Carrying an oversized black crocodile-print tote from Givenchy, Rebel completed the rock-chic vibe with a pair of black suede ankle booties that feature rounded toes and chunky heels.
Rebel Wilson completes the rock-chic vibe of her evening look with a Givenchy croc-print tote and black suede ankle boots (Credit: BauerGriffin / INSTARimages)
Rebel Wilson is set to star in her first non-comedy film role in the British independent drama film, The Almond and the Seahorse, which is a feature adaptation of Kaite O'Reilly's stage play.
She recently finished filming for the movie, but an official release date is yet to be announced.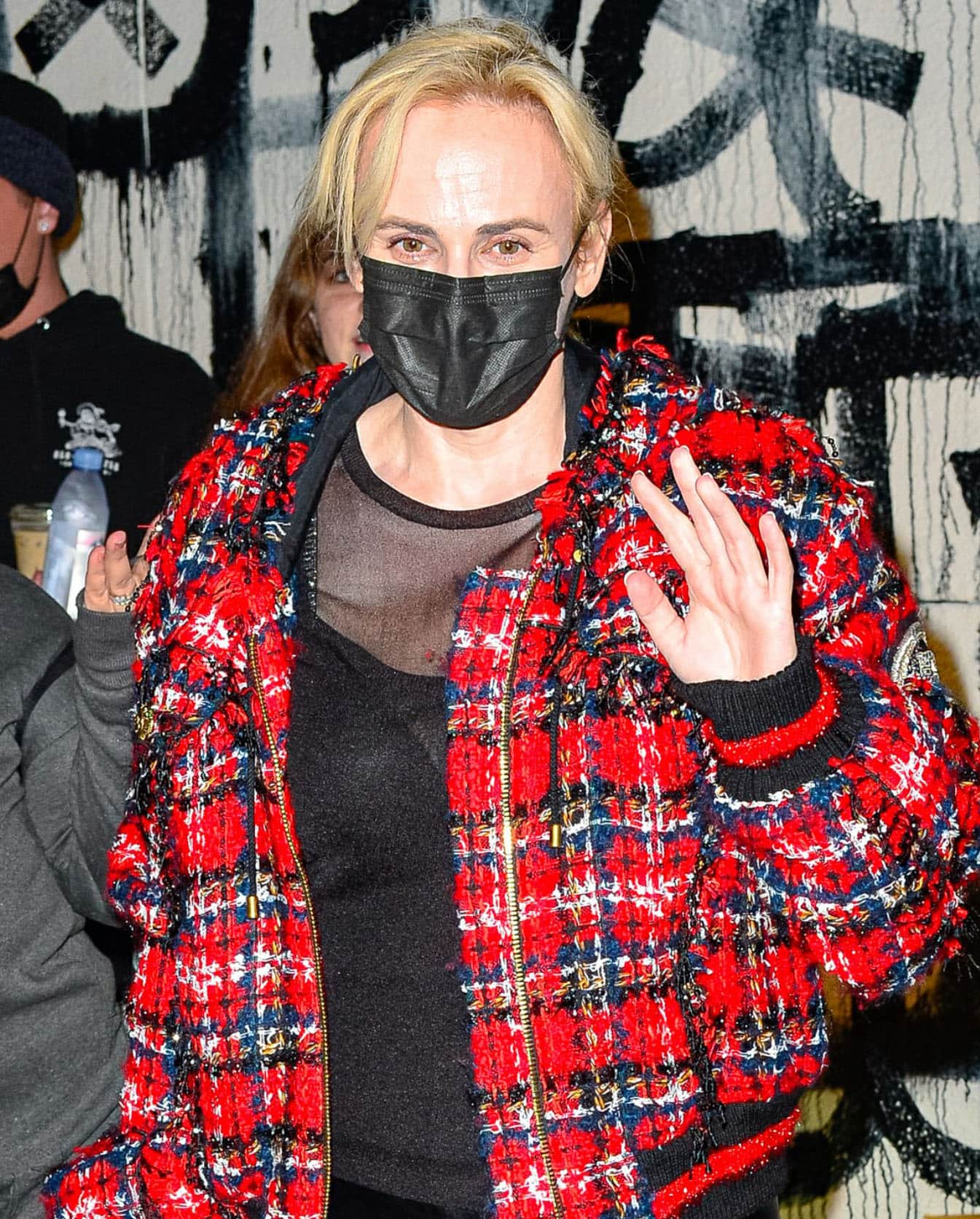 Rebel Wilson opts for minimal makeup and wears her blonde tresses up into a loose, messy ponytail (Credit: BauerGriffin / INSTARimages)