Zendaya should have worn a different pair of shoes with her pink Alexander McQueen Spring 2022 suit on Friday. She got up early for a Good Morning America interview and later attended a SiriusXM Town Hall panel.
Zendaya arrives in a pink suit for her appearance on Good Morning America to promote Spider-Man: No Way Home on December 10, 2021, in New York City (Credit: MEGA / WENN)
The Euphoria star was joined by her co-stars Jacob Batalon and Tom Holland.
While we would have preferred shoes in a different color, the 25-year-old actress styled her double-breasted tailored jacket and high-waisted pants with black Christian Louboutin pumps.
She accessorized with a Bvlgari Magnifica ring and Maeve hoop earrings from American jewelry designer Jennifer Fisher.
Zendaya styled her oversized double-breasted blazer with hoop earrings named after celebrity stylist Maeve Reilly (Credit: MEGA / WENN)
"My mom is taller than my dad. My mom is taller than everyone," Zendaya told host Jessica Shaw about her mother Claire Stoermer during the SiriusXM Town Hall panel discussion.
Her boyfriend Tom Holland also talked about being shorter than his girlfriend.
"Not that much taller. Let's just, let's put this out there," he said. "Maybe like an inch or two at best. It's not like, people say like, like 'how did you guys kiss? It must have been so difficult.'"
The red lacquer on Zendaya's coveted red bottom soles is almost completely gone. According to the brand, this is not a manufacturing defect but just usual wear and tear. She should consider bringing them to a shoemaker to have the soles restored.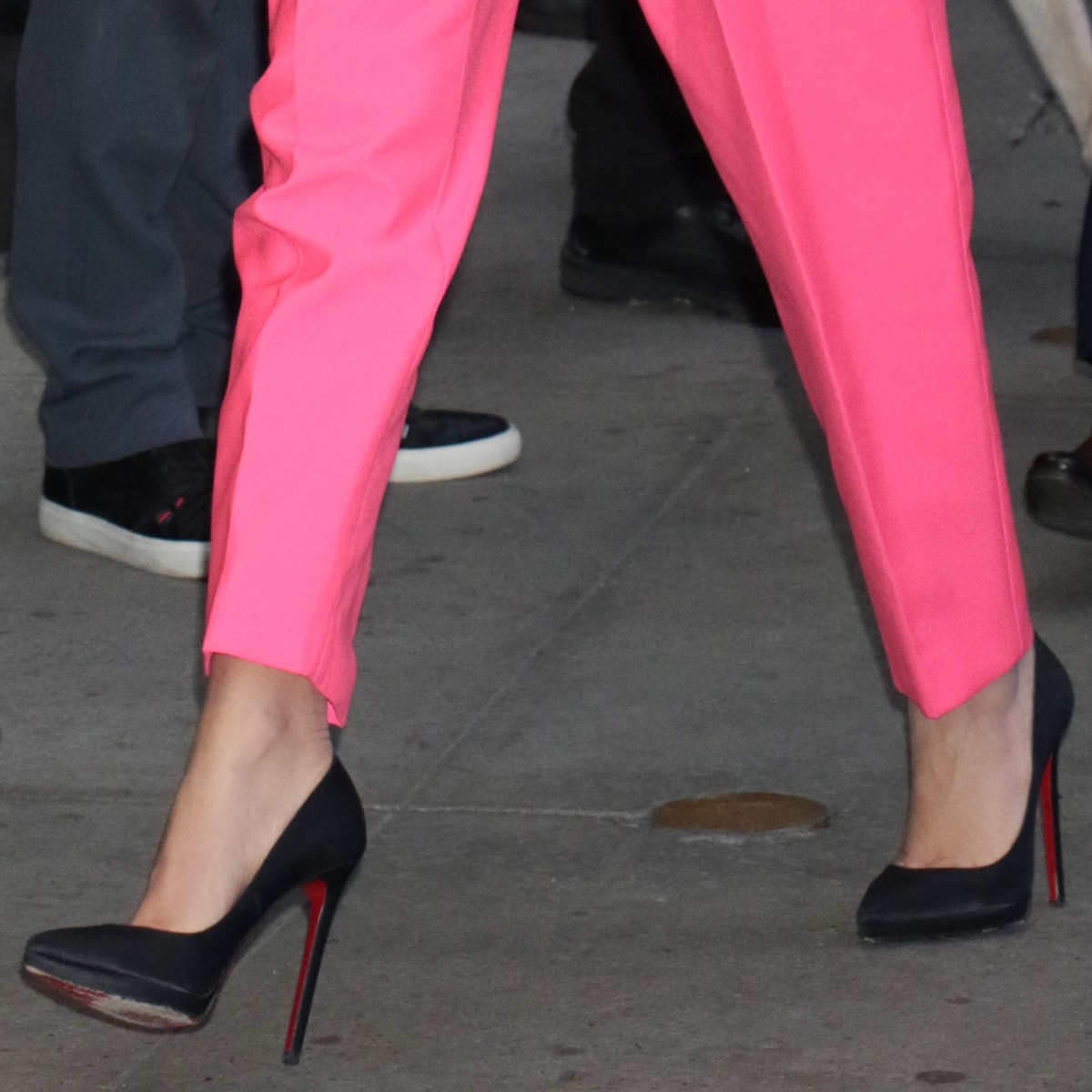 The red lacquer on Zendaya's coveted red bottom sole shoes is almost completely gone (Credit: MEGA / WENN)
"I honestly never thought of it as a thing," Zendaya said about their height difference. She's as tall as her Dune co-star Timothée Chalamet.
"Because my parents were always that way. So I, I didn't know that people cared until life, you know, but before that I had, no, I have no construct of it."
Zendaya at the premiere of "Without A Net: The Digital Divide in America" at the 55th New York Film Festival in New York on October 3, 2017 (Credit: LK / WENN)
Zendaya has come a long way since her K.C. Undercover days. The former Disney star has transformed from style rookie to fashion maven, all thanks to her talented stylist Law Roach.
Zendaya looks like a real-life Barbie in an Elie Saab dress (Credit: LK / WENN)
Some might deem repeating fashion pieces as image suicide, but this actress is not one of them. After all, her recent looks have elevated her to style icon so much so that she's allowed to do whatever she wants.
Zendaya with toe cleavage in white reptile leather Casadei pumps (Credit: LK / WENN)
In October 2017, Zendaya wore two looks with the same pair of shoes and hairstyle as she went about New York to promote "Without A Net: The Digital Divide in America."
Zendaya displays her feet in Casadei "Blade" heels (Credit: LK / WENN)
Zendaya first stepped out in a pale pink tuxedo jacket and matching pants by Dundas. The actress kept her accessories minimal with a pair of stud earrings.
The then 21-year-old then changed into a salmon-colored Elie Saab dress. The whimsical piece consisted of a fitted bodice that flared out into a midi skirt. A pair of drop earrings, rings, and a Chopard watch finished the look.
Throughout the day, the brunette beauty stuck to her Casadei "Blade" pumps in white reptile leather. The actress did not bother to change her high ponytail for either look.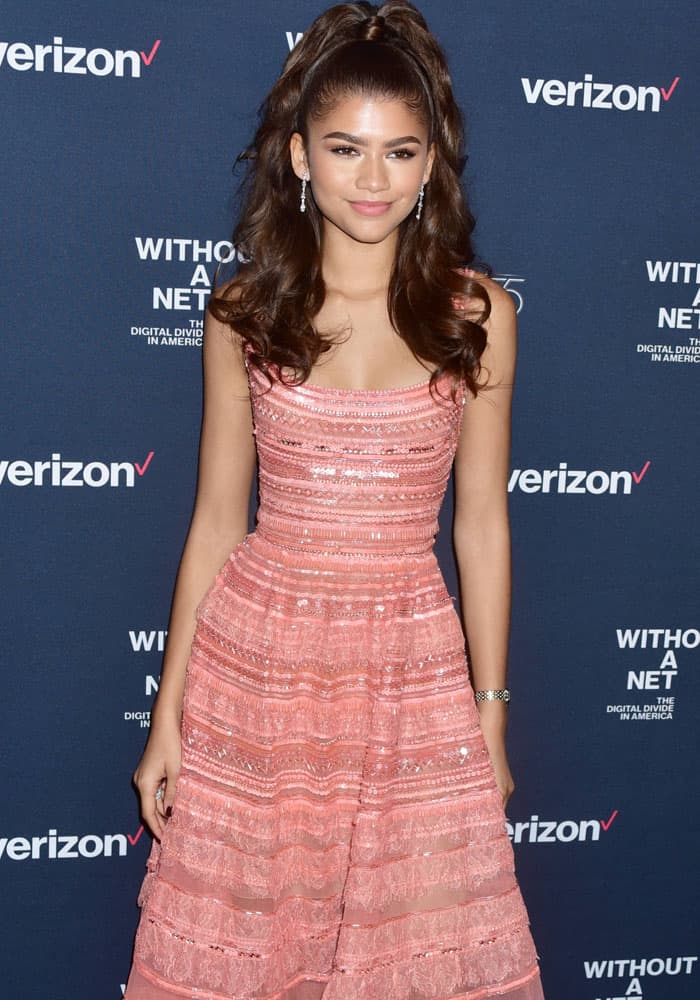 Zendaya maintained her high ponytail throughout the day (Credit: LK / WENN)
Zendaya was spotted on "Good Morning, America" in her first look. The actress then changed to her second look for the New York Film Festival.
"Without A Net: The Digital Divide in America" is a documentary on the disparity of schools that had digital resources. The "Spider-man: Homecoming" star used her voice to call for student access to technology.
Zendaya opened up about her parents' school experience, especially since both of them are educators.
Zendaya steps aside after the photocall for an interview (Credit: LK / WENN)
If you're looking to pick up a pair of pumps with a twist, you can shop the Casadei "Blade" pumps at Farfetch and Casadei.
Casadei Blade Pumps, $469-$750