Adele's new album "25" is breaking records left and right, and we can't get enough of "Hello," the first single from the album.
The British singer recently gave the heart-wrenching song a new twist by performing it on classroom instruments with Jimmy Fallon and The Roots on "The Tonight Show Starring Jimmy Fallon."
Not even the brightly colored xylophone, banana shaker, and blue-and-pink hand clappers could stop us from getting emotional over this breakup song.
The 27-year-old songstress also talked about how nervous she was to go live on television and participated in one of Jimmy Fallon's silly games — the "Box of Lies" — during the segment.
Talk show host Kelly Ripa and singer Adele during an interview with host Jimmy Fallon on November 23, 2015
For her appearance, Adele wore a vampy black-and-burgundy dress with a matching pair of what look to be Gianvito Rossi heels.
Adele wears a pair of Gianvito Rossi block-heel pumps for her guest appearance on "The Tonight Show Starring Jimmy Fallon"
We're pretty sure that these burgundy suede chunky block heels are the Gianvito Rossi "Linda" pumps.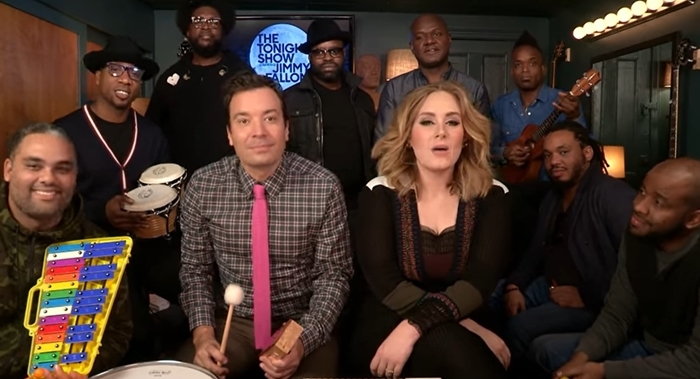 Adele performed her hit single "Hello" accompanied by Fallon and his house band, The Roots, on classroom instruments
"You know, I listen to music as a fan, for the outlet of my emotions and stuff like that," Adele recently told NPR about fans being touched by her music.
"So the fact that people seem to be listening to my music for the same thing or react to it in the same way I do with certain artists and bands, it's really wonderful, and that's why I like to put my music out there."
You can get the exact shoes below and shop more Gianvito Rossi shoe styles at Nordstrom and Farfetch.
Gianvito Rossi "Linda" Pumps, €371.90