Although it is a popular urban myth that the sports apparel company Adidas got its name from the acronyms "All Day I Dream About Soccer" and the more recent "All Day I Dream About Sport (sometimes Sports)", it is not correct.
There are even some who claim it stands for "All Day I Dream About Sex." However, this naughty acronym and the others are not factual.
The name "Adidas" is a portmanteau of Adi Dassler's nickname and the first three letters of his last name (Credit: MariaLev / Shutterstock)

In fact, the company is named after its founder, Adolf "Adi" Dassler, who died in 1978. He was a German cobbler and the younger brother of Rudolf Dassler, who founded Puma.
The Adidas name is a portmanteau (a linguistic blend of words) formed from "Adi" (a nickname for Adolf) and "Das" (from "Dassler").
How to Pronounce Adidas
If you're not German, it's quite likely you're pronouncing the sneaker brand Adidas incorrectly. It is pronounced "AH-dee-dahs". The emphasis is on the first syllable and the last syllable should be stretched out.
Check the following video to see if you're pronouncing it correctly!
What Does the Adidas Logo Mean?
Adi Dassler, the founder of Adidas, started using three stripes to identify its footwear in 1967.
His intention was to create an easily memorable logo design that could give his brand a unique look.
While Adi wanted the logo to stick in the consumer's memory and create engagement, the three stripes are not known to have a deeper meaning.
Artist Stefan Siverud has decorated a living snail with the iconic Adidas logo (Credit: WENN)
Adidas' now-legendary trefoil logo was unveiled four years later in 1971 and eventually became the company's corporate symbol.
The three-leaf shape represents the main landmasses of the Americas, Europe and Africa, and Asia.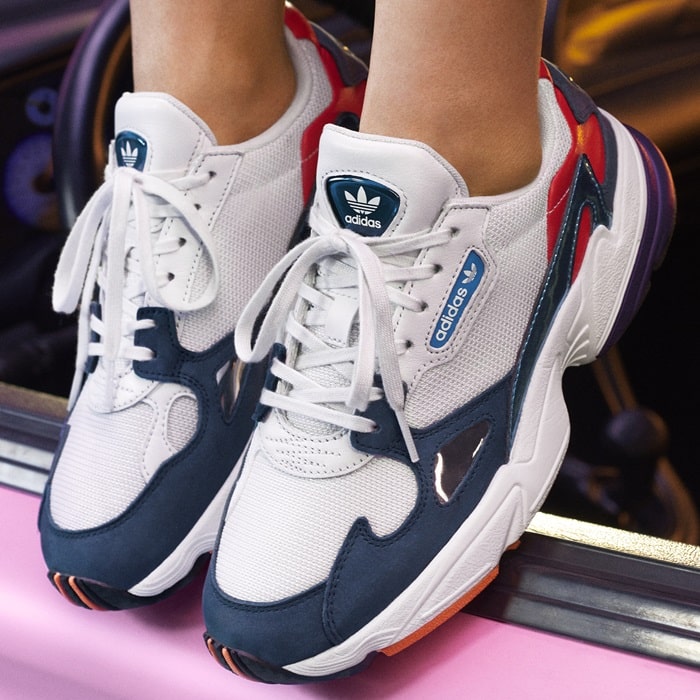 Adidas' three-leaf shape represents the main landmasses of the Americas, Europe and Africa, and Asia
In 1990, creative director Peter Moore came up with a new logo for sporting products.
Seven years later, in 1997, the logo replaced the trefoil logo as the corporate symbol of the Adidas Company. The classic trefoil is now used exclusively for traditional products.
Billie Jean King in a red tracksuit featuring Adidas' mountain logo (Credit: WENN)
The new logo features the iconic three stripes that form the triangular shape of a mountain. It represents the challenges athletes face.
David Beckham showcasing Adidas' triangular mountain logo that represents the challenges athletes face (Credit: WENN)