Alesha Dixon, standing at 5 feet 7 ½ inches (171.5 cm) tall, is approximately 4.5 inches (around 10.9 centimeters) taller than the updated average height for British women, which is 5 feet 3 inches (161.6 cm).
While it may not appear so when she's wearing high heels, it's reported that Azuka Ononye is approximately 5.5 inches (or about 13.97 centimeters) taller than Alesha Dixon.
Alesha Dixon, in a black Jean-Louis Sabaji gold chain dress, and her husband Azuka Ononye attend the British Independent Film Awards 2022 at Old Billingsgate on December 4, 2022, in London, England (Credit: Doug Peters / PA Images / INSTARimages / Cover Images)
Alesha Dixon wears a shoe size of 9.5 US. In terms of international shoe sizing systems, this translates to 7.5 UK, 41 EU, and 9.5 AU.
Her shoe size is slightly larger than average but still within the typical range.
"I've never tried to lose weight — if anything I need to work at keeping it on. But I will go through phases where I cut all the rubbish out for two weeks. I'm 5ft 8in and around 9 ½ st. I don't mind what I weigh as long as I feel good," she told Daily Mail in 2012.
Alesha Dixon attends Britain's Got Talent 2020 photocall at the London Palladium on January 19, 2020, in London, England (Credit: Avalon / WENN)
The English singer, dancer, rapper, model, and television presenter was born on October 7, 1978, in Welwyn Garden City, United Kingdom.
Her net worth is estimated at around $8 million as of 2023. Her income is derived from music sales, touring, television appearances, and other projects.
Alesha Dixon: Facts, Rumors, and Everything You Need to Know
What is Alesha Dixon's net worth?
Alesha Dixon is a successful English singer, rapper, dancer, model, and host, who has a net worth of $8 million as of 2023.
Full Name:
Alesha Anjanette Dixon
Born:
Alesha Anjanette Dixon was born in Hatfield, Hertfordshire, England, U.K., on October 7, 1978.
Who is Alesha Dixon's husband?
She married her former backing dancer Azuka Ononye in 2017.

Alesha Dixon was previously married to MC Harvey from 2005 to 2006. She has also been in relationships with Matt Di Angelo from 2007 to 2008, Pharrell Williams in 2004, and James Chandler. Additionally, Alesha Dixon had an encounter with Robert Kazinsky in 2007.
Kids:
Alesha Dixon has two children, a daughter named Azura Sienna Ononye, born in 2013, and a son named Anaya Safiya Ononye, born in 2019.
Weight:
Alesha Dixon is rumored to weigh 115 pounds (52 kg). However, it is important to note that this is just a rumor and her actual weight is unknown.
Feet/Shoe Size:
Alesha Dixon's shoe size of 9.5 US can be considered slightly larger than the average, but it remains within the typical range for women's shoe sizes.
Is Alesha Dixon tall or short?
Alesha Dixon, standing at 5 feet 7 ½ inches (171.5 cm) tall, can be considered of average to slightly above-average height for women.
Nationality:
Alesha Dixon is a British citizen.
Source of Wealth:
Alesha Dixon has amassed her wealth through a successful career in the entertainment industry, which has spanned over two decades.

She is a successful entertainer who has made her mark on the music, television, and fashion industries.
Ethnicity/Race:
Alesha Anjanette Dixon's ethnicity is a blend of African-Jamaican on her father's side and English on her mother's side.
Discussing her body insecurities on an episode of her podcast, Wear It's At, she revealed that her British-born Nigerian husband Azuka Ononye is the only man who's seen her feet.
Alesha Dixon shows off her size 9.5 (US) feet in glittering pumps (Credit: Daniel Deme / WENN)
"My partner that I'm with now is the first person that I've been with that's seen my feet," Dixon stated.
Alesha Dixon's Salon-Fresh Brunette Blow-Out and Bright White Teeth: How to Get Her Look
In May 2012, Britain's Got Talent judge Alesha Dixon was photographed leaving the BBC Radio One studios in London, England.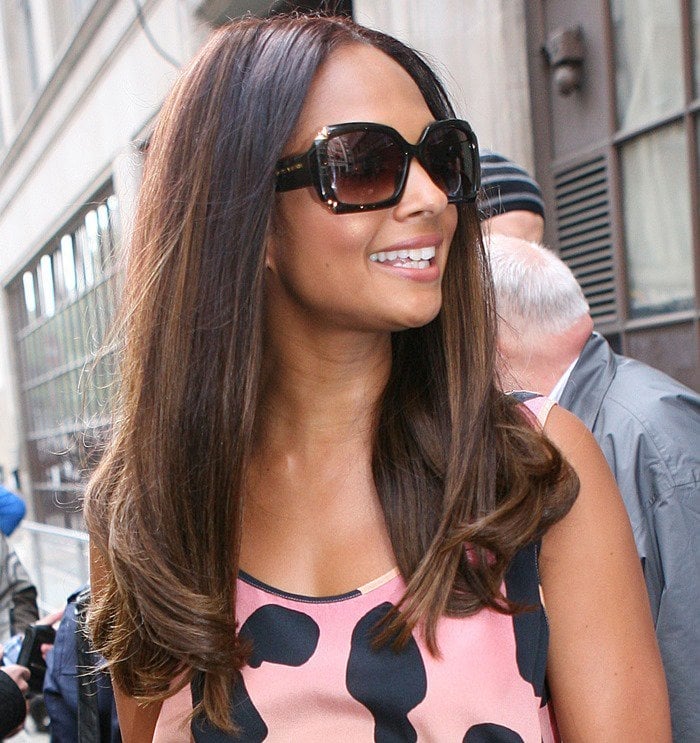 Alesha Dixon flashes her bright white teeth while leaving the BBC Radio One studios in London, England, on May 11, 2012 (Credit: WENN)
It must've been really easy for the paparazzi to spot her because aside from her colorful leopard-printed House of Holland dress, she also had a pair of traffic-stopping bright blue booties on her feet.
Alesha Dixon hid her eyes behind a pair of big black sunglasses with decorative frames and showed off her salon-fresh brunette blow-out (Credit: WENN)
While a pair of bright shoes like these would ordinarily be reserved to jazz up a tame outfit, Alesha's color-on-color look surprisingly works for us!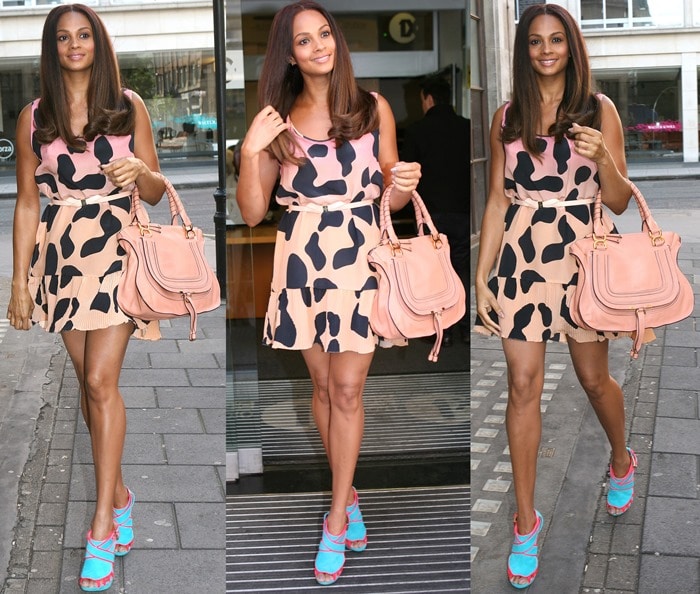 Alesha Dixon kept her outfit peach-and-black from the knees up but showed off a bright turquoise pair of Nicholas Kirkwood platform booties on her feet (Credit: WENN)
Alesha is rocking the Nicholas Kirkwood "Cage" platform booties, which, unfortunately, have sold out.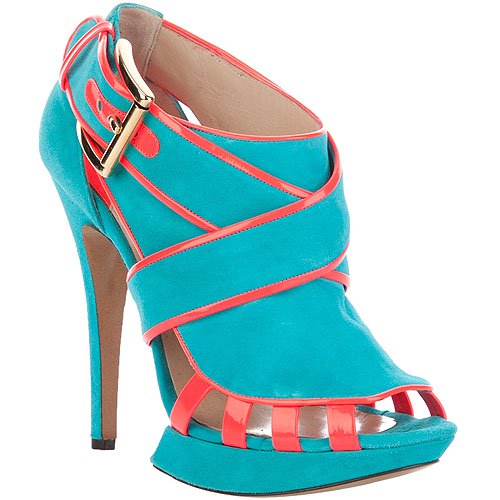 Nicholas Kirkwood 'Cage' platform booties, $794.00
Nicholas Kirkwood 'Cage' platform booties, $794.00
This turquoise blue and coral pink color combo could not possibly be any more summery. We even love the hidden pop of coral on the back of the platform sole!