We just featured Alessandra Ambrosio in a pair of "Caleen" boots from Isabel Marant a few days ago. She was spotted at Coachella again, this time wearing the booties in white. While I was skeptical about the lighter version of these shoes, I like it on Alessandra. She paired her studded leather booties with a pair of cutoff jean shorts and a sheer-knit embroidered top.
The ensemble showed off Alessandra's amazing legs and the booties complemented her tanned skin tone. Alessandra accessorized with an overload of bracelets, a gold watch, feather earrings, a beaded necklace, a cross-body bag, and dark sunnies. Sometimes less is more, but when it comes to Coachella fashion, more is usually more.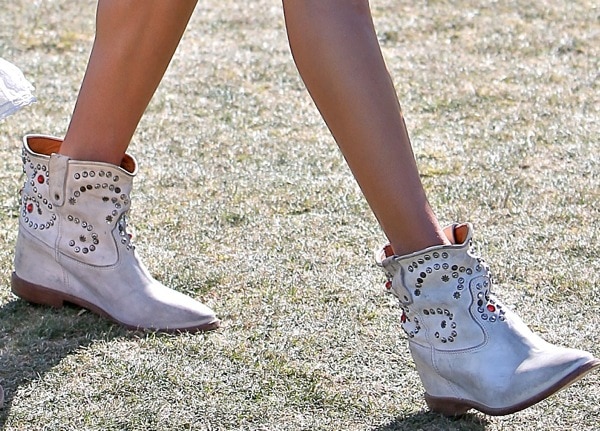 Alessandra Ambrosio at the 2013 Coachella Valley Music and Arts Festival, Week 2, Day 3 in Indio on April 21, 2013
The Caleen is available in three color options at Barneys New York. They're priced at a hefty $890, which is cool for Alessandra's supermodel budget but a little steep for most of us. Nonetheless, we can still take a closer look and admire these edgy-meets-cowgirl booties: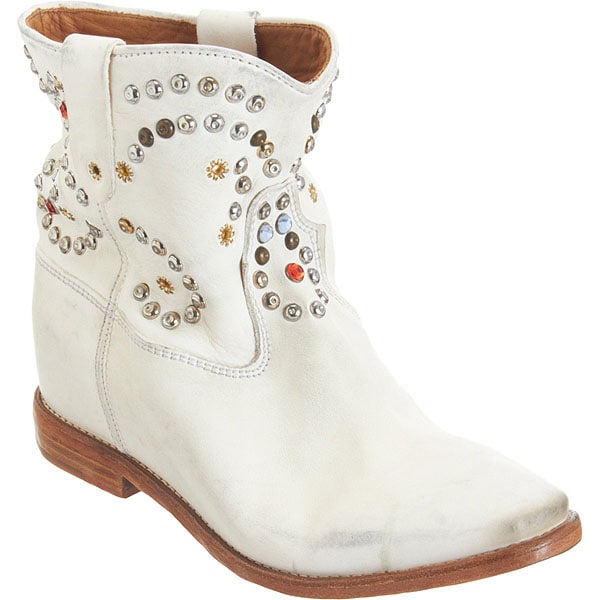 Isabel Marant "Caleen" in White, $890
Isabel Marant "Caleen" in Brown, $890
Isabel Marant "Caleen" in Black, $890
Would you make the Isabel Marant Caleen boots your next shoes?
Credit: STS/WENN