It's a bird! It's a plane!
No, it's just these caped sandals from Alexander Wang that you can buy at Shopbop and Farfetch:
Blush Alexander Wang Fabiana High Heel Sandals, $495
That's actually a "flap overlay" covering the heel cap but "cape" is a much better way to describe it, don't you think?
The description also says that it's detachable but I'm looking at these pictures and I can't for the life of me figure out exactly how that's done.
I'm not sure I would want to take the cape off either if I did own a pair of these shoes. I mean, isn't that essentially what you're paying for when buying these shoes?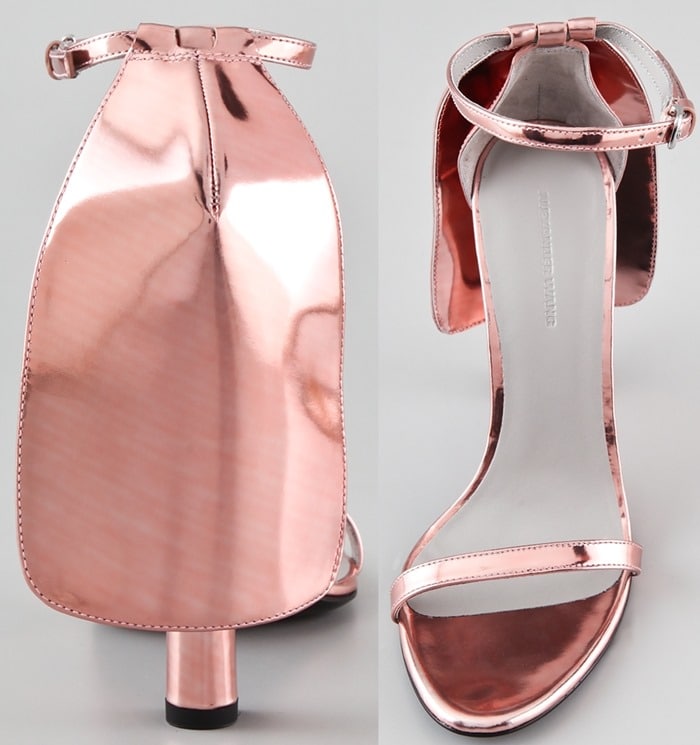 If you take the cape off, then they're just regular metallic ankle strap sandals. And unflattering ones if I may add; I'd rather go for the cuter and much cheaper Jeffrey Campbell 'Sabina' sandals if my intention was to go for the ankle strap sandal look.
And yes, other colors aside from the blush shown above are now available too:
Silver Alexander Wang 'Fabiana' High Heel Sandals, $495
Mila Kunis wore the silver version in a sexy shot for GQ magazine.
Even the fur-covered version shown in the fourth runway picture is now ready for purchase:
Alexander Wang 'Simona' Fox High Heel Sandals, $895