We came across a bizarre video clip from 'Community' star Alison Brie's guest appearance on 'Late Show with David Letterman' a couple of weeks ago.
In the interview with the talk show host, the American actress, producer, and model talks about how a creepy stalker random guy stopped her while she was shopping and said, "Oh my god. Oh my god, I am so sorry. I just had to stop you. I had to stop you because your feet, your feet are gorgeous."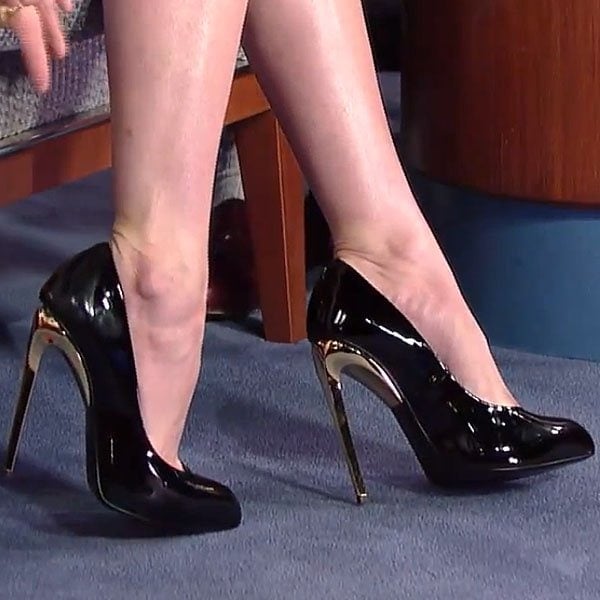 Alison Brie's beautiful feet
The random guy then proceeded to ask for her number for any time she might want a "totally platonic foot massage." A girl's first instinct would be to turn something like that down, and that's what Alison Brie did, but she said at the end that she finally gave him her number and that she gets "amazing platonic foot massages all the time now."
With a story as incredible as that, you kind of expect them to show Alison Brie's feet. Well, okay, the cameras did focus on her shoes and got the great shot of her Giuseppe Zanotti metal-heel pumps that you can see above, but we need to see her foot-fetishist-attracting bare feet!
The photo above didn't do it for us, so we went searching for more pictures of Alison Brie's feet to back up her story of how she got free platonic foot massages. We found 10 pics in total, and you can say that we're believers now. Alison Brie not only keeps her feet and toes immaculate but also loves wearing pretty, feminine heels to show them off.
We bet Alison Brie was wearing one of these gorgeous shoes that day she got complimented on her beautiful feet! Check out the pictures below if you're needing proof of her story.
Tell us: What's the best compliment you've ever received about your shoes and/or feet?
Alison Brie's Pedicured Toes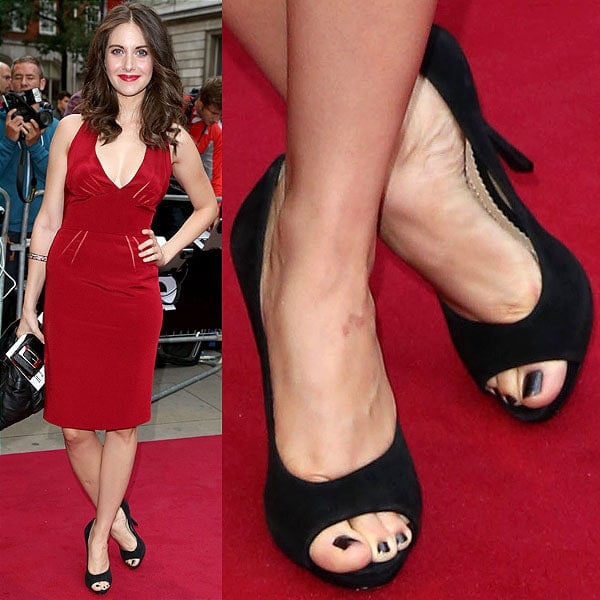 Alison Brie showing off her pedicured toes at the GQ Men of the Year Awards 2012 in London, England on September 4, 2012
Alison Brie in Peep-Toe Heels
Alison Brie showing off her feet at the Tribeca Film Festival opening night premiere of 'Five-Year Engagement' in New York City on April 18, 2012
Alison Brie's Sexy Toes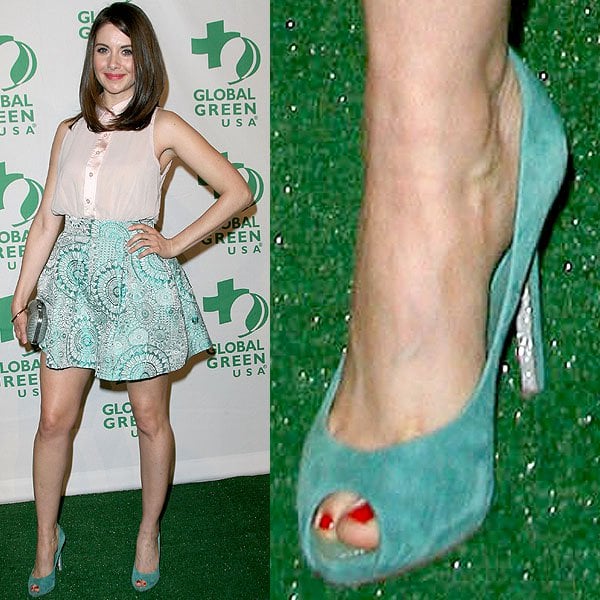 Alison Brie showing off her pedicured toes at Global Green USA's 9th Annual Pre-Oscar Party held at Avalon in Hollywood, California on February 22, 2012
Alison Brie Shows Toe Cleavage
Alison Brie's beautiful feet at HBO's Post-Award Reception following the 63rd Annual Primetime Emmy Awards held at The Plaza at the Pacific Design Center in Los Angeles, California on September 18, 2011
Alison Brie in Bow-Detailed Shoes
Alison Brie wearing peep-toe heels at the Wella Professionals Flagship Salon Grand Opening at Pipino 57 in New York City on May 17, 2011
Alison Brie in Red Peep-Toe Heels
Alison Brie's popular feet at the World Premiere of 'Scream 4' held at Grauman's Chinese Theatre in Los Angeles, California on April 11, 2011
Alison Brie in Glittering Stilettos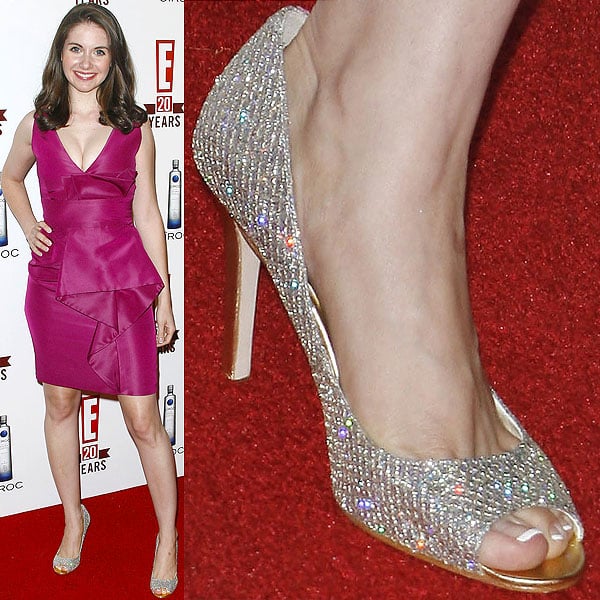 Alison Brie wearing glittering heels at E!'s 20th Birthday Party held at The London Hotel in West Hollywood, California on May 24, 2010
Alison Brie's Bare Feet
Alison Brie showing off her sexy bare feet at Fashion for Life 2009 held at the California Market Center in Los Angeles, California on May 17, 2009
Alison Brie in Black Shoes
Alison Brie showing off her feet at the premiere of the second season of 'Mad Men' held at the Egyptian Theatre in Los Angeles, California on July 21, 2008
Credit: Lia Toby / Ivan Nikolov / WENN / Adriana M. Barraza / Apega / Nikki Nelson