Kim Kardashian and Kanye West are finally married! After the undoubtedly expensive extravaganza, guests are now slowly trickling back to their respective homes and daily lives.
Spotted on their way home yesterday were the Kardashian sisters Khloe, Kendall, and Kylie. Out of all of them, it was Khloe who caught our eye in a sexy all-white outfit.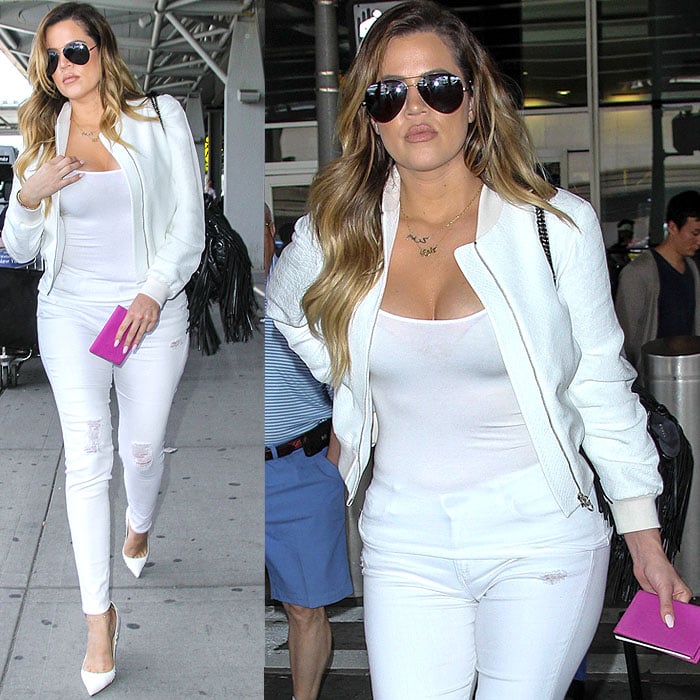 Khloe Kardashian arriving (from attending Kim Kardashian and Kanye West's wedding in Italy) at John F. Kennedy International Airport (JFK) in New York on May 26, 2014
Not that we've already forgotten, but Khloe reminded us that she just attended the wedding of the year in this white tank, white leather jacket, white jeans, and white snake pumps ensemble:
Khloe Kardashian's sexy feet in white Christian Louboutin Pigalle python pumps
A couple of days ago, Khloe posted this Instagram picture of her in a bridesmaid dress, which also happened to be white: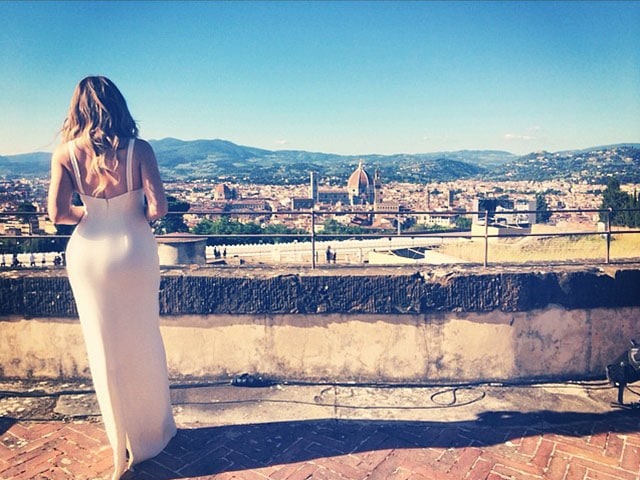 Khloe Kardashian's Instagram snap captioned, "E vissero felici e contenti…" (And they lived happily ever after…) – posted on May 25, 2014
If our hunch is correct that Kim's sister wore the same white snake pumps underneath that dress, then we are amazed that she was able to work a single pair of shoes with both an elegant bridesmaid look and an airport look.
Once widely regarded as bad '80s fashion, white pumps like the Christian Louboutin "Pigalle" python pumps are now considered as versatile footwear (thanks to stylistas like Khloe Kardashian).
Christian Louboutin Pigalle Python Pumps in White, $1,345
The Louboutins are now hard to find online, but we found a great look-for-less alternative — the Dolce Vita "Karine" pumps. Work the pumps along with these other easy-on-the-wallet pieces to snag Khloe's casual all-white look:
1. FE NY 56 mm Aviator Sunglasses, $22
2. Chelsea Bulte "No Filter" Word Necklace, $63
3. Bebe Perforated Faux Leather Bomber Jacket, $98
4. Old Navy "The Sweetheart" Distressed White Skinny Jeans, $36.94
5. "A Layer to Love" Top, $14.99
6. Dolce Vita "Karine" Pumps, $74.99 – $119.25
7. French Connection Indie Fringe Hobo Bag, $148
Credit: JD / WENN / Khloe Kardashian's Instagram