Power couple Ellen DeGeneres and Portia de Rossi are known to rock some killer combinations to events, and at the 2016 People's Choice Awards, the duo did not disappoint.
Portia de Rossi and Ellen DeGeneres attend the People's Choice Awards 2016 at Microsoft Theater on January 6, 2016, in Los Angeles, California
Portia accompanied her wife to the event. Ellen was awarded both the Favorite Humanitarian award and the Favorite Daytime TV Host award.
"This is crazy. I mean, so, so deserved, but this is crazy," Ellen DeGeneres joked while accepting the awards.
"I have to say, It's a little strange to actually get an award for being nice and generous and kind which is what we're all supposed to do with one another. That's the point of being a human."
Portia de Rossi wears a white SAFiYAA gown on the red carpet of the People's Choice Awards
While Ellen's awards were incredible accessories for her sleek Saint Laurent black suit and turtleneck, we simply couldn't look away from Portia in her chic contrasting white dress and fitted pant set.
When did Portia de Rossi join Ally McBeal?
Portia de Rossi portrayed Boston-based lawyer Nelle Porter in Seasons 2 through 5 of the Fox television show Ally McBeal.
Her first appearance was in "The Real World," the first episode of Season 2 that aired on September 14, 1998, when Portia was 25-years-old.
Ally McBeal cast members Peter MacNicol, Jane Krakowski, Lisa Nicole Carson, Calista Flockhart, Greg Germann, Portia De Rossi, Gil Bellows, Lucy Liu, and Josh Ryan Evans at the 5th Screen Actors Guild Awards held on March 7, 1999, at the Shrine Exposition Center in Los Angeles, California
Her final appearance was in "Bygones," the 22nd episode of Season Five and the series finale. The episode was released on May 20, 2002, when Portia was 29-years-old. She was born on January 31, 1973, in Horsham, Australia.
"It was a nice environment. We were all very friendly to one another but we weren't very intimate with each other; we weren't very close. I think it was partly because the set was so well organized and it was so well run, and I've never seen this since actually, where you get your work time, and everything would work like clockwork," Portia told Marie Claire about filming Ally McBeal.
"It would take exactly the time that was allotted for the scene and we were all very professional and very prepared, and it was like a well-refined machine."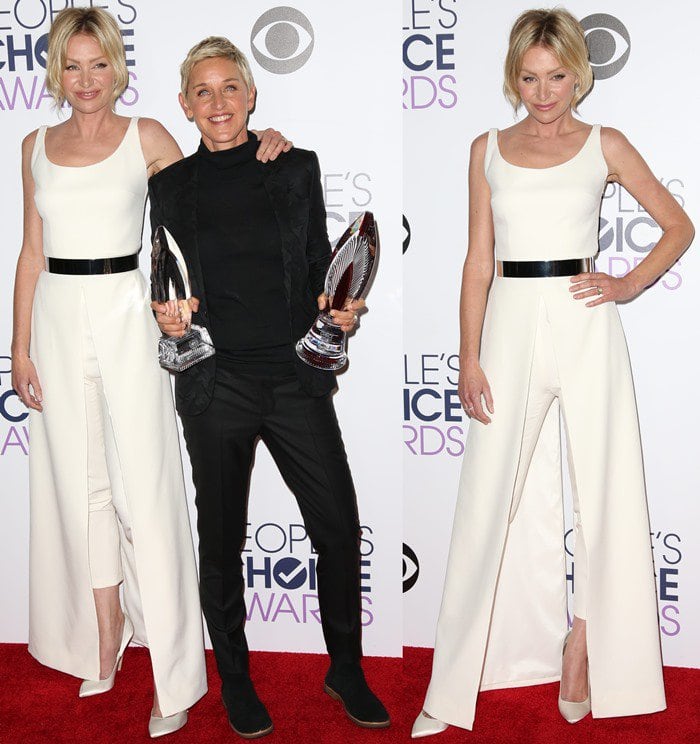 Portia de Rossi and Ellen DeGeneres wear contrasting black-and-white ensembles on the red carpet of the People's Choice Awards
Portia sparkled beside her wife in a white cinched-waist SAFiYAA gown with complementing trousers underneath.
The Australian-American businesswoman created a futuristic effect by wearing a SAFiYAA metallic belt around her waist, and let her exposed pants create a jumpsuit-like look.
Portia de Rossi's feet in white satin Brian Atwood pumps
Arrested Development's Lindsay Bluth Fünke looked amazing in her all-white ensemble. She completed the classy display with some chic white satin "Cassandra" Brian Atwood pumps.
The Brian Atwood "Cassandra" pumps are also currently unavailable, but here are some similar white satin pumps from Casadei and Nordstrom that you can add to your closet.
Manolo Blahnik White BB Pumps, $239.00
White Satin Casadei Blade Pumps, $710.00
Credit: Brian To / WENN / Marcus Hoffman