Amber Rose never fails to remind us of her humble beginnings. In case you didn't know, the rapper was formerly a stripper.
In November 2015, that's exactly what she looked like as the special guest host for gentleman's club, Ace of Diamonds in Los Angeles.
Amber Rose worked as a stripper under the pseudonym 'Paris' from the age of 15
Three years later, in November 2018, she talked about her former career as a stripper on her online radio show Loveline.
"When I was stripping it was the best time of my life," she told listeners.
"A lot of men will offer you a lot of money to do a lot of things: don't do it. Nothing is sexual. Look at every single face in there as dollar signs. Go in there, make your money, go home, pay your bills," she added.
"Don't do anything after, before or during, sexually," she warned. "It does become very tempting for a lot of girls because when money is involved, a lot of people will be willing to do a lot of things that they wouldn't usually do."
Amber Rose fit in with the ladies at Ace of Diamonds in a fishnet top and skirt on November 9, 2015
"If you keep your head up, stay off drugs, go in there, you make your money, it's an honest living, it truly is. If you're comfortable with your body, I highly suggest it if you do it the right way," Amber concluded.
From she was just 15, Amber worked as a stripper under the pseudonym 'Paris' to provide for her family after her parents' divorce.
Amber Rose shows off her feet in high heels
Maybe she was trying to fit in with the ladies at the club. The mother of one left little to the imagination in a fishnet top and skirt that showed her black underwear. Instead of wearing stripper heels, she wore a pair of black ankle-strap sandals.
The former stripper made it rain cash as she showed some special attention to a lady who looked almost exactly like her.
In November 2017, Amber announced that she had purchased the Ace of Diamonds L.A. gentlemen's club.
"I was a dancer, I was an exotic dancer, I was a stripper for a very long time. Best time of my life, by the way. I had the time of my life. But do y'all know Ace of Diamonds? Well, I bought it," she said at the All Def Movie Awards. She received the Vanguard Award for her activism and social justice work.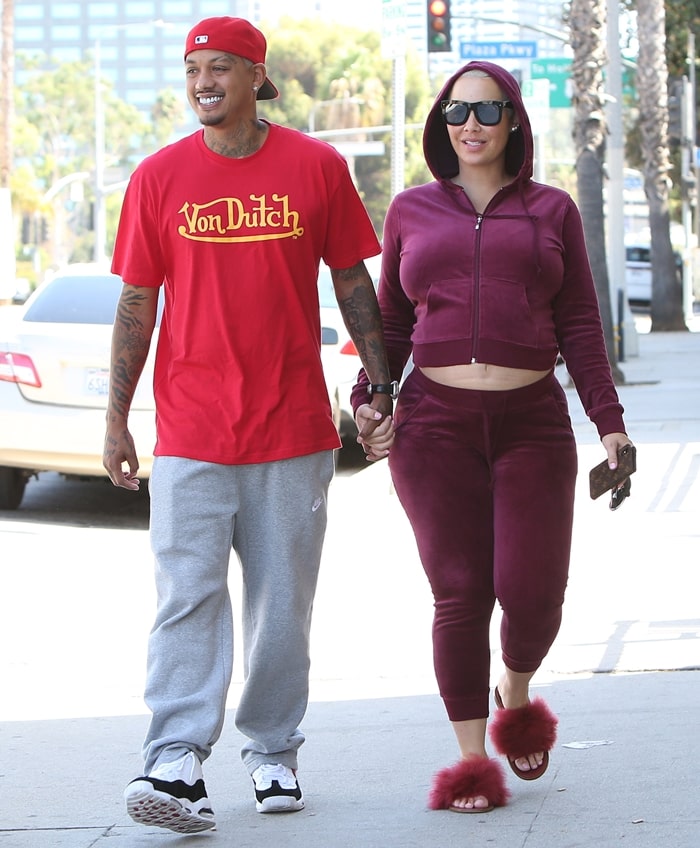 Pregnant Amber Rose wears a cropped velvet hoodie as she holds hands with her boyfriend Alexander Edwards on their way to lunch at Vivian's Millennium Cafe in Los Angeles on October 1, 2019
"I bought it," she added. "So this is to every girl out there, every stripper, ya'll can one day be on stage with Russell Simmons, receiving an award."
If you like her shoes, here is a similar pair from Topshop that you can get at Nordstrom.
Rocco Ruched High Sandals, $80
At least she uses her sexiness for good. We commend her for using fashion to promote her feminist agenda at the MTV Video Music Awards 2015 and at the SlutWalk event she hosted in October 2015.
Credit: 3rd Eye / WENN / Avalon