Amber Valletta came out as an addict in 2014, and things have been going up ever since.
The model admitted that she had started sniffing things at age eight before eventually landing in an industry where drugs and alcohol are widely accepted. At age 25, she began to get help because she feared death.
Amber joined the bevy of encouraging women at the 2016 ELLE "Women in Hollywood" Awards in Los Angeles, at one point showing her gratitude for the women who push each other up.
Amber Valletta has opened up about her ongoing battle with addiction, which began when she was just eight years old (Credit: FayesVision / WENN)
She shared her story during an audience discussion for MindBodyGreen, revealing that she wanted to bring addiction into the light and help others struggling with it. Valletta explained that she started using drugs and alcohol due to a genetic predisposition and that addiction took hold as she fed the "monster."
"Once you kind of feed the monster, there's a switch and it takes hold," she said about starting drugs at eight. "I sniffed markers, I sniffed glue, fingernail polish, anything that could give me a buzz … then I found drugs that were around the culture of my family."
"I'm not a victim, I do not blame my parents," she added. "I'm uncomfortable, I'm uncomfortable being a human being."
By age 10, she had already used marijuana and experienced the consequences of her choices. Despite a successful modeling career in Europe, she continued to struggle with addiction, even jeopardizing a multi-million-dollar deal by showing up high and drunk.
Valletta eventually got sober at the age of 25 because she didn't want to die. She emphasized that addiction doesn't discriminate and can't be overcome through sheer willpower alone.
"I had a multi-million [dollar] deal and I showed up the first day to shoot this campaign high and drunk," she revealed. "Addiction takes you to the worst places. I showed up to my uncle's bedside and he was dying and I was still high, still drunk and looking for a place to go do another line."
She sought help, participated in programs, stayed humble, prayed, and supported others in their recovery journey. Valletta stressed the importance of reaching out for help and not trying to battle addiction alone.
"I had to be willing to lift the veil off the shame and say, 'I'm addict, I can't do this alone, I don't want to do this alone, I don't feel comfortable, can you help me?'" she said, breaking down a bit. "I needed help from other people, so that's the way I stay sober."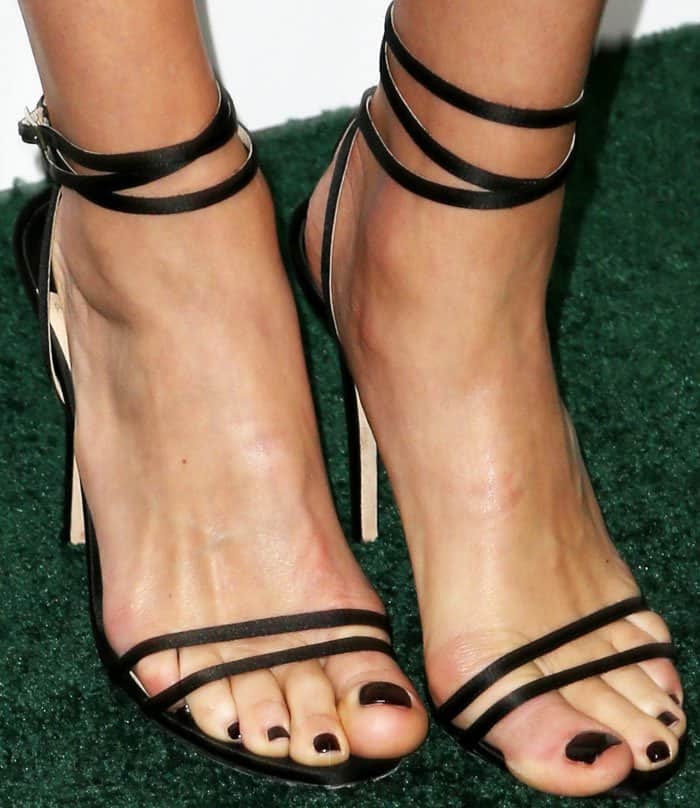 Amber Valletta shows off her feet in Jimmy Choo "Tizzy" sandals in black satin (Credit: FayesVision / WENN)
The 42-year-old stunned in a short little black dress by Stella McCartney. The dress had a romantic sweetheart neckline and origami-inspired folds at the bodice.
Amber styled her look with a black clutch, Anita Ko and David Webb jewelry, and a pair of Jimmy Choo "Tizzy" sandals in black satin.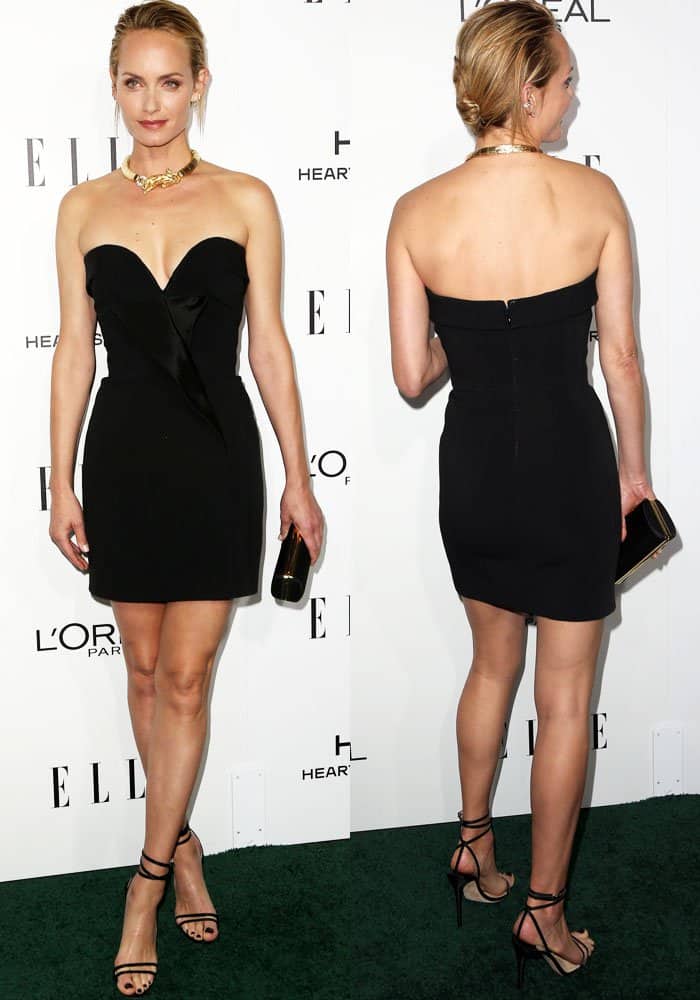 Amber Valletta shows off her slim physique in a Stella McCartney dress at the 23rd ELLE "Women in Hollywood" Awards in Los Angeles on October 25, 2016 (Credit: FayesVision / WENN)
After admitting that her previous addiction is still a daily battle, Amber said she continues to push herself higher by surrounding herself with positive people.
The model gave a shoutout to ELLE for honoring such incredible women and encouraging others to keep striving for greater things.
Amber's Jimmy Choo "Tizzy" sandals are no longer available online.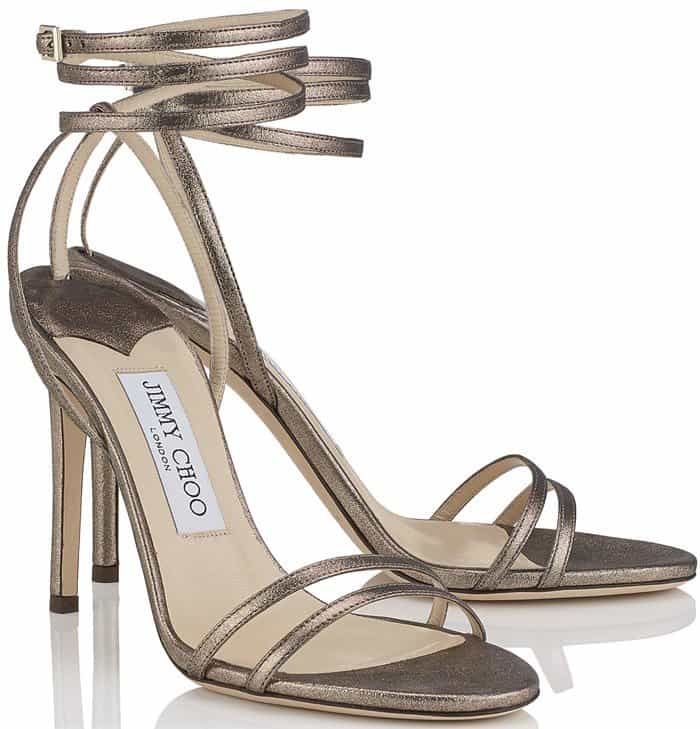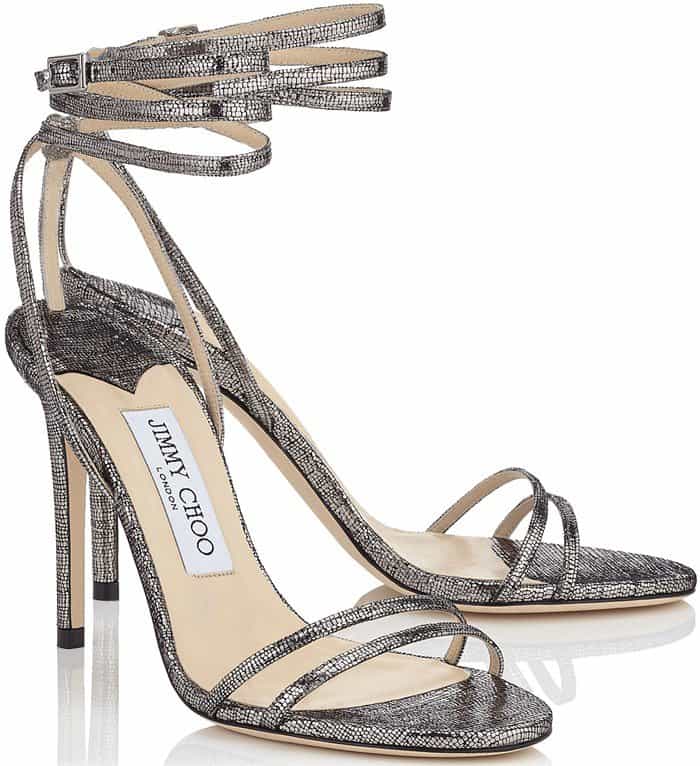 Jimmy Choo "Tizzy" Ankle-Wrap Sandals, $695 – $750