Michael Kors did say "lighten up, it's just fashion" but when fashion gets seriously good, it becomes amazing, jaw-dropping, put-it-inside-a-glass-case-and-display-it-at-a-museum kind of art.
In the case of these Anastasia Radevich shoes from her "Lost Civilizations" collection, they're really, really, REALLY good. And not only could they be considered works of art but they're also representations of Anastasia Radevich's view of the rise and fall of humanity, her stand on man's self-destructive ways and her vision of an apocalyptic future.
Sounds like a lot just for one collection so that's why Anastasia Radevich divided "Lost Civilizations" into a timeline of the past, present and future. The story begins in the past, in the mythical sea sunk cities of Atlantis, Bay of Cambay and Alexandria. The present is a look into the destruction of nature caused by human over consumption. Finally, Redevich's future is where the earth heals, cleanses and rejuvenates itself and reverts back to its original pristine condition.
As "museum pieces" as these shoes appear to be, Anastasia Radevich did design her shoes to be wearable. After all, she did learn to combine form and function from the best — she interned at Alexander McQueen AND Nicholas Kirkwood.
Anastasia Radevich is one shoe designer to look out for. Check her out at Anastasia Radevich and her "Lost Civilizations" shoe collection below.
The Past of "Lost Civilizations"
"The 'Past' will walk you through civilizations that, despite all technological advancements, were doomed to vanish. They have been submerged beneath the seas, after the sea level rose and flooded lands that have been host to the humans before.

The shoe pieces have textures reminiscent to those brought up from the depth of the oceans and aesthetics of those civilizations. The constructions of shoes is sculpted from metal and then galvanized and rusted.

It took 95 days of hard work to create this part of the collection."
— Anastasia Radevich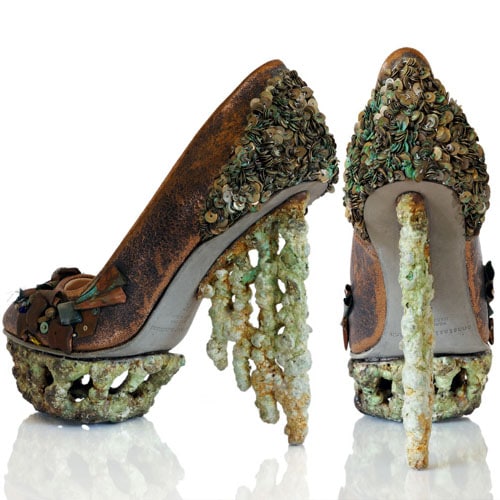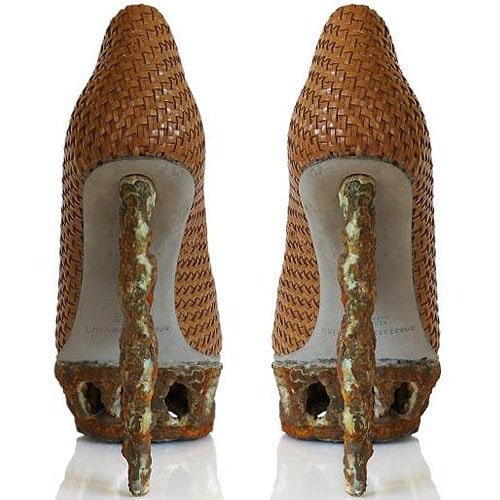 The Present of "Lost Civilizations"
"The 'present' exciting time to live, massive challenges to overcome. It took nature 5,000,000 years to create the amount of fossil fuels we consume.

Drilling, rigging, fracking, tar sands, mountain top removal… if the Earth is indeed a living organism, as many ancient tribes believe, how long before it shakes us off as one pesty parasite?"
— Anastasia Radevich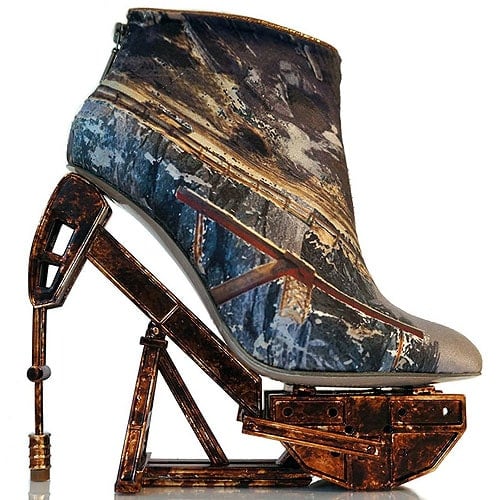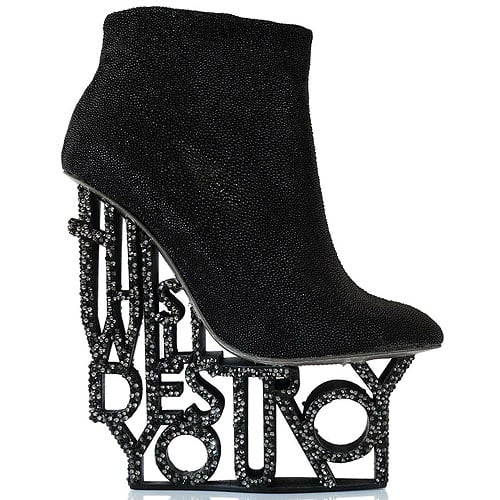 The Future of "Lost Civilizations"