Angelina Jolie was a vision in white in her Atalier Versace dress at the premiere of "The Tourist" in New York last Monday: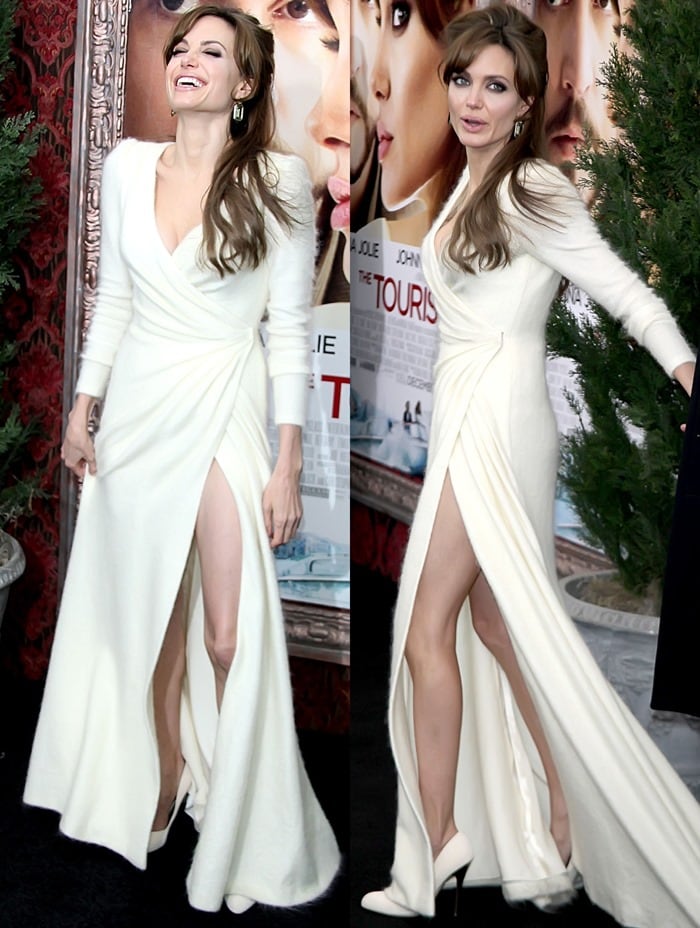 Angelina Jolie and Brad Pitt pose for the cameras at the premiere of her new romantic thriller "The Tourist" held at the Ziegfeld Theatre in New York on December 6, 2010
The oh-so-touchable long sleeve angora dress featured a dramatic floor length hem and a dangerously sexy thigh high slit.
The sexily tousled hair, the barely there makeup, the flawless skin – everything about Angelina's look screamed A-list celebrity. All had been going and could have gone really well until we got to the white Ferragamo shoes on her feet.
White pumps. In a weird, unflattering barbie-shoe-like shape. It could have been a little better had the shoes been in the same ivory color as the dress, but its stark white color only made it look more out of place in Angelina's otherwise perfect look.
Obviously not  fan of white pumps here, especially not when also worn with white. Are you?
Credit: PNP/WENN/Michael Carpenter