As shoe fanatics, you all know how owning a pair of ankle-strap sandals is an absolute must. Such heels are like your black pumps — they're classic and they'll go a long way. That is, assuming you have purchased ones that are crafted to last.
The great thing about ankle-strap sandals is that you can wear them with practically anything. For example, we've seen how Rihanna rocked different colors of the Manolo Blahnik "Chaos" with so many kinds of outfits, from shorts to jeans and from skirts to dresses.
Simply put, the outfit possibilities when it comes to these shoes are almost endless. But just in case you're in the mood for a few more ideas, here are two to consider straight from Elle Macpherson.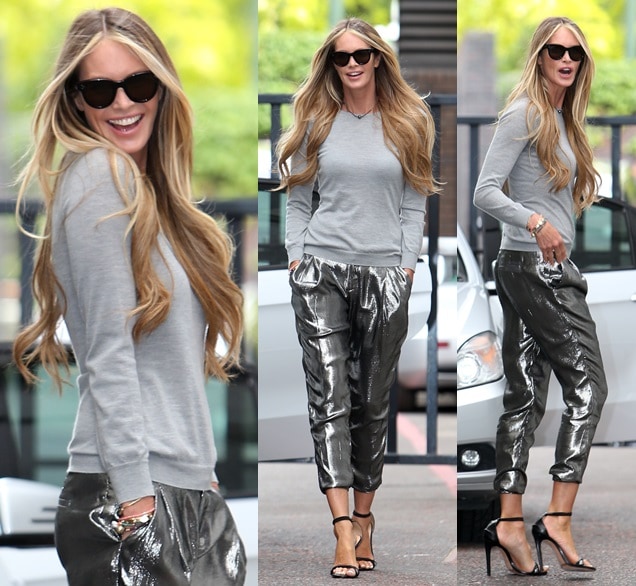 Elle Macpherson rocks slouchy metallic pants outside ITV Studios in London, England, on May 21, 2014
The former model was spotted sporting a pair of sexy ankle-strap heels with two gorgeous looks last week. Her take on the shoes was more sophisticated and glam, though still quite wearable even if you're a regular Jane.
For her gig at ITV Studios, Elle wore her shoes with slouchy metallic trousers that were cropped at the ankles. She paired the combination with a light gray sweater and dark sunnies for added drama.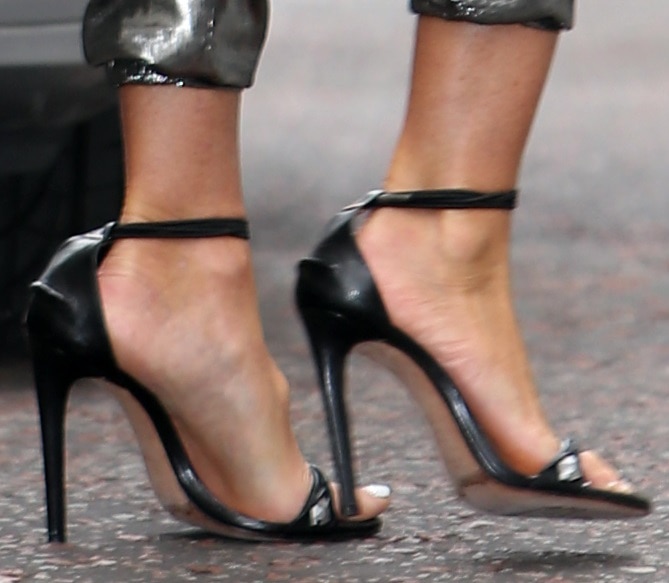 Elle Macpherson shows off her feet in sexy ankle-strap heels
The following day, Elle attended the launch of her wellness line at Selfridges in London.
For the occasion, she used the same sandals to cap off an all-black ensemble consisting of a pleated leather midiskirt and a leather-trimmed sweater. Black nail polish finished the look.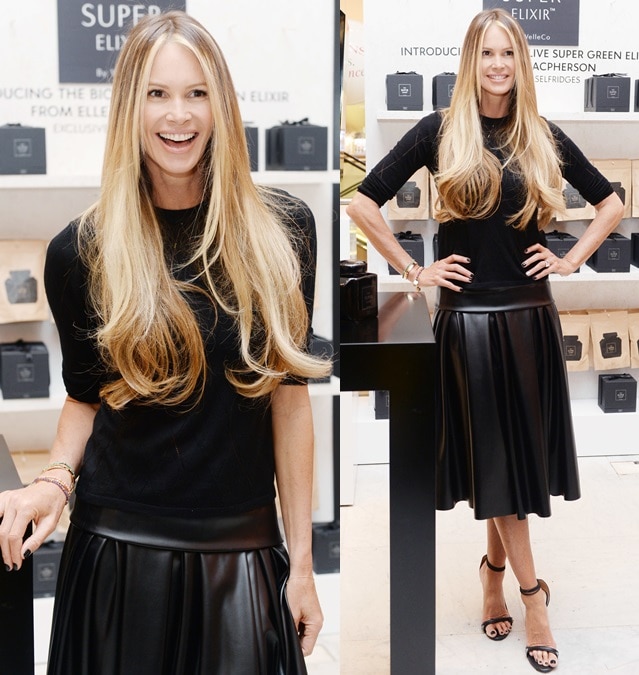 Elle Macpherson paired a pleated leather midiskirt with a leather-trimmed sweater
Elle Macpherson shows off her hot feet in black shoes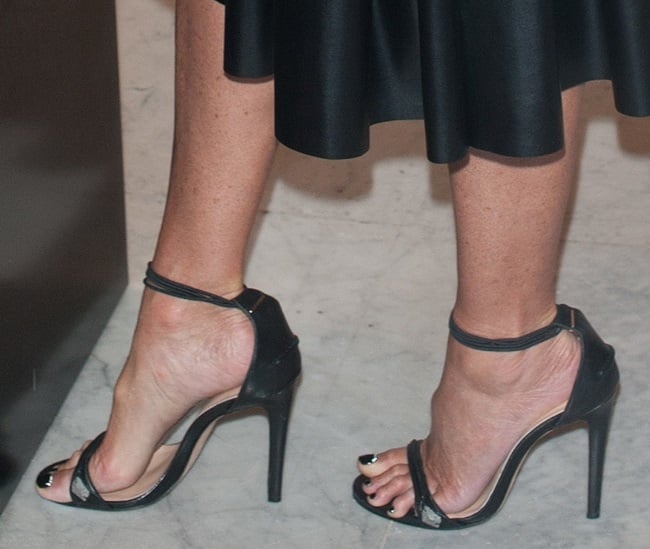 Elle Macpherson wearing the same pair of shoes at the launch of her wellness range at Selfridges in London, England, on May 22, 2014
So, what do you think of the way Elle styled her ankle-strap sandals?
Both are actually easy to put together and easy to pull off. The first outfit is suitable for any body type, but the second one can be tricky to achieve if you're tiny because of its silhouette (drop waist and tea length hemline). The key is to make sure you always keep things monochromatic so that you appear taller.
So, which outfit would you like to try first?
To channel Elle's super glam attire for her ITV gig, pair your classic black sandals with metallic slouchy trousers and a sweater in the same shade. Don't forget to accessorize a little bit. A pendant necklace and a pair of sunnies are enough to keep things fabulous.
Nightcap Clothing Liquid Slacks / MARC by Marc Jacobs Oversized Sunglasses / BB Dakota Amica Sweater / Elizabeth and James Caspia Pendant Necklace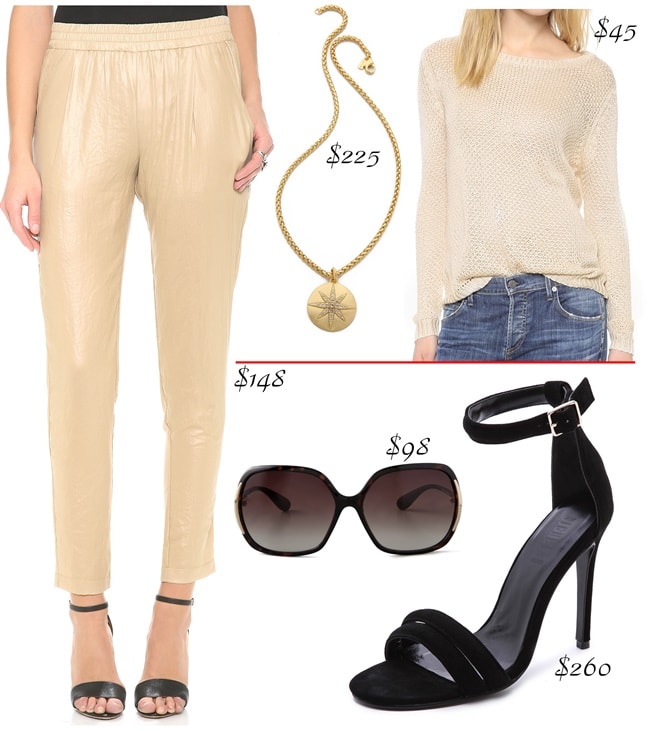 To look ladylike in black leather, just like Elle in her second outfit, grab a pleated leather skirt that ends below the knees (if you're petite) or mid-calf (if you're tall).
Top the piece with a classic black sweater, and then cap everything off with some gold jewelry and your classic black ankle-strap sandals.
BLK Dnm Pleated Leather Skirt / 525 America Shaker Crop Sweater / Gorjane Lima Ring / Adia Kibur Bangle Set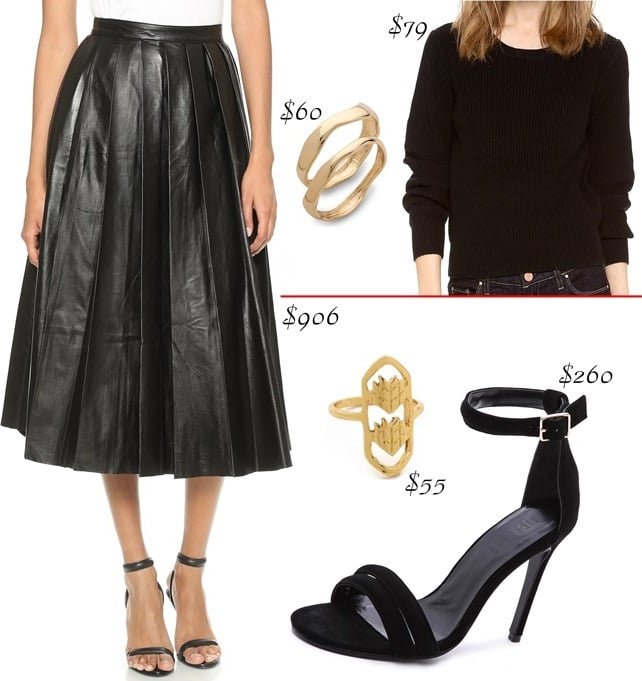 Here's a closer look at those ankle-strap heels we're featuring in both looks. The "Jocelyn" sandals come with double straps at the vamps and slim single straps at the ankles.
These shoes are made of suede leather inside and out, and they feature 4-inch-tall heels. You could say that they're the perfect go-to sandals for any occasion. Nude and red versions are also available.
Nicholas Jocelyn Suede Sandals in Black, $260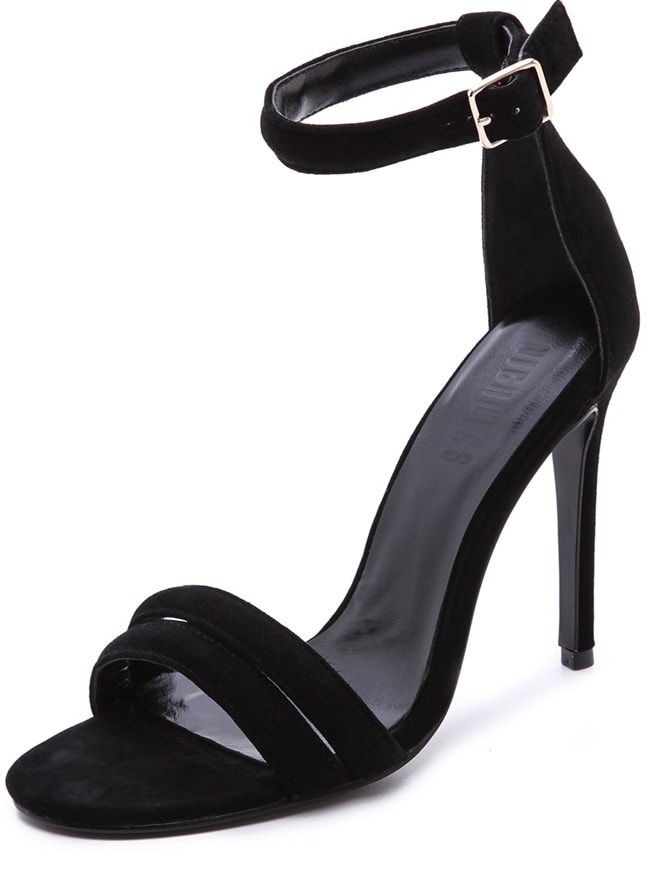 Credit: Rocky / WENN