We're having a major girl crush on Anna Kendrick right now. She is simply such a darling! She wowed us in 'Pitch Perfect' (seriously, who knew she had those impressive vocals?), but seeing how hilarious and funny she was on Conan O'Brian last Tuesday just made her all the more lovable. If you didn't catch the episode, you can watch the video below.
Anna talked about how super excited she was to meet Beyonce and how Katy Perry "finger-banged" her cleavage at the Grammys. Anna posted the following picture of her and Queen Bey on Instagram with the hashtag #FanGirlOfTheYear. Who knew stars could get starstruck, right?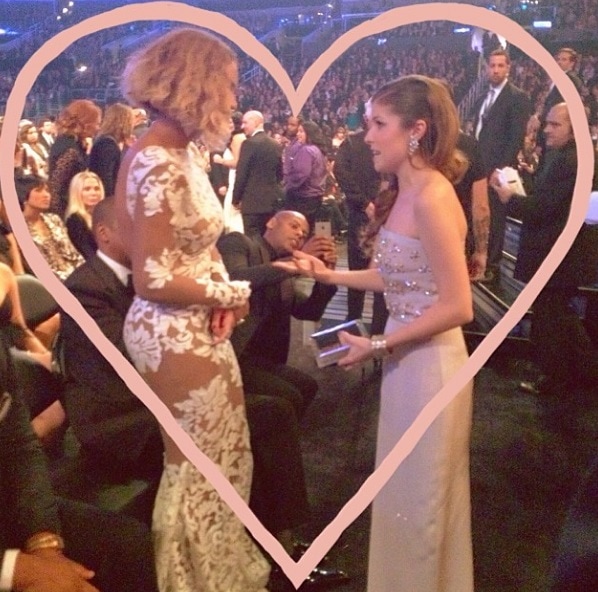 Anna wore a sexy silver boob-window dress by Azzaro for the occasion. It was a highly revealing number that Katy probably found intriguing enough to, er, ravage. If you missed the Grammys last Sunday, here's a look at Anna's outfit. She looked really stunning in the metallic dress. But even more catchy were the jaw-droppingly gorgeous ankle-wrap pumps she wore with the gown.
Anna Kendrick wearing a beaded silver gown by Azzaro for the 2014 Grammy Awards held at the Staples Center in Los Angeles on January 26, 2014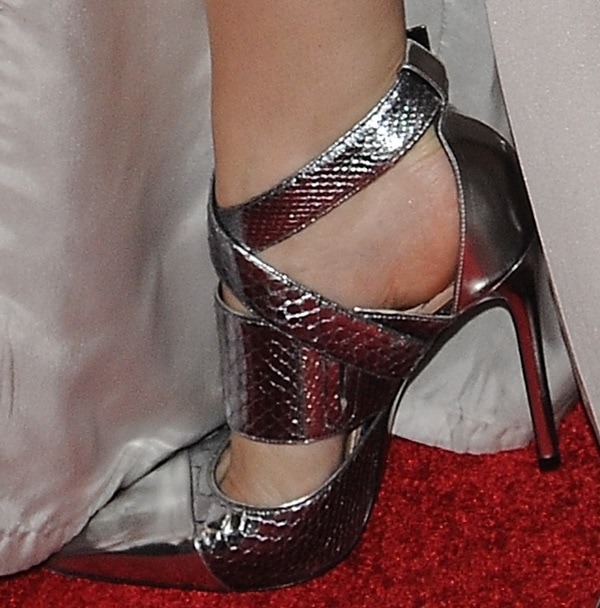 A closer look at Anna's matching silver ankle-wrap pumps
Do you like her shoes? They're from Barbara Bui. We couldn't find them online, though, so that's pretty much all we can tell you. If you like them, you can score something similar from Shakuhachi. Check out the label's strappy snakeskin pumps:
Shakuhachi Python-Embossed Strappy Heels, $293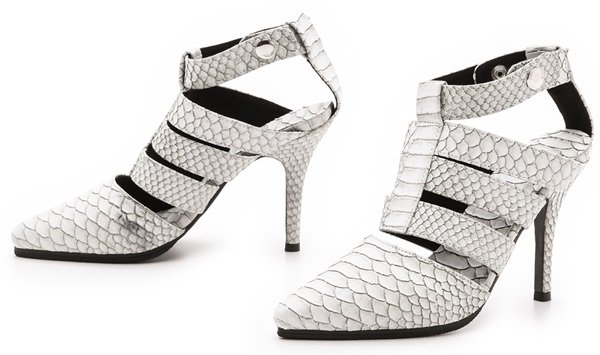 Fast forward to yesterday, and we found Anna on the set of Extra. But unlike her ultra-glam Grammys outfit, the actress chose a very laid-back mixed-print attire for her appearance on the show. She combined a leather-trimmed plaid jacket with a dark floral dress. The American actress and singer capped off the look with patent low-heel lace-ups — the retro kind you'd normally see on girls like Taylor Swift. Check out Anna's outfit below, and tell us if you like her style.
Anna Kendrick finishing off her mixed-print outfit with patent oxfords for her appearance on 'Extra' on January 29, 2014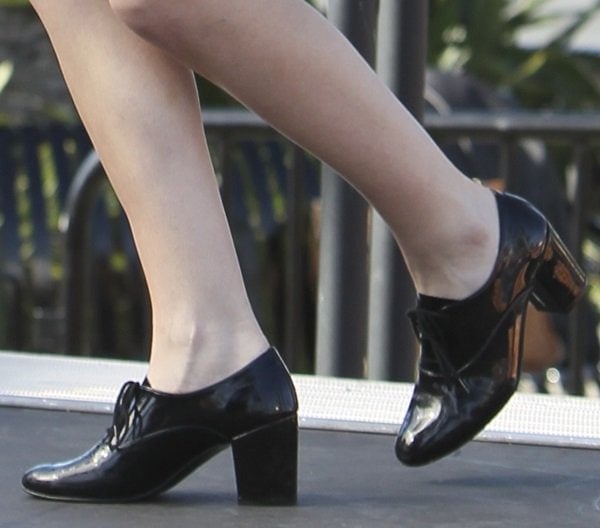 Anna Kendrick finishing off her mixed-print outfit with patent oxfords for her appearance on 'Extra' on January 29, 2014
Well, what do you think? Did she nail it, or did she fail with those lace-ups?
You know what? She doesn't look that bad actually. The shoes look old-fashioned, and the prints clash; however, they all seem to complement each other. Do you think you can wear the mix?
If you would like to give it a try, pick a sleeker pair of oxfords to punctuate the attire. Here's a great pair from Attilio Giusti Leombruni (it's one of the new labels you can find at Nordstrom). These shoes feature 2.5-inch-tall block heels and are crafted from fine Italian leather inside and out. They're not cheap, but you can bet you'll be getting your money's worth.
Attilio Giusti Leombruni Lace-Up Booties, $355 at Nordstrom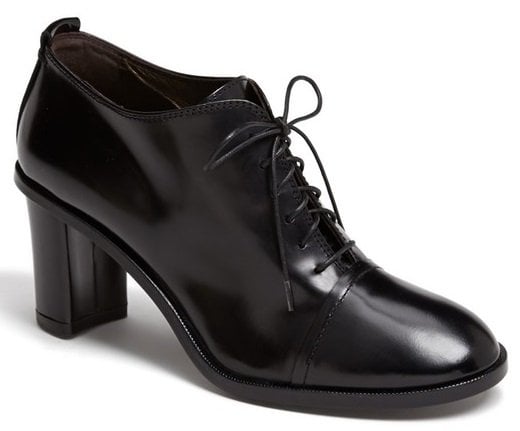 Credit: Daniel Tanner / Michael Wright / WENN / Anna Kendrick's Instagram