In June 2013, AnnaSophia Robb and the cast of the 2013 American coming-of-age comedy-drama film "The Way, Way Back" attended a meet and greet at the Apple store in SoHo, New York.
Portraying Susanna Thompson, daughter of the hard-drinking Betty Thompson (Allison Janney) and the love interest of Duncan (Liam James), AnnaSophia Robb was 18 years old when the film was shot during the summer of 2012.
Liam James as the introverted 14-year-old Duncan from Albany, New York, and AnnaSophia Robb as Susanna Thompson in the 2013 American coming-of-age comedy-drama film The Way, Way Back (Credit: Fox Searchlight Pictures)
It premiered on January 21, 2013, at the 2013 Sundance Film Festival, just a month after she celebrated her 19th birthday on December 8, 2012.
In an interview with Refinery29, AnnaSophia Robb revealed why she enjoyed making the film.
From the moment I read the script, I thought, 'Oh my gosh, it's so well-rounded.' All of the characters have such development — well, not Steve Carell's character. They feel real, and they feel relatable. It was just so nice to see such well-written dialogue. I felt really good after I finished reading it. Our table read was so much fun. It was at Nat and Jim's kitchen table. Being able to work with such talented, and happy, generous people was such a huge blessing. Nat and Jim are the bomb. I'm really excited to see the movies they make in the future 'cause they're going to be on the money every time.
For the occasion, Anna kept it smart and easy by wearing a striped top and a black leather skirt.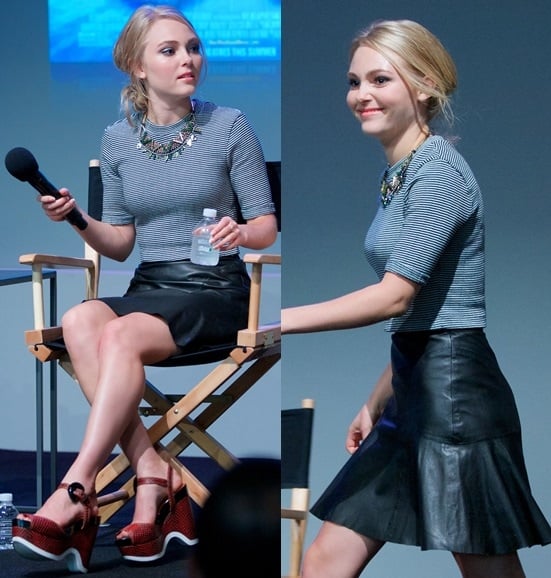 AnnaSophia Robb attends a The Way, Way Back meet and greet at the Apple store in SoHo, New York, on June 28, 2013 (Credit: Alberto Reyes / WENN)
Sounds like nothing special? Well, the young Carrie actually kicked it up a notch and styled the outfit with a gorgeous statement necklace plus a pair of super sexy wedges we couldn't help but stare at.
The wedges were textured like snakeskin, and they featured bright orange spots all over. She had been wearing some fabulous high heels to promote her new film!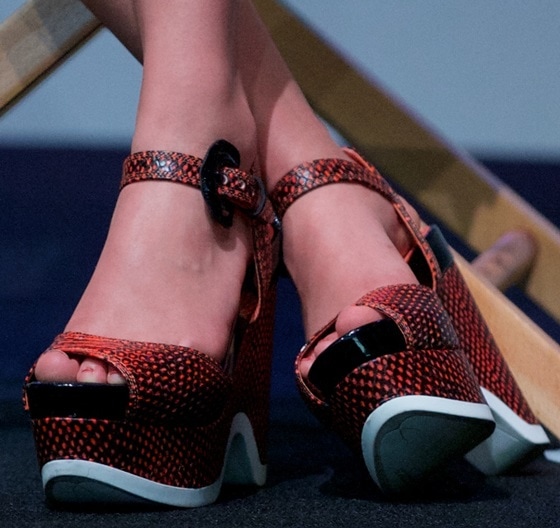 AnnaSophia Robb shows off her feet in textured wedges with bright orange spots (Credit: Alberto Reyes / WENN)
Aren't her sandals super sassy? She wore a pair of red "Aubrey" quarter-strap sandals by Via Spiga that feature exotically embossed leather.
Contrast curves slide mod style around the overblown platform of a quarter-strap sandal in exotically embossed leather
Via Spiga Aubrey Peep Toe Platform Wedge Sandals, $33.99 – $102.99
In case you want an alternative, here's another style that we like. These sandals from Pollini are currently on sale at Farfetch.
They're woven in design, and they feature 13-centimeter-high heels. Do you think these will be good enough as a proxy?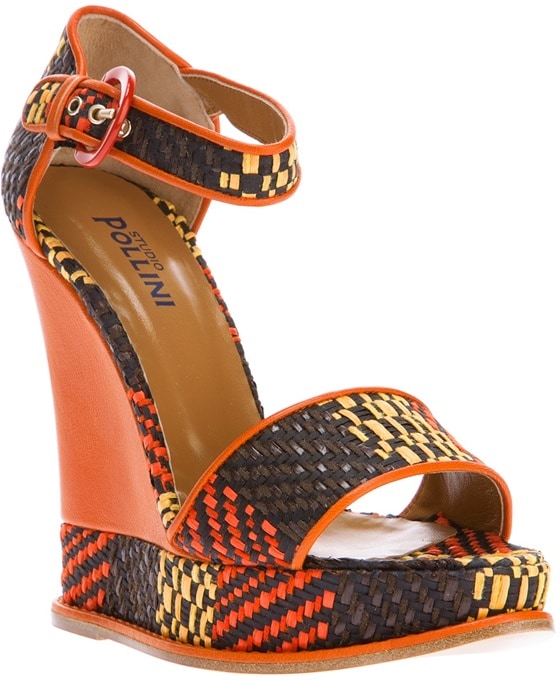 Pollini Woven Wedge Sandals, $360.74 (before $400.83)