Some combinations in life are simply meant to be. White T-shirts and blue jeans. Champagne and strawberries. Anthony Vaccarello and Saint Laurent.
Although the Belgian-Italian designer has been riding a wave of success from the start of his 16-year-long career, his tenure as creative director at Saint Laurent has been the cherry on top.
Anthony Vaccarello is an Italian fashion designer and current creative director at Saint Laurent (Credit: Alain Gil-Gonzalez / Abaca / Startraksphoto)
Vaccarello is one of the few designers who has seamlessly blended the founding legacy of YSL with the signature allure of his designs. Learn all about Anthony Vaccarello, one of the industry's most talented contemporary designers, below!
A Boy With A Vision
Born on January 18, 1982, in Brussels, Belgium, to Italian parents, Anthony Vaccarello (pronounced vah-kah-reh-lo) grew up fascinated by the fashion world. But it wasn't actually the clothes that he loved – it was the photography.
Vaccarello was interested in captivating images and the stories they told. While other kids collected toys, a young Anthony collected Versace photos. Little did he know that he would one day work for the esteemed Italian fashion house.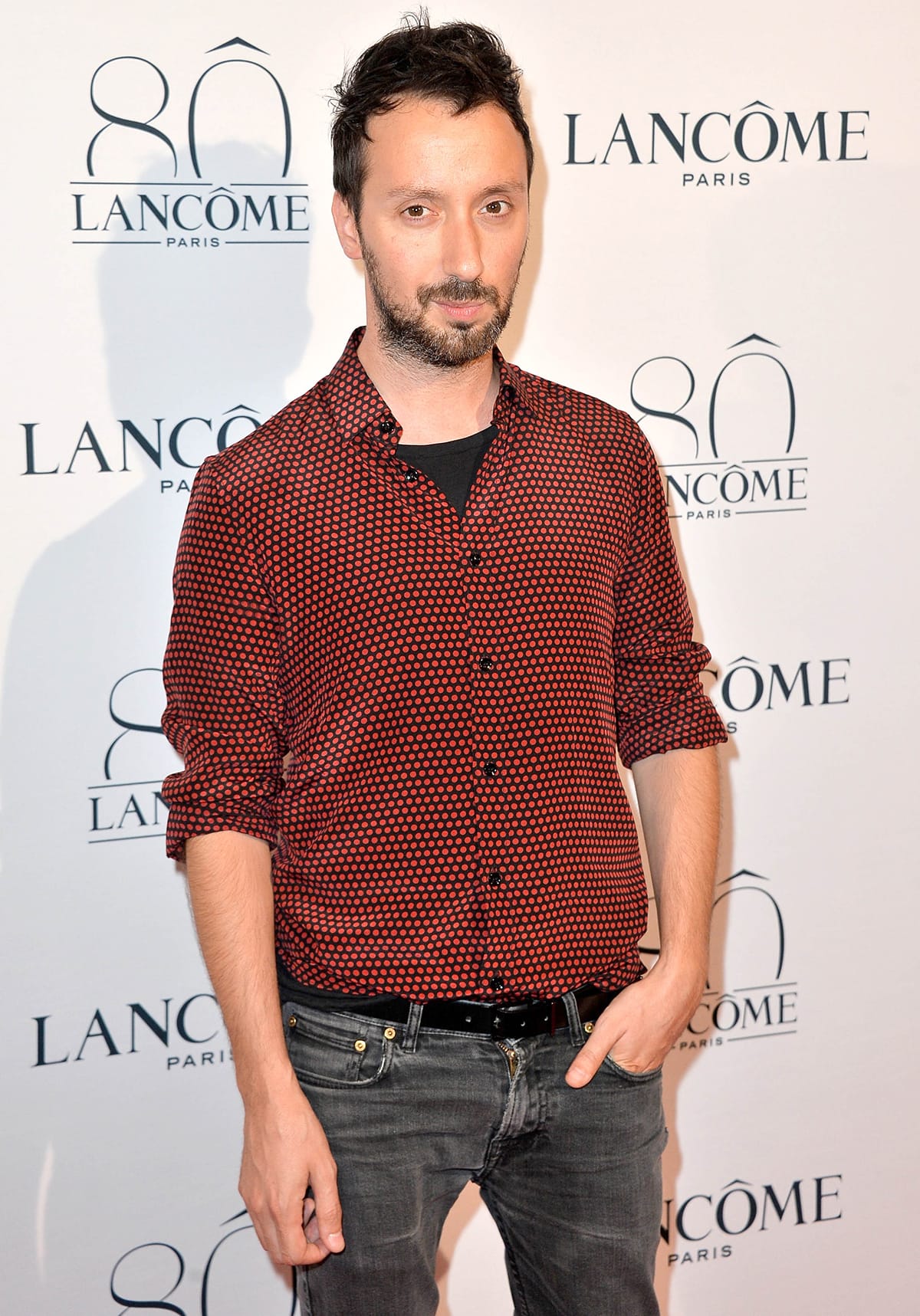 Anthony Vaccarello completed a year of law school before enrolling in the sculpture program of La Cambre and switching to a fashion course (Credit: Nicolas Briquet / Abaca / Startraksphoto)
Fashion was always in the back of Vaccarello's mind, but it took a little while to discover his calling. He completed a year of law school to appease his parents, but they let him choose a creative field after seeing it wasn't the right fit for him.
Vaccarello enrolled in the sculpture program of La Cambre, a prestigious visual arts school in Brussels. He switched to the fashion course after finding inspiration in the architectural designs of Rei Kawakubo and Azzedine Alaïa and graduated with honors in 2006.
The Rise To Fame
Vaccarello's talent was instantly recognized within the industry. His graduate collection, which was presented at the Hyères fashion festival in France, won first place and caught the attention of the legendary designer Karl Lagerfeld.
Lagerfeld himself offered Vaccarello a fur design position at Fendi after his successful graduate show. The young designer worked at Fendi for two years before moving to Paris, where he is still based, to launch his eponymous label in 2009.
Two years later, he won yet another award, the prestigious ANDAM prize in France.
Vaccarello's rise to fame skyrocketed after model Anja Rubik wore his seductive, hip bone-baring dress to the 2012 Met Gala (Credit: ACE / INFphoto)
Vaccarello's steady rise to fame skyrocketed after model and friend Anja Rubik wore one of his seductive dresses to the 2012 Met Gala. Who could forget the scandalous white design that completely exposed her left hip bone?
His supermodel fanbase quickly expanded to include the likes of Gisele Bundchen, Alessandra Ambrosio, and Karlie Kloss. This inner circle, which soon began to include celebrities, would be a vital part of Vaccarello's business strategy.
Kate Moss, Anthony Vaccarello, and Anja Rubik at the Wall Street Journal Magazine 2022 Innovator Awards held at the Museum of Modern Art on November 2, 2022 (Credit: ROGER WONG / INSTARimages / Cover Images)
Realizing Dreams At Versace
Vaccarello's career kept on progressing with successful collection after successful collection, along with his growing circle of stylish fans.
A striking Anthony Vaccarello dress worn by Gwyneth Paltrow, featuring a sky-high leg slit and asymmetric cut-outs, was featured on the cover of Harper's Bazaar in 2012.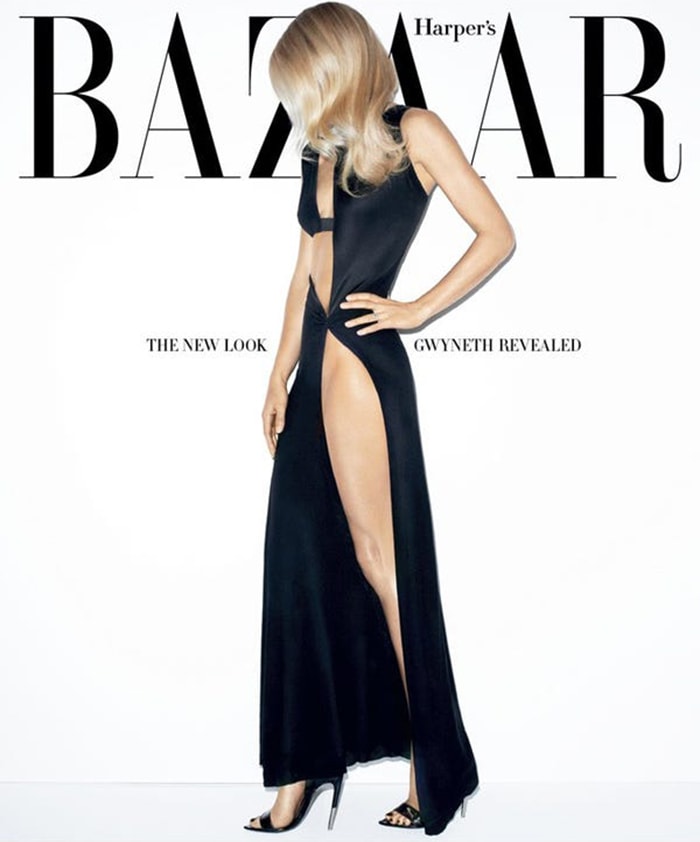 Gwyneth Paltrow wearing a sensual Anthony Vaccarello dress on the cover of Harper's Bazaar in 2012 (Credit: Business Insider)
All of these sensual details became a signature feature of Vaccarello designs, who would soon become known as a master of modern power dressing.
This newfound fame led Vaccarello to the brand he so admired in his childhood, Versace. The designer created his first capsule collection for Versus Versace in 2014 and was appointed creative director of the diffusion line the following year.
Donatella Versace and Anthony Vaccarello walk the runway at the Versus Versace Spring 2015 fashion presentation (Credit: FashionStock / Shutterstock)
Taking The Reins At Saint Laurent
Vaccarello's time at Versus Versace was cut short after he was appointed creative director at Saint Laurent in April 2016.
The designer admitted he had big shoes to fill after the departure of Hedi Slimane, but the decision proved to be a wise one after Saint Laurent's revenue increased by 25.3% in Vaccarello's first year at the helm.
Saint Laurent operates hundreds of stores worldwide, including this boutique located in the Miami Design District (Credit: Felix Mizioznikov / Shutterstock)
Vaccarello credits Slimane for transforming Saint Laurent into a young, contemporary brand again. His new designs for Saint Laurent carry on Slimane's rocker chic vibes but with a more Parisian influence that Yves himself would be proud of.
The brand's sixth creative director refocused on sharp tailoring, placing an emphasis on the androgynous and menswear-inspired elements that made the YSL so popular in the first place.
Going His Own Way
What makes Vaccarello stand out amongst his contemporaries are his creative vision and subtle marketing strategies. While other brands might look at numbers first, Vaccarello believes that sending a strong message is more important than commerciality.
His process might seem counterintuitive from a business perspective, but it's certainly worked for Saint Laurent, who has enjoyed a billion-dollar increase in profits since appointing Vaccarello.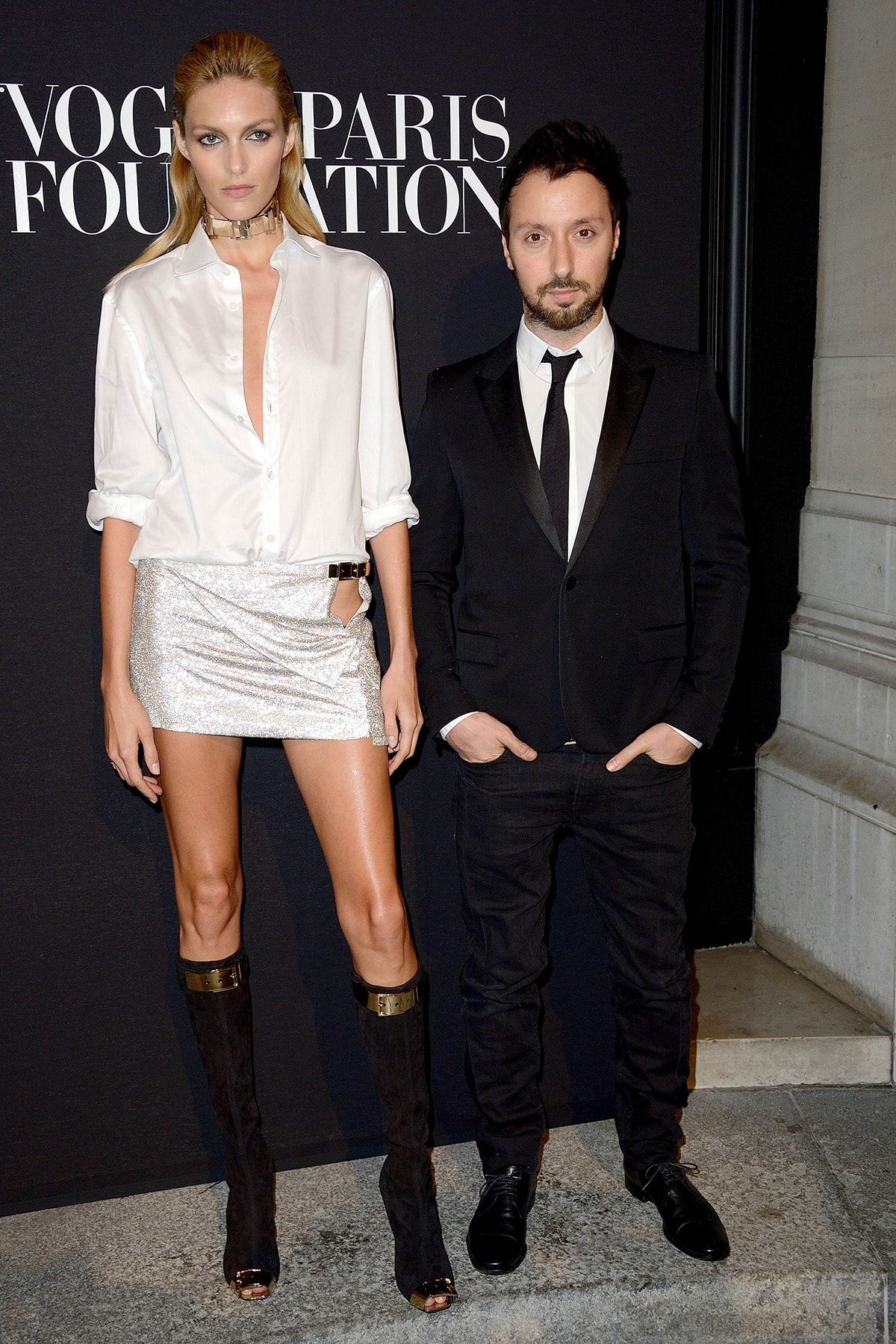 Anja Rubik and Anthony Vaccarello at the Vogue Foundation Gala during Fall-Winter 2014/2015 Haute-Couture Paris Fashion Week (Credit: Nicolas Briquet / Abaca / startraksphoto)
Vaccarello has also avoided loud marketing tactics and brand collaborations, instead focusing on building strong client relationships. "I prefer to have a few people that fit the house and understand the codes, and to build a relationship and to grow with them," the designer recently told GQ.
Rather than sending out his designs to all the celebrities and influencers he can, Vaccarello only dresses people he personally knows.
This strategy might seem crazy in the era of influencer marketing. Still, Vaccarello's friend group is filled with Hollywood's most stylish A-listers: Zoe Kravitz, Hailey Bieber, and Lou Doillon, to name a few.
Hedi Slimane changed the name of Yves Saint Laurent to Saint Laurent Paris in 2012 (Credit: Roman Zaiets / Shutterstock)
Under Vaccarello's precise wings, Saint Laurent has become the aspirational brand for cool girls all over the world.
A Quiet Life
Despite being the creator of some of fashion's most glamorous designs, Vaccarello describes himself as being shy and reserved. "I am not very comfortable around people and I hide behind this appearance of looking cold and distant. But I am just super shy and very empathetic," he told Antidote magazine in 2016.
View this post on Instagram
When he's not designing stunning gowns or hanging out with his crew of cool girl fans, Vaccarello enjoys a peaceful life in Paris with his husband, Arnaud Michaux, their baby Luca, and their French bulldog Nino.