Rihanna and the possible shade she threw at Ariana Grande at last night's 2014 iHeartRadio Music Awards has got everyone debating. Was Rihanna's laugh a "laughing at you" laugh or was it an "aww, she's so cute" laugh? Was she really laughing at Ariana, or was she reacting to something else entirely?
If Rihanna really did throw shade, we think a possible reason could be that she saw how some parts of Ariana's performance seemed to be inspired by her. Just take Ariana's first stage costume for instance. Hmm, we've definitely seen this oversized black top and tall white boots ensemble on stage before: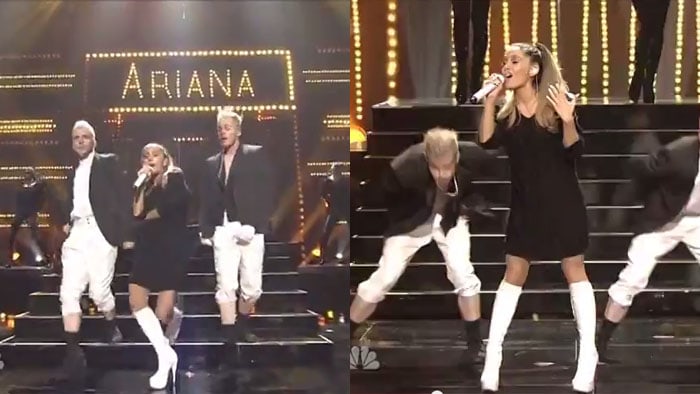 Ariana Grande performing on stage at the 2014 iHeartRadio Music Awards held at the Shrine Auditorium in Los Angeles, California, on May 1, 2014
Oh, that's right, we saw it on Rihanna. Rih preferred her version ultraluxe, so it was a black Raf Simons "Sea of Desire" top paired with white Christian Louboutin "Seann Girl" thigh-high boots for her.
Rihanna performing in concert as part of her 2014 Diamonds Tour at the Cardiff Millennium Stadium in Cardiff, United Kingdom, on June 11, 2013; performing on stage at the Ziggo Dome in Amsterdam, Netherlands, on June 23, 2013
At the sexy dancing part of Ariana's performance, Ari did a wide-legged move that was very similar to the leg move in Rihanna's "Where Have You Been" music video.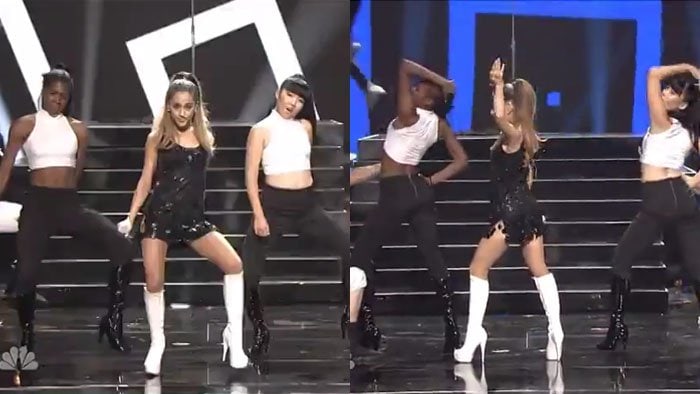 Ariana Grande switching to her second stage costume, a sequined LBD, for the second act of her performance
This is the part where Rihanna let out her controversial little laugh, by the way. It's at around 1:58 in the video below.
Rihanna letting out a little chuckle during the sexy dancing part of Ariana Grande's iHeartRadio performance
What do you think? Did Rihanna really throw shade at Ariana Grande or not? And between the two, who do you think rocked the oversized black top + white boots look better?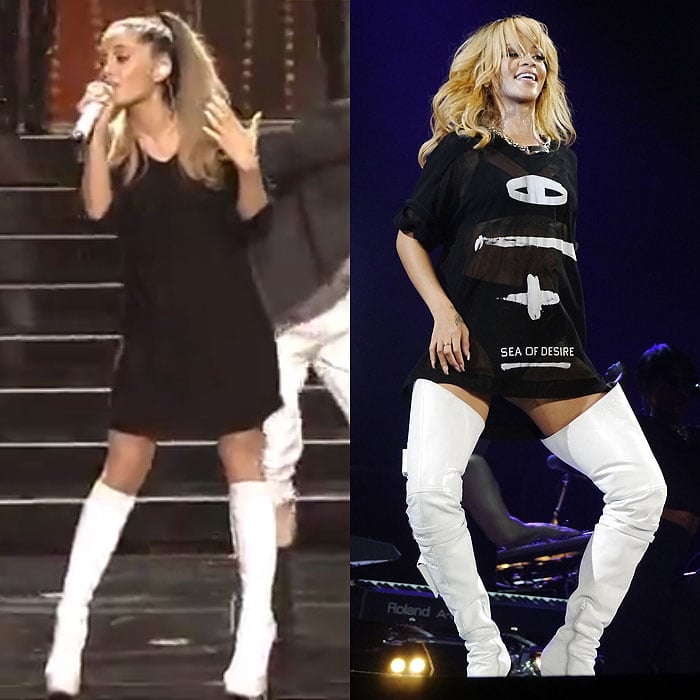 Ariana vs. Rihanna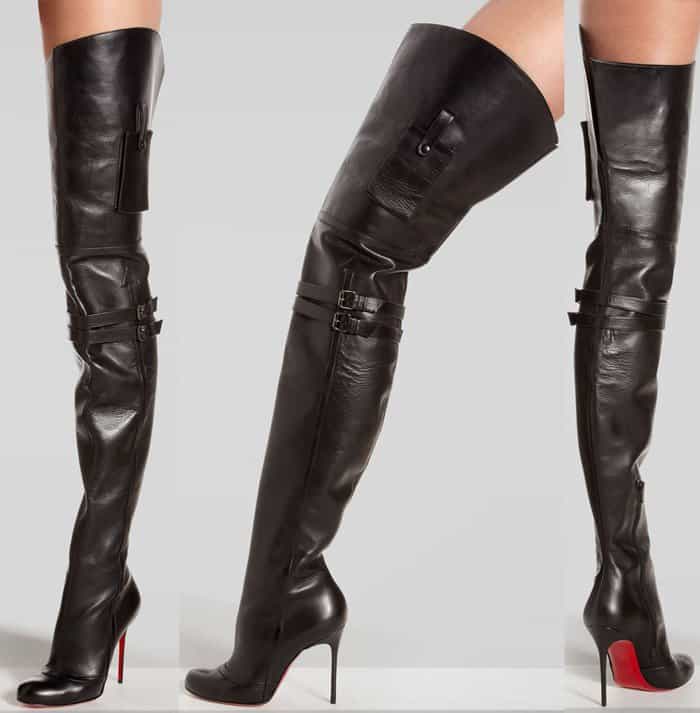 Christian Louboutin 'Seann Girl' Over-The-Knee Red Sole Boots in Black at Neiman Marcus
Credit: Will Alexander/Stuart Castle/WENN