Over the course of the last few nights, body positive warrior Ariel Winter and curvy Instagram model Demi Rose were both spotted in boob-baring black dresses paired with towering black stilettos.
The two brunette beauties share a love for flaunting their curves and wearing next to nothing, so much so that people have begun saying that they look alike. Read on to compare their daring outfits and gauge who wore it breast best.
1. Ariel Winter's 34D Boobs
Ariel Winter celebrated her cover of the LaPalme Magazine Fall 2017 issue at a glitzy party at the Nightingale Plaza in LA on Wednesday night. She has been open about having breast reduction surgery to reduce her 32F cup size to a 34D.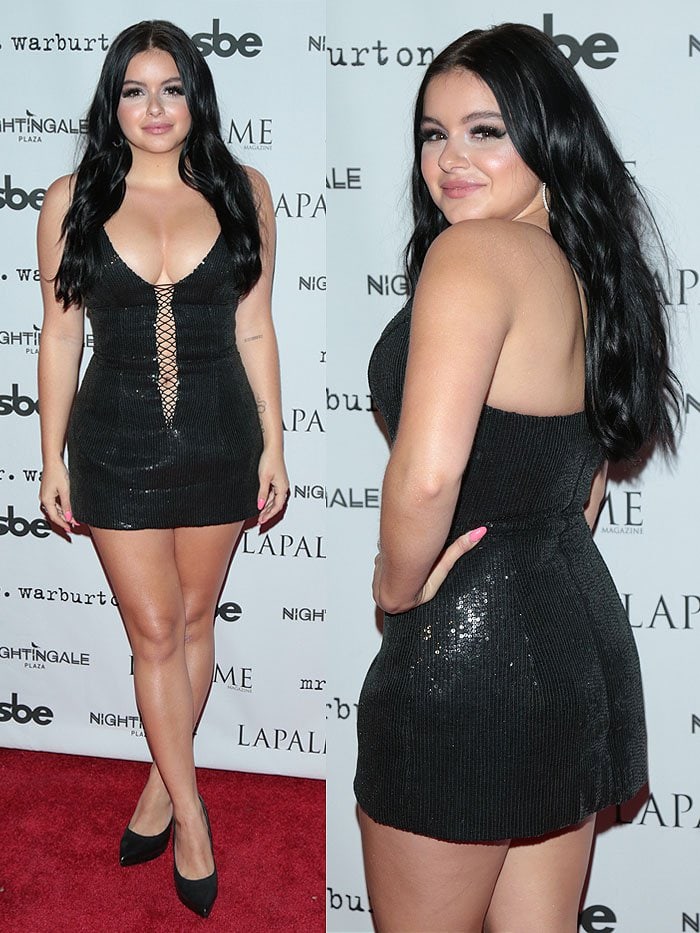 Ariel Winter says having extremely large breasts was really ostracizing and excruciatingly painful (Credit: Guillermo Proano / WENN)
In August 2015, she discussed her boobs in an interview with Glamour.
"It really did happen overnight. I remember being at my sister's wedding and being so flat and thinking, I just wish I would grow boobs! And then overnight I did. But then they kept growing and growing and growing, and it didn't seem like they were going to stop…I was 15 years old with [size] F [breasts]. It's like, How do you navigate that?"
"I went to a swimsuit store with my cousin a few months ago and couldn't find a bathing suit that fit me. I really felt bad about myself. I didn't feel happy. I just kept saying, 'What am I going to wear? There's nothing for me to wear at the beach, at the pool.' I can't go to a party with my friends and wear the same thing as them. I have to be completely covered up; otherwise I'll look a certain way that I'm not intending to look," she said about deciding to undergo surgery to reduce the size of her boobs.
The 19-year-old made sure all eyes were on her in a black sequined mini dress that featured a very low neckline.
Ariel Winter flaunted her belly button and boobs in a black sequined mini dress (Credit: Guillermo Proano / WENN)
As if the dress wasn't already straining to contain Ariel's ample assets, a netted cut going all the way down to the belly button made it look like it was struggling even more to stay together.
The "Modern Family" actress completed her sexy look with center-parted, long, black hair, sparkly hoop earrings, fluttery eyelashes, pink talons, and black pointy-toe platform pumps.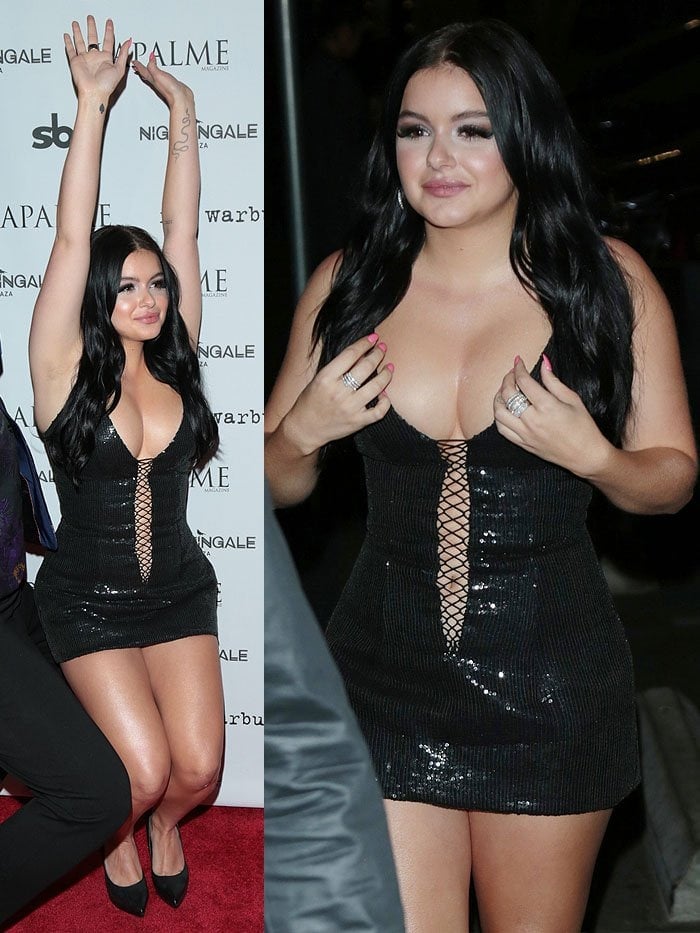 Ariel Winter flaunts her breasts at the LaPalme Magazine Fall 2017 Cover Party at Nightingale Plaza in Los Angeles, California, on November 8, 2017 (Credit: Guillermo Proano / WENN)
Ariel Winter's shoes have the tapered platforms of Christian Louboutin "Pigalle Plato" pumps and the straight-down-from-the-back stiletto heels of Saint Laurent "Janis" pumps.
However, they have beige-colored soles instead of Louboutin's signature red and Saint Laurent's black. Can you help us ID Ariel Winter's courts?
Ariel Winter's feet in black leather pointy-toe platform pumps (Credit: Guillermo Proano / WENN)
2. Demi Rose Mawby's 32DD Boobs
Demi Rose got the paparazzi's eyes and flashbulbs popping when she stepped out in her risqué ensemble at The White Forest at Madison launch party in London last night.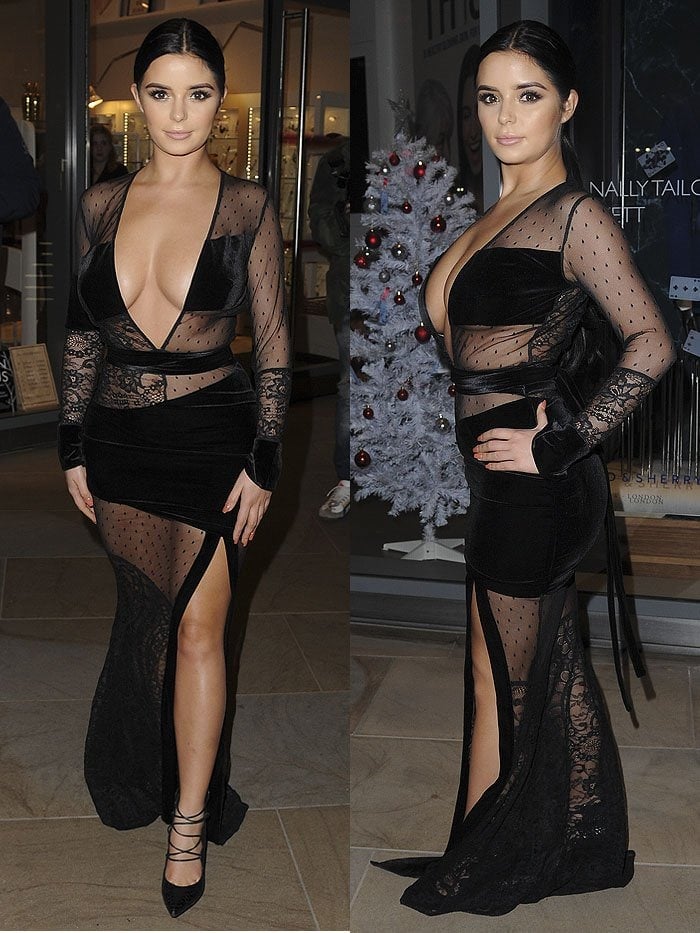 Demi Rose is a British Instagram influencer known for her incredible breasts (Credit: WENN)
The 22-year-old donned a sheer dress with a dangerously low, gaping neckline that must've threatened a wardrobe malfunction at every twist of her torso.
Demi Rose highlighted her massive booty and breasts in a sheer dress (Credit: WENN)
Velvet panels in strategic places covered Demi's modesty but thankfully still let us get a glimpse of Saint Laurent "Paris" lace-up pumps on her feet.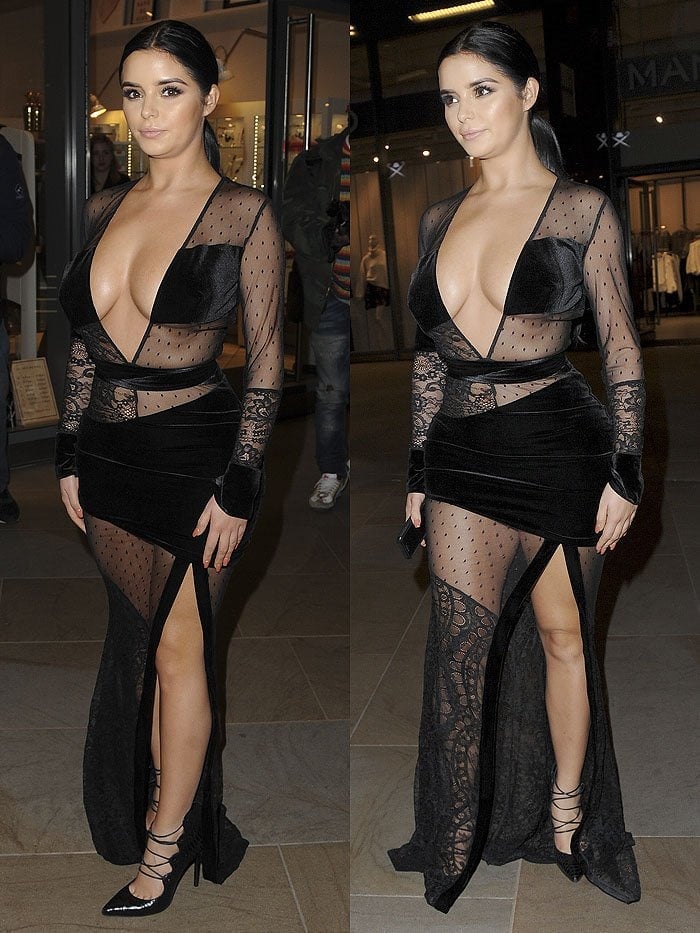 Demi Rose flaunts her legs at The White Forest at Madison – launch party in London, England, on November 9, 2017 (Credit: WENN)
The Instagram sensation rounded out her look with a center-parted ponytail, contoured makeup, and nude pink nail polish that is also very similar to Ariel Winter's own nail color.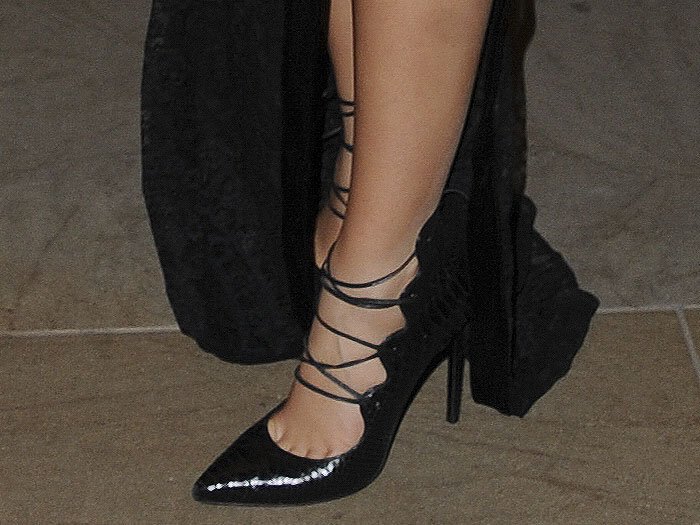 Demi Rose's size 4 (US) feet in Saint Laurent "Paris" python-embossed lace-up pumps (Credit: WENN)
Demi Rose's exact shoes are now sold out, but you can still shop the massively-discounted dark red suede version at Nordstrom and Farfetch.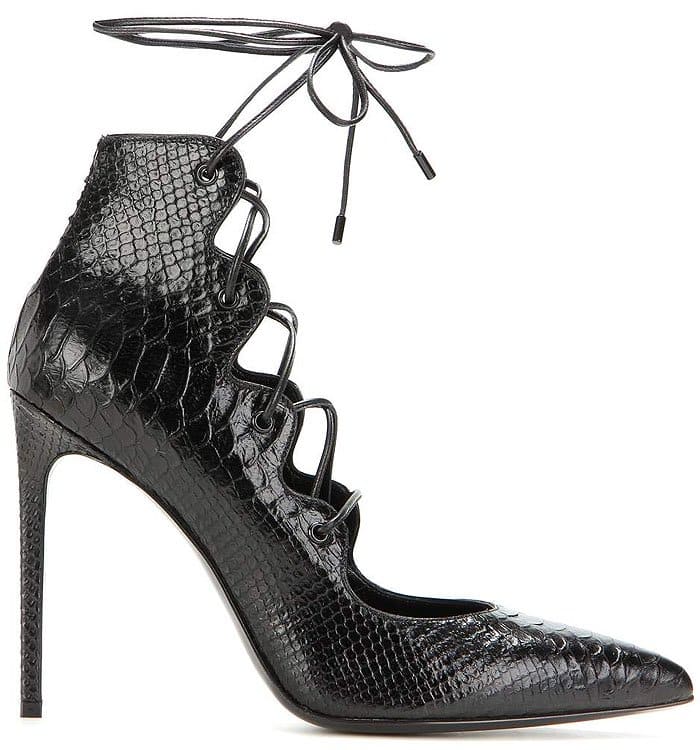 Saint Laurent "Paris" Python-Embossed Lace-Up Pumps
Which brunette bombshell do you think flashed the flesh better?