Did you know that there's a reward for being on Kim Kardashian's side? Because as we're starting to learn, there definitely is.
The reality star, who just sent white roses to model Emily Ratajkowski, also extended her gratitude to "Modern Family" star Ariel Winter by sending her a similar floral arrangement.
The teen actress was one of Kim's most staunch defenders in the whole nude selfie debate. Like Emily, Ariel also tweeted messages of female empowerment in support of Kim, including one that compared Justin Bieber's naked guitar pic to Kim's naked bathroom mirror selfie.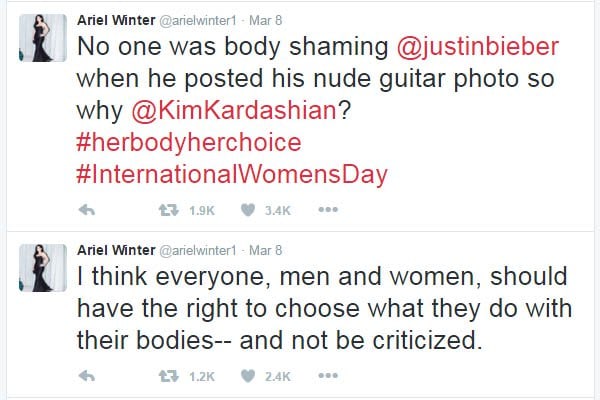 Ariel Winter defended Kim Kardashian after she received criticism for posting an NSFW selfie (Credit: Twitter)
Ariel shared a snap of her bouquet on her Instagram, which also captured Kim's handwritten note.
"Ariel – Hey I wanted you to know I saw your tweets last week and I really appreciate your support," the note said. "Women supporting other women is so powerful! xoxo Kim."
Kim Kardashian sent Ariel Winter a bouquet of white roses and tulips and a heartwarming note (Credit: Ariel Winter's Instagram)
The 18-year-old didn't reenact Kim's nude photo like other celebrities, but she didn't have to — Kim herself made sure that those bases were covered.
Mrs. West followed up her controversial nude selfie with yet another revealing in-the-buff photo, and posted it with a caption that simply read "#liberated."
Ariel is known as a body-positive role model, so her support of Kim comes as no surprise.
The young Hollywood star famously underwent breast reduction surgery that decreased her painful 32F cup size down to a 32D. She's openly talked about it, saying that she was very aware of the "is she dressed appropriately for her age" criticisms she had been getting since she was prepubescent.
Below are three of her most recent red carpet looks.
1. Black Jumpsuit
Still, going through with the operation doesn't mean that Ariel is self-conscious or ashamed of her body.
In fact, she seems more confident now than ever. Notice how boldly boob-baring, midriff-flaunting, and skin-showing they are!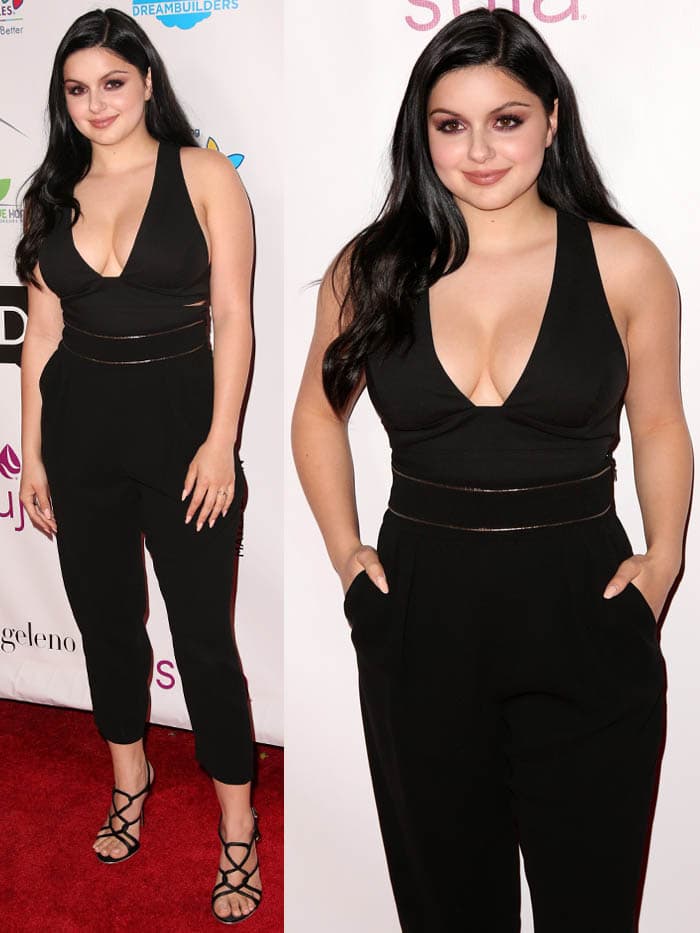 Ariel Winter flaunts her boobs in a black jumpsuit at The Dream Builders Project 3rd annual "A Brighter Future For Children" Black Tie Charity Gala held March 3, 2016, at The Taglyan Complex in Los Angeles (Credit: Brian To / WENN)
Ariel showed plenty of cleavage at a charity gala earlier this month in a black jumpsuit with a low-cut halter neckline.
She finished her look with a pair of black satin Salvatore Ferragamo sandals that featured twisted straps.
Ariel Winter's feet in Salvatore Ferragamo sandals (Credit: Brian To / WENN)
You can buy her exact sandals at Shopbop:
Salvatore Ferragamo Twisted Satin Sandals
2. Bandage Dress
Ariel also donned head-to-toe black for the Delta Airlines' Grammy weekend party held back in February.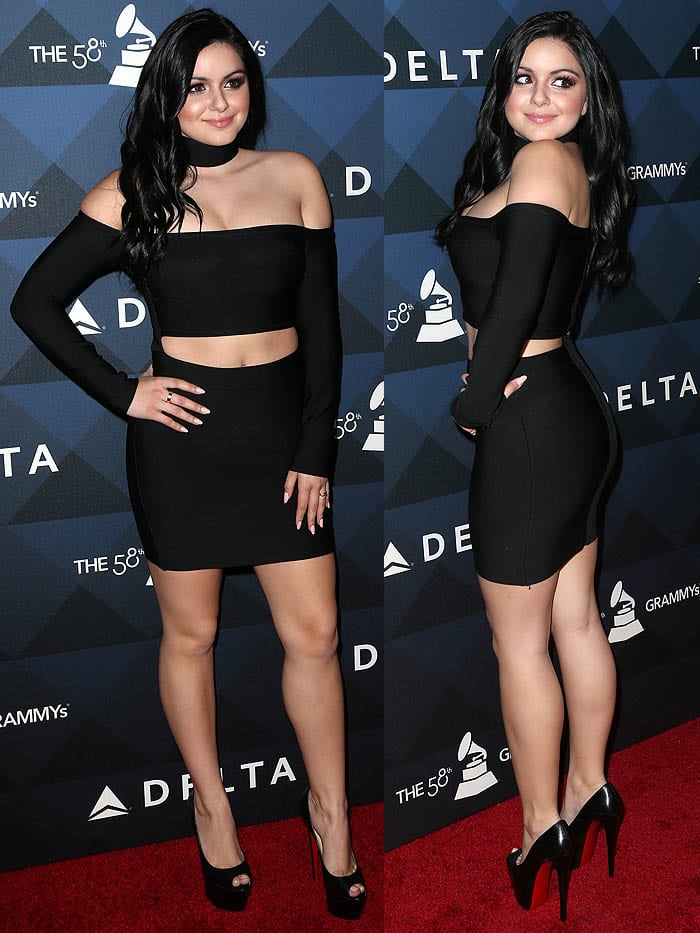 Ariel Winter flaunts her tummy at Delta Airlines Toasts GRAMMY Weekend with "Sites and Sounds" held on February 12, 2016, at NeueHouse Hollywood in Los Angeles (Credit: FayesVision / WENN)
Despite the amount of décolletage, tummy, and legs revealed by her bandage dress, she didn't hesitate to pair it with sky-high stilettos.
Those are nearly seven-inch heels on top of 2.25-inch platforms on those Louboutins, ladies!
Ariel Winter's feet in black Christian Louboutin platform pumps (Credit: FayesVision / WENN)
You can order her exact pumps at Mytheresa:
Christian Louboutin "Jamie" Peep-Toe Platform Pumps, $1,075
3. Naked Red Jumpsuit
Ariel also joined sisters Gigi Hadid and Bella Hadid in popularizing the naked jumpsuit trend at the 2015 iHeartRadio Jingle Ball.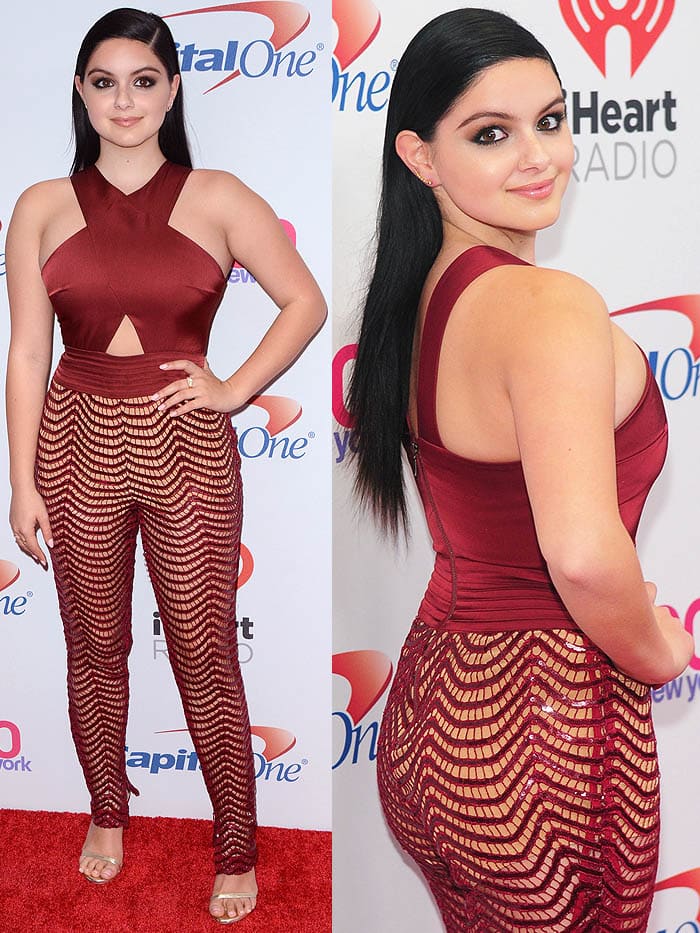 Ariel Winter wears a naked jumpsuit at the Z100's iHeartRadio Jingle Ball 2015 arrivals at Madison Square Garden on December 11, 2015, in New York City (Credit: Dan Jackman / WENN)
She wore nude underwear underneath a red see-through jumpsuit, which gave the illusion that she was completely exposed.
The crisscrossing straps on the halter top barely contained her breasts, but Ariel gamely posed through it all.
She finished the whole ensemble with a pair of celebrity-favorite Stuart Weitzman "Nudist" sandals.
Ariel Winter's feet in strappy gold Stuart Weitzman sandals
You can order her exact sandals at Nordstrom:
Gold Stuart Weitzman "Nudist" Sandals, $398.95