We can't say we're die-hard fans of Ashley Greene, but we do find the Twilight cutie very pretty. And when she's all dolled up for the red carpet, she's even more stunning.
However, the actress may have taken a slight fashion misstep when she made an appearance at the Apple store in SoHo, New York, yesterday. For the event, Ashley chose a tiered two-fer fit 'n flare Sachin + Babi Fall 2013 dress in off-white and gray and paired the frock with the most unusual choice of footwear — black mesh booties from Yigal Azrouël's Resort 2014 collection.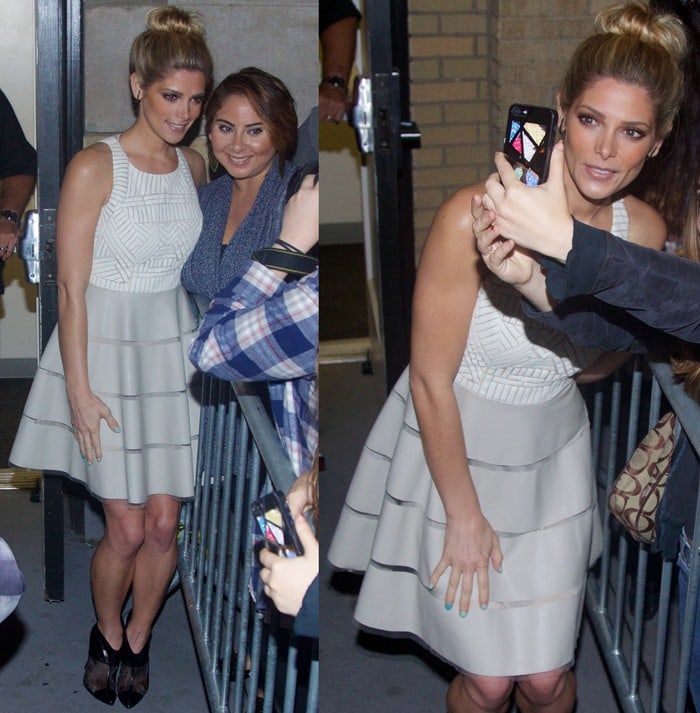 Ashley Greene (after making an appearance for "Apple Store Presents: Meet the Actor" and promoting her new movie, CBGB) signing autographs outside the Apple store in SoHo, New York, on October 7, 2013
A closer look at Ashley's mesh booties
What do you think of the mix — hit or miss?
We're leaning toward the latter. We actually can't understand what made her pick the pair. Or maybe, just maybe, she really had on a different set (of heels) while on her way to the event but somehow broke the shoes or something so she had no choice but to put on whatever was available. Are you buying that story?
Of course, the simplest explanation would be that she or her stylist chose the pair — for whatever reason.
That said, the booties actually don't look that bad. It's just a simple case of misfit. Had she worn classic pumps, she would have nailed the look perfectly. Those booties, though, would look awesome with black skinnies or tights this season. Do you agree?
Credit: Alberto Reyes/WENN