Ashley Tisdale is known for her bohemian California girl-esque sense of style. Today, we spotted the actress out with her boyfriend and running some errands in a very typical casual Ashley ensemble.
She paired a pair of "Donnie" boots from Dolce Vita with printed socks, jean shorts, a sweater, and a beanie. While it seems a little contradictory to pair tall leather boots with breezy shorts, I sort of like her look. In fact, I've actually rocked a similar ensemble myself!
Ashley could have opted for more relaxed sneakers or sandals, but I prefer the unexpected feel of this over-the-knee style. However, I wish she had kept her top a bit lighter and added a cool zip-up hoodie or button-up on top as opposed to bundling up in a sweater.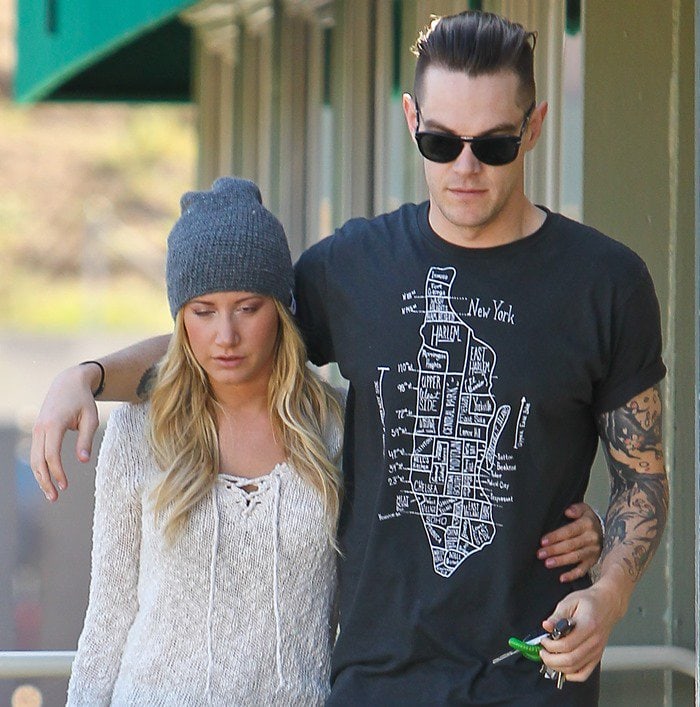 Ashley Tisdale and her boyfriend, Christopher French, seen out and about in Studio City, California on February 27, 2013
Ashley's brown 'Donnie' boots from Dolce Vita are sold out online. However, they're available in white, stone, and black in very limited sizes at Heels.
What do you think of this rich leather style? More importantly, what do you think of Ashley's pairing of over-the-knee boots with shorts — hot or hmmm?
Credit: WENN