In February 2016, everyone was excited for Jessica Biel's super cute, kid-friendly restaurant "Au Fudge" to open up in Los Angeles.
The paparazzi falsely reported that a dressed-up Jessica was leaving the store opening event, though the restaurant didn't open until the following month.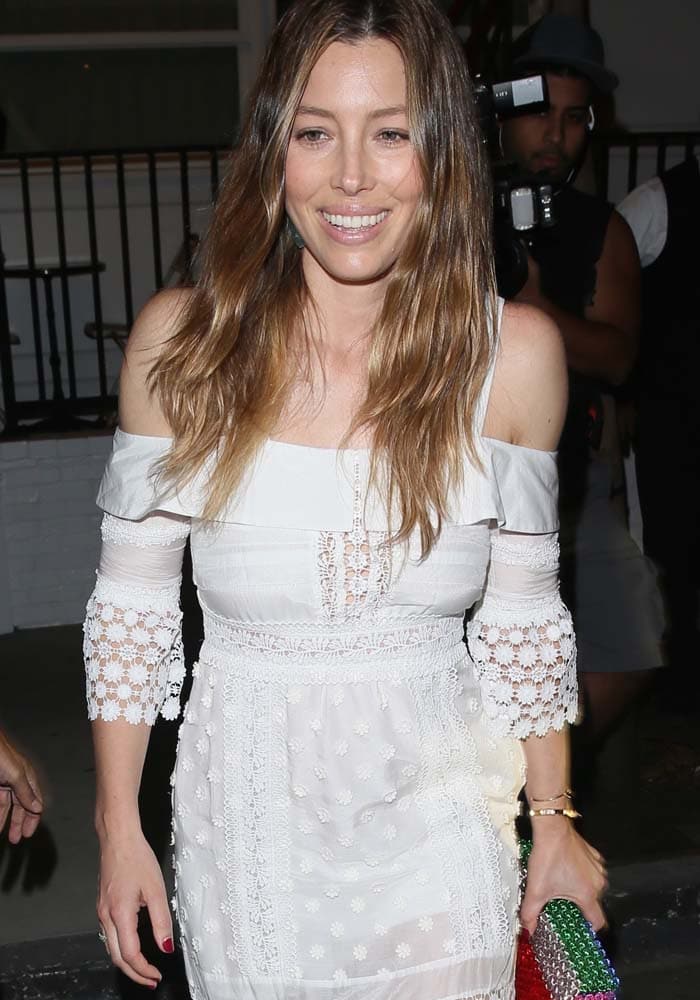 Jessica Biel wears her hair down at her new restaurant "Au Fudge" in Los Angeles on February 17, 2016 (Credit: Michael Wright / WENN)
Normally a jeans-and-top girl, Jessica left the restaurant in a gorgeous off-the-shoulder dress by Self-Portrait, which she peppered with some Irene Neuwirth jewelry.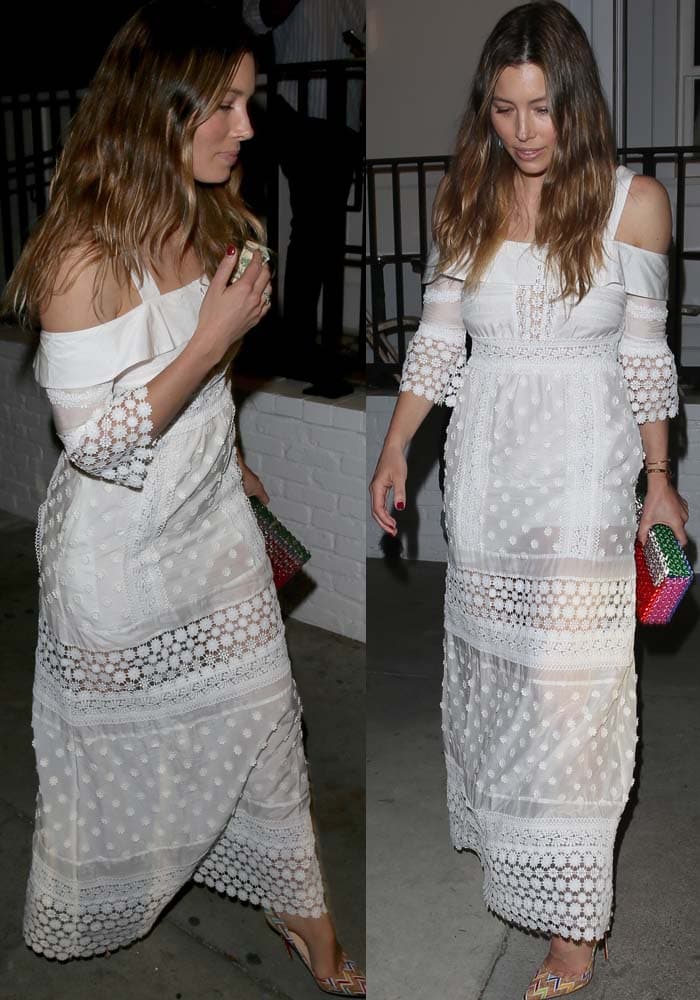 Jessica Biel shows off her shoulders in a white Self-Portrait dress (Credit: Michael Wright / WENN)
The Truth About Emanuel actress teamed up her romantic laser-cut dress with an uncharacteristic cork-and-chevron pair of Christian Louboutin "So Kate" pumps.
We're not sure what caused the false reporting, which was even reflected in some of the biggest celebrity news portals on the net, but Au Fudge did not launch until March 2016.
Jessica Biel invested in the restaurant venture with her partners Estee Stanley, Joey Gonzalez, Kimberly Muller, and Jonathan Rollo.
Jessica Biel's feet in cork-and-chevron Christian Louboutin pumps (Credit: Michael Wright / WENN)
"[We're] definitely not making money," Biel told Jimmy Kimmel in early 2017. "Nobody's making money in the restaurant business, in my experience, at least not yet."
"My friend group, my friends who had kids before I did, wanted to go hang out with them, but they were stuck going to Chuck E. Cheese's birthday parties. Or, they had kids and they didn't have a babysitter," Biel added about opening a restaurant in West Hollywood. "What do you do, where do you go?"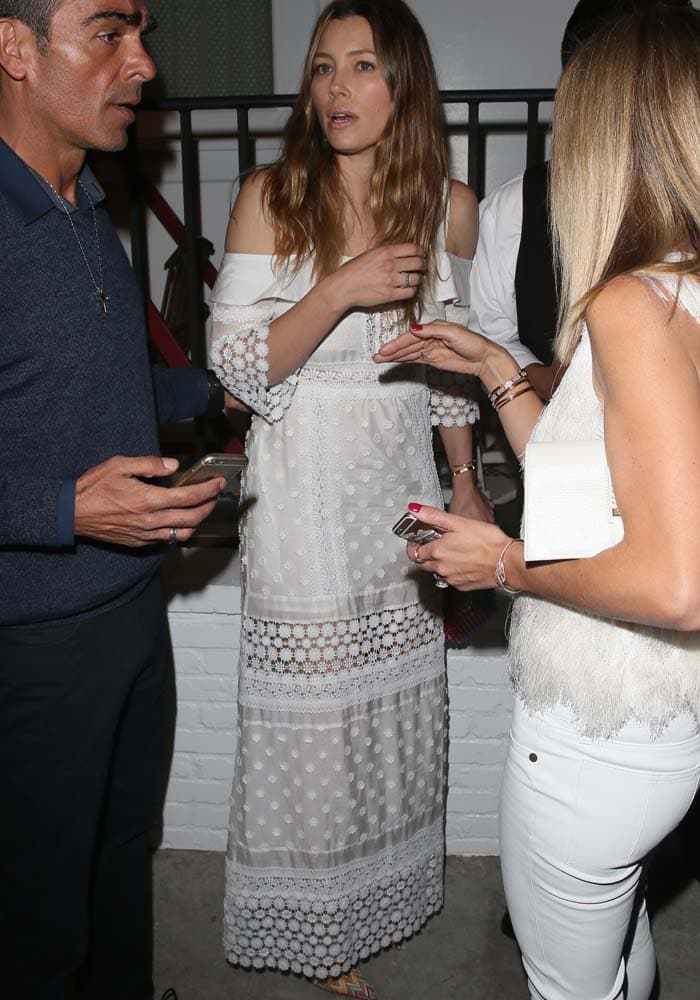 Jessica Biel wears a white Self-Portrait dress while at her new restaurant Au Fudge (Credit: Michael Wright / WENN)
"Last time we were in, he was chowing down on the chicken nuggets. He really likes the French fries, and he's a big fan of the mac and cheese. And the cauliflower purée was a big hit. So I think we're doing OK," she said about her son having approved the menu.
The 120- to 130-seat restaurant closed in July 2018 after failing to garner traction. It was located on 9010 Melrose Ave in West Hollywood. According to reviews, finding parking in the area was challenging, food was pricey, and the play area in the restaurant was dirty.
"While this is the end of an era, it's also the beginning of a new chapter for @aufudge," Biel wrote on Instagram about Au Fudge's closure. "We are so very proud of the happy place we created for families and the community we were a part of."
View this post on Instagram
You can order Jessica's unique cork-and-chevron Christian Louboutin "So Kate" pumps at Nordstrom and Saks Fifth Avenue.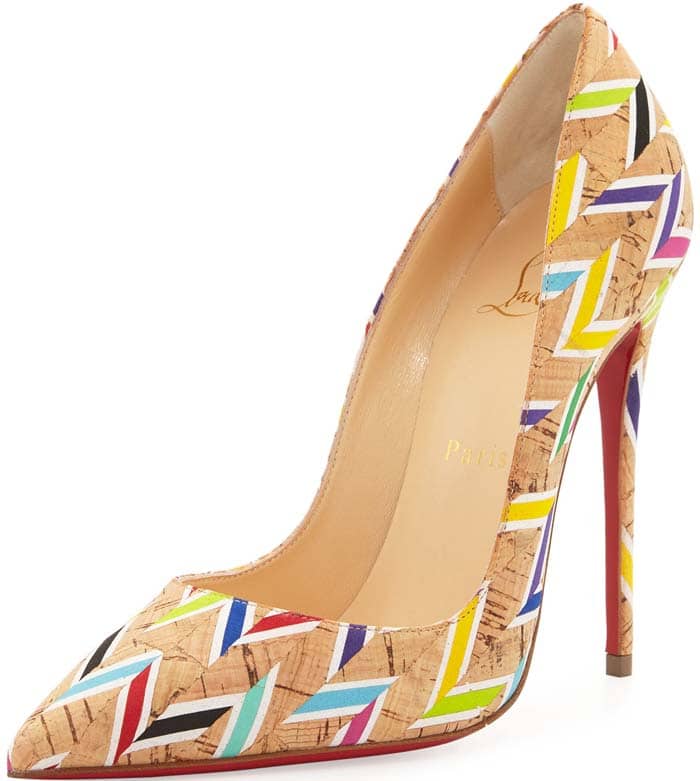 Christian Louboutin 'So Kate' Chevron Cork Red Sole Pump in Multi, $695