Does your handbag feel like a black hole? Everything just seems to disappear when you put it inside. While we often think of our handbags as being a 'Mary Poppins' bag, an organized bag makes your life a lot easier.
Enter Baggallini. The anti-black hole brand has stylish bags that make it easy to keep everything organized. Baggallini was founded by two flight attendants in 1995, focusing on travel-friendly bags.
It's a more accessible alternative to luxury travel brands like TUMI and Samsonite with the same functionality and the option of quirky prints.
The opposite of your black hole bags, Baggallini provides stylish bags that make it easy to maintain organization
We're exploring the origins of the brand and its most popular styles to help you decide whether you should buy your everyday bag from Baggallini.
What is Baggallini?
Baggallini is a female-founded handbag and accessory brand with a focus on functional styles to make life easier – whether you're running errands or jetting off on vacation.
The brand was founded by two travel agents, using their insights into organizing and packing to create functional handbags and accessories.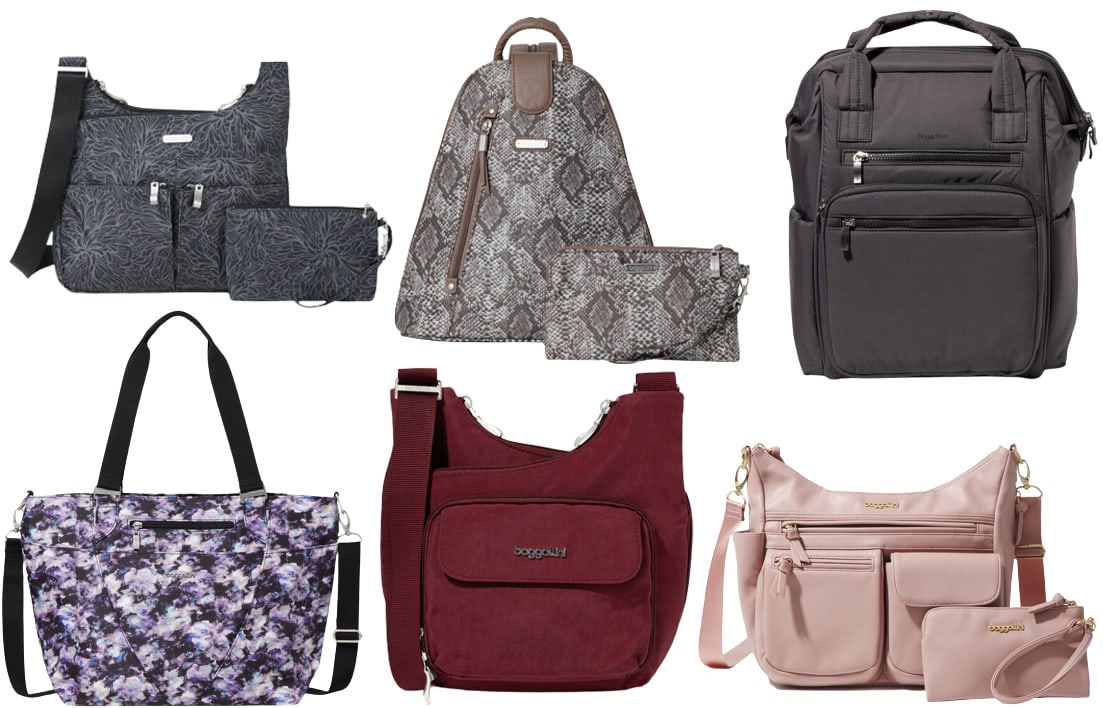 Baggallini offers stylish bags with a focus on functionality that's perfect for running errands or jetting off on vacation
These bags are created for women whose handbags have to suit their everyday lives – taking them from the office to the school run and everywhere in between.
Baggallini addresses the needs of the modern woman with stylish bags at an affordable price point that puts organization first.
You can purchase Baggallini bags through the brand's official website, Zappos, and Amazon.
Baggallini Returns Policy & Warranty
If you're considering buying a Baggallini bag, you'll want to know the brand's returns policy and warranty for extra peace of mind.
You're eligible for a full refund within 60 days of the date of purchase if your item has been unused. You can return your product free of charge using the prepaid return label you'll receive as part of the original package.
Baggallini does not accept returns for products purchased from a third-party retail store or department store. You'll want to check the returns policy for the retail store you've made your purchase from.

Baggallini offers a full refund within 60 days of the date of purchase if your item has been unused and a 1-year manufacturer's warranty from the date of purchase
All Baggallini products come with a 1-year manufacturer's warranty from the date of purchase. This warranty covers any damage that may occur through normal use of your Baggallini product. For example, the warranty does not cover regular wear and tear or damage resulting from an airline or carrier.
Defects covered by the brand's warranty include broken zippers or hardware, stitching issues, logo placement problems, and strap issues. Baggallini can provide a replacement strap if the style is still available.
How to Care for Baggallini Bags
Baggallini bags are designed to be fuss-free and easy to use. Regular spot cleaning will help extend the lifespan of your Baggallini bag and keep the zippers and pockets functional. Several Baggallini styles are machine washable for easy care.
Spot-cleaning your Baggallini bag
Remove the contents of your bag and shake the interior to remove any debris, dirt, or crumbs before cleaning.
Take a clean cloth with warm water to spot-clean the interior and exterior of your bag. You can use a pea-sized amount of gentle laundry detergent with warm water to treat tougher stains. Rinse out the detergent with water and wipe away with a clean cloth.
Allow your bag to air dry by laying it flat in an open space.
The Naples Convertible Backpack, Calais Crossbody Bag, and Modern Everywhere Bag are just some of Baggallini's machine-washable bags
Machine Washable Baggallini Bags
Ensure that there are no RFID-blocking products still inside your bag before washing. Many Baggallini wallets and wristlets feature these components.
Place your handbag inside a pillowcase or laundry bag to prevent scratching against the hardware.
Turn your machine on to a cold wash setting.
Use a mild detergent and avoid bleach.
Air-dry your handbag and add stuffing to the pockets to help maintain the shape of your bag while it's drying.
The Most Popular Baggallini Bags
There are dozens of Baggallini bags for you to choose from, each designed to meet the needs of women who are always on the go.
We're sharing four of the most popular Baggallini bags to start building your everyday handbag collection.
1. Naples Convertible Backpack
The Naples backpack is from Baggallini's 'international collection' and is designed for travel and city exploring with a spot for all your essentials.
The backpack features quick-access pockets to get your most reached-for items in a rush, from travel cards to sunscreen.
The Naples Convertible easily converts from a sling to a backpack and features quick-access pockets for your most frequently used items
The RFID-blocking card slots keep your personal information protected while on the go. This 2-in-1 bag converts easily from a backpack to a sling for versatile styling.
The Naples backpack is available in over 20 prints and color options, from everyday neutrals to seasonal plaid.
2. Triple Zip Bag
The most popular Baggallini bag is the 'Triple Zip' from the Legacy collection. It's a classic silhouette with multiple styling options, whether you're heading to a sports event or going for brunch with your girlfriends. This small bag converts from a crossbody to a clutch and a bum bag with belt loops on the back.
The Triple Zip has a dedicated phone pocket for easy access. It's available in 19 prints and color options.
A part of the Baggallini's Legacy collection, the Triple Zip bag can contain all of your daily necessities and transform from a crossbody to a clutch to a waist pack
3. Modern Everywhere Bag
Travel hands-free with the Modern Everywhere. It's a small but mighty bag with a streamlined silhouette. Its quick-access pockets, machine-washable fabric, and adjustable crossbody strap make it a fuss-free style for everyday wear.
This Baggallini bag features lining and zippers made using recycled materials. You can choose from almost 30 prints and colors for this crossbody bag.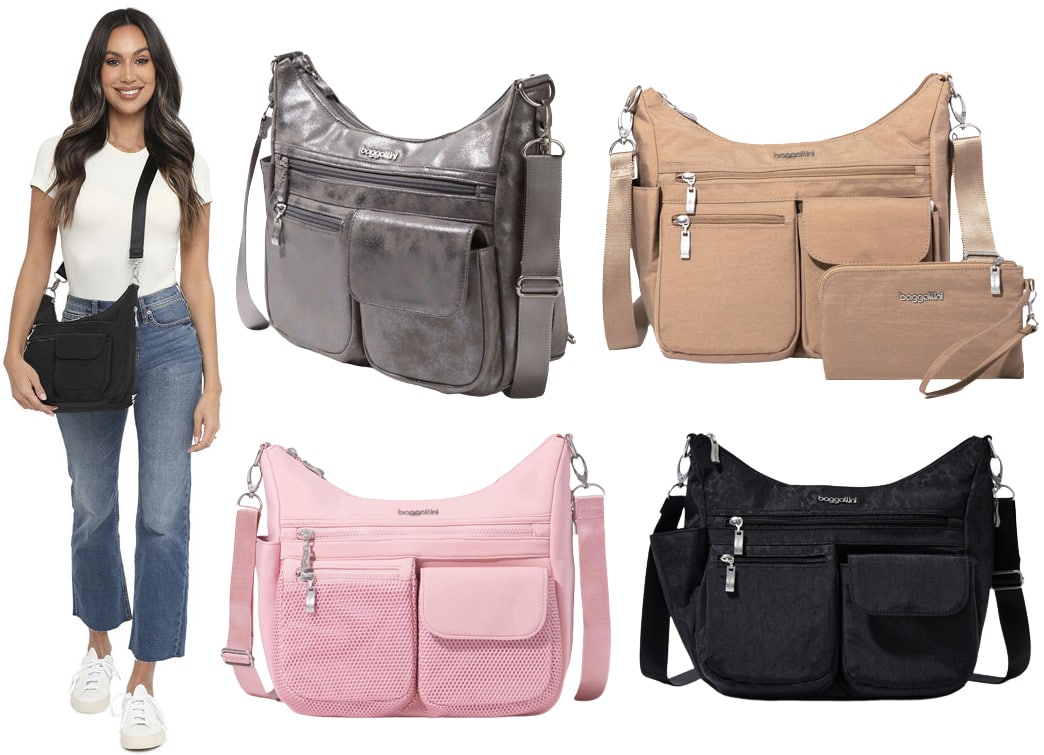 A multifunctional hobo-style bag, the Modern Everywhere features a detachable, adjustable strap, a convenient elastic key leash, and sustainably sourced PET lining
4. All Set 3-in-1 Tote Bag
You'll be set for anything the day throws at you with this 3-in-1 tote bag. The 'All Set' bag is part of Baggallini's 'Legacy' collection and converts easily from a crossbody to a backpack and tote.
It's the only bag you need, ticking every box as a workwear staple and travel essential. The bag features a luggage sleeve to place securely on top of your luggage.
Easily switch between a backpack, crossbody bag, and tote with the Baggallini All Set 3-in-1 Backpack
FAQs about Baggallini
1. Where are Baggallini bags made?
Although Baggallini is an American brand, its bags are made in Cambodia.
2. Are Baggallini bags cut-proof?
Baggallini bags are designed with security and protection in mind. The brand's travel bags have extra-safe anti-theft features, including anti-cut straps and slash-proof fabric.
Most Baggallini bags feature RFID-blocking card slots to protect your personal information.
3. Does Baggallini Offer Discount Codes?
Baggallini regularly runs promotions and discount codes through its official website. Signing up for the Baggallini newsletter will get you early access to new products and exclusive deals, along with 25% off your first purchase.