The single most important piece of gear every basketball player needs is a solid pair of basketball shoes to rock on the court. They impact your game by providing traction, comfort, and protection along with showcasing your style by creating custom made colors and designs.
Before you start searching for your perfect basketball shoe, you need to know what features you're looking for that will compliment your playing style.
What type of basketball player are you?
Are you a point guard or a post player? Do you want a shoe that provides ample ankle protection? Or a shoe a little less restrictive? Is your game more finesse and crafty or slashing and attacking?
Does your shoe need to have a bouncy and soft cushion? Or will a firm, responsive cushion be better for your game?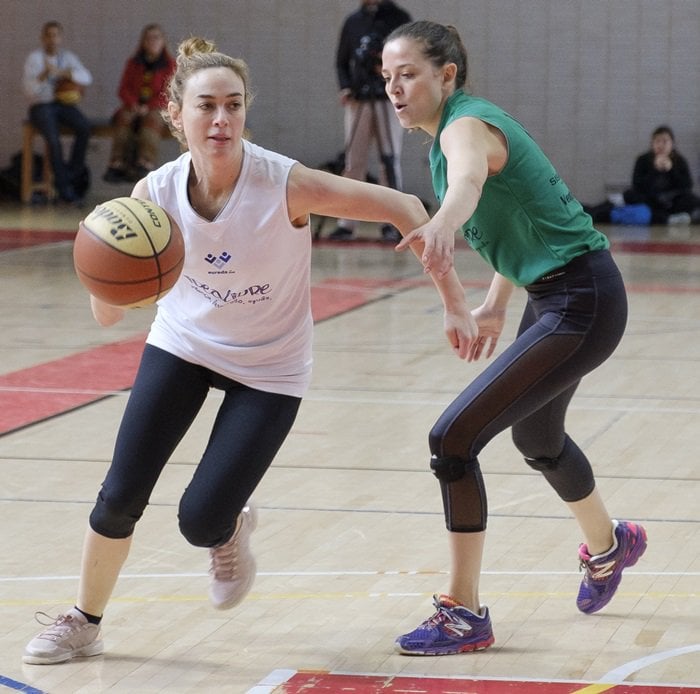 Actress Marta Hazas takes part in the Actresses vs. Ex-Players charitable women's basketball game at the Sports Facilities of the Canal de Madrid in Madrid on March 3, 2018
All of these points will be critical to finding the right basketball shoe. It can be an overwhelming and time-consuming process, but never fear, we are here to help.
In this basketball shoe buying guide, we're going to prep you on what features you need to enhance your game and what specific styles you should consider as your go-to, game-time shoes.
By the time you're done with this guide, you should know what shoes are right for your game; and before you know it, you'll be on the court in the best basketball shoes in the market reaping the rewards of all your research and hard work.
Scouting Report: Basketball Shoe Buying Analysis
As every player knows, there's a lot to look at when it comes to finding basketball shoes. You can't simply base your decision on one thing; you have to find a shoe that is going to meet all of your needs – for your feet and your game.
What are your needs? That's what we are going to break down in this section. We're going to discuss your needs according to your player type and your needs according to shoe features.
Player Type
Before you make any decision on a shoe, it's beneficial to understand your playing style and capabilities. Do you shoot from long range or are you attacking the rim? Is your game more agility and speed or power and aggression? Once you figure out your playing style, you can then search for needed features more easily.
If you're a Finesse Player, you have the ball in your hands a lot. You have the ability to drive the lane, but usually, choose to take the jumper on the perimeter or find an open teammate for the assist. This type of player needs a comfortable shoe with quality cushioning and traction since you'll be running to the floor and stopping on a dime and a tight secure fit so you don't roll your ankle when you make cuts.
If you're a Slasher Player, you like to get to the rim. Your athletic ability makes you one of the best athletes on the court. As a Slasher, you need a shoe that does everything well, but most importantly is ankle support to keep you from injuries and traction that allows you to explode.
If you're a Power Player, you attack the basket in a straight line and muscle through your defender. You're the player the defense thinks twice about stepping in front of to take a charge. Power Players are thick, fast players who need ankle protection and support along with cushioning and traction in their basketball shoes.
If you're a Post Player, you're the tallest player on the court who rarely leaves the paint and racks up rebounds, blocks, and dunks. These players are going to be using their body to get in position at all times which means you'll need the most support a shoe can offer as well as protection to support the weight post players carry around.
Features
With your playing style in mind, it's time to go into more detail about common features you'll find in basketball shoes. Do you need maximum support in your shoes? What is traction? Are there different kinds of cushion systems? How should your basketball shoes fit and feel on your feet?
You already know your game, but when it comes to features, you have to know your feet.
Fit: Purchasing the right fit may seem like a no brainer but people actually get this wrong. Some people get shoes that are too small and end up feeling constricted and uncomfortable. Others get shoes that are too big which can lead to a rolled ankle or other injuries that could be avoided by getting the correct size. These reasons alone make getting the right shoe size essential to your game.
When you're trying on shoes and deciding on what size to buy, try these two pointers to make sure you get it right.
Broad Toe Box. Your toes need to have plenty of room to breathe in your shoes. If you get shoes that are too shallow then you may end up with blisters, ingrown, or bruised toenails because of the pressure on your toes. All of the above can be uncomfortable and make it hard to play up to your standards because of your injured feet.
Thumb Space Clearance. It's important that your toes are not rubbing the end of your basketball shoe. The best way to make sure this doesn't happen to you is to follow the Thumb Test which is to give yourself a thumb's worth of space between your toes and the end of your shoe. When you're trying on your shoe, stand up and check to where your toe ends then put your thumb on the shoe to see if it passes the Thumb Test.
Traction: Basketball is a game of stopping, slashing, cutting, and other rapid and sudden movements. It's crucial for a player to make these types of moves without the fear of sliding all over the court. If you've ever had a shoe with low-quality traction then you know how important it is to find the right shoe that allows you to stick to the court.
It's important to find shoes with traction that allows you to stick to the court
Shoe companies who specialize in basketball shoes have to great lengths in creating the best possible traction patterns. Each traction pattern tries to give basketball players the highest amount of grip possible in hopes to allow players to stop and change directions in an instant the entire time they're on the court.
Traction is so critical to a good basketball shoe that it can define its performance on the court. It's not a feature that visually stands out, but it greatly influences the way you can play your game. If the traction isn't gripping the court and you can't make any moves because you're sliding on the court then you may think about getting another pair of shoes or implementing some of these tactics to make your traction better and last longer
More than one pair of basketball shoes. If you have several pairs then you can rotate them with each other. Or you can designate a practice shoe verse a game shoe. Either way, you won't have one pair of shoes you solely rely on, which means you can prolong the traction life.
Purchase a stick pad or sprays. At most gyms, you'll see stick pads at the scorer's table to clean your shoes before you take the court. They clean the dust from the bottom of your shoes and give your shoes a little more stick.
Clean your shoes often. Every time you take the court, your shoes are collecting dust and this makes you more susceptible to slipping and sliding on the court. To fight this, try having a damp cloth at your bench so you can clean the bottom of your shoes at breaks during the game.
Cushion: Whether you're a starter or a substitute, a big post player or small guard, a young hooper verse an older hooper, cushioning is important for every type of player. When you're out on the court playing hard, you want to feel like you're feet are getting the cushion they need every time you make a move.
Cushioning is important for every type of basketball player
With so many different basketball player types, there come different cushioning systems. Cushioning isn't a one-type fit for all. There are shoes with cushion that make you feel like walking on a slab of concrete while others provide cushion that feels like a soft pillow.
It's about knowing what you need to feel comfortable in your shoes on the court and what allows you to play your best game. With so many shoe brands to consider, it's good to know what sort of cushioning system makes sense for you and find it in your basketball shoes.
Support: Basketball is a game of jumping and cutting which requires maximum support from your basketball shoe. This support is especially true for your ankles. Ankle injuries are one of the most frequent injuries in basketball. Because of this, selecting a basketball shoe that provides your foot with support is crucial.
For the best support, you should avoid lower cut basketball shoes. This decision will shrink your shoe options, but it is for the right reason. Instead, take a look at a higher cut basketball shoe. This type of style will keep your ankle from moving around while you're on the court which should increase ankle support and lower risk of injury. No one shoe can prevent an injury, but the additional support can reduce the amount of stress on your ankle.
If you can't find a comfortable high cut basketball shoe or prefer a lower cut shoe, make sure you bring any ankle braces (if you wear them) and try those on with the shoes to ensure it all fits comfortably together.
All basketball players want to avoid future ankle injuries, but if you're a basketball player with a history of weak ankles then move this category to the top of your priority list. Whether you are a rookie or a veteran, it's wise to consider your options when it comes to your health and durability. A long-lasting career starts with your feet and the support your basketball shoes provide while you're on the court.
Style: This is the least important feature for any basketball shoe, but unfortunately it's the first thing that catches our eyes about a shoe. One of the biggest things to remember when it comes to the style of a basketball shoe is just because you like the way it looks doesn't mean you will like the way it feels.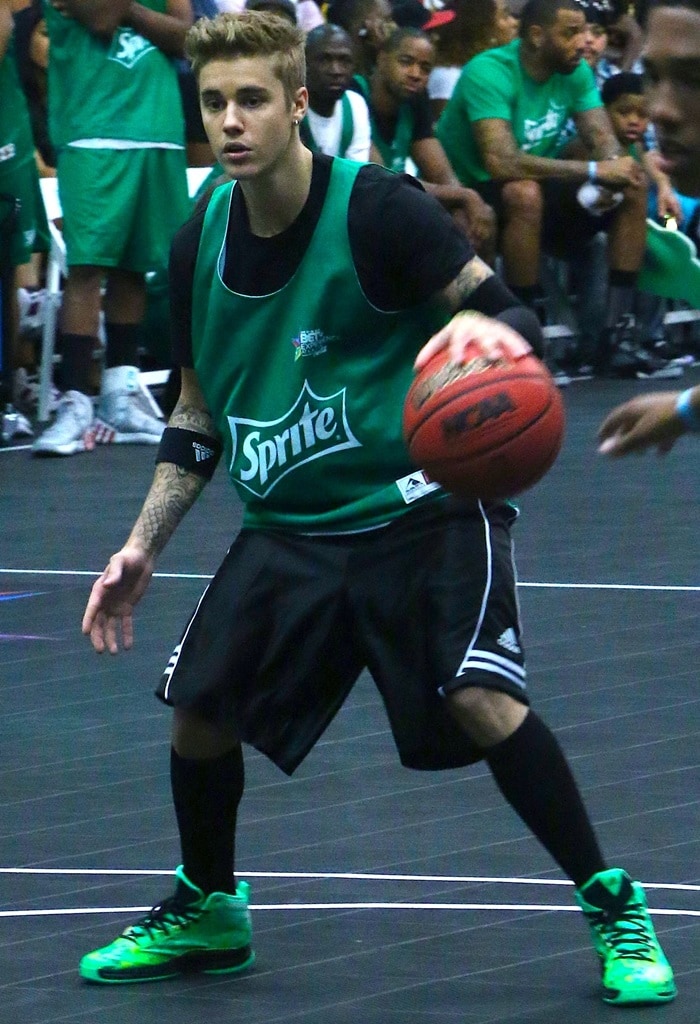 Singer Justin Bieber attends the Sprite Celebrity Basketball Game during the 2014 BET Experience At L.A. LIVE on June 28, 2014, in Los Angeles, California
Always go for the other features first: fit, traction, comfort, and support. Then, when you have found the right basketball shoe, add your style to it. Blend your personality into your gear by customizing your shoes with different color schemes and designs.
Rocking colorful, appealing, custom basketball shoes can help you stand out on the court and give you a boost in confidence every time you lace up your shoes.
Overall, don't get distracted by brands, signature models by your favorite players, and marketing ads. Stay focused on what you need in your shoe and be sure your final shoe decision is one you enjoy wearing.
Credit: Guillermo Proano / WENN / Oscar Gonzalez / Winston Burris