Did you know that Bella Hadid has Lyme disease? After her mother, Real Housewives of Beverly Hills star Yolanda Foster was diagnosed with Lyme disease in 2012, Bella revealed that she was diagnosed as well.
Both Bella and her younger brother Anwar were diagnosed, but the eldest sister (and fellow model) Gigi Hadid was spared.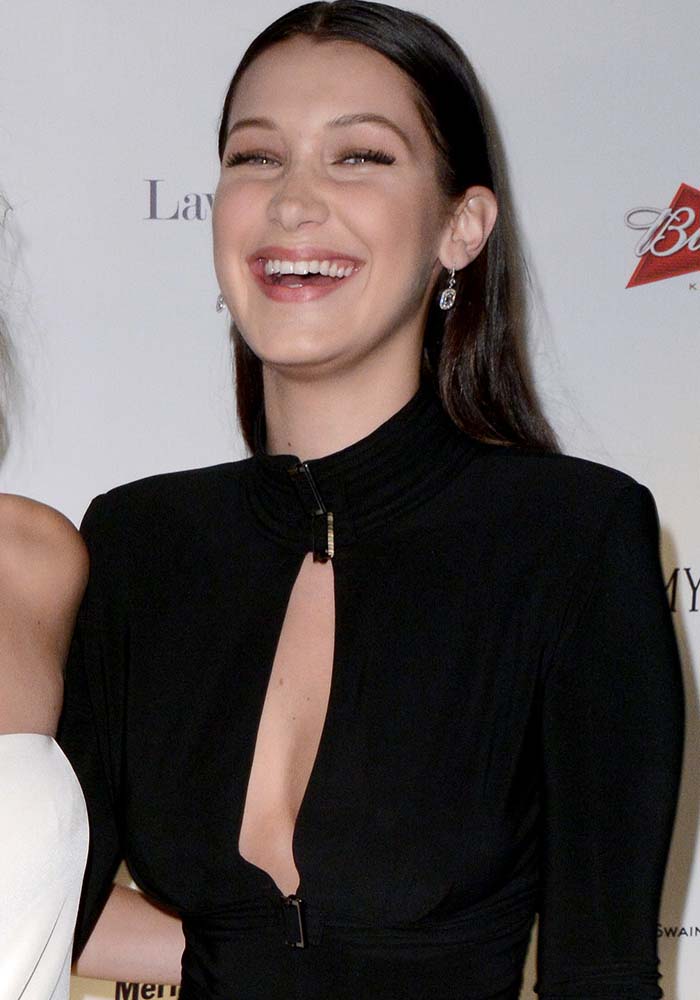 Bella Hadid center parts her hair at the Global Lyme Disease Alliance Gala held on October 9, 2015, in Manhattan (Credit: Ivan Nikolov / WENN)
"Bella is struggling," Yolanda told the morning show Good Day New York in an interview. "It's hard to imagine that this beautiful bright light on the cover of magazines could struggle the way that she does."
"She's always tired," Yolanda added. "She could sleep for 10 hours and wake up [and say], 'I'm still tired.' In the younger generation, it comes up like anxiety, severe exhaustion, joint pain, flu-like symptoms, and they just keep struggling over it."
Yolanda Hadid says her daughter Bella is struggling with Lyme disease (Credit: Ivan Nikolov / WENN)
"My son, who has been home with me, is doing great," she added. "I think he's about 90 percent, and he's very determined to get 100 percent and he does the work and does what needs to be done."
In October 2015, Bella Hadid attended the Global Lyme Alliance Gala as her mother was honored with the "Power of One" award. Anwar and Gigi were also present at the event.
Bella Hadid shows off her cleavage in a black dress on the red carpet (Credit: Ivan Nikolov / Andres Otero / WENN)
"When my two youngest children, Bella and Anwar, were diagnosed with chronic Lyme disease in early 2012, watching my babies struggle in silence in order to support me in my journey, struck the deepest core of hopelessness inside of me," Yolanda said at the Global Lyme Alliance inaugural gala.
"This award is for Anwar and Bella. This is my token and my promise to you that I will not allow you to live a life of pain and suffering. I will walk to the end of the earth to find a cure so that you can live the healthy life that you deserve," she added.
Bella Hadid and her younger brother Anwar were diagnosed with Lyme disease in 2012 (Credit: Andres Otero / WENN)
"No child should suffer the way that you do … I thank you both for your extraordinary selflessness during this journey. Your unwavering love and compassion have kept me alive and fighting through the darkest days of my life."
Bella wore a cleavage-baring black dress which she paired with a clutch and black Christian Louboutin "Pigalle" heels.
Bella Hadid's feet in black Christian Louboutin pumps (Credit: Ivan Nikolov / WENN)
Bella talked about her disease in an August 2016 interview with Glamour.
"They always say that I don't have what I have — but it's taken a toll on my life since I was 15. I'll occasionally get comments now like, 'How do you have this disease if you're working every day?'"
"It starts with brain fog; for a while, I couldn't put sentences together. I'm really tired a lot. A few weeks ago I had a big campaign shoot that I had to reschedule. It's hard, but I push through, because at the end of the day, if you're not working, somebody else is," Bella said about what it feels like to have Lyme.
The model kept her hair straight, sleek, and tucked behind her ears.
Gigi Hadid, Anwar Hadid, Yolanda Foster, and Bella Hadid attend the Global Lyme Disease Alliance Gala (Credit: Ivan Nikolov / WENN)
Meanwhile, during an interview with ET Online, Gigi got emotional as she talked about watching her family suffer from Lyme disease, prompting Bella to give her a kiss on the cheek.
Gigi later pointed out that the night was about her family, and that she was just there to support them.
To get Bella's red carpet classic shoe choice by Christian Louboutin, visit Nordstrom or Mytheresa.
Black Christian Louboutin Pigalle High Heel Pumps, $675