It hasn't been long since Bella Hadid and The Weeknd ended their high-profile romance, but The Weeknd has already been spotted making the moves on Selena Gomez. That left us wondering: When will Bella move on, and to who?
Our questions may have been answered. Bella was recently spotted touring Paris arm-in-arm with a mystery man. The youngest Hadid sister reportedly went into the Musée du Louvre with her mystery guy while in Paris for haute couture week.
Bella Hadid visits the Louvre while in Paris on January 22, 2017.
Bella was spotted in a casual all-black ensemble which consisted of a sweater and a denim skirt.
The 20-year-old model finished her look with a black choker, a pair of Sunday Somewhere "Kurt" sunglasses, the Dior "Diorama Club" mirror calfskin purse with sequin badge, a "Ciao Bella" iPhone case by Wildflower and a pair of "Goldie" boots from Aska in navy blue.
Bella tours Paris in the sleek Aska "Goldie" boots in navy blue leather.
As it turns out, Bella's mystery man was none other than her good friend and esteemed Givenchy designer Riccardo Tisci. He and Bella have been spending a lot of time together recently, the most notable time including Bella's gal pal Kendall Jenner.
Riccardo officially resigned from his post as Givenchy's creative director around a week ago, which prompted Bella to write a heartfelt post for her dear friend.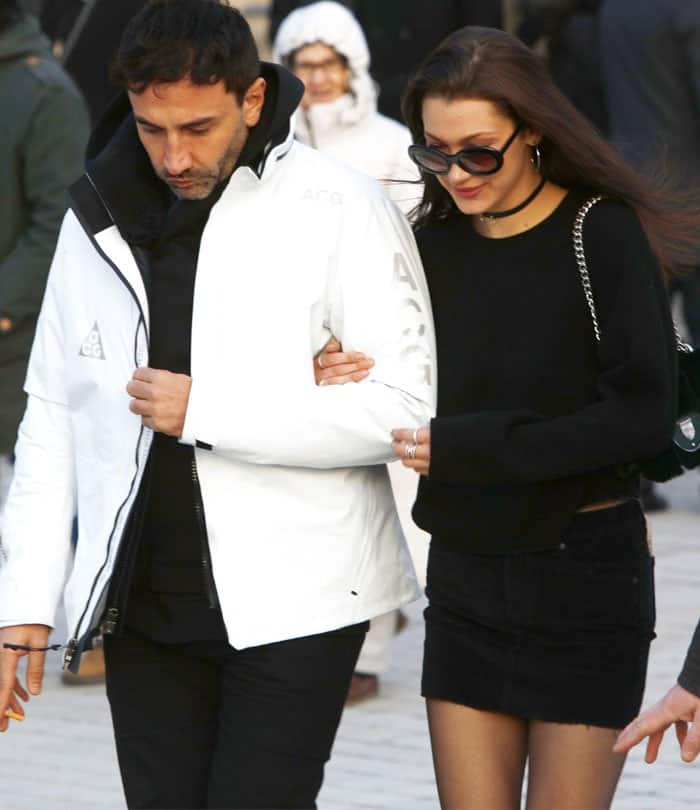 Bella's mystery man turns out to be good friend and esteemed designer Riccardo Tisci.
Shop the sleek Aska "Goldie" boots in various colors at Spring.
Aska "Goldie" Boots, $450 at Spring
Credit: WENN