If you thought that Bella Thorne went blonde for a while before recently returning back to being a natural redhead, you have to get your Bella Thorne facts straight. The former Disney actress reveals that she was born with blonde hair, and has been hooked on her bright red hair ever since she dyed it for a role.
Bella showed off her red hair (and her pet dog) as she arrived at the Los Angeles Airport en route to New York for Fashion Week.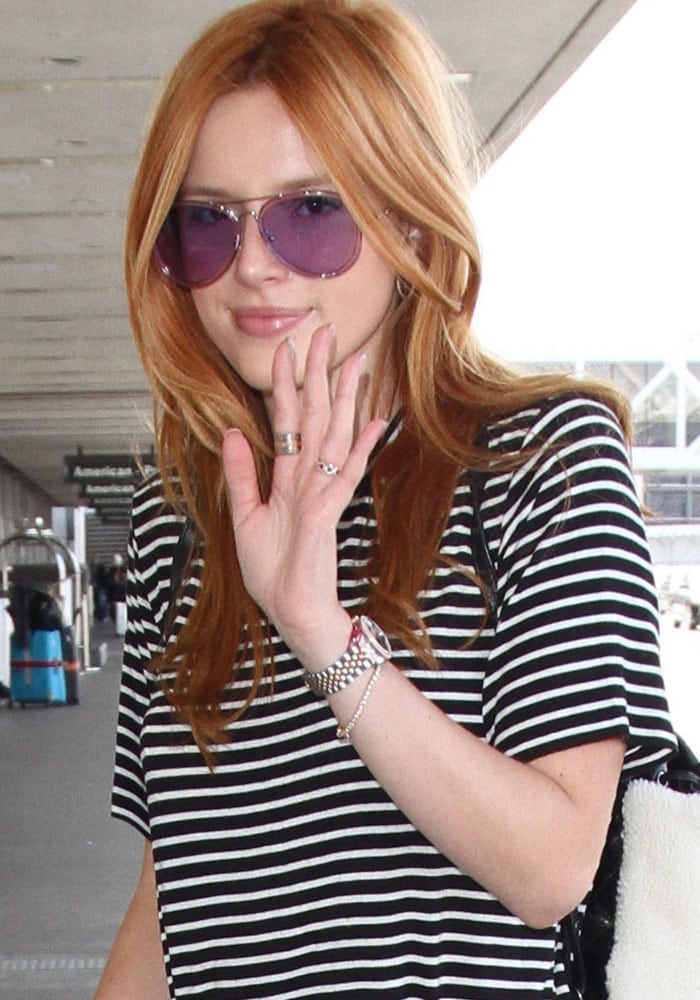 Bella also addressed her minor controversy regarding PewDiePie at the Teen Choice Awards, saying that it was all part of the script and that even she didn't think it was that funny.
The 17-year-old arrived at the airport in a striped oversized shirt with a chambray top tied around her waist. Bella wore her dress with purple-tinted sunglasses and a pair of Adidas by Raf Simons Stan Smith sneakers in a zebra pattern.
Bella Thorne departs from the Los Angeles International Airport (LAX) with her pet dog on September 11, 2015
Bella Thorne announces her return to New York together with her reverting back to her red hair in one Instagram post
This particular pair is running out fast, so if you want to get this striped sneaker, head on over to Amazon as fast as you can.
Adidas Originals Stan Smith Trainers Ladies, $64.96 – $199.99 at Amazon
Credit: Got Pap's Youtube / Bella Thorne's Instagram / IZZY / WENN