Born on April 9, 1997, Tristan Klier was Bella Thorne's first boyfriend and they dated for two years until announcing their split in 2014. According to some sources, they dated until early 2015.
Tristan Klier was Bella Thorne's first boyfriend and they dated for around 2 years (Credit: Featureflash Photo Agency / Shutterstock)
It's not known what happened to Tristan Klier after their break-up. He is no longer active on social media.
Bella Thorne posing with a baby at the 2012 Teen Choice Awards (Credit: FayesVision / WENN)
In July 2012, the then-up-and-coming starlet Bella Thorne was among the celebs spotted attending the Teen Choice Awards.
Bella Thorne wears a nude blouse with a statement necklace and bracelets (Credit: FayesVision / WENN)
She was joined by her boyfriend, Tristan Klier, whom she started dating in early 2012. One year later, he gave her a promise ring.
"It's not a traditional promise ring. It's basically to always stay truthful," Bella said in an interview with Seventeen.
"I think that's a really important part of a relationship, that you're always honest with each other."
"The ring has a heart, and 'Tristan and Bella' is inscribed. It's a promise to stay pure to ourselves," she said about the ring.
Bella Thorne says she waited six weeks to kiss her boyfriend Tristan Klier (Credit: s_bukley / Shutterstock)
"Tristan was not a relationship guy before me. On our first date, he thought I was going to be just like the other girls he had met who would always give it up and kiss him right away," Thorne revealed about kissing her boyfriend.
"I waited six weeks—I had to make sure he was in it to win it."
"It needs to be the most special, beautiful thing that ever happened," she added about having sex with someone.
"It should be a decision you feel right about. If you don't feel 100 percent about it, then it shouldn't happen. It has to be something you want with your whole heart."
Bella Thorne posing with her boyfriend Tristan Klier at the 2012 Teen Choice Awards held at the Gibson Amphitheatre in Universal City on July 22, 2012 (Credit: FayesVision / WENN)
The then-14-year-old actress arrived at the event in an interesting mix of sparkles from All Saints, namely a dazzling sequined skirt topped with a silk blouse in the subtlest shade of blush.
She capped off the outfit with a pair of Brian Atwood ankle strap booties in glittered pewter.
Bella Thorne flaunts her legs in an All Saints skirt and blouse (Credit: FayesVision / WENN)
So here's the question for all you heel-savvy fashionistas out there, what do you think of Bella's mixology here?
The contrast between light to dark and the somewhat surprising choice to wear booties instead of the usual pumps or sandals gave her look a more interesting twist, but do you think she could have done better?
Bella Thorne wears B by Brian Atwood 'Fruitera' ankle boots (Credit: FayesVision / WENN)
If you ask us, we actually think she looks fabulous. The style is fresh, young, and edgy. It doesn't seem like she's trying too hard.
Of course, some of you may disagree, but differences in opinion aside, here are a few more tidbits about her disco-worthy kicks for those of you interested. Bella wore a pair of B by Brian Atwood sparkle ankle strap booties.
B by Brian Atwood Sparkle Ankle Strap Booties, $425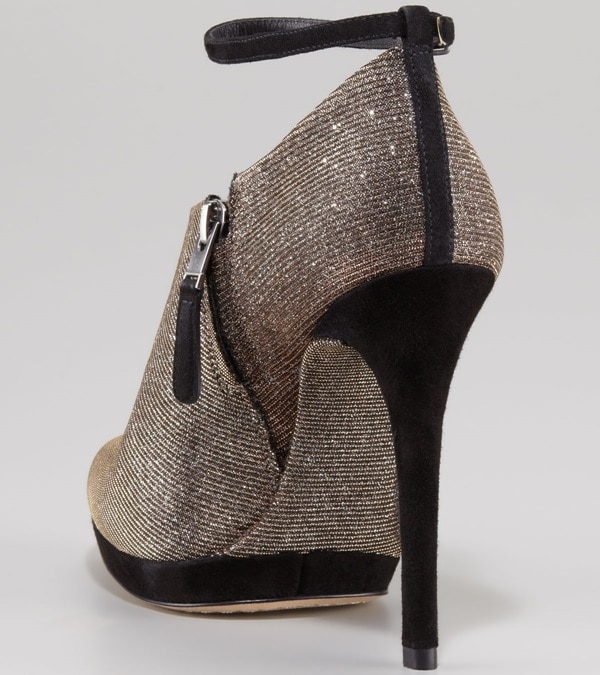 It's a gorgeous slip-on done in a more glamorous way – covered in glittered fabric and decorated with nubuck elements here and there.
The shoes are about 4.25 inches high (platform thickness at 0.25 in) so they're fairly manageable. You can also simply remove the ankle straps if you don't like wearing 'em.
So back to our question, what are your thoughts on Bella Thorne's Teen Choice Awards outfit and shoe combo? Hit or miss?